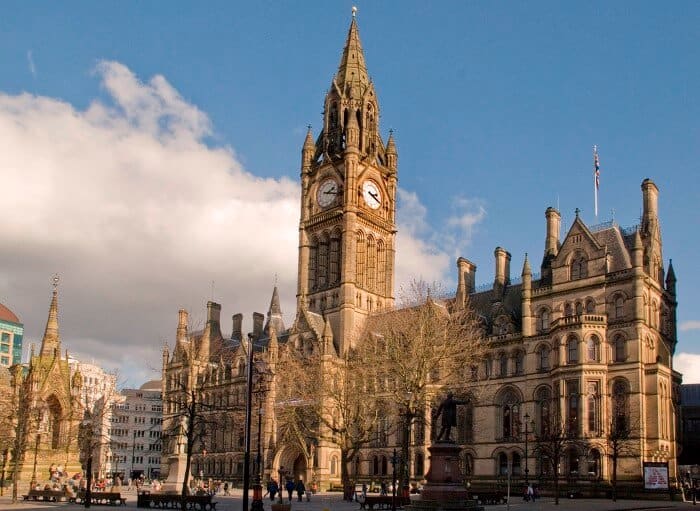 Photo by Mark Andrew
Manchester is an ethnically diverse and thriving city in the north of England. It has a fascinating architectural history and has bred and attracted artists, musicians and celebrities over the centuries.
If you are considering moving to Manchester, the various costs listed below will help you make an informed decision on what costs are involved when moving and living in the UK's second biggest city.
Quick Manchester Facts:
Population: 530,300 (2017 estimate). The Greater Manchester area has a population of 2.68 million, making it the second largest city in the UK.
Official Language: English (de facto) with over 200 languages being spoken in the city, such as Polish, Urdu, Mandarin, Bengali, Punjabi, Gujarati and Arabic.
GDP Per Capita: $38,658 USD
Curry Mile: Over the length of just under half a mile, you will find over 70 South East Asian restaurants.
Currency: Pound Sterling or Great Britain Pound (£, GBP). As of early 2017, $1 USD = £0.80, €1 EUR = £0.85, $1 CAD = £0.61, $1 AUD = £0.62
1. Moving and Shipping Costs to Manchester
Below are some sample shipping costs to Manchester from other major world cities. Just keep in mind they only reflect the shipping portion of the cost and not the full moving costs.
You can save money by comparing removals companies if moving from within the UK and international moving companies if coming from abroad using our moving quote form below.
Thank you. You will hear from us soon.
Wait!
an agent is calling you now from
+1 (800) 680-6439
Please pick up your phone to be connected with an agent to give you a personalized quote based on your move details.
Also see: 10 Best Removal Companies In Manchester
2. Manchester Housing Costs
Housing prices in Manchester and cheaper than London but tend to be higher than other cities in the UK. Prices obviously vary from area to area but the figures below will give you an indication of what's available at what price.
Monthly Rental Prices in Manchester
1 bedroom flat (apartment) in City Centre: £500+
1 bedroom flat outside the City Centre: £400+
3 bedroom flat in City Centre: £850+
3 bedroom flat outside the City Centre: £600+
Manchester Home Purchase Prices
Price per square metre (10.7 square feet) to buy in City Centre: £2,175+
Price per square metre (10.7 square feet) to buy outside City: £317+
Manchester Housing Cost Comparison
This is how rents in Manchester compare with other cities around the globe.
London is 20.67% more expensive
New York is 265.74% more expensive
Los Angeles is 144.23% more expensive
Toronto is 44.66% more expensive
Sydney is 137.25% more expensive
Paris is 55.82% more expensive
Dubai is 167.47% more expensive
Source: Numbeo
How to Save on Housing Costs
Share a flat or house: Manchester has many houses and flats for share. Have a look at Gumtree page or SpareRoom or Easyroommate and find someone you can get on with to share the costs with you.
Different areas – different prices: Like all cities, Manchester has its expensive and cheaper areas. Popular areas with readers of the Manchester Evening Standard include: Prestwich, Bramhall, Saddleworth, Ramsbottom, and Stalybridge. Other popular areas also include: Didsbury, Chorlton, the Heatons, Sale, and Worsley.
3. Manchester Food, Grocery and Restaurant Costs
Manchester has a wide diversity of supermarkets and restaurants. Here are some typical prices.
Inexpensive Restaurant: £8.00 – £16.00
Takeout Coffee: £1.70 – £3.00
Bottle of Coke: £0.70 – £1.50
1L of milk: £0.50 – £1.00
Loaf of Bread: £0.62 – £1.20
12 Eggs: £1.25 – £2.35
1kg Chicken: £4.00 – £5.90
1kg Beef: £5.00 – £10.00
1kg Apples: £1.00 – £3.00
1kg White Rice: £0.60 – £2.00
This is how restaurants and food prices compare with other major cities in the world.
New York restaurants are 30.10% more expensive and groceries are 89.25% more expensive than Manchester.
Toronto restaurants are 14.76% cheaper and groceries are 17.56% more expensive than Manchester.
Sydney restaurants are 4.76% more cheaper and groceries are 47.56% more expensive than Manchester.
Paris restaurants are 6.23% more expensive and groceries are 43.09% more expensive than Manchester.
Dubai restaurants are 15.62% cheaper and groceries are 8.62% more expensive than Manchester.
Source: Numbeo
Bonus Tips for Cheaper Food, Restaurants and Groceries
Shop local: Manchester has a great selection of privately owned shops which sell fresh produce and ingredients for their ethnically diverse population.
Find Cheap Eats:The such an array of food in Manchester, you will be spoilt for choice. To get value for money have a look at suggestions made at Timeout, Manchester Evening News, The Guardian and TripAdvisor.
4. Manchester Alcohol Costs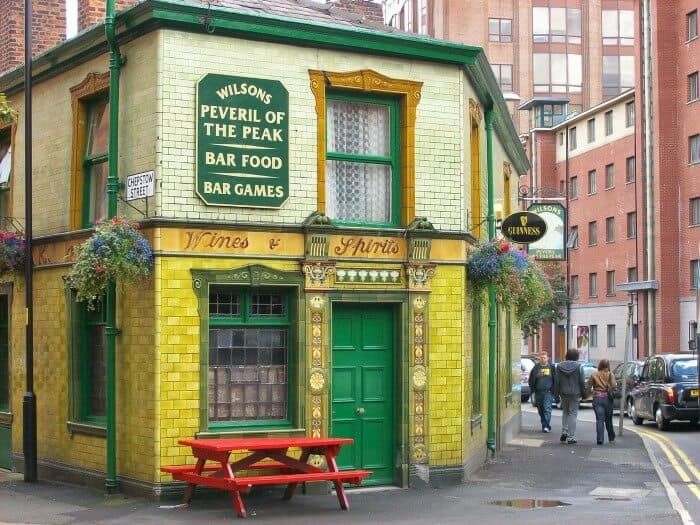 Manchester is full of friendly pubs and upmarket bars and clubs. The following is a list of basic prices of beer and wine from the supermarket and restaurants.
Pint (0.6L) domestic beer at a restaurant/pub: £2.75 – £4.00
Bottle of imported beer at a restaurant.pub (0.33L): £3.00 – £4.30
Pint (0.6L) domestic beer at a supermarket: £0.89 – £2.00
Bottle of imported beer at a supermarket: £1.00 – £2.00
Mid-range bottle of wine at a supermarket: £5.00 – £8.00
How to drink for less in Manchester
Keep an eye on the local papers and websites for specials over weekends and public holidays. Have a look at Design my Night, the Manchester Evening News and TickX for ideas of where to go.
Try Rosylee's happy hour – Monday to Thursday 5pm until 7 pm and Friday from 12 until closing time. If it rains, which it does, Rosylee serves half price prosecco at £3 a glass or £15 a bottle. If beer is your preferred tipple, then head to Kosmonaut and have a pint of their Special K for £3.
Scour the areas around Manchester University and other tertiary institutions to find the best alcohol deals.
5. Manchester Transportation Fares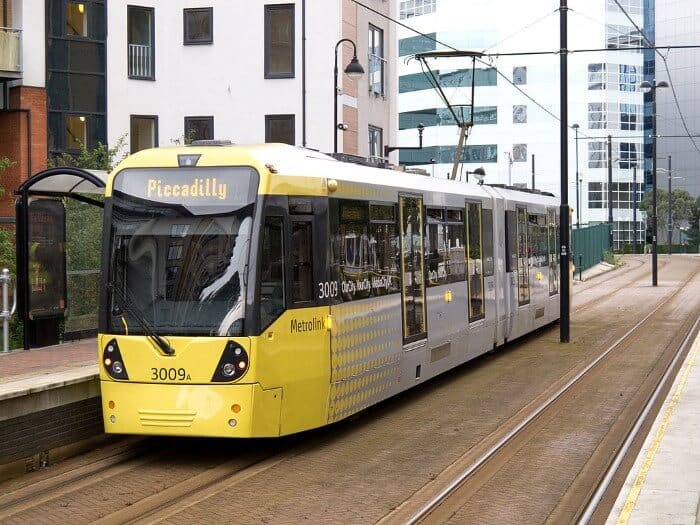 Photo by Tom Page
Manchester is served by an excellent public transport system of buses, trains and trams. In the city centre, the Metro Shuttle Bus is a free hop-on, hop-off service which links the main railway stations, shopping centres and business districts.
Bus services run across the whole of Greater Manchester – buses.
The Metrolink tram service links all the major centres and are so frequent, there is no need for a timetable. The trains take you to other major cities and suburbs of Manchester.
There are even water taxis which will take you from the city centre to places like Old Trafford.
Here are some example ticket costs.
Adult Single – £2.60
One day ticket for bus, tram and train – £8.50
Monthly season ticket for bus, tram and train – £54
Yearly season ticket for bus, tram and train – £500
How to save money on public transport
Buy a System 1 card so you can travel on any mode of transport
Look at the Metrolink site to find the latest savings on fares
Manchester has an excellent system of cycle lanes in and around the city.
Walking in and the around the city saves time and money on parking and bus/tram tickets.
6. Cost of Internet in Manchester
Internet in the UK is one of the few things that is cheaper than the US, Canada or Australia. Here are some sample broadband internet prices from early 2017 for unlimited downloads, based on a 12 month contract:
7. Cost of Clothing, Personal Items, Gym and Leisure
Photo by André Zahn
Manchester's hottest month is July, where the average temperature is 16°C. The coldest month is January with an average temperature of 4°C. October is the wettest month with an average of 90mm of rain.
Like most places in the UK, rain is always a possibility, so it's wise to carry an umbrella or a fold up waterproof jacket.
Here are some clothing prices, together with other useful prices.
Pair of Jeans: £30 – £70
Summer Dress: £19 – £40
Running Shoes (Trainers): £45 – £80
Business Shoes: £35 – £65
Short Doctor's visit (15 mins): £97
Deodorant: £1.75
Shampoo: £2.50
Toilet Paper (4 rolls): £1.64
Gym membership: £17 – £45 per month
Movie (cinema) ticket: £7.50 – £10.50
Source: Numbeo and Expatistan.com
8. Cost of Owning a Car and Driving a Car in Manchester
Like all major cities, it best to avoid driving in Manchester to avoid traffic delays and high parking charges.
If you're moving to Manchester from within the UK, you'll be able to keep your license but need to update your address to your new Manchester one.
If you want to exchange your foreign driver's license you have to follow the process here. Note that you will need to prove you took your driving test in a manual transmission car. If you can't prove it, you'll only be able to exchange your license for an automatic.
Here are some other sample costs of owning and operating a car in Manchester:
Volkswagen Golf: £18,000
1 litre (¼ gallon) of gas (petrol): £1.10
Registration fee (if any): £55 one time
Other fees (if any): No more than £54.85 for an MOT fee, after cars are 3 years old.
Source: Expatistan, Gov.uk
Ways to save money on driving in Manchester
Car sharing or pooling is one way to save money. Try easyCar Club, BlaBlaCar or Liftshare
Taxis can sometimes be a cheaper option, especially if you are going to have to park all day. Try Uber.
Need your car/vehicle moved to Manchester? Then read our guide to: Car Transport & Vehicle Shipping
9. Taxes in Manchester
No matter where you live in the England, you will pay the same rate of income and sales tax. To learn more about the different taxes – income, self-employment, business, capital gains etc, have a look at our moving to the United Kingdom guide.
Sales Tax, or VAT (Value Added Tax) is 20% in the UK and is added to most goods and services throughout the country. Unlike some countries, it is always included in the marked price.
Whether you own or rent your home, you will be subject to council tax based on the area in which you live and the size of the property you live in. Learn more about council tax in Manchester at Manchester Council Tax.
Finally, if you decide to buy a flat or house in Manchester you'll have to pay stamp duty. While there's no tax on the first £125,000 of your home value, the marginal rate increases to 12% on a value of over £1.5 million.
10. Flight Costs from Manchester
If you do make the move to Manchester, here's approximately how much it will cost to fly to other major world cities based on lowest, one-way fares from Skyscanner as of early 2017:
Other Tips on Moving to Manchester
The costs and pricing above should give you a good idea of the cost of living in Manchester but perhaps the following extra tips will make your move go smoothly.
11. Moving to Manchester Alone
Moving anywhere can be a lonely experience, but moving to a new city can be rather daunting. Here are a few tips for settling in Manchester.
Meetups:There are lots of free groups you can join, so you can not only meet new people but you can continue to enjoy those social activities you have always enjoyed. Go to Meetup to get started.
Attend local events: To find out what's on in Manchester have a look at the following sites – Visit Manchester, Time Out, Skiddle and Manchester Evening News.
12. Moving to Manchester with a Family
Manchester has a lot to offer families, both within the city and in the surrounding countryside.
New parents (or parents to be): Check out the local NCT Courses and NCT Events.
Live in a family friendly area: The areas within Manchester that are great for families include the Heatons, Didsbury, Chorlton, Sale and Worsley.  These areas have green, open spaces, good schools and amenities close by while still being near the city.
Find things to do with the kids: There's plenty to do the Manchester area for families. Have a look at the following sites for inspiration – Day out with the kids, kids Day Out, Manchester Evening News and Kids Guide.
13. Moving to Manchester for Work
Moving to Manchester for work is one of the most common reasons people choose to move. While it is possible to move without a job, it makes sense to ensure there are jobs in your field before you make the move.
The main employment sectors in Manchester are in media, banking and finance, logistics, IT, engineering and manufacturing, health and education.
Here are a few things to consider when moving for work:
Salary: Salaries in Manchester are not as high as in London and other major cities in the world. The costs we outlined above should give you a rough idea, how much more you'll want to be making to make the move worthwhile. You can also check salary ranges on sites such as Glassdoor and Payscale.
How to find work: If you want to have a job lined up before you move to Manchester, but aren't sure where to begin, the following sites are good places to start:Monster, Total Jobs, Gumtree, Reed.co.uk and Indeed. You may also want to google recruiters in your industry, as they can often help land you some initial interviews as well.
14. Moving to Manchester from Australia
There is a small contingent of Australians living in Manchester, although the majority of Aussies seem to be in London.
Size comparison:The population of Manchester is in between the size of Adelaide and the Gold Coast. The Manchester Metro is around the size of Brisbane.
Join expat groups: Both InterNations and Exapt.com offer ways of meeting up with other Australians in Manchester.
15. Moving to Manchester from Canada
While you won't find a huge number of Canadians living in Manchester, there are a few. If you're considering making the move from Canada here are a few things to consider.
Size: The city of Manchester has around the same population size as Kitchener in Ontario. The whole metro area has almost the same population as Vancouver.
Expat groups: There are expat groups for Canadians living in Manchester which give you the opportunity to meet fellow Canadians. Have a look at InterNations and Expats Blog to link up.
16. Moving to Manchester from the United States
There are Americans living in Manchester who are drawn by its diversity. If you're considering it, here are a few bonus tips:
Size: The city of Manchester, going by population size, is around the size of Tucson. However, if you look at the Manchester metro, its size is almost the same at Chicago's.
Expat groups: There are a few expat groups for Americans who have settled in Manchester, take a look at InterNations, Facebook and Exapt.com.
Hopefully, the tips and costs above are helpful. If want to get started pricing out how much it will cost you to move to Manchester you can start by comparing moving quotes here.
Guides to moving and living in other UK cities