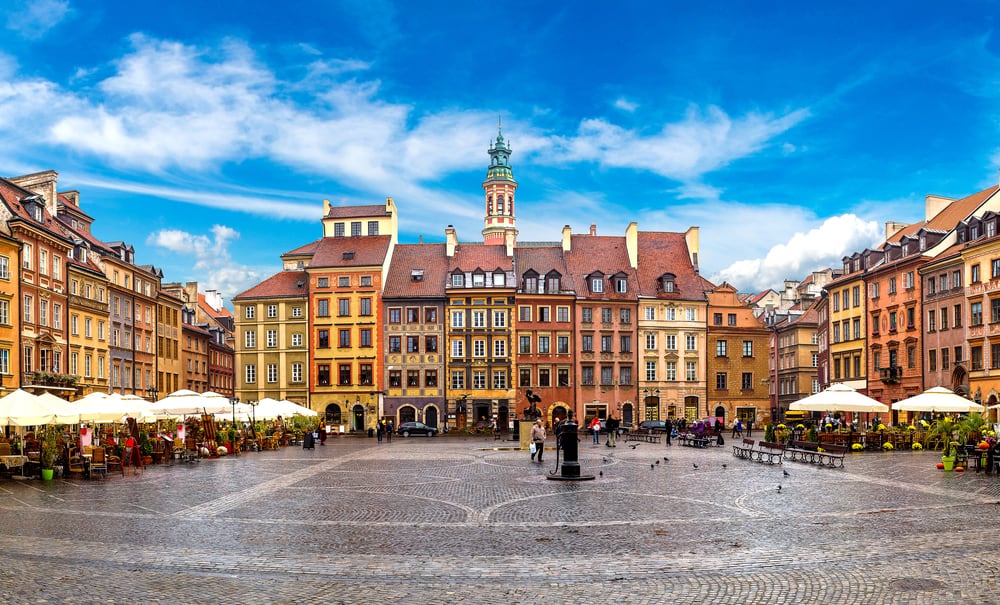 Poland is a country of stunning landscapes, UNESCO World Heritage sites and a fascinating, if not troubled, history. The Polish people have shown their resilience to trauma many times over the centuries and are an exceptionally welcoming people. Poland is an affordable country to live in compared with countries in Western Europe but, even here, prices are rising.
If you are considering moving to Poland, the various costs listed below will help you make an informed decision on what costs are involved when moving and living in this part of the world.
Quick Poland Facts:
Population: 37,746,856(2022 estimate)
Official Language: Polish is the official language of Poland. The second most spoken language in Poland is Silesian.
GDP Per Capita:US$17,840.92 (2021)
Diverse Environment: Poland has an exceptionally diverse environment consisting of ancient forests, mountains, lakes, a sandy coastline, wetlands and a desert.
Currency: Polish Zloty (PLN/ZL). As of 2022, 1PLN=US$0.22, £0.18, €0.21, $0.30 (CAD), and $0.33 (AUD).
1. Moving and Shipping Costs to Poland
Below are some sample international container shipping costs to Poland.
| Origin Country (Port/City) | 20FT | 40FT |
| --- | --- | --- |
| Andorra (Andorra la Vella) | $638 | $675 |
| Antigua and Barbuda (St John's) | $250 | $250 |
| Aruba (Oranjestad) | N/A | $630 |
| Australia (Sydney) | $3,730 | $6,755 |
| Austria (Vienna) | $200 | N/A |
| Bahrain (Manama) | N/A | $2,349 |
| Belgium (Antwerp) | $675 | $890 |
| Brazil (Santos) | $5,296 | $6,486 |
| Cambodia (Sihanoukville) | $3,866 | $5,471 |
| Canada (Toronto) | $730 | $970 |
| Canada (Vancouver) | $1,430 | $1,890 |
| Chile (San Antonio) | $957 | $951 |
| China (Beijing) | $1,400 | $1,800 |
| China (Shanghai) | $5,500 | $9,000 |
| Colombia (Barranquilla) | $666 | $882 |
| Costa Rica (Limon) | $1,408 | $1,817 |
| Croatia (Rijeka) | $923 | $1,714 |
| Cyprus (Limassol) | $495 | $798 |
| Czech Republic (Prague) | $436 | $633 |
| Denmark (Copenhagen) | $1,395 | $1,882 |
| Egypt (Alexandria) | $462 | $893 |
| Estonia (Tallinn) | $1,702 | $2,131 |
| Finland (Helsinki) | $1,251 | $1,896 |
| France (Marseilles) | $1,373 | $2,029 |
| Germany (Hamburg) | $1,101 | $1,570 |
| Gibraltar | $550 | $641 |
| Greece (Piraeus) | $506 | $788 |
| Guatemala (Guatemala City) | $1,236 | $1,356 |
| Guernsey (St Peter Port) | $456 | $633 |
| Hong Kong (Hong Kong) | $5,323 | $8,715 |
| India (Mumbai) | $5,807 | $6,457 |
| Indonesia (Jakarta) | $3,575 | $6,615 |
| Ireland (Dublin) | $1,416 | $2,168 |
| Isle of Man (Douglas) | $1,203 | $1,644 |
| Israel (Haifa) | $495 | $693 |
| Italy (Trieste) | $923 | $1,714 |
| Japan (Tokyo) | $6,000 | $9,475 |
| Jersey (St Helier) | $456 | $633 |
| Jordan (Aqaba) | $662 | $713 |
| Kenya (Mombasa) | $849 | $1,912 |
| Kuwait (Shuwaikh) | $2,255 | $3,672 |
| Latvia (Riga) | $1,215 | $1,660 |
| Lebanon (Beirut) | $495 | $713 |
| Liechtenstein (Vaduz) | $869 | $1,620 |
| Lithuania (Klaipeda) | $1,189 | $1,624 |
| Luxembourg | $963 | $1,502 |
| Malaysia (Port Kelang) | $5,686 | N/A |
| Netherlands (Rotterdam) | $975 | $1,518 |
| Norway (Oslo) | $997 | $947 |
| Portugal (Lisbon) | $1,447 | $1,911 |
| Russia (Saint Petersburg) | $1,003 | $1,372 |
| Singapore | $2,640 | $4,266 |
| South Korea (Busan) | $6,600 | $10,260 |
| Spain (Valencia) | N/A | $2,922 |
| Sweden (Gothenburg) | $1,362 | $1,761 |
| Taiwan (Kaohsiung) | $3,115 | $5,680 |
| Thailand (Laem Chabang) | $5,436 | $8,180 |
| UAE (Jebel Ali) | $4,600 | $4,700 |
| Uruguay (Montevideo) | $1,108 | $1,532 |
| US (Los Angeles) | $1,350 | $1,637 |
| US (New York) | $1,595 | $1,674 |
| Vietnam (Saigon) | $2,970 | $5,184 |
2. Poland Housing Costs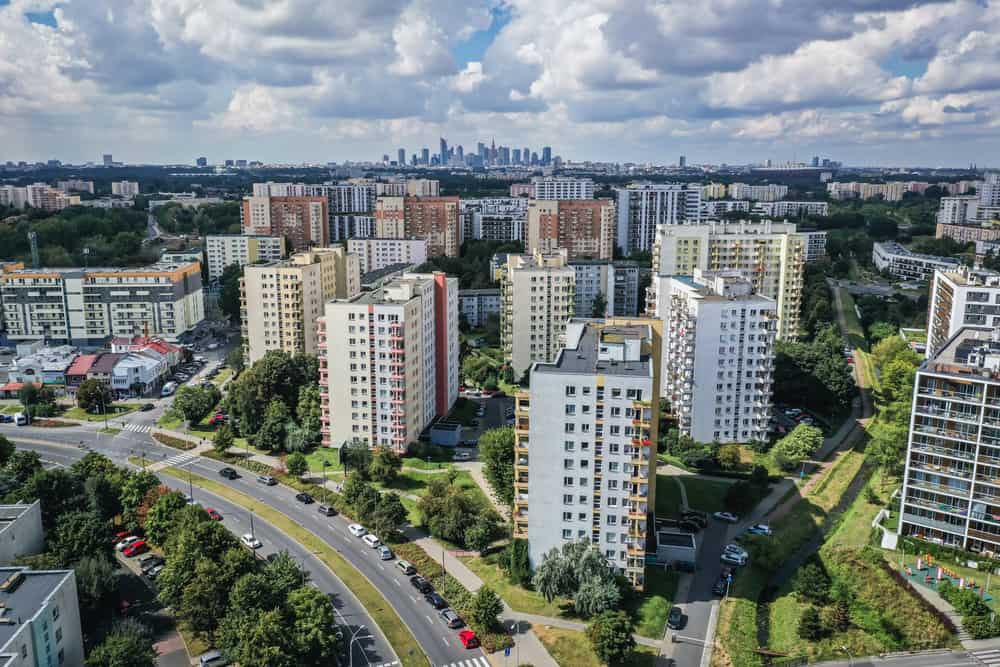 There's a wide range of accommodation available in Poland, from studios through to elegant country homes. There's also the opportunity to restore old properties for those who are keen on restoring houses to their former glory.
Monthly Rental Prices in Poland
1 bedroom apartment in the city centre: PLN1,800.00 – PLN3,900.00
1 bedroom apartment outside the city centre: PLN1,500.00- PLN 3,000.00
3-bedroom apartment in the city centre: PLN2,600.00 – PLN7,000.00
3-bedroom apartment outside the city centre: PLN2,300.00 – PLN 5,000.00
Price per square metre (10.7 square feet) to buy in the city centre: PLN9,700.00 – PLN21,000.00
Price per square metre (10.7 square feet) to buy outside the city centre: PLN7,500.00 – PLN14,500.00
Source: Numbeo
Poland Housing Cost Comparison
Below are how rents in Poland compare with other countries around the globe.
United Kingdom is 99.81%more expensive
United States is 201.61% more expensive
Canada is 117.47% more expensive
Australia is 130.88% more expensive
France is 35.40% cheaper
Spain is 37.39% cheaper
Italy is 30.43% cheaper
Germany is 28.56% cheaper
Source: Numbeo
How to Save on Housing Costs
Share an apartment or house. Have a look at the following sites to find your perfect room or flatmate: Easy Rent, iRoommates, and Just Landed
Different areas – different prices. Housing costs in major cities like Warsaw are the most expensive in Poland but still very reasonable compared with Western Europe. Kraków, Wroclaw, Gdansk, Katowice and Szczecin also offer good accommodation at very affordable rates.
3. Polish Food, Grocery, and Restaurant Costs
Poland's restaurants and supermarkets offer a wide range of foods from around the globe, catering for locals, tourists and expats. There are some excellent Polish restaurant which service traditional Polish dishes such as pierogi, cucumber soup and bigos. The larger cities have restaurants specialising in food from different countries so you'll never have to yearn for a good pizza.
Inexpensive Restaurant: PLN20.00 – PLN50.00
Domestic beer: PLN6.00 – PLN15.00
Coke/Pepsi: PLN3.00 – PLN9.00
1L of milk: PLN2.30 – PLN4.00
Loaf of Bread: PLN2.50 – PLN7.00
12 Eggs: PLN7.20 – PLN14.40
1kg Chicken Fillets: PLN12.00 – PLN60.00
1kg Beef: PLN23.00 – PLN200.00
1kg Apples: PLN2.00 – PLN5.00
1kg White Rice: PLN2.59 – PLN 8.20
Source: Numbeo
Below are how food prices and restaurants compare with other major countries in the world.
UKrestaurants are 37% higher and groceries are 60.56% higher than in Poland.
United States restaurants are 61% higher and groceries are 137.34% more expensive than in Poland.
Canada restaurants are 91.12% higher and groceries are 37% more expensive in Poland.
Australia restaurants are 60% higher and groceries are 139.25% more expensive than in Poland.
France restaurants are 50% higher and groceries are 113.53% higher than in Poland.
Spain restaurants are 95% higher and groceries are 34.13% higher than in Poland.
Italy restaurants are 64% higher and groceries are 70.80% higher than in Poland.
Germany restaurants are 08% higher and groceries are 65.61% higher than in Poland.
Source: Numbeo
Bonus Tips for Cheaper Food, Restaurants, and Groceries
Know your supermarkets: Poland has a number of supermarket chains, independently owned grocery stores as well as flea and street markets. There are also farmers' markets and shops which sell healthy foods and organic foods. Popular supermarkets in Poland areAldi Supermarket, Kaufland, Biedronka and Auchan.
Find Cheap Eats:Ask the locals where they would go for good food at an affordable price. Also, have a look at the following sites for suggestions – Trip Advisor, Culture Trip, Budget Traveller and Like a Local Guide.
4. Poland Alcohol Costs
Poles enjoy their alcohol when socialises with family and friends. Beer has now overtaken vodka as their favourite tipple. There are over 500 vineyards in Poland and some of their wines are starting to be noticed by wine lovers.
Bottle of imported beer at a restaurant/pub: PLN6.00 – PLN15.00
Pint (0.5L) domestic beer at a restaurant/pub: PLN6.00 – PLN15.00
Pint (0.5L) domestic beer at a supermarket: PLN2.50 – PLN5.00
Bottle of imported beer at a supermarket: PLN3.00 – PLN8.00
Mid-range bottle of wine at a supermarket: PLN17.00 – PLN40.00
Source: Numbeo
How to drink for less in Poland.
Have a look on the internet for suggestions on where to buy affordable alcohol. Keep an eye out for where locals go to drink.
Many bars and restaurants in the cities and tourist destinations have happy hours where you are usually offered either half price drinks or two for the price of one. Have a look at the following sites for more tips on where to go to save money on a night out – Time Travel Turtle, Yelp, In Your Pocket, Culture Trip and In Your Pocket.
5. Poland Transportation Fares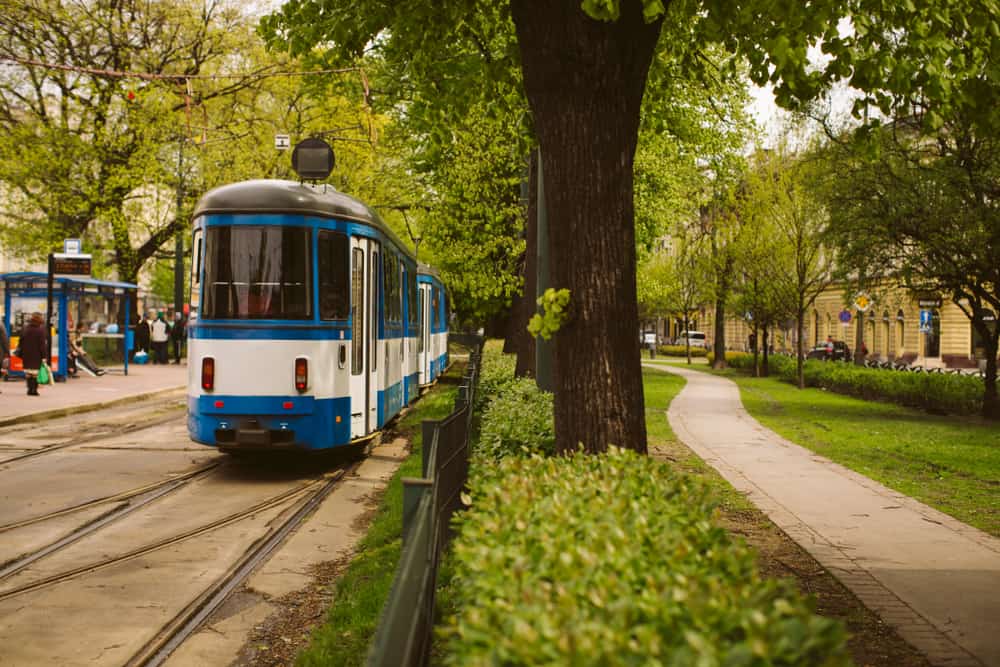 Poland has a modern public transport system, consisting of buses, trams, trolley buses and underground and overground trains. PolRail offers information on the countries rail services. Coach and bus travel covers all of Poland and is affordable and convenient. Have a look at Study Gov Pl for detailed information on Poland public transport system.
Below are some example ticket costs.
One-way ticket (Local transport: PLN3.40 – PLN6.00
Monthly Pass, (Regular Price): PLN80.00 – PLN152.00
Taxi start (normal tariff): PLN6.00 – PLN10.00
Taxi 1km (normal tariff): PLN2.00 – PLN4.00
Source: Numbeo
How to save money on public transport
You can buy the 'stand ticket only' on the train which is cheaper.
Bikes and electric scooters are cheap options. You can rent both in Poland. Have a look at List n Ride and Rent a Scooter.
6. Cost of Internet in Poland
Poland's internet is reliable and fast. Here are some sample broadband internet prices for late 2022 for unlimited downloads, based on a 12-month contract:
7. Cost of Clothing, Personal Items, Gym, and Leisure
Poland enjoys a temperate climate, influenced by both maritime and continental climates, with cold to very cold winters and warm to hot summers. The average winter temperature is around 4C but, in some areas in January the temperature doesn't get above freezing and has been known to drop to -35C. The average summer temperature is a pleasant 25C but can increase to nearly 40C during some summers. Poland experiences around 700mm of rain per annum, with July being the wettest month.
Below are some clothing prices, together with other useful prices.
Pair of Jeans: PLN120.00 – PLN450.00
Summer Dress: PLN75.00 – PLN240.00
Running Shoes (Trainers): PLN200.00 – PLN400.00
Business Shoes: PLN200.00 – PLN500.00
Short Doctor's visit (15 mins): PLN172
Deodorant: PLN13
Shampoo: PLN12
Toilet Paper (4 rolls): PLN7
Gym membership per month: PLN100.00 – PLN130.00
Movie (cinema) ticket: PLN20.00 – PLN35.00
Source: Numbeo and Expatistan
8. Cost of Owning a Car and Driving a Car in Poland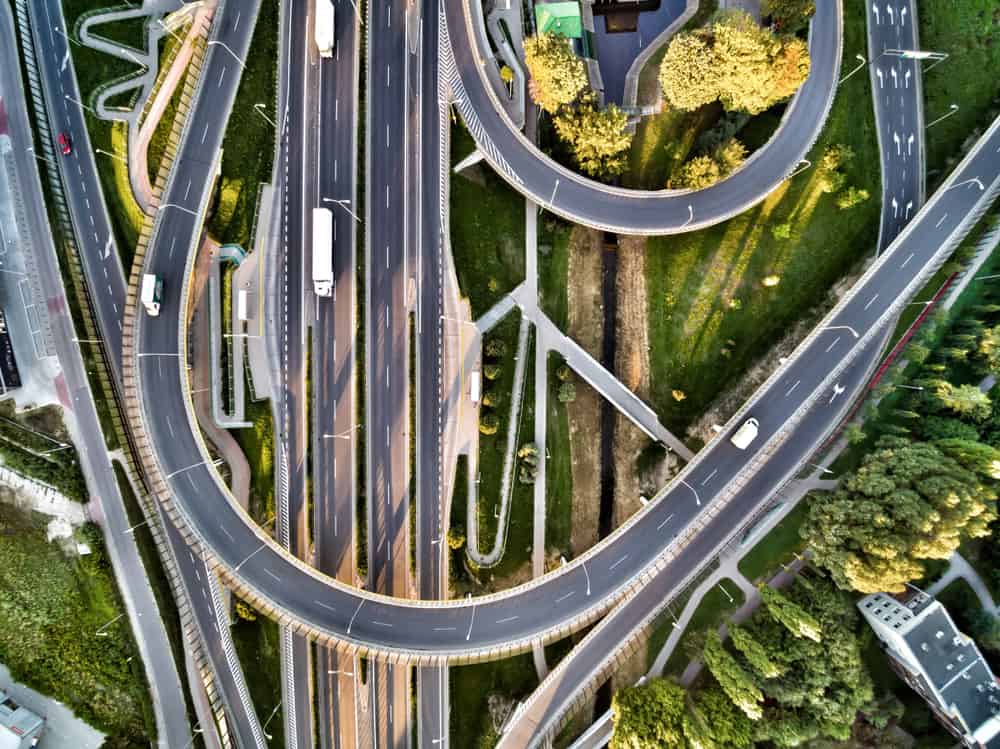 Driving in Poland is generally a pleasure. The main roads are well maintained, and traffic is fairly light compared with many other European countries. You can drive on your home country's licence for up to six months, after which you need to exchange it for a Polish licence. Buying a car a car in Poland is a fairly easy operation and only needs one visit to the communication department at a town hall or local council office.
Here are some other sample costs of owning and operating a car in Poland:
Volkswagen Golf: PLN78,600.00-104,000.00
1 litre (¼ gallon) of gas (petrol):PLN46-7.95
Other fees (if any):The average monthly cost of owning and running a car in Poland, including depreciation, is PLN1,055.
Source: Numbeo and Migrapolis
Ways to save money driving in Poland
Need your car/vehicle moved to Poland? Then read our guide to Car Transport & Vehicle Shipping
9. Taxes in Poland
Personal tax payable in Poland goes from 0% to 32% depending on your income. Non residents are liable to a flat rate of 20% on income earned unless their home country has a double taxation agreement in place with Poland. HSBC provides a good synopsis of the new tax laws in Poland.
The standard VAT rate in Poland is 23%, which generally applies to all services in goods. Some goods attract lower rates of 8%, 5% and 0%.
10. Flight Costs from Poland
If you do make the move to Poland, here's approximately how much it will cost to fly to other major world cities based on the lowest, one-way fares from Skyscanner as of 2022:
London: PLN154
Paris: PLN139
New York: PLN1,091
Los Angeles: PLN2,122
Toronto:PLN2,367
Dubai: PLN1,555
Sydney: PLN2,728
Melbourne: PLN2,887
Cape Town: PLN1,455
Hong Kong: PLN1,998
Other Poland Relocation Tips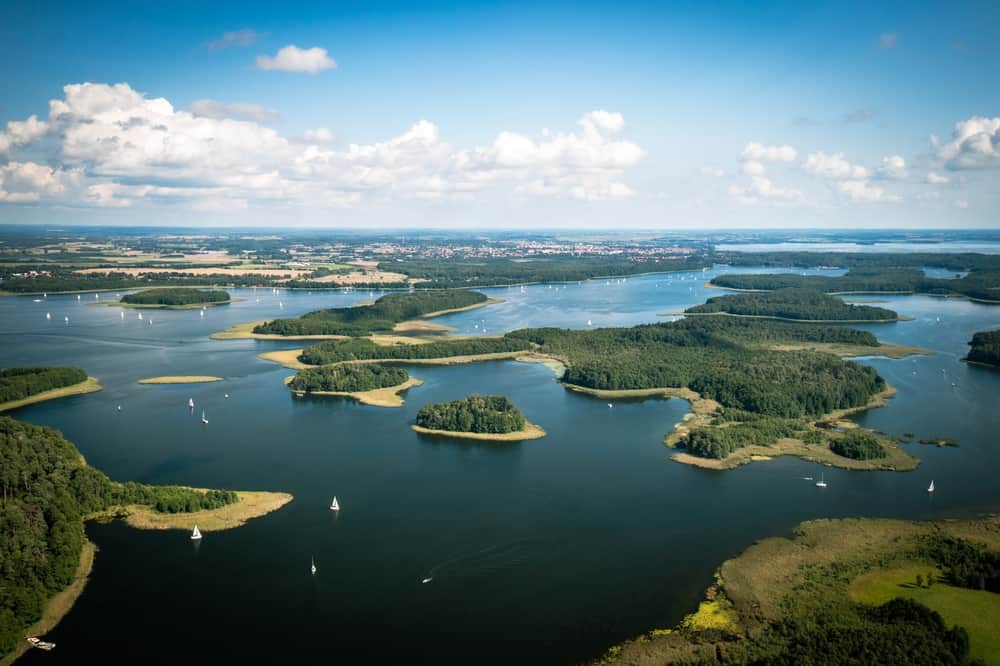 The above costs and pricing should give you a good idea of the cost of living in Poland. But perhaps the following extra tips will make your move go smoothly.
11. Relocating to Poland Alone
The thought of moving abroad is exciting but it can also be stressful, especially if you're moving alone. Poland is a welcoming country; its people and the expat community will help you ease into your new life. Here are a few tips about settling in Poland.
Meetups:Connect with people through Meetup to join a wide range of groups, from learning Polish to dinner clubs.
Attend local events: People in Poland enjoy festivals and events. There is always something going on in Poland and many of the activities are free. Have a look at the following sites for inspiration – Travel Triangle, Exoticca, Key to Poland, Trip Advisor and Frommers.
12. Moving to Poland with a Family
Moving with a family can be stressful but Poland's family-friendly atmosphere and way of life will ensure you and your family settle quickly. There's a lot for kiddies to do – playgrounds, countryside, hiking and exploring, museums, winter sports and, during the summer, the sea and everything that has to offer.
13. Moving to Poland for Work
Moving to a new country for work is one of the most common reasons people choose to move. While it is possible to move without a job, it makes sense to ensure there are jobs in your field before you make the move.
Poland has a significant shortage of people to fill the following job sectors – construction, logistics, factories (managers and workers), shops (sales staff and management), IT, engineering, accountancy, hospitality and the service industry.
Here are a few things to consider when moving for work:
Salary:The costs we outlined above should give you a rough idea of how much more you'll want to be making to make the move worthwhile. You can also check salary ranges on sites such as Glassdoor and Payscale.
How to find work: If you want to have a job lined up before you move to Poland, but aren't sure where to begin, the following sites are good places to start –Indeed, Linkedin, Job Poland, and Careers in Poland. You may also want to Google recruiters in your industry, as they can often help land you some initial interviews as well.
14. Moving to Poland from Australia
There are a small number of Australians living in Poland, if you're thinking of moving from Australia to Poland, here are a few things to consider.
Size comparison:Australia is around 20 times bigger than Poland in terms of geography. The population of Australia is 25,739,000 whereas the population of Poland is 37,781,000.
Join ex-pat groups:MeetUp, Internations, and Facebook offer ways of meeting up with other Australians in Poland.
15. Moving to Poland from Canada
There's a small contingent of Canadians living in Poland. If you're considering making the move from Canada here are a few things to consider.
Size:Canada is 30 times bigger than Poland. The population of Canada is 38,246,000 whereas the population of Poland is 37,781,000.
Expat groups:Meeting up with fellow Canadians helps the moving process. Link up through sites such MeetUp and Internations.
16. Moving to Poland from the United Kingdom
Around 6,500 Brits are living and workin in Poland. If you're considering joining them, here are a few bonus tips:
Size: The UK is a little smaller than Poland. The area of the UK is 243,610 km², while Poland is 312,680 km² large in area. The population of the UK is 67,327,000 whereas the population of Poland is 37,781,000.
Expat groups:Connect with fellow Brits in Poland through MeetUp and Internations.
Hopefully, the tips and costs above are helpful. If want to get started pricing out how much it will cost you to move to Poland you can start by comparing moving quotes here.
Also see: