Looking for international car transport or vehicle shipping, but don't know where to start? We can help you with everything from companies to costs to quotes.
You can get started right away using our quote form above, or keep reading our guide below for more information.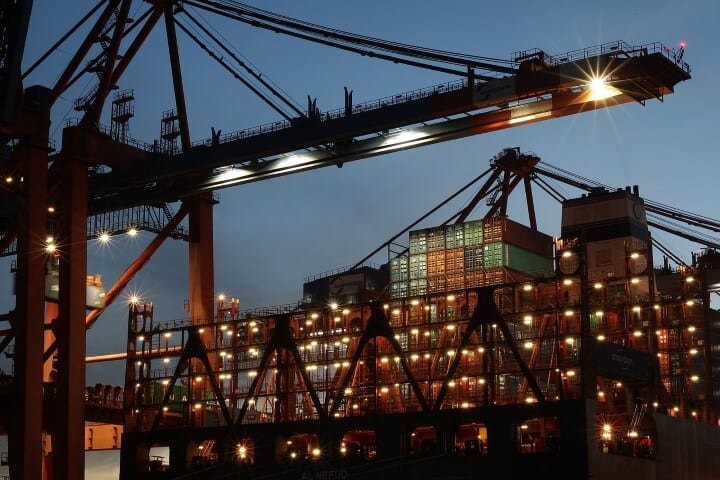 Auto Transport Companies
The international car and auto transport market is extremely fragmented, with hundreds or possibly thousands of small companies operating globally. Below we've listed a few of the more popular companies specialising in car transport.
However, you should also be sure to get quotes from top international moving companies and freight forwarders to make sure you're getting a fair deal.
Alternatively, you can just go to the top of the page and fill in our quote form to find companies quickly.
US & Canadian Auto Transport Companies
A-1 Auto Transport
American Auto Shipping
AmeriFreight
C.A.R. Transport
Dependable Auto Shippers (DAS)
eShip
Executive Auto Shippers
Fisher Shipping
King of the Road Transport
Montway Auto Transport
Prostar Automotive Transport
Ship a Car Direct
Ship Your Car Now
Stateway Auto Transport
Thrifty Auto Shipping
We Will Transport It
UK Car Transport Companies
Acumen Automotive Logistics
AutoShippers
Car Transport Quoter
Classic Automotive Relocation Services
Quinns Car Transport
Shift A Car
White's Vehicle Transport
Woodside Motorfreight
Also check out our international removals page.
Australian Car Transport Companies
ACR Australia
Australian Car Transport
Auto-Logistics
Car Transport Express
Door To Door Car Carrying
CEVA Car Carrying
Moving Cars
PrixCar Transport
SMB Australia Car Transport
Toll
International Car Transport Costs
Car transport and shipping costs vary widely depending on quickly you need your vehicle and your shipping method. If shipping by sea via a shipping container, your costs may be as low as a few hundred dollars, but could take well over 1 month.
You can save even more money if you don't need door-to-door service, and instead opt to pick up your car from the closest port if shipping by sea via a RoRo (Roll on Roll off) shipment.
You can learn more by reading our guide: International Container Shipping Rates & Costs
For moves within a continent (e.g. US to Canada, UK to Spain, etc.) you can hire a car transporter to drive your car for you, assuming your car is in working condition. This will often cost substantially more (up to a couple of thousand dollars, pounds or euros), but means you can get your car in a few days rather than weeks.
If your car is not in working condition, then you'll need to ship via a trailer or other speciality moving truck.
The most expensive option is to ship by air, but this is generally not recommended as the costs are prohibitive.
Other things that affect cost:
Distance: The further you ship the more expensive the total is likely to be, although you should pay substantially less per mile.
Time of year: Certain times of year are more expensive than others for given routes.
Lead time: The further in advance you can start getting quotes, the better, as prices rise substantially for quicker turnarounds.
Open vs Enclosed Truck: Open trucks are cheaper but generally have a higher risk of damage compared to enclosed trucks.
Car Transport Taxes
Depending where you're shipping your car to, you may have to pay substantial taxes. For example, cars shipped to Singapore will incur a 20% import tax on the customs value of the car.
Many European countries charge import duties of around 10% but can also charge VAT on top this which can add an additional 20%, depending on how the car will be used.
So make sure you budget for this, when getting your quotes and before you actually ship your car. In some cases, it can be cheaper and easier simply to buy a new car rather than ship your old one.
International Vehicle Shipping Documentation
To ship your car or other vehicles internationally, you'll need to have a decent amount of documentation. The reuqiremnts vary by country, so always check before shipping. Common required documents include:
Original vehicle title
Certificate of origin
Bill of lading
Insurance documents
Other Car Transport Tips
Take photos: Make sure you take time-stamped photos of your vehicle before its shipped in case there's any damage. If there is any damage make sure to take photos right away to minimise disputes.
Insurance: Make sure your insurance covers the entire journey of your car and anyone who may be driving it.
Remove personal belongings: Make sure all your personal belongings are removed from your car before shipping so they don't get lost (or stolen!)
Look for specialists: If you have a classic or slightly unusual car you're looking to have shipped, make sure the company you choose has experience driving and/or shipping them.
Timelines: Make sure you know how long its going to take to get your car from point A to B.
Running Condition: Make sure you check with your transport company about things such as gas (petrol) levels, fluids, tire pressure, battery, etc before you begin the transport process. For example, if shipping international by shipping container you may want to empty the gas tank entirely. On the other hand, if you're getting someone to drive your car, you'll want to make sure you have a full tank of gas.
Car Transport Quotes
You can use our quote form at the top of the page to get international car transport quotes. However, before you accept any quote make sure you fully understand who will be driving or shipping your car (on every step of the journey), how your vehicle will be insured and to read reviews of the company.