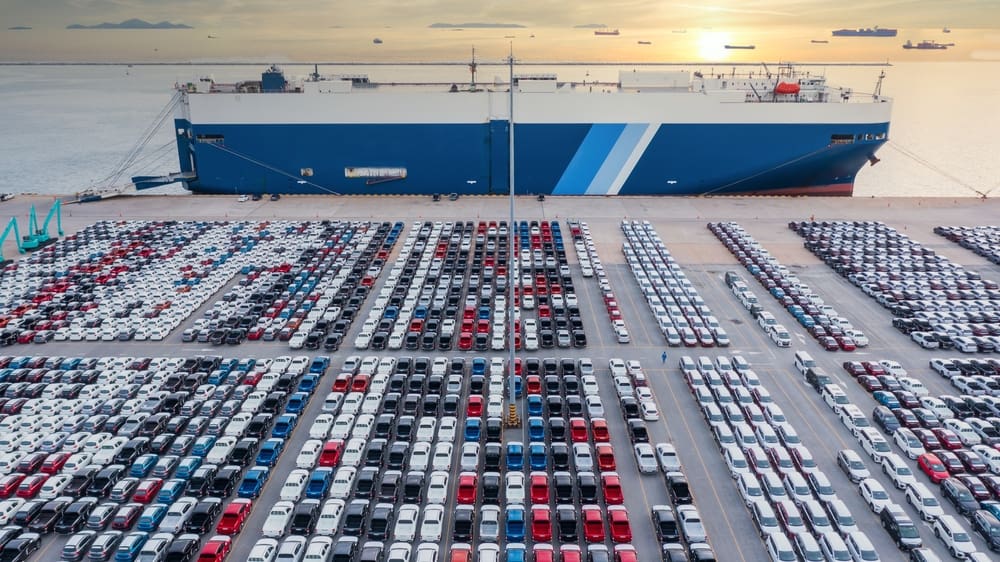 Moving a car internationally can be a daunting process, and it's essential to be informed about the costs – both obvious and hidden.
Our guide will be covering:
How much international car shipping costs
What affects the cost of international car shipping
How to save money on international car shipping
What's involved in hiring an international car shipment
How to know if international car shipping is the best choice for you
How to find and book an international car shipment
Let's get started, and shed light on the expenses involved and the factors that impact these costs.
How Much Does International Car Shipping Cost?
It can be hard to find accurate pricing for international car shipping as it's such a personalized service, dependent on your vehicle make and model, the journey it needs to take, and your choice of transport mode. Let's look at some of the more common methods and their associated costs.
| Type of Transport | Total Estimated Cost |
| --- | --- |
| Standard Ocean Transport | $1,000 to $5,000 |
| Standard Air Transport | $5,000 to $40,000 |
For standard ocean transport, costs can start at $1,000 and rise to $5,000 depending on your individual situation. Air transport is far superior in terms of speed, which gives it a higher price – the same service in the air can cost anywhere between $5,000 to $40,000.
To get exact figures, it's best to inquire directly with a company of your choice.
Thank you. You will hear from us soon.
Wait!
an agent is calling you now from
+1 (800) 680-6439
Please pick up your phone to be connected with an agent to give you a personalized quote based on your move details.
What Affects the Cost of International Car Shipping?
The cost of shipping a car internationally is influenced by several key factors. Let's delve into the specifics.
Distance and Location
The distance your car needs to travel and the specific countries involved significantly impact the cost. Longer distances and destinations that are more remote can lead to higher shipping fees due to increased fuel, labor, and logistical expenses.
While you can't change the starting and ending points, it's wise to anticipate higher costs for more distant and less accessible locations.
Shipping Method
Your choice of shipping method also plays a role in cost determination. In the case of international car shipping, the choice is usually between air or ocean transport methods.
Air is far quicker, so it costs more, whereas ocean travel is slower and less expensive, which is more suitable if you're on a budget but not a particularly tight timeline.
Vehicle Type and Size
As expected, the size, weight, and dimensions of your vehicle have a direct impact on shipping costs. Larger and heavier vehicles require more space and resources, resulting in higher shipping rates compared to smaller vehicles.
Season and Demand
Similar to domestic car shipping, the time of year and overall demand for international car shipping services can influence costs. Peak moving seasons, when numerous people are relocating, often result in higher prices due to heightened demand.
Conversely, off-peak seasons could offer more cost-effective rates.
How Can I Save Money on International Car Shipping?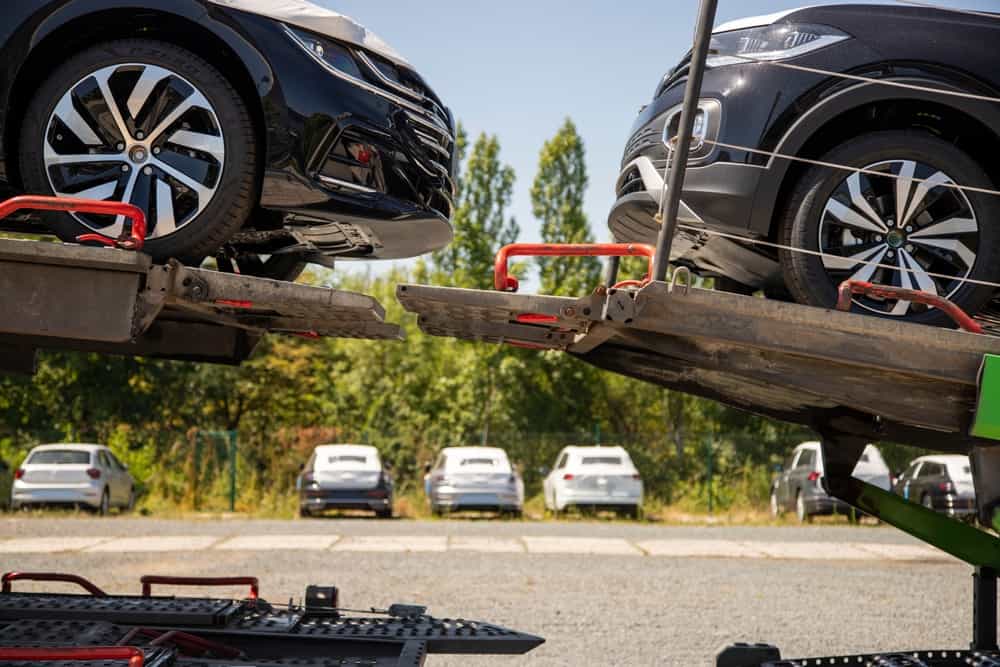 Compare Free Moving Quotes
Thank you. You will hear from us soon.
Wait!
an agent is calling you now from
+1 (800) 680-6439
Please pick up your phone to be connected with an agent to give you a personalized quote based on your move details.
Shipping your car internationally isn't a cheap endeavour – let's look into some of the ways you can save money on the service.
Where possible, consider flexible shipping dates, avoiding peak moving seasons when demand surges. Off-peak times can lead to cost savings, as shipping companies may offer discounts to fill their schedules.
Opt for ocean transport instead of air transport wherever feasible. While air transport is superior in terms of speed, it is far more expensive, so ocean transport is best for those on a tight budget.
You can look to choose port-to-port shipping for cost savings, even though it may involve additional logistical coordination. This approach is often more economical than door-to-door service, where the carrier directly reaches you.
If you have multiple vehicles or know others moving cars internationally, consider shipping them together. This could potentially lead to volume discounts from the shipping company, reducing the cost per vehicle.
What's Involved in International Car Shipping?
International car shipping can seem daunting – giving a company your keys and hoping the vehicle gets to your next location in one piece can be scary. Let's look at the process your car takes during the move.
Once you've selected an international car shipping company, you'll need to provide relevant information about your vehicle, such as its make, model, dimensions, and weight. The shipping company will guide you through the required documentation, including customs forms, export/import paperwork, and any necessary permits.
Before the vehicle is loaded for shipping, it undergoes a thorough inspection, and you might be asked to provide photos of the vehicle's condition, inside and out. It's recommended to clean your car and remove personal belongings to comply with international shipping regulations.
Depending on the shipping method you've chosen, your vehicle will be securely loaded onto the appropriate carrier. If it's an enclosed container, your car will be placed inside, protecting it from weather conditions and potential debris during transit.
As your vehicle crosses international borders, it must undergo customs clearance procedures. This involves presenting the necessary documentation, including bills of lading, ownership proofs, and any applicable taxes or duties.
Your vehicle will be transported either by sea or air, depending on the shipping route and method. During sea transit, your car might be stowed in a shipping container on a cargo ship, while air transport involves loading your vehicle into a cargo plane designed for international shipping.
Reputable international car shipping companies provide tracking services, allowing you to monitor the progress of your vehicle in real-time. You'll receive updates about its location and estimated arrival time.
Once your vehicle arrives at the destination country's port, it undergoes customs clearance and inspections once again. The shipping company's agents will help navigate this process and ensure compliance with local regulations.
How Do I Know If International Car Shipping Is Right for Me?
Car shipping might feel overwhelming if you're unfamiliar with it. Here's a look at the main pros and cons to assist your decision-making process.
| Advantages of a Car Shipping | Disadvantages of Car Shipping |
| --- | --- |
| Convenience and time-saving – you don't need to worry about getting your car from A to B | Damage can happen on the road – you're not driving, so can't comment on the actual driver's ability |
| Reduced wear and tear – you won't have to drive the vehicle, so your mileage won't be affected and you are less likely to damage your car | It can cost more than the value of the fuel to get from A to B |
| Multiple vehicles can get group discounts if you're transporting more than one vehicle at a time | Less control over the timing of the service – during peak times you may struggle to be fitted in when you want to be |
The advantages of car shipping stem from the convenience it offers. By entrusting a car shipping company, you don't need to figure out how to drive your vehicle from A to B across the border.
This not only spares you from the wear and tear typically faced during such journeys but also eliminates potential road-related mishaps. However, there are some drawbacks to consider.
Uncertainties surround the driver's skill as road accidents can affect anyone. Moreover, car shipping can be a substantial expense, further escalating if you opt for enclosed shipping.
How Do I Find an International Car Shipping Company?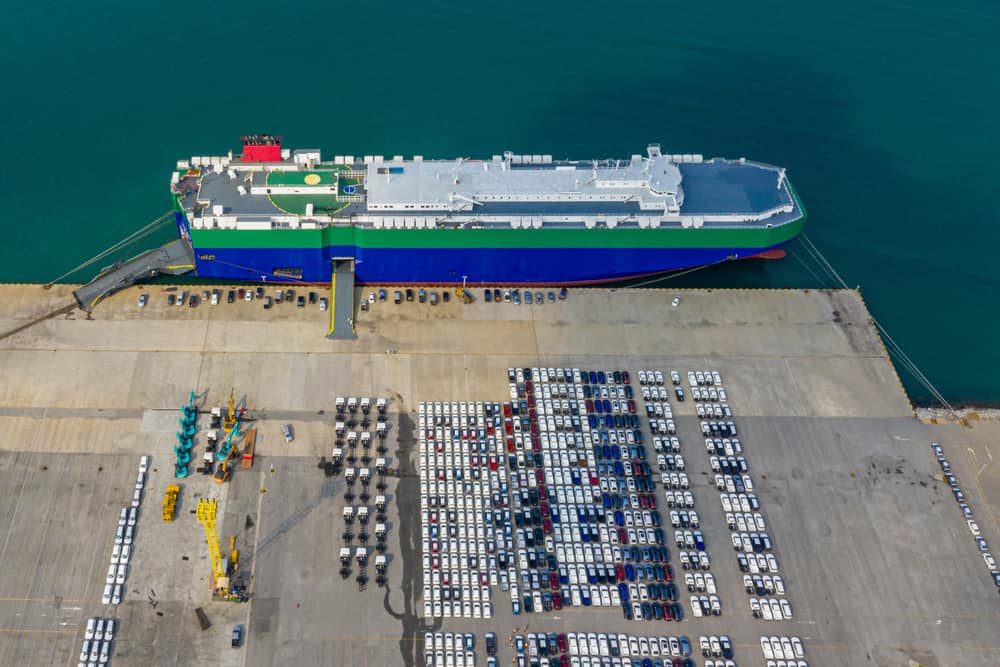 Compare Free Moving Quotes
Thank you. You will hear from us soon.
Wait!
an agent is calling you now from
+1 (800) 680-6439
Please pick up your phone to be connected with an agent to give you a personalized quote based on your move details.
Finding an international car shipping company is a fairly straightforward process.
It's best to start with online research. Where possible, you should tap into recommendations from friends, neighbors, or colleagues who have used similar services can provide valuable insights and steer you away from less reputable choices.
Once you've found some companies, start to request quotes from multiple companies to evaluate their services, pricing, and customer experiences. Understand what type of service you need – enclosed or open – and discuss timelines with the company in question.
Once you've pinpointed a suitable provider, ensure that they have availability on your required dates and secure your booking promptly.
Ensuring the Professional Is the Right Fit
Before finalizing your choice, be sure to look into online reviews and scrutinize the company's track record to gauge customer satisfaction. This can help to steer you away from potential rogue traders.
You should check that the company in question has relevant insurance to cover your vehicle and find out if they will handle the customs paperwork when your vehicle crosses the border – it's also a good idea to find out if there are tracking options available to see the journey your vehicle is making.
Once you've settled on your choice, be sure to confirm their availability for your preferred date and then proceed with the booking to secure their services.
Final Checklist
With your preferred company chosen and the suitability of the transportation service assessed, adhere to our final checklist for a seamless move:
Research transport types – do you require air or ocean transport?
Evaluate if the service aligns with your needs – is the added cost and planning justified by the convenience?
Explore potential companies, assessing reviews and customer feedback
Gather quotes for comparison
Verify their availability
Secure your booking!
By following these steps, you can confidently approach international car shipping and ensure a successful transition.
Frequently Asked Questions
How Long Does International Car Shipping Take?
The duration of international car shipping varies based on factors like the shipping route, distance, and transportation method. On average, sea transport can take several weeks, while air transport is faster but often more expensive.
Factors like customs clearance and logistics can also influence the overall shipping time.
Is My Car Insured During International Shipping?
Reputable international car shipping companies typically provide insurance coverage for your vehicle during transit. The extent of coverage might vary, so it's essential to clarify the insurance details with your chosen shipping company before shipping your car.
Can I Ship Personal Items Along with My Car Internationally?
Many international car shipping companies discourage shipping personal items inside the vehicle due to customs regulations and insurance limitations. Some companies might allow a limited amount of personal belongings, but it's crucial to inquire about the specific policies of your chosen shipping company.
What Documents Are Required for International Car Shipping?
International car shipping involves several documents, including the vehicle's title, bill of sale, registration, and relevant customs forms. You might also need identification, your passport, and a copy of your driver's license.
Additionally, destination countries might have specific requirements, so it's essential to work closely with the shipping company to ensure you have all the necessary paperwork in order.
Compare Free Moving Quotes
Thank you. You will hear from us soon.
Wait!
an agent is calling you now from
+1 (800) 680-6439
Please pick up your phone to be connected with an agent to give you a personalized quote based on your move details.