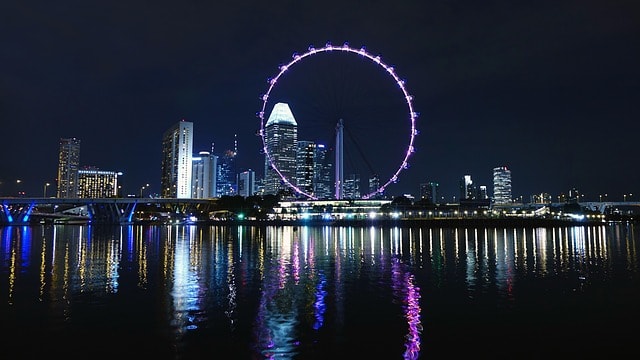 With its high standard of living, business friendly climate and the ability to live and work in English, the city-state of Singapore is a very popular destination for both immigrants and expats.
43% of Singapore's population was born abroad, which puts it among the top 10 cities globally in terms of share of foreign born population.
Quick Facts:
Population: 5.26 million (3.27 million citizens, 0.54 million permanent residents and 1.46 million non-permanent residents)
Official Languages: English, Malay, Mandarin Chinese, and Tamil. (English is the language of business)
GDP per capita (nominal): $52,888 USD (6th highest in the world)
Drives on: Left
Currency: Singapore dollar ($S, SGD). As of early 2017, $1 USD = $1.42 SGD, £1 GBP = $1.77 SGD, €1 EUR = $1.51 SGD, $1 CAD = $1.08 SGD, $1 AUD = $1.09 SGD.
However, before you decide to move to Singapore it's important that you fully understand how much it will cost to both move and live there.
Below we outline some of the biggest costs you can expect to encounter when you move, along with some other tips provided with help from CupoNation.
1. Moving & Shipping Costs
Shipping your stuff to Singapore can be quite expensive, especially if you're coming from Europe or the east-coast of North America. Fortunately, you can reduce your costs significantly if you compare moving companies using the quote form above.
Here are some sample 2019 international container shipping costs to Singapore from other major world cities:
| City | 20ft | 40ft |
| --- | --- | --- |
| London, UK | S$1,722 | S$2,572 |
| New York, USA | S$1,453 | S$2,170 |
| Vancouver, Canada | S$1,074 | S$1,604 |
| Sydney, Australia | S$1,087 | S$1,623 |
| Dubai, UAE | S$2,014 | S$3,008 |
Source: WorldFreightRates.com
Just keep in mind that the prices listed above are estimates only and only account for the direct shipping costs.
To learn more about shipping to Singapore and other moving costs you may want to read our guides:
You can also get a quote using the form below:
Thank you. You will hear from us soon.
Wait!
an agent is calling you now from
+1 (800) 680-6439
Please pick up your phone to be connected with an agent to give you a personalized quote based on your move details.
2. Visa Costs
If you plan on working and/or studying in Singapore you will need to get the appropriate work visa or study visa. Singapore has a wide range of Work passes and permits to choose from along with the Student's Pass for students.
Here are some sample costs:
To learn more about VISAs and their associated costs you'll need to check with the Singapore Ministry of Manpower.
3. Housing Costs
Housing in Singapore is among the most expensive in the world and is likely to be your single biggest expense when living there. Below are some sample rent and purchase prices, but keep in mind the market is shifting all the time.
Rental Prices
1 bedroom apartment in City Centre: S$2,000-S$4,500 ($1,477-$3,324 USD)
1 bedroom apartment outside of centre: S$1,500-S$2,600 ($1,108-$1,920 USD)
3 bedroom apartment in City Centre: S$4,500-S$8,000 ($3,324-$5,910 USD)
3 bedroom apartment outside of Centre: S$2,600-S$4,500 ($1,920-$3,324 USD)
Apartment Purchase Prices
Price per square meter (10.7 sq ft) to buy in City Centre: S$17,222-S$32,000 ($12,726-$23,646 USD)
Price per square meter (10.7 sq ft) to buy outside of Centre: S$7,534-S$15,400 ($5,567-$11,379 USD)
Housing Cost Comparison
Here's how housing costs in Singapore (based on rent), match-up against other major world cities:
London is 3.93% cheaper
New York is 24.42% more expensive
Toronto is 49.87% cheaper
Sydney is 19.65% cheaper
Paris is 42.59% cheaper
Dubai is 4.35% cheaper
Source: Numbeo
Keep in the mind the above are based on averages only and your mileage may vary.
Bonus Tip
Renting suggestions: Renting in Singapore is expensive, but you can search in some areas outside the center that are
relatively cheaper: go for places like Bedok, Changi, Pasir Ris, Woodlands, Jurong etc.
4. Food, Grocery & Restaurant Costs
Since Singapore is an island city-state, it has to import the vast majority of its food. This means grocery prices on the whole tend to be higher than other surrounding countries. However, compared to other major world cities restaurants are relatively cheap.
Below are sample costs for 10 common grocery items and restaurant meals:
Inexpensive Restaurant: $S7.00-$S20.00 ($5.20-$14.85 USD)
Takeout Coffee: S$4.50-S$6.00 ($3.35-$4.45 USD)
Bottle of Coke: S$1.20-S$2.50 ($0.90-$1.90 USD)
1L of Milk: S$2.50-S$4.00 ($1.90-$3.00 USD)
Loaf of Bread: S$2.00-S$3.00 ($1.50-$2.25 USD)
12 Eggs: S$2.16-S$3.50 ($1.60-$2.60 USD)
1kg Chicken: S$6.00-S$10.00 ($4.45-$7.40 USD)
1kg Beef: S$12.00-S$33.00 ($8.90-$24.50 USD)
1kg Apples: S$3.00-S$6.00 ($2.25-$4.45 USD)
1kg White Rice: S$2.00-S$5.00 ($1.50-$3.70 USD)
In terms of food here's how Singapore compares to other major world cities:
London restaurants are 51% more expensive but groceries are 21% cheaper.
New York restaurants are 62% more expensive and groceries are 31% more expensive.
Toronto restaurants are 11% more expensive but groceries are 15% cheaper.
Sydney restaurants are 21% more expensive and groceries are about the same price.
Paris restaurants are 35% more expensive and groceries are about the same price.
Dubai restaurants are 5% more expensive but groceries are 25% cheaper.
Source: Numbeo
Bonus tips:
Visit wet markets: For fresh fruits and veggies, your local wet markets are less expensive than supermarkets. Visit Chinatown, Empress, Tiong Bahru,Tekka and the Jurong fishery Port for seafood (having to wake up early to catch the best deals is kind of hard-ideal hours are from 2am to 4am) but both locals and expats confirm that it's definitely worth it!
Hawkers for cheap eats: All locals go to food hawkers and you should also do it: A good variety of cuisines at low prices (prices start at 2.5 SGD per plate) is what makes hawkers so successful and allows you to have a glimpse of the traditional Singapore.
Popular hawkers: Lau Pa Sat in the Central Business District, also known as Telok Ayer Market, Chinatown's Maxwell Hawker Centre, Chinatown Food Street and Tekka Centre in Little India.
Closing hours are the best: This applies both to Supermarkets (for example the Japanese and grill sections) and wet markets: when it is closing time many products will be half the price or even less, as the alternative for vendors is to throw them.
Go shopping in Johor Bahru: If you have time, visit Johor Bahru in Malaysia for cheaper seafood, and to buy your groceries supplies-however stick to Singapore for your electronics and designer goods, as they are more expensive in Malaysia due to high taxes.
5. Alcohol Costs
Alcohol prices in Singapore are relatively high by world standards. Here are some sample prices:
Pint (0.5L) domestic beer at restaurant: S$5.00-S$12.00 ($3.70-$8.90 USD)
Bottle of imported beer at restaurant: S$6.50-S$13.00 ($4.80-$9.65 USD)
Pint (0.5L) domestic beer at supermarket: S$4.00-S$8.00 ($3.00-$6.00 USD)
Bottle of imported beer at supermarket: S$4.00-S$10.00 ($3.00-$7.45 USD)
Mid-range bottle of wine: S$23.00-S$40.00 ($17.10-$29.70 USD)
Bonus Tips:
Ladies nights on Wednesdays: Wednesday is ladies night in Singapore, which means free entrance and drinks for women in many bars and clubs!
Happy Hour: Drinking Alcohol is expensive compared to western standards, but you can always visit the bars during happy hours: then you have more chances of getting buy-one-get-one-free deals.
Keep the Arts House in mind: Look regularly at the Arts House website to keep track of many international and local art exhibitions that can be either free or at very good prices.
6. Public Transportation Fares
Public transportation fares in Singapore are extremely low by world standards. They are calculated based on distance, so you only pay for the distance you travel. Moreover, you're allowed up to 5 transfers within 2 hours on journey.
This can include transfers between busses and the train network, although you can only enter/exit the train network once overall per journey.
Adults have 3 types of tickets/passes to choose from:
New Standard Ticket: $S1-S$2.30 + $S0.10 deposit (refunded on 3rd trip).
Adult Stored value Smartcard: $S10.00 + S$5.00 deposit (non-refundable)
The Singapore Tourist Pass Unlimited Travel for S$10.00/day + S$10.00 deposit (refundable within 5 days)
Source: Land Transport Authority
Bonus tip:
MRT early commuters rides: MRT offers free morning rides in the city area for commuters using the network before 7:45 am, so set your alarm a bit earlier to avoid the crowds and move for free!
7. Cost of Internet
Broadband fibre internet in Singapore is extremely fast by international standards. Here are some sample prices you can expect to pay for a 1 GBPS connection: (Prices as of July 2016; based on 24 month contract):
8. Cost of Clothing & Personal Items
Given that Singapore is located just over 1 degree north of the equator, it should come as no surprise that its climate is hot and humid and is the equivalent of a topical rain forest.
Since it's so close to the equator, the temperature and humidity do not vary much from month to month. Typical day-time highs are around 31.0°C (87.8°F) and typical lows are around 24.1°C (75.4°C) with average relative humidity around 84%. So you can feel confident leaving your coat and winter boots at home as you won't be needing them here.
Clothing is not cheap in Singapore with prices for many items well above what you'd find in the United States or even Europe.
Below are a few sample costs:
1 pair of Jeans: S$70.00-S$150.00
Summer Dress: S$40.00-S$80.00
Running Shoes (Trainers): S$90.00-S$150.00
Business Shoes: S$90.00-S$195.00
Bonus tips:
Buy or sell online on local apps: Buy second hand things or sell things you no longer need on local applications and websites such as Carousel or SGSelling.
Prefer display sets: Big retailers like Best, Courts or Harvey Norman have appliances and gadgets at 20-30% lower prices when they have been used as a display set, and most of the time they are in great condition. Make sure to ask if the warranty of the product is the same as a new product's though.
Great Singapore Sale: Prefer to wait until the GSS for stocking up your clothes and accessories. You can start in June and still have a timeframe of 10 weeks to make the most out of it! Our advice? Do both the brand shops in Orchard Road and the smaller shops of Chinatown, Little India or Kampong Glam.
Cheap medications: Some kinds of medication can be as much as 50% cheaper in Malaysia or Batam and many times they do not need prescription; keep that in mind if you go for a visit or have family in one of these places!
Stay active on a budget: Don't pay a fortune to keep in shape buy signing up in a private gym. Did you know that an Active
SG facility costs 2.5 SGD per session for residents? That is a great alternative!
Get a massage at a great price while helping your fellow citizens: the Mobile Massage Team by the Singapore Association of the Visually Handicapped gives massages at very good prices, starting from SGD 10 for 20 mins.
9. Cost of owning a car
Singapore drivers, drive on the left, the same as the UK and Australia and the opposite of the United States, Canada and continental Europe.
If you plan on living and working and living in Singapore for any period of time you will have to convert your license over to a Singapore driving licence. You can learn more about How to convert a foreign driving licence here.
Singapore has among the lowest rates of car ownership anywhere in the developed world, with only 149 vehicles per 1000 people. In comparison the US has 809 per 1,000 people and the UK has 519 per 1,000 people.
One of the reasons why car ownership is so low is due to the high cost buying, registering and running a car. Here are some sample costs:
Volkswagen Golf 2.0: S$131,708
1 liter (1/4 gallon) of gas (petrol): S$2.17
Registration fee (RF): S$140
Additional Registration Fee (ARF): up to 180% of vehicle value.
Sources: Expatistan.com, Land Transport Authority of Singapore Tax Structure For Cars
Just be aware that the costs above are only some of the fees and costs you will face when trying to register a car in Singapore. See the Land Transport Authority of Singapore website for full details.
Need your car/vehicle moved to Singapore? Then read our guide to: Car Transport & Vehicle Shipping
10. Taxes
Taxes in Singapore are relatively low by international standards.
The top marginal income tax rate for residents is 22% and only applies to incomes above S$320,000 per year. If you live in Singapore for between 61 and 183 days per year, you are considered a non-resident and will the charged the higher of 15% or the marginal tax rate for your income level.
In addition, you will also have to pay 7% Goods and Service Tax (GST; aka sales tax) on most goods and services while living in Singapore.
If you plan on starting a business and/or buying property you will face additional taxes.
11. Flight Costs
Obviously, if you do make the move to Singapore you'll probably also want to fly home from time to time. Here are sample flight costs from Singapore based on data from Skyscanner (checked July 2016):
Hong Kong: S$253
Melbourne: S$327
Dubai: S$626
London S$956
Toronto: S$1,531
New York: S$1,532
Los Angeles: S$1,224
Vancouver S$1,437
Also see: