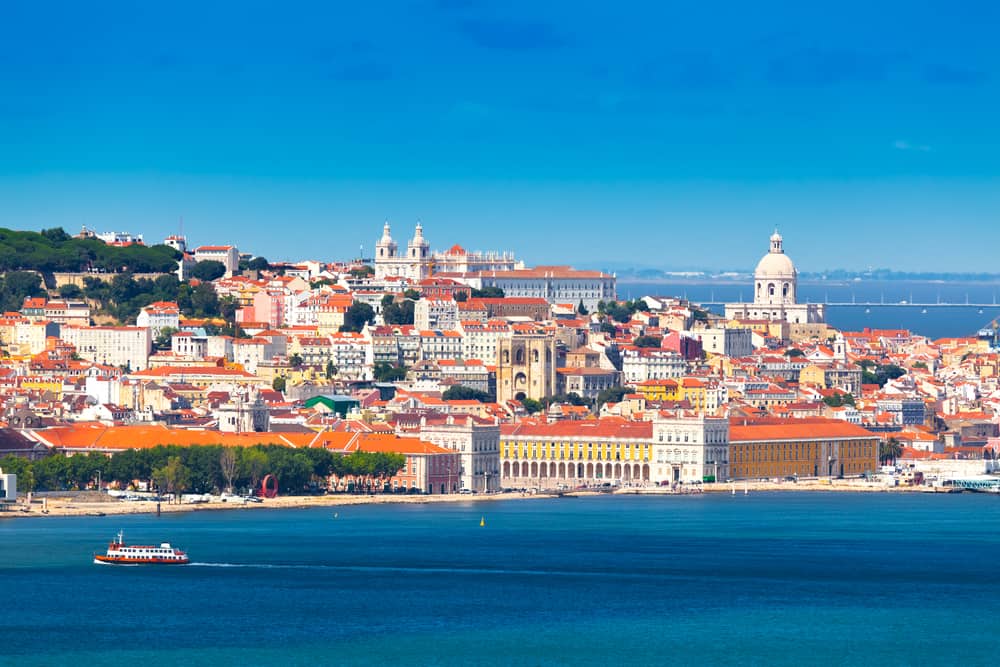 Portugal has a long and colourful history and, in times gone by, was a powerful maritime empire. This interesting country now ranks 48th in the world global economy list. Portugal is one of the safest countries, with a low crime rate and a low cost of living. The country is famous for its beaches, especially in the Algarve where a large number of foreigners either live, own holiday homes or come annually for a holiday in the sun.
If you are thinking of moving to Portugal, the following information will assist you.
Quick Portugal Facts:
Population: 10,270,865 (2022 est.) with 0.19% growth rate.
Official Language:Portuguese is the official language of Portugal. English is widely spoken, together with Spanish and French.
GDP Per Capita: $22, 439.88 USD
Bookshop: The world's oldest bookshop is in Lisbon and was established in 1732.
Currency: The Euro is the official currency of Portugal. € 1 = US$ 0.97, €1= AU$ 1.50, €1= CA$ 1.33, €1 = £90.
1. Moving and Shipping Costs to Portugal
The table below shows sample international container shipping rates to Portugal from various countries around the world.
| Origin Country (Port/City) | 20FT | 40FT |
| --- | --- | --- |
| Andorra (Andorra la Vella) | $779 | $1,052 |
| Argentina (Buenos Aires) | N/A | $355 |
| Australia (Sydney) | $8,723 | N/A |
| Austria (Vienna) | $400 | $600 |
| Belize (Belize City) | $986 | $1,100 |
| Brazil (Santos) | $1,064 | $1,287 |
| Cambodia (Sihanoukville) | $4,466 | $8,421 |
| Canada (Toronto) | $1,477 | $2,167 |
| Canada (Vancouver) | $1,847 | $3,311 |
| Chile (San Antonio) | $1,026 | $1,166 |
| China (Beijing) | $1,205 | $1,990 |
| China (Shanghai) | $5,300 | $9,870 |
| Colombia (Barranquilla) | $1,239 | $1,331 |
| Croatia (Rijeka) | $924 | $1,386 |
| Czech Republic (Prague) | $569 | $1,092 |
| Denmark (Copenhagen) | $1,474 | $1,967 |
| Dominican Republic (Santo Domingo) | $1,122 | $1,176 |
| Egypt (Alexandria) | $1,130 | $1,521 |
| Estonia (Tallinn) | $1,525 | $2,100 |
| Finland (Helsinki) | $1,449 | $1,995 |
| Germany (Hamburg) | $770 | N/A |
| Greece (Piraeus) | $970 | $1,615 |
| Guernsey (St Peter Port) | $530 | $1,028 |
| Haiti (Port-au-Prince) | $1,122 | $1,176 |
| Hong Kong (Hong Kong) | $6,160 | $9,345 |
| India (Mumbai) | $1,639 | $2,195 |
| Indonesia (Jakarta) | $6,365 | $11,521 |
| Ireland (Dublin) | $1,468 | $2,011 |
| Isle of Man (Douglas) | $1,458 | $1,934 |
| Israel (Haifa) | $1,045 | $1,796 |
| Italy (Trieste) | $924 | $1,386 |
| Japan (Tokyo) | $2,600 | $11,416 |
| Jersey (St Helier) | $530 | $1,028 |
| Jordan (Aqaba) | $1,045 | $1,847 |
| Latvia (Riga) | $1,488 | $2,048 |
| Lithuania (Klaipeda) | $1,455 | $2,004 |
| Luxembourg | $996 | $1,338 |
| Netherlands (Rotterdam) | $770 | $864 |
| Norway (Oslo) | $1,530 | $1,893 |
| Poland (Gdansk) | $1,518 | $1,938 |
| Russia (Saint Petersburg) | $1,438 | $1,978 |
| Sweden (Gothenburg) | $1,407 | $1,877 |
| Thailand (Laem Chabang) | $5,867 | $7,500 |
| UK (London) | $1,190 | $1,635 |
| US (Los Angeles) | $1,974 | $2,812 |
| US (New York) | $2,385 | $2,961 |
| Vietnam (Saigon) | $6,850 | $12,200 |
2. Portugal Housing Costs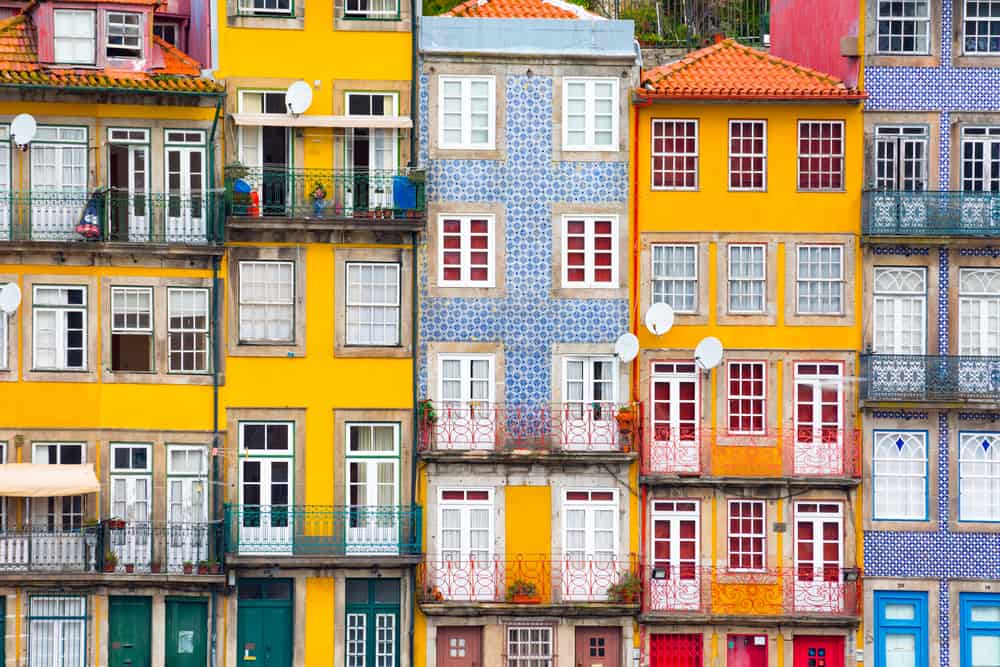 The majority of people living in Portugal own their own property. Homeownership in Portugal is around 74%, which is well above the average of most countries. As the real estate sector in the country is well-developed one can easily find a house to buy or rent. The Portuguese government also makes it relatively easy for foreigners to buy a property. Housing costs in Portugal are affordable compared with many European countries. The cost obviously varies from area to area.
Monthly Rental Prices in Portugal
1 bedroom apartment in City Centre: €500 – €1,200
1 bedroom apartment outside the City Centre: €380 – €809
3 bedroom apartment in City Centre: €800 – €2,000
3 bedroom apartment outside the city centre: €600 – €1,400
Apartment per sq metre – to buy in City Centre: €1,500 – €5,600
Apartment per sq metre – to buy outside the City: €1,100 – €3,600
Portugal Housing Cost Comparison
This is how rents in Portugal compare with other countries around the globe.
United Kingdom is 50.55% more expensive
United States is 137.54% more expensive
Australia is 70.55% more expensive
Canada is 110.74% more expensive
Singapore is 236.59% more expensive
France is 19.96% more expensive
Dubai is 58.33% more expensive
Spain is 40.45% cheaper
Source: NUMBEO
How to Save on Housing Costs
Share an apartment or house. Have a look at the following sites to find your perfect room or flatmate: – behappylodge, samesameliving, Portugalist, Craigslist, and Expatica.
Different areas – different prices. The housing prices in cities such as Lisbon and Porto, plus the Algarve are expensive for Portugal and, since COVID and the rise of the Digital Nomad, prices have increased considerably. There are places like Crato, Nelas, Proenca-a-Nova, Idanha-a-Nova, Santa Comba Dao and Alcanena where the housing is more affordable.
3. Portugal Food, Grocery and Restaurant Costs
The Portuguese love food, especially long lunches with family and friends. This love of food has put Portugal on the map as a gastronomic tourist destination. If seafood is your passion, visit one of the many marisqueira to feast on lobster, prawns and charcoal grilled fish. Cheaper restaurants and diarias generally buy their fresh produce daily from local markets and will serve what's available that day.
Inexpensive Restaurant: €6 – €15
Takeout Coffee: €0.70 – €3.00
Bottle of Coke: €1.00 – €2.00
1L of milk: €0.48 – €0.99
Loaf of Bread: €0.64 – €2.00
12 Eggs: €1.10 – €3.00
1kg Chicken Fillets: €2.99 – €7.69
1kg Beef: €5.99 – €15.00
1kg Apples: €0.80 – €2.29
1kg White Rice: €0.70 – €1.50
This is how restaurants and food prices compare with other major cities in the world.
UK restaurants are 75.76% more expensive and groceries are 78.72% more expensive than Portugal.
US restaurants are 100.70% more expensive and groceries are 120.17% more expensive than Portugal.
Canadian restaurants are 75.95% more expensive and groceries are 96.70% more expensive than Portugal.
Australian restaurants are 80.05% more expensive and groceries are 112.93% more expensive than Portugal.
French restaurants are 80.39% more expensive and groceries are 84.74% more expensive than Portugal.
Dubai restaurants are 58.73% more expensive and groceries are 33.50% more expensive than Portugal.
Source: Numbeo
Bonus Tips for Cheaper Food, Restaurants and Groceries
Know your supermarkets: Portugal has supermarkets chains spread across the country. Popular supermarket chains like Auchan offer cheaper prices. Continente is the largest supermarket chain with over 500 grocery stores nationwide. Their prices are reasonable and they also provide home delivery. You can also buy groceries for cheaper price from Pingo Doce, Mercadona and Intermarche.
Find Cheap Eats: There's a wide variety of foods to choose from in Portuguese cities. Seafood is big on the menu of all coastal resort restaurants. Visit Rough Guides, Eater, com and Nomadic Foodist.
4. Portugal Alcohol Costs
Portugal has one of highest levels of alcohol consumption in the world. This love of alcohol translates into a wide range of traditional alcoholic drinks that differ from region to region. The Portuguese prefer love Sagres and Super Bock beer, wines from Ribatejo, Alentejo, and Dauro, plus LicorBeirao, and Ginjinha. Of course, we must not forget 'port', which has been a part of Portuguese life since the latter half of the 17th century.
Bottle of imported beer at a restaurant/pub: €1.50 – €4.00
Pint (0.5L) domestic beer at a restaurant/pub: €1.00 – €3.50
Pint (0.5L) domestic beer at a supermarket: €0.61 – €1.80
Bottle of imported beer at a supermarket: €0.90 – €3.00
Mid-range bottle of wine at a supermarket: €2.50 – €7.00
Source: Numbeo
How to drink for less in Portugal
Portugal is one of Europe's cheapest countries when it comes to a good night out. There are always drink specials in bars and restaurants. Some of more touristy areas seem to have all day happy hours. Just keep an eye on the local papers for information or look online.
Beer and wine are comparatively cheap in Portugal and there are always specials to be had. You can search for cheap drinks through the following sites: Oasis, com, Discoverwalks. Portoalities, Theplaneted, and Lisbon City guide,
5. Portugal Transportation Fares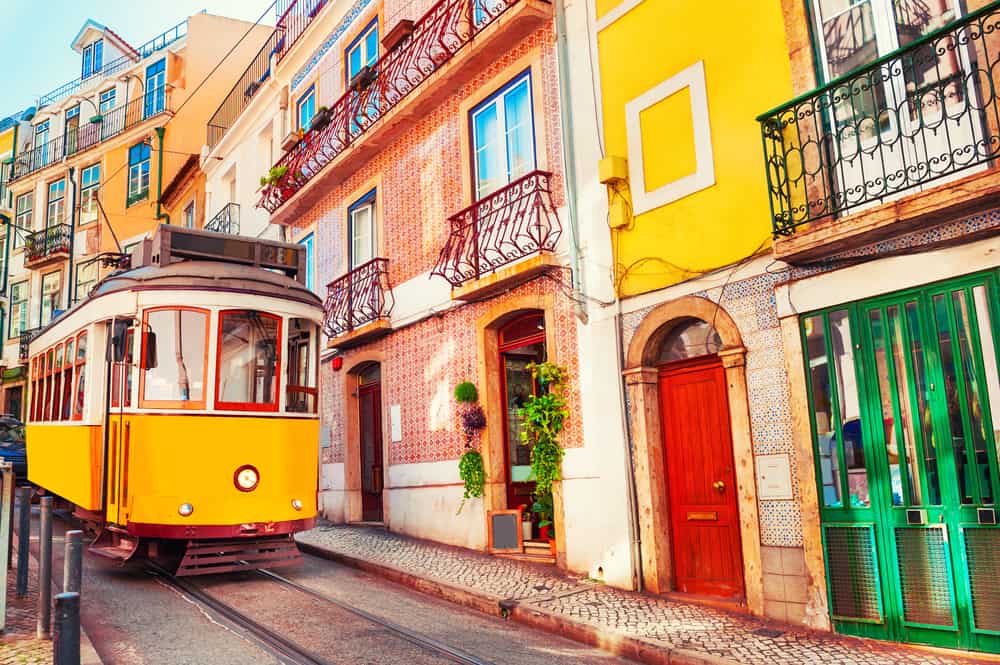 Comparatively speaking, Portugal is a small country which makes travelling by bus or train relatively easy and quick. Fares on trains and buses are affordable and generally extremely good value. For instance, it costs only € 5.20 to Santo Antonio from Faro across the Algarve. There are bus services like Eva Transport, Frota Azul and Planet Tours – try one of them.
Here are some example ticket costs: –
Normal Tariff -Taxi one-hour waiting: € 14.90
Normal Tariff Taxi -1 Km: € 0.47
Normal Tariff Taxi Start: € 3.50
Regular Price Monthly Pass: € 40.00
Local transport one-way ticket: € 1.60
Source: Numbeo
How to save money on public transport
Travel by train instead of a bus. The fares are almost the same but you'll save time.
Book an Uber instead of taking a cab for short trips. .
Think of travelling by air. Check for budget flights, for example, you can pick up a flight from Lisbon to Porto for € 20 round trip.
6. Cost of Internet in Portugal
The Internet in Portugal is averagely priced. Here are some sample internet prices from September 2022 for unlimited downloads, based on a 12-month contract: –
7. Cost of Clothing, Personal Items, Gym and Leisure
Portugal experiences a warm, temperate climate with winter rainfall. The temperature on an average winter's day will be around 16C, with 5 to 6 hours of sunshine. Spring brings balmy temperatures of around 22C and a good 10 hours of sunshine. Summers are dry and daily temperatures average out at 26C, with 11 or 12 hours of sunny weather. The temperature can remain high during the autumn months but will cool down in the evening.
Pair of Jeans: Pair of Jeans: €25 – €110
Summer Dress: €17 – €40
Running Shoes (Trainers): € 40 – €100
Business Shoes: €40 – €120
Short Doctor's visit (15 mins): €57
Deodorant: €3.29
Shampoo: €4.71
Toilet Paper (4 rolls): €1,83
Gym membership: €22 – €50 per month
Movie (cinema) ticket: €6 – €9
Source: Expatistan and Numbeo
8. Cost of Owning a Car and Driving a Car in Portugal
Buying a new car or used car in Portugal is easier than bringing your own car as government regulations are complicated and expensive if you choose to import your vehicle. Car insurance is mandatory and the driver must at least 18 years old with a valid licence. If you want to exchange a foreign licence in Portugal follow the process here. All cars more than 4 years old must have an IPO test.
Driving in Portugal is a pleasure as long you stick to the rules. Similarly, you need to take note of the Portuguese style of driving as it may be a little more carefree than you're used to.
Buying a used car – the registration fee is €55 and €65, online and offline respectively.
The surcharge for diesel vehicles is € 500 if it emits CO2 more than 0002-0001g/km.
1 litre of gasoline: €1.86 – €2.10
Source: impostosobreveiculos and Numbeo
Ways to save money driving in Portugal
Use Uber for short trips where parking may be an issue. Try apps like Bolt and Free Now for saving money.
Need your car/vehicle moved to Canada? Then read our guide to: Car Transport & Vehicle Shipping
9. Taxes in Portugal
Non-residents in Portugal need to pay a flat rate of 25% income tax on Portuguese income. If you stay for longer than 183 days you'll be taxed like a resident and you'll need to pay 14.5% to 48% income tax on your income worldwide. For more information on Portugal's taxes visit this site: Global Citizen Solutions.
Portugal has three VAT rates (sales tax) depending on which region you're in. For more information visit Tax Summaries. Homeowners in Portugal need to pay IMI, a Portuguese version of council tax. The rates in urban areas are around 0.3% to 0.45% of the value of the home and in rural areas 0.8%. For detailed information on property tax visit EXPATICA.
10. Flight Costs from Portugal
If you have already made up your mind to move to Portugal, below are the flight costs from Lisbon to other countries/cities in the world.
New York: €197
London: €15
Los Angeles: €237
Paris: €18
Sydney: €594
Dubai: €199
Hong Kong: €418
Cape Town: €408
Source: Skyscanner
Other Portugal Relocation Tips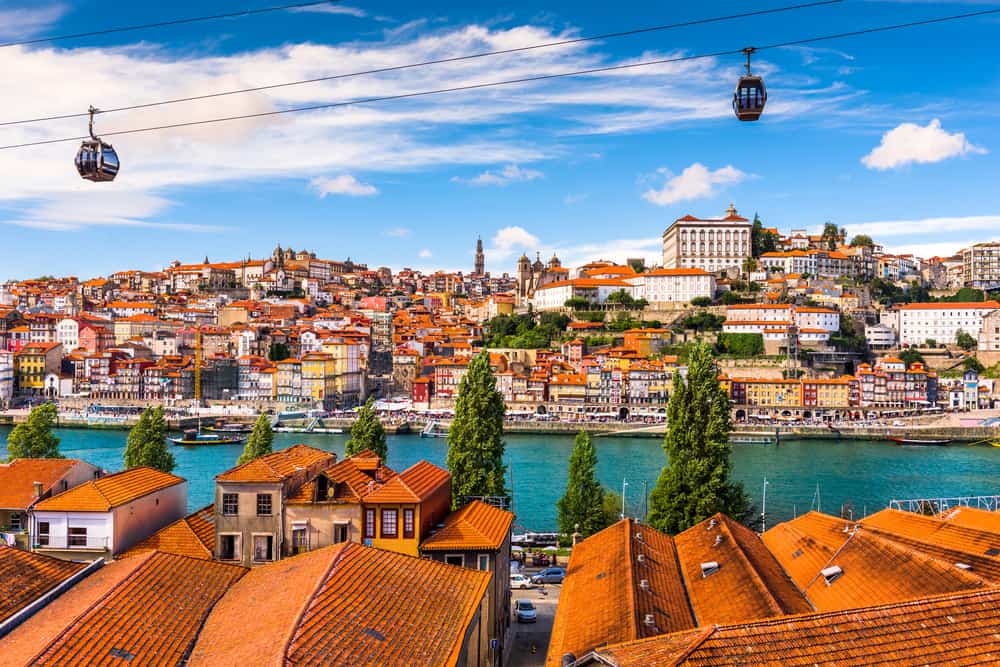 The above information including the cost of living in Portugal should give a fair idea of the costs involved. However, below are extra tips that might make your move to Portugal go more smoothly.
11. Relocating to Portugal Alone
Living in Portugal is great, with welcoming locals, a low cost of living, and a relaxed lifestyle. Consider the following to gently ease you into the Portuguese way of life: –
Meetup Groups:Find meetup groups for various activities such as the Lisbon Newcomers, Welcome Club, Kiters Meetup, Weekly Lisbon Nomads Meetup, etc. Search for groups on com.
Attend local events: The Portuguese love entertainment and events in general. Have a look at the following sites to see what's on where: – Eventbrite, Visit Portugal and Xceedme.
12. Moving to Portugal with a Family
Portugal is a family orientated society. Expect abundant family activities like sea kayaking, surfing, culinary tours, canyoning, dolphin and whale watching, and much more.
Connect with associations for parents and families in various cities in Portugal: – Expatica and Vive Europe.
Choose the most family-friendly areas in Portugal. If you like socialising and the beach, then the Algarve is probably the place for you.
Portugal is an extremely kid-friendly country and has lots of educational and other activities for children. Have a look at these websites for inspiration Be Portugal, com, Practice Portuguese,
13. Moving to Portugal for Work
Many people move to other countries for employment. Some find employment before they go, and some go in search of a job. In both contexts, you need to ensure that you either have a job or there is job availability in the country.
Portugal is a developed country and its service sector is one of the major driving forces behind its economy. There are employment opportunities, especially in tourism, telecommunication, biotechnology, aerospace, IT, healthcare, and property sectors.
Language learning:Learn to speak a little Portuguese.
Salary:The minimum wage per month in Portugal is € 600. As you already know the costs in Portugal you need to determine what your expected salary would be.
How to find a job: If you are a job seeker and are confused about how to start your job search try these links: Jobs in Lisbonfor English speakers, Empregos and Indeed for Portuguese speakers, Reed Jobs in Portugal, especially EURES for EU, EEA, and Swiss nationals.
14. Moving to Portugal from Australia
If you are thinking of moving from Australia to Portugal, here are a few things to consider.
Size comparison:Australia is approximately 84 times bigger than Portugal and has 15 million more residents.
Join expat groups:Expat, Internations and Facebook offer ways of meeting up with other Australians in Portugal.
15. Moving to Portugal from United States
There are approximately 10,000 American citizens living in Portugal. If you are thinking of moving from Australia to Portugal, here are a few things to consider.
Size comparison:The US is approximately 107 times bigger than Portugal and has 322.3 million more residents.
Join expat groups:Meetup, Internations and Americans in Portugal offer ways of meeting up with other Australians in Portugal.
16. Moving to Portugal from the United Kingdom
According to the SEF (March 2022), there are 714,123 UK nationals living in Portugal. If you're thinking of joining them in sunny Portugal, here are a few things to consider: –
Size comparison:The UK is approximately 2.6 times bigger than Portugal and has 56 million more residents.
Join expat groups:Internations, Meetup and Brits in Portugal offer ways of meeting up with other UK citizens in Portugal.
Hopefully, the above tips and costs are helpful. However, if want to still check with the cost to move to Portugal you can start by comparing quotes here.