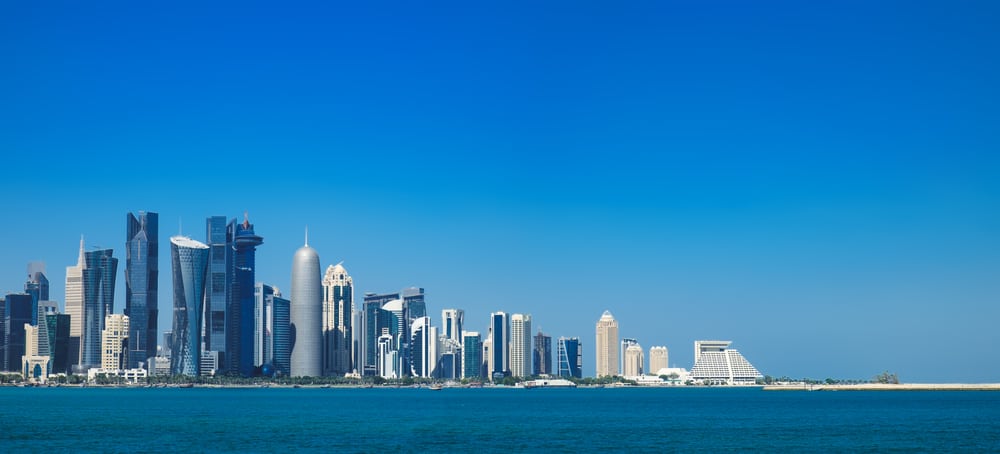 Qatar sits on the northeast coast of the Arabian peninsula. It's a country of desert and coastline, with the coast offering incredible beaches, sand dunes and warm water. Qatar has been ruled by the same family – Al-Thani – since 1868. Oil was first discovered in 1940 in what was an extremely poor country. Qatar is now one of the richest countries in the world due to its abundant petroleum and natural gas.
If you are considering moving to Qatar, the various costs listed below will help you make an informed decision on what costs are involved when moving and living in this part of the world.
Quick Qatar Facts:
Population: 2,991,877 (2022 estimate)
Official Language:Arabic is the official language of Qatar. English, Urdu, and Persian are among the many other languages spoken by the extremely large expat population.
GDP Per Capita: US$62,100 (2022 estimate)
Cycle Path: Doha has the world's longest continuous cycle path – 20.5 miles. Eighteen underpasses were built for cyclists only to ensure they could enjoy a long ride without traffic.
Currency: Qatari riyal (QAR). The value of QAR as of 2022 is, $0.27 (USD), £0.25, €0.28, $0.38 CAD, and $0.44 AUD.
1. Moving and Shipping Costs to Qatar
Below are sample container shipping rates to Qatar (via Doha) from other ports around the world.
| Origin Country (Port/City) | 20FT | 40FT |
| --- | --- | --- |
| Andorra (Andorra la Vella) | $2,085 | $2,516 |
| Australia (Sydney) | $4,145 | $7,920 |
| Bangladesh (Chittagong) | $2,200 | N/A |
| Belgium (Antwerp) | $2,294 | $2,217 |
| Brazil (Santos) | $1,543 | $1,727 |
| Canada (Toronto) | $1,850 | $1,533 |
| Canada (Vancouver) | $1,940 | $1,764 |
| Chile (San Antonio) | $2,615 | $2,154 |
| China (Beijing) | $2,392 | $3,684 |
| China (Shanghai) | $1,045 | $1,239 |
| Colombia (Barranquilla) | $1,240 | $1,506 |
| Croatia (Rijeka) | $1,140 | $1,076 |
| Cyprus (Limassol) | $605 | $662 |
| Czech Republic (Prague) | $1,146 | $1,457 |
| Egypt (Alexandria) | $970 | $1,275 |
| Estonia (Tallinn) | $2,666 | $2,963 |
| Finland (Helsinki) | $2,666 | $2,963 |
| France (Marseilles) | $1,791 | $2,430 |
| Germany (Hamburg) | $2,008 | $2,244 |
| Gibraltar | $1,954 | $1,898 |
| Greece (Piraeus) | $1,023 | $1,137 |
| Guernsey (St Peter Port) | $2,173 | $2,436 |
| Hong Kong (Hong Kong) | $2,355 | $4,410 |
| India (Mumbai) | $1,113 | $2,415 |
| Indonesia (Jakarta) | $1,972 | $3,501 |
| Ireland (Dublin) | $1,892 | $2,373 |
| Isle of Man (Douglas) | $1,892 | $2,304 |
| Israel (Haifa) | $182 | $273 |
| Italy (Trieste) | $1,140 | $1,076 |
| Japan (Tokyo) | $2,398 | $3,371 |
| Jersey (St Helier) | $2,173 | $2,436 |
| Jordan (Aqaba) | $382 | $431 |
| Kenya (Mombasa) | $471 | $629 |
| Kuwait (Shuwaikh) | $440 | $810 |
| Latvia (Riga) | $2,090 | $2,723 |
| Lebanon (Beirut) | $182 | $281 |
| Liechtenstein (Vaduz) | $1,140 | $1,387 |
| Lithuania (Klaipeda) | $2,415 | $2,664 |
| Luxembourg | $2,008 | $2,253 |
| Malaysia (Port Kelang) | $2,475 | $4,644 |
| Pakistan (Karachi) | $1,265 | $2,268 |
| Philippines (Manila) | $2,870 | $4,850 |
| Singapore | $2,489 | $4,852 |
| South Korea (Busan) | $4,950 | $6,912 |
| Spain (Valencia) | $2,177 | $2,480 |
| Switzerland (Geneva) | $2,385 | $3,153 |
| Taiwan (Kaohsiung) | $1,370 | $2,160 |
| Thailand (Laem Chabang) | $1,760 | $2,916 |
| UAE (Jebel Ali) | $440 | $640 |
| UK (London) | $2,774 | $3,086 |
| US (Los Angeles) | $1,450 | $1,900 |
| US (New York) | $2,205 | $2,456 |
2. Qatar Housing Costs

Property prices are high. There are some amazing apartment complexes in Qatar, and you'll find that the higher up you are in an apartment block, the higher the rental. Villas are also available but can be expensive, depending on the area, plus the demand is high. Generally, the quality of accommodation in areas chosen by expats is high. Fully furnished apartments and villas are often the preferred choice of expats on short contracts.
Monthly Rental Prices in Qatar
1 bedroom apartment in City Centre: QAR4,000.00 – QAR10,000.00
1 bedroom apartment outside the City Centre: QAR3,000.00 -QAR7,000.00
3-bedroom apartment in City Centre: QAR 7,500.00 – QAR18,000.00
3-bedroom apartment outside the City Centre: QAR5,500.00-QAR13,000.00
Price per square metre to buy in City Centre: QAR12,000.00 -QAR40,000.00
Price per square metre (10.7 square feet) to buy outside the city: QAR10,000.00 – QAR30,000.00
Source: NUMBEO
Qatar Housing Cost Comparison
This is how rents in Qatar compare with other countries around the globe.
United Kingdom is 42.12% cheaper than Qatar
United States is 4.01% cheaper than Qatar
Canada is 32.84% cheaper than Qatar
Australia is 33.52% cheaper than Qatar
Germany is 47.35% cheaper than Qatar
France is 51.39% cheaper than Qatar
Italy is 58.88% cheaper than Qatar
Spain is 58.90% cheaper than Qatar
Source: NUMBEO
How to Save on Housing Costs
Share an apartment or house. Sharing a room, flat or house is a great way to save money. Find your perfect room or flatmate through these sites – Flatshare in Qatar, Erasmusu, Expat, Sharing Room, and iroommates.
Different areas – different prices. The nearer you live to the coast, the more expensive your accommodation costs will be. Abu Hamour, Al Gharrafa, Al Kheesa, Umm Ghuwailina and Wakra are some of the more affordable areas. Pearl, in Doha, is one of the most expensive and upmarket areas in Qatar but some multinationals rent apartments there for their employees. Lusail is another city favoured by expats and is definitely more affordable than Doha. Have a look at these websites for in depth information on different areas of Qatar – Saakin, Expatica and Expat Arrivals.
3. Qatar Food, Grocery and Restaurant Costs
Qataris enjoy large family gatherings where dishes of traditional Arab origins are served and shared. Beef, lamb, fish and lots of spices feature heavily in Qatar's cuisine. Qatar's 85% expat population ensures that there are restaurants and food from many different cultures around the world.
Inexpensive Restaurant- QAR15.00 – QAR60.00
Domestic beer: QAR30.00 – QAR80.00
Coke/Pepsi: QAR2.25 – QAR10.00
1L of milk: QAR5.28 – QAR9.00
Loaf of Bread: QAR3.50 – QAR12.00
12 Eggs: QAR5.60 – QAR20.00
1kg Chicken Fillets: QAR12.00 – QAR48.00
1kg Beef: QAR25.00 – QAR55.00
1kg Apples: QAR5.00 – QAR9.00
1kg White Rice: QAR4.00 – QAR14.00
Source: NUMBEO
Below is how food and restaurant prices compare with other major countries in the world.
UK restaurants are 18% more expensive and groceries are 9.19% Cheaper than in Qatar.
United States restaurants are 71% more expensive and groceries are 44.97% more expensive than in Qatar
Australian restaurants are19% more expensive and groceries are 33.48% more expensive than in Qatar.
Canadian restaurants are 74% more expensive and groceries are 32.57% more expensive than in Qatar.
French restaurants are 63% more expensive and groceries are 21.35% cheaper than in Qatar.
German restaurants are 86% cheaper and groceries are 4.38% more expensive than in Qatar.
Spanish restaurants are 98% cheaper and groceries are 23.96% cheaper than in Qatar.
Italian restaurants are 23% more expensive and groceries are 6.69% more expensive than in Qatar.
Source: NUMBEO
Bonus Tips for Cheaper Food, Restaurants and Groceries
4. Qatar Alcohol Costs
Alcohol is not prohibited in Qatar but there is zero tolerance for drinking in public. Alcohol is sold only in licenced stores, hotels, bars, and restaurants.
Pint (0.5L) domestic beer at a restaurant/pub: QAR30.00 – QAR80.00
Bottle of imported beer at a restaurant/pub: QAR30.00 – QAR55.00
Pint (0.5L) domestic beer at a supermarket: QAR3.00 – QAR35.00
Bottle of imported beer at a supermarket: QAR10.00 – QAR50.00
Mid-range bottle of wine at a supermarket: QAR25.00 – QAR120.00
Source: NUMBEO
How to drink for less in Qatar
Qatar has a handful of bars and restaurants that are licenced to serve alcohol. Ask fellow expats where to go to enjoy a drink in Qatar.
Happy hour is alive and well in Qatar. Have a look at the following sites for information on the latest restaurant/bar/clue that's offering happy hour specials – Timeout, Life on the Wedge and All and About.
5. Qatar Transportation Fares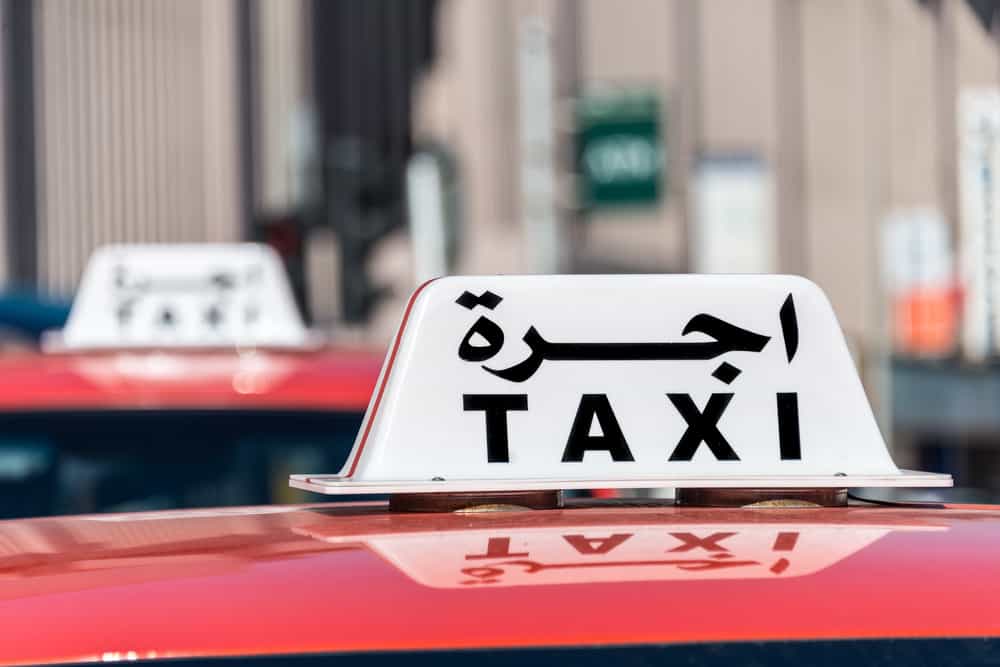 Public transport in Qatar is excellent with an extensive bus network connecting Doha with the rest of Qatar. Doha built a state of the art metro system for the Soccer World Cup. It has four lines and over 100 stations. There is also a tram system for Qatar's newest city, Lusail. This has four lines and 25 stations some of which are underground.
Here are some example ticket costs.
One-way ticket (Local transport) – QAR2.00 – QAR4.00
Monthly Pass, (Regular Price) – QAR100.00 – QAR217.39
Taxi start (normal tariff) – QAR8.00 – QAR10.00
Taxi 1km (normal tariff) – QAR1.60 – QAR4.00
Source: NUMBEO
How to save money on public transport
Carpool and carsharing
Get a Karwa Smart Card for bus travel
E-scooters are becoming increasingly popular and are an easy way to get around
6. Cost of Internet in Qatar
Qatar is ranked number 1 in the world for internet connectivity and 99% of Qataris use the internet. It's provided by two internet network providers, Ooredoo and Vodafone, and Ooredoo's download speed is 75.04 Mbps.
7. Cost of Clothing, Personal Items, Gym and Leisure
Qatar has a desert climate with long, dry, hot summers where temperatures can rise above 45C. The country experiences a mild winter, but temperatures can fall below 5C. Winter in Qatar is from January to March and the coldest month is January. As a desert country, Qatar hardly experiences any rain. The average rainfall in the country is around 80 millimetres, falling between November and April.
Below are some clothing prices, along with other useful prices.
Pair of Jeans (Levi's 501 or similar): QAR125.00 -QAR500.00
Summer Dress: QAR100.00 – QAR300.00
Running Shoes (Trainers): QAR200.00 – QAR500.00
Business Shoes: QAR200.00 – QAR600.00
Gym membership: QAR150.00 – QAR1,000
Movie (cinema) ticket: QAR35.00 – QAR70.00
Deodorant: QAR14.00
Shampoo:QAR14.00
Short visit to the doctor (15 mins):QAR263
Toilet rolls: QAR16
Source: NUMBEO and Expatistan
8. Cost of Owning a Car and Driving a Car in Qatar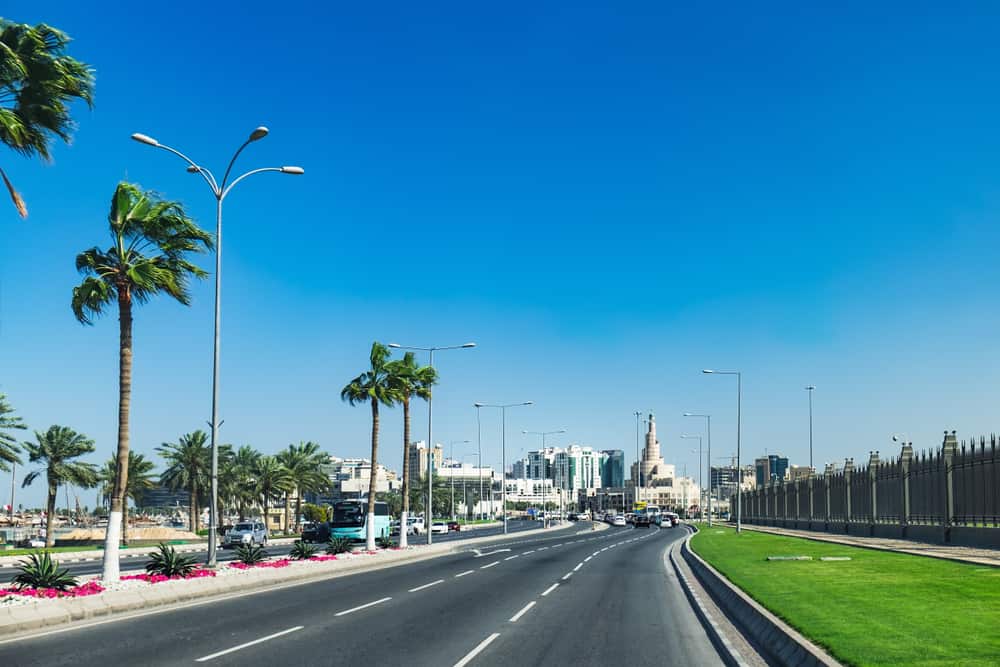 Buying a car in Qatar is a simple process. Dealers usually offer big discounts on new and used cars during festivals and banks are happy to finance purchases.
Visitors and business visa holders can drive on an International Driving Licence for six months before needing to buy a temporary Qatari driving licence.
Here are some other sample costs of owning and operating a car in Qatar:
Volkswagen Golf:QAR60,000.00 – QAR90,000.00
1 litre (¼ gallon) of gas (petrol): QAR2.00 – QAR2.20
Other fees (if any):The monthly cost of owning and running a car is around QAR1,000 which includes depreciation.
Source: NUMBEO, hukoomi.gov, Hukoomi.gov
Ways to save money driving in Qatar
Need your car/vehicle moved to Qatar? Then read our guide to Car Transport & Vehicle Shipping
9. Taxes in Qatar
Non-residents in Qatar pay a flat rate of 10% on their income earned in Qatar. Residents are not subject to tax. For more details see – Expatica.
Qatar doesn't charge property tax on non-residents' purchases. However, if you are buying property or land, you will have to pay 0.25% transfer duty (no stamp duty). See Expatica.
There's no VAT in Qatar but the government is working on a probable 5% VAT rate under a common GCC framework. For details refer Taxsummaries.
10. Flight Costs from Qatar
If you do make the move to Qatar, here's approximately how much it will cost to fly to other major world cities based on the lowest, one-way fares from Skyscanner as of 2022:
London: QAR1,161
Paris: QAR1,170
New York: QAR2,170
Los Angeles: QAR2,438
Toronto: QAR2,687
Dubai: QAR388
Sydney: QAR5,019
Melbourne: QAR5,217
Cape Town: QAR2,070
Hong Kong: QAR1,894
Other Qatar Relocation Tips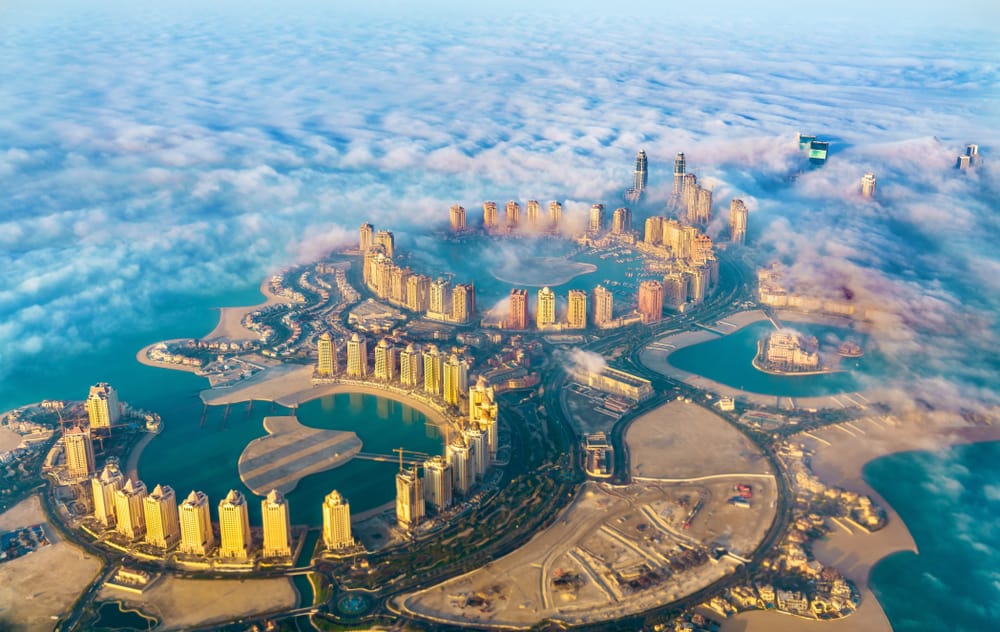 The above costs and prices should give you a good idea of the cost of living in Qatar. However, perhaps the following extra tips will make your move go smoothly.
11. Relocating to Qatar Alone
Moving, especially to a foreign country is stressful, especially on your own. Qatar's population is made up of 85% foreigners, so you'll be in good company and will definitely get support from fellow expats. Below are a few tips about settling in Qatar.
Meetups:Meet people you are interested in the same things you are through Meetup. Join groups that match your interests or start a new group and invite people to join.
Attend local events: The mix of cultures in Qatar ensures there's always something going on. Join in the celebrations, events, and festivals that are held throughout the year in Qatar. Have a look at these websites for inspiration – Festivals in Qatar, Culture in Qatar, Expatica, Festivals in Doha, and Popular Festivals in Qatar.
12. Moving to Qatar with a Family
Qatar has much to offer families, including excellent international schools.
New parents (or parents to be):Check out Qatar Moms, Mothers in Qatar, Doha Mums, Mums Support Groups in Qatar, and Parenting Group.
Live in a family-friendly area:AI Waab, The Pearl, AI Gharafah, AI Sadd, Madinat Khalifa, and AI Wakrah are considered the best family-friendly neighbourhoods in Qatar. They have everything you need close by, including schools, playgrounds, gyms and shops.
Find things to do with the kids:Qatar has many things to offer the kids. Have a look at these websites for inspiration – Souq Waqif, Visit Qatar, Edarabia, Theme Parks, and Wanderlog.
13. Moving to Qatar for Work
Moving to a new country for work is one of the most common reasons people choose to move. While it is possible to move without a job, it makes sense to ensure there are jobs in your field before you make the move.
Qatar is working to expand its tourism industry and, with the Soccer World Cup of 2022 being held there, it's certainly been showcased around the world. This tourism expansion translates into jobs in hotels restaurants, bars, nightclubs, entertainment centres, spas and tourism in general. Other professions that are needed in Qatar include IT, construction, engineering, education, medicine, finance and, of course, oil and petroleum engineers.
Below are a few things to consider when moving to Qatar for work:
Salary:: Salaries in Qatar for those with work permits and those who are resident are tax free. The costs we outlined above should give you a rough idea, how much more you'll want to be making to make the move worthwhile. You can also check salary ranges on sites such as Glassdoor and Payscale.
How to find work: : If you want to have a job lined up before you move to Miami, but aren't sure where to begin, the following sites are good places to start: – Expatica, com, Qatar Digest, Jobs in Qatar, and Monster Gulf. You may also want to Google recruiters in your industry, as they can often help land you some initial interviews as well.
14. Moving to Qatar from Australia
There are around 3,000 Australians living and working in Qatar at any one time. If you are considering moving to Qatar from Australia, consider the following.
Size comparison:Australia is 668 times bigger than Qatar. Australia's population is 25,739,000, whereas Qatar's is 2,931,000.
Join expat groups: Meetup, InterNations, and Facebook offer ways of meeting up with fellow Aussies in Qatar.
15. Moving to Qatar from Canada
Around 9,000 Canadians live and work in Qatar at any one time. If you're thinking of moving to Qatar from Canada, consider the following.
Size:Canada is 862 times bigger than Qatar. The population of Canada and Qatar are respectively 38,246,000 and 2,931,000.
Expat groups:Connecting with fellow Canadians will help your move go smoother, so get in touch with them through sites such as Meetup and InterNations.
16. Moving to Qatar from the United Kingdom
There are over 20,000 Brits living and working in Qatar at any one time. If you considering moving to Qatar from the UK and want to join them, here are a few bonus tips:
Size: The UK is 21 times bigger than Qatar. The population of the UK is 67,327,000 whereas Qatar's is a mere 2,931,000.
Expat groups:Connect with people from the UK through InterNations and Meetup.
Hopefully, the tips and costs above are helpful. If want to get started pricing out how much it will cost you to move to Qatar you can start by comparing moving quotes here.
Other Useful Guides