Many people are drawn to Miami by the sun and sand, however it has a lot more than that to offer. Anyone who is thinking of relocating to this south eastern tip of Florida can look forward to sea, sand, sun, national parks, sports, great neighbourhoods to live in and a strong labour market.
If you are considering moving to Miami, the various costs listed below will help you make an informed decision on what costs are involved when moving and living in this part of Florida.
Quick Miami Facts:
Population: 2,719,945 (2016 estimate)
Official Language: Over two thirds of the population speak Spanish as their first language. Many people speak Spanish and English. There are over 80 languages spoken in Miami including Arabic, Portuguese, French and German.
GDP Per Capita: $45,348 USD
Parks: Miami has over 800 parks and is the only US city which is surrounded by national parks – the Everglades National Park and the Biscayne National Park.
Currency: US Dollar (US$). As of early 2017, £1 = $1.30, €1 = $1.08, $1 CAD = $0.75, $1 AUD = $0.77
1. Moving and Shipping Costs to Miami
Below are some sample container shipping costs to Miami from other major world cities. Just keep in mind they only reflect the shipping portion of the cost and not the full moving costs.
You can save money by comparing moving companies using our moving quote form above.
2. Miami Housing Costs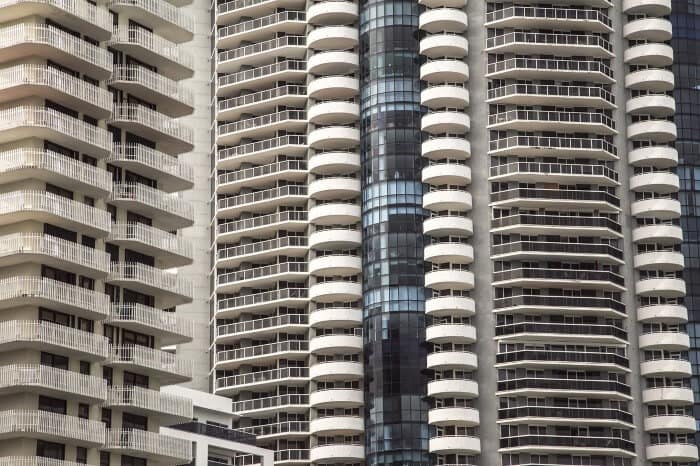 Many young people with good incomes are finding it difficult to buy homes in good areas in Miami as prices as so high. This means the rental market is booming and this is reflected in high rentals across the city.
Monthly Rental Prices in Miami
1 bedroom apartment in City Centre: $1,300+
1 bedroom apartment outside the City Centre: $1,000+
3 bedroom apartment in City Centre: $2,000+
3 bedroom apartment outside the City Centre: $1,650+
Price per square metre (10.7 square feet) to buy in City Centre: $5,158+
Price per square metre (10.7 square feet) to buy outside City: $2,113+
Miami Housing Cost Comparison
This is how rents in Miami compare with other cities around the globe.
London is 13.23% more expensive
New York is 59.65% more expensive
Los Angeles is 7.75% more expensive
Toronto is 35.91% cheaper
Sydney is 4.55% more expensive
Paris is 31.22% cheaper
Dubai is 16.69% more expensive
Source: Numbeo
How to Save on Housing Costs
Share an apartment or house. Have a look at the following sites to find your perfect room or flat mate: Easyroommate, Kangaroom, Craigslist, Metro Roommates and Apartment Guide.
Different areas – different prices. Over half of Miami's residents have moved to the city from various parts of the world. This makes for an interesting city, with diverse and exciting neighbourhoods. If you are fortunate enough to go for the top end of the market, then areas like Fisher Island, Indian Creek Village and Coral Gables are favourites. Coconut Grove is great for those who enjoy a Bohemian way of life. The high demand for housing in Miami means that many run down areas are being rejuvenated and becoming popular with people from all walks of life.
3. Miami Food, Grocery and Restaurant Costs
Miami's large expat population means that there are many different types of restaurants serving food from around the globe. There are restaurants for those who enjoy fine dining and restaurants for those who love a good burger. Seafood obviously features widely on many menus.
Inexpensive Restaurant: $12 – $25
Takeout Coffee: $2.75 – $4.50
Bottle of Coke: $1.39 – $2
1L of milk: $0.77 – $1.24
Loaf of Bread: $2.48 – $4.29
12 Eggs: $2.00 – $4.00
1kg Chicken: $4.41 – $16.53
1kg Beef: $8.82 – $19.84
1kg Apples: $2.20 – $8.82
1kg White Rice: $2.76 – $6.61
This is how restaurants and food prices compare with other major cities in the world.
London restaurants are 0.08% more expensive and groceries are 29.41% cheaper than Miami.
New York restaurants are 10.23% more expensive and groceries are 16.21% more expensive than Miami.
Los Angeles restaurants are 9.82% cheaper and groceries are 11.25% cheaper than Miami.
Toronto restaurants are 27.04% cheaper and groceries are 25.88% cheaper than Miami.
Sydney restaurants are 18,57% cheaper and groceries are 6.99% cheaper than Miami.
Paris restaurants are 9.20% cheaper and groceries are 9.56% cheaper than Miami.
Dubai restaurants are 27.88% cheaper and groceries are 32.18% cheaper than Miami.
Source: Numbeo
Bonus Tips for Cheaper Food, Restaurants and Groceries
Know your supermarkets: Miami has many independently owned grocery stores and ethnic stores as well as the usual supermarket chains.  There are also farmers' markets and shops which sell health foods and organic foods. Popular supermarkets in Miami are Whole Foods Market, Trader Joe's, Presidente, The Fresh Market and Winn-Dixie.
Find Cheap Eats: Miami isn't the cheapest place to eat but if you hunt around you will find some good restaurants that offer specials on various days of the week. Have a look at the following sites for suggestions – Four Square, Miami on the Cheap, Zomato and 10 Best
4. Miami Alcohol Costs
Drinking is a popular pastime in Miami. The relaxed, outdoor lifestyle lends itself to sitting, having a cocktail and watching the world go by.
Pint (0.5L) domestic beer at a restaurant/pub: $3.00 – $6.00
Bottle of imported beer at a restaurant/pub: $4.00 – $8.00
Pint (0.5L) domestic beer at a supermarket: $2.00 – $3.00
Bottle of imported beer at a supermarket: $1.29 – $4.00
Mid-range bottle of wine at a supermarket: $13.00 – $18.00
How to drink for less in Miami
Keep an eye on the local papers and flyers for cheap drinks, either in supermarkets or in bars, clubs and restaurants.
Many bars and restaurants have specials after work. Café @ Books and Books have happy hour from 4pm until 7pm from Sunday to Thursday where you can have a glass of wine and a selection of beers for $4. Georges in the Grove has happy hour on Wednesdays from 6pm until 9pm, where wine, cocktail and beer are all half price. Have a look at the following sites for more tips on where to go to save money on a night out – Timeout, Miami Eater, Miami New Times and Miami and Beaches.
5. Miami Transportation Fares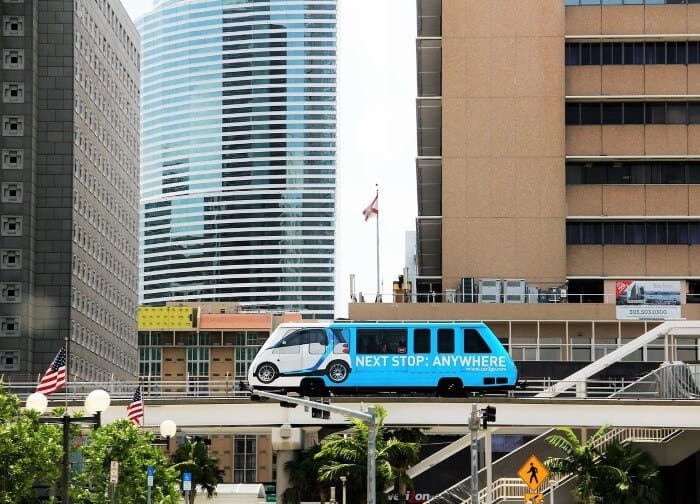 Miami has an excellent transportation system run by Miamidada, it encompasses trains, buses and trolleys. The system is built to encourage tourists and residents alike to use it and keep the roads free from traffic jams. All three modes of travel ensure that the whole of Miami is covered.
Here are some example ticket costs.
Adult Single Metro – $2.25
One day ticket – $5.65
Monthly season ticket, unlimited – $112.25
How to save money on public transport
Look for free rides and free transfers from bus to rail and vice versa
Buy a weekly ticket $29.25 for 7 days of unlimited travel
Buy a bike. Cycling is big in Miami. There are cycles lanes and lots of rides in and around the city.
Many people walk to work and the shops in Miami.
6. Cost of Internet in Miami
Internet prices in the States are expensive compared with many other countries in the world. Here are some sample broadband internet prices from early 2017 for unlimited downloads, based on a 12-month contract:
7. Cost of Clothing, Personal Items, Gym and Leisure
Miami is blessed with a wonderful, warm but sometimes wet, climate. The average temperature in the height of summer (July) is 82°F (28°C) with 12 hours of sunshine a day. January is the coldest month with an average temperature of 68°F (20°C). The wettest month is October where an average of 10 inches (234mm) of rain falls.
Here are some clothing prices, together with other useful prices.
Pair of Jeans: $30 – $60
Summer Dress: $29 – $60
Running Shoes (Trainers): $55 – $100
Business Shoes: $65 – $130
Short Doctor's visit (15 mins): $123
Deodorant: $4.78
Shampoo: $5.74
Toilet Paper (4 rolls): $4.45
Gym membership: $20-$75 per month
Movie (cinema) ticket: $11-$15
Source: Numbeo and Expatistan
8. Cost of Owning a Car and Driving a Car in Miami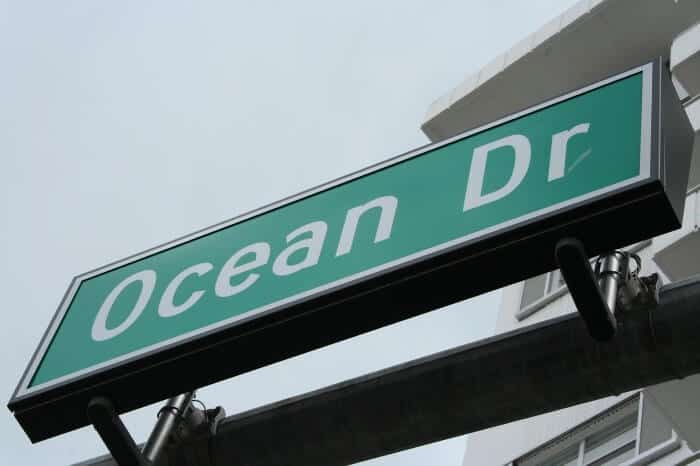 Some people in Miami use public transport to commute to work as sitting in traffic in the rush hour can be very tedious, but like most American cities the majority of people drive.
If you're moving to Miami from within the US, you'll be able to keep your license but need to update your address to your new one.
You can drive on a foreign license for up to 12 months as a tourist but after that you will need to get an American license. If you are working or studying in the US, you can drive on your foreign license for 30 days. If you want to exchange your foreign driver's license you have to follow the process here.
Here are some other sample costs of owning and operating a car in Miami:
Volkswagen Golf: $20,500
1 litre (¼ gallon) of gas (petrol): $0.64
Other fees (if any): The average cost of state and local taxes, license, title and registration fees is $665 per annum
Source: Expatistan, AAA Study
Ways to save money driving in Miami
Need your car/vehicle moved to Miami? Then read our guide to: Car Transport & Vehicle Shipping
9. Taxes in Miami
No matter where you live in Florida, you will pay state and federal taxes. To learn more about the different taxes in the States go to Immihelp and USA taxes.
Sales Tax in Miami is 7% and is added to most goods and services. Generally, the price you see on an item does not include sales tax.
If you own your home, you will be subject to property tax based on the area in which you live and the size of the property you live in. Learn more about property tax in Miami at MiamiDade.
Finally, if you decide to an apartment or house in Miami you'll have to pay real estate transfer tax.
10. Flight Costs from Miami
If you do make the move to Miami, here's approximately how much it will cost to fly to other major world cities based on lowest, one-way fares from Skyscanner as of early 2017:
London: $193
New York: $63
Los Angeles: $95
Toronto: $96
Vancouver: $131
Dubai: $434
Sydney: $675
Melbourne: $658
Cape Town: $697
Hong Kong: $452
Other Miami Relocation Tips
The costs and pricing above should give you a good idea of the cost of living in Miami but perhaps the following extra tips will make your move go smoothly.
Miami is one of the best places to live in the United States for singles.
11. Relocating to Miami Alone
Moving is always a stressful time but moving on your own can be exceptionally difficult. The relatively laid back atmosphere in Miami and the friendly people will help you ease into your new life. Here are a few tips about settling in Miami.
Meetups: Miami has many Meetup groups covering a wide range of activities from surfing to architecture.
Attend local events: There is always something going on in Miami and many of the activities are free. Have a look at the following sites for inspiration – TripAdvisor, Free Things, Timeout, Expedia and Money Crashers
12. Moving to Miami with a Family
Miami has a lot to attract families. There are museums, parks, national parks, art galleries, music, the beach, swimming, water sports and, of course, Disney isn't far away.
New parents (or parents to be): Check out The Gathering Place and Mercy Miami for advice, courses and ways to meet other parents or parents to be.
Live in a family friendly area: North Beach is very popular with families. It's away from the tourist hub, house prices are lower and it's a quiet neighbourhood, close to the beach and with parks and green spaces.
Find things to do with the kids: Miami has lots for children to do. Have a look at the following website for inspiration – Miami and Beaches, Free things, Timeout, Miami on the Cheap and Babble.
13. Moving to Miami for Work
Moving to a new city for work is one of the most common reasons people choose to move. While it is possible to move without a job, it makes sense to ensure there are jobs in your field before you make the move.
Miami is a big tourist destination, particularly for the cruise industry. As such, it employs many people in the service industry – hotels, restaurants, bars, cruise ships and the airport.
Other opportunities for employment lie in the many multinational companies who have large offices in the city. Jobs in the construction industry are on the rise, due to the need for housing and office space. Education, healthcare, retail and logistics and transportation are also big employers.
Here are a few things to consider when moving for work:
Salary: Salaries in Miami are not as high as other big cities in the US. The costs we outlined above should give you a rough idea, how much more you'll want to be making to make the move worthwhile. You can also check salary ranges on sites such as Glassdoor and Payscale.
How to find work: If you want to have a job lined up before you move to Miami, but aren't sure where to begin, the following sites are good places to start: Monster, Indeed, Snagajob, Craigslist and Career Builder. You may also want to google recruiters in your industry, as they can often help land you some initial interviews as well.
14. Moving to Miami from Australia
There is an Aussie contingent living in Miami. If you are thinking of moving from Australia to Miami, here are a few things to consider.
Size comparison: If you look at the population of Miami and compare it with cities in Australia, it is slightly bigger than Brisbane
Join expat groups: MeetUp,  Internations and Facebook offer ways of meeting up with other Australians in Miami.
15. Moving to Miami from Canada
There are a comparatively large number of Canadians living in Miami. If you're considering making the move from Canada here are a few things to consider.
Size: If you compare the population size of Miami with a city in Canada, then it would be slightly bigger than Vancouver.
Expat groups: Meeting up with fellow Canadians helps the moving process. Link up through sites such as Internations and Meetup.
16. Moving to Miami from the United Kingdom
The climate and way of life in Miami attracts people from the UK. In fact, there are many working in the city, especially in hospitality, so if you're considering joining them, here are a few bonus tips:
Size: Looking at the population size of Miami, it equates to the population of the Birmingham conurbation in the UK.
Expat groups: If you want to get together with others from the UK who are enjoying the weather, then go to Internations, British Florida and Meetup.
Hopefully, the tips and costs above are helpful. If want to get started pricing out how much it will cost you to move to Miami you can start by comparing moving quotes here.
Guides to moving and living in other American cities