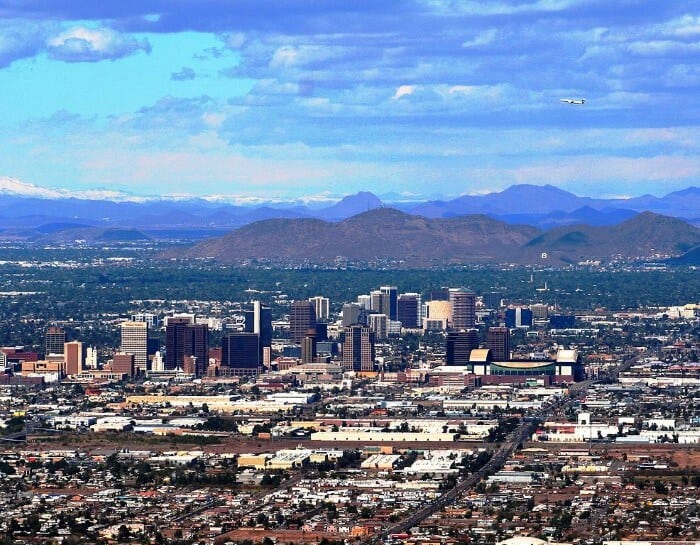 Phoenix sits in the Sonoran Desert and enjoys over 300 days of sunshine a year. It's certainly hot, with a temperature of around 100°F (38°C) for a hundred of those days. Phoenix was first settled in around 300AD by the Hohokam Native Americans who built a staggering 135 miles of waterways to water their crops and service their villages.
If you are considering moving to Phoenix, the various costs listed below will help you make an informed decision on what costs are involved when moving and living in the capital of Arizona.
Quick Phoenix Facts:
Population: 1,563,025 (2016 estimate). The Phoenix Metro population is estimated to be over 4.5 million.
Official Language: English (de facto) with over 100 languages being spoken, including Spanish, African languages, Navajo, Vietnamese, Mandarin, Cantonese, Serbo-Croatian and German.
GDP Per Capita: $55,547 USD (2015)
Golf: Phoenix has over 200 golf courses and is one of the top golfing destinations in the world.
Currency: US Dollar (US$). As of early 2017, £1 = $1.30, €1 = $1.08, $1 CAD = $0.75, $1 AUD = $0.77
1. Moving and Shipping Costs to Phoenix
Below are some sample container shipping costs to Phoenix from other major world cities. Just keep in mind they only reflect the shipping portion of the cost and not the full moving costs.
Source: WorldFreightRates.com
You can save money by comparing moving companies using our moving quote form above.
2. Phoenix City Housing Costs
Property prices dropped dramatically in Phoenix during the 2008/10 crash but they are slowly recovering. There are properties of all descriptions to buy or rent, from apartments to ranches.
Monthly Rental Prices in Phoenix
1 bedroom apartment in City Centre: $700+
1 bedroom apartment outside the City Centre: $640+
3 bedroom apartment in City Centre: $1,030+
3 bedroom apartment outside the City Centre: $957+
Phoenix Home Purchase Prices
Price per square metre (10.7 square feet) to buy in City Centre: $1,900+
Price per square metre (10.7 square feet) to buy outside City: $1,200+
Phoenix Housing Cost Comparison
This is how rents in Phoenix compare with other cities around the globe.
London is 121.39% more expensive
New York is 219.41% more expensive
Los Angeles is 113.72% more expensive
Toronto is 26.41% more expensive
Sydney is 106.18% more expensive
Paris is 34.11% more expensive
Dubai is 129.57% more expensive
Source: Numbeo
How to Save on Housing Costs
Share an apartment or house. Have a look at the following sites to find your perfect roommate: Easyroommate, Craigslist, Metroroommates, Roommate Locator, Roomie Match and Trulia.
Different areas – different prices. House prices in Phoenix are reasonable compared with major cities around the world. Arcadia is one of the most desirable suburbs with excellent restaurants, facilities and fabulous mountain views. Central Phoenix is an up and coming areas with reasonable rents and the centre of the city's arts and culture scene. Downtown Phoenix is vibrant and the centre of the commerce in the city. There are also apartments to rent here but they are most expensive than Central Phoenix. Gilbert is an area in its own right and has many condos and family homes.
3. Phoenix Food, Grocery and Restaurant Costs
Phoenix is renowned for its excellent Mexican restaurants. It's said that you can eat at a different Mexican restaurant every night for months. That said, it has a great selection of restaurant to suit any palate.
Inexpensive Restaurant: $10 – $18
Takeout Coffee: $2.75 – $5.00
Bottle of Coke: $1.00 – $2
1L of milk: $0.53 – $0.79
Loaf of Bread: $1.21 – $3.86
12 Eggs: $1.75 – $3.00
1kg Chicken: $4.41 – $12.76
1kg Beef: $8.11 – $13.23
1kg Apples: $2.18- $4.39
1kg White Rice: $2.20 – $6.61
This is how restaurants and food prices compare with other major cities in the world.
London restaurants are 20.99% more expensive and groceries are 4.52% cheaper than Phoenix.
New York restaurants are 30.48% more expensive and groceries are 54.48% more expensive than Phoenix.
Los Angeles restaurants are 9.93% more expensive and groceries are 20.14% more expensive than Phoenix.
Toronto restaurants are 11.83% cheaper and groceries are 0.86% cheaper than Phoenix.
Sydney restaurants are 1.69% cheaper and groceries are 28.42% higher than Phoenix.
Paris restaurants are 6.21% more expensive and groceries are 18.64% more expensive than Phoenix.
Dubai restaurants are 12.93% cheaper and groceries are 7.50% cheaper than Phoenix.
Source: Numbeo
Bonus Tips for Cheaper Food, Restaurants and Groceries
Know your supermarkets: Phoenix has a lot of independently owned grocery stores and ethnic stores as well as the usual supermarket chains. There are also lots of farmers' markets and shops which sell health foods and organic foods. Popular supermarkets are Whole Foods Market, Trader Joe's, Basha's, Frys Marketplace, Sprouts Farmers Market and Baiz Market.
Find Cheap Eats: There are many restaurants in Phoenix that serve excellent food without you having to pay over the top for it. Restaurants also have regular specials which you should look out for. Have a look at the following sites and find the style of food that you love at a good price – TripAdvisor, Thrillist, 10 Best, Zagat, Gayot and Four Square.
4. Phoenix Alcohol Costs
Phoenix is a place where bars, clubs, music and drinking are very much part of the life in the city. There are so many establishments to choose from, you'll be spoilt for choice.
Pint (0.5L) domestic beer at a restaurant/pub: $2.50 – $4.00
Bottle of imported beer at a restaurant/pub: $4.00 – $6.00
Pint (0.5L) domestic beer at a supermarket: $0.80 – $2.00
Bottle of imported beer at a supermarket: $1.49 – $4.00
Mid-range bottle of wine at a supermarket: $8.58 – $15.00
How to drink for less in Phoenix
Keep an eye on the local papers and websites for specials over weekends and public holidays.
Mellow Mushroom on Happy Valley Road has Happy Hour, Monday to Friday between 3pm and 6pm and between 10pm and 2am where most drinks are half price. Pita Jungle has happy hour between 3pm and 6pm where you can drink margaritas for only $3. The following sites will help you find bars, restaurants and clubs which won't break the bank – Foursquare, Drink Owl, Thrillist, airbnb, Phoenix New Times and The Happy Hour Finder.
5.Phoenix Transportation Fares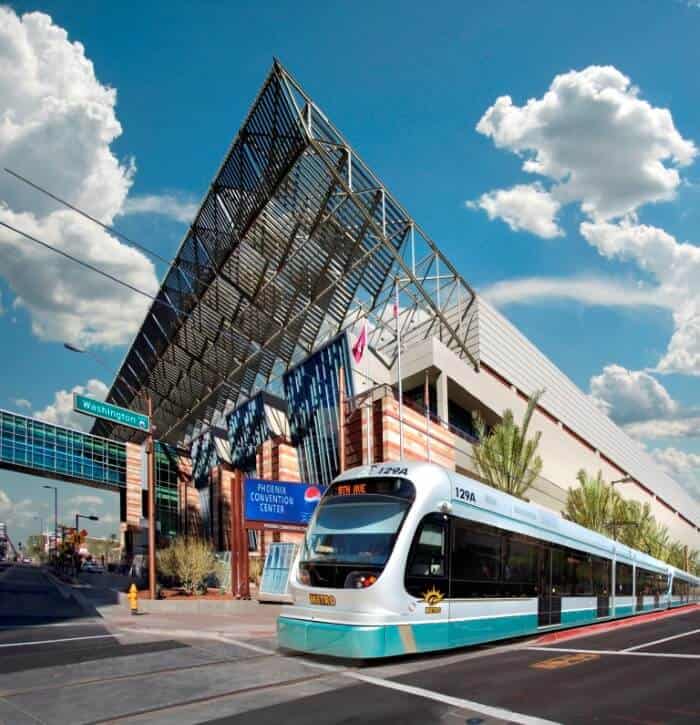 Photo by Kinkisharyo
The public transportation system in Phoenix is run by Valley Metro. Both Metro rail and Metro buses share the same fare system. The examples below are for the bus and rail but there is also an Express bus/RAPID bus option which has a single fare for $3.25 and a monthly pass for $104.
Many people complain that the transportation system doesn't cover the vast sprawl of Phoenix, which is why many inhabitants use their cars.
Here are some example ticket costs.
Adult Single – $2.00
One day ticket – $7.00
Monthly season ticket, unlimited – $64
How to save money on public transport
Buy a 30 day student pass for $24
Buy a 7 Day Pass and get unlimited travel for $20
Buy a bike. Depending on where you live and work, cycling around the city may be an option. Phoenix has cycle-friendly maps for keen cyclists.
If you live relatively close to where you work, you can walk to work, although given the heat most people don't.
6. Cost of Internet in Phoenix
Internet prices in the States are expensive compared with many other countries in the world. Here are some sample broadband internet prices from early 2017 for unlimited downloads, based on a 12-month contract:
7. Cost of Clothing, Personal Items, Gym and Leisure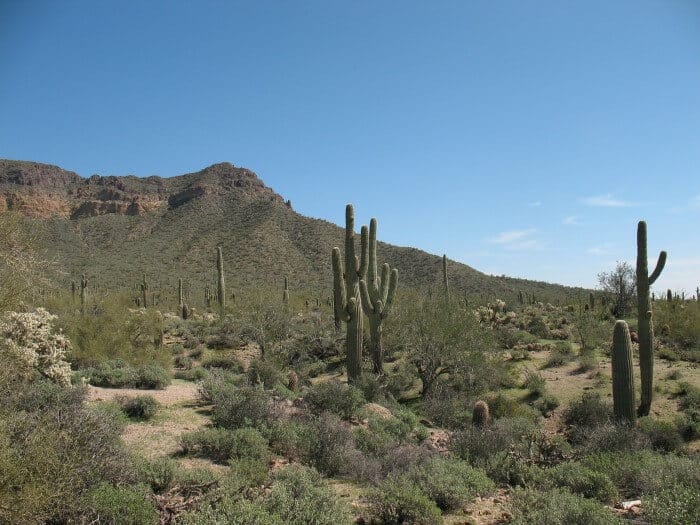 At the height of the summer (July), the average daily temperature is 91°F (33°C). August is the wettest month with an average of 1.3 incesh (32mm) of rain falling during the month. The coldest month is January, with an average temperature of 54°F (12°C).
Here are some clothing prices, together with other useful prices.
Pair of Jeans: $29 – $55
Summer Dress: $25 – $45
Running Shoes (Trainers): $54 – $89
Business Shoes: $70 – $125
Short Doctor's visit (15 mins): $91
Deodorant: $3.08
Shampoo: $5.14
Toilet Paper (4 rolls): $3.19
Gym membership: $10-$45 per month
Movie (cinema) ticket: $9-$12
Source: Numbeo and Expatistan
8. Cost of Owning a Car and Driving a Car in Phoenix
Most people own and drive a car in Phoenix. It's recommended that you steer clear of leather and plastic seats as it gets really hot in Phoenix's summer months.
If you're moving to Phoenix from within the US, you'll be able to keep your license but need to update your address to your new one.
You can drive on a foreign license for up to 12 months as a tourist but after that you will need to get an American license. If you are working or studying in the US, you can drive on your foreign license for 30 days. If you want to exchange your foreign driver's license you have to follow the process here.
Here are some other sample costs of owning and operating a car in Phoenix:
Volkswagen Golf:$21,175
1 litre (¼ gallon) of gas (petrol): $0.56
Other fees (if any): The average cost of state and local taxes, license, title and registration fees is $665 per annum
Source: Expatistan, AAA Study
Ways to save money driving in Phoenix
Need your car/vehicle moved to Phoenix? Then read our guide to: Car Transport & Vehicle Shipping
9. Taxes in Phoenix
No matter where you live in Arizona, you will pay state and federal taxes. To learn more about the different taxes in the States go to Immihelp and USA taxes.
Sales Tax in Phoenix is 5.6% and is added to most goods and services. Generally, the price you see on an item does not include sales tax.
If you own your home, you will be subject to property tax based on the area in which you live and the size of the property you live in. Learn more about property tax in Phoenix at Arizona Homes Property Tax.
Finally, if you decide to buy a flat or house in Phoenix you'll have to pay real estate transfer tax.
10. Flight Costs from Phoenix
If you do make the move to Phoenix, here's approximately how much it will cost to fly to other major world cities based on lowest, one-way fares from Skyscanner as of early 2017:
London: $378
New York: $124
Los Angeles: $89
Toronto: $139
Vancouver: $96
Dubai: $798
Sydney: $789
Melbourne: $663
Cape Town: $963
Hong Kong: $589
Other Phoenix Relocation Tips
The costs and pricing above should give you a good idea of the cost of living in Phoenix but perhaps the following extra tips will make your move go smoothly.
11. Relocating to Phoenix Alone
Moving anywhere can be a lonely experience, but moving to a large city can be rather daunting. Here are a few tips on settling in Phoenix.
Meetups: There are many Meetup groups to choose from. You will definitely find something to join which will help you to settle in. Phoenix offers anything from data science to soccer.
Attend local events: There's always lots going on in Phoenix.  Museums, historic sites, golf and the great outdoors are just some of the attractions. Have a look at TripAdvisor, AZ Central, Visit Phoenix and Planetware.
12. Moving to Phoenix with a Family
Phoenix has a lot going on for families with children. There are good schools and medical care and fun activities such as the zoo, aquarium, museums, walks and lots more.
New parents (or parents to be): There are free and paid antenatal classes and courses. Have a look at Raising Arizona Kids and Parentingaz.
Live in a family friendly area: Chandler is an award-winning school district and is perfect for families with lots of family oriented festivals and events going on throughout the year. Anthem has lots of parks and green spaces for kids to play and is enjoyed by families. Queens Creek is a very affordable area for families. It has a large sports complex and an arts centre which regularly put on entertainment which is suitable for children.
Find things to do with the kids: Phoenix is fun place for kids to live. Have a look at the following sites to be inspired – 10 Best, Kids in Phoenix, Visit Phoenix and Familydaysout.
13. Moving to Phoenix for Work
People usually move to Phoenix for work. There are a variety of opportunities both within the public and private sectors. The main employment opportunities are to be found in education, healthcare, technology, manufacturing, retail and hospitality.
Here are a few things to consider when moving for work:
Salary: Salaries vary enormously depending which industry you are in. The costs we outlined above should give you a rough idea, how much more you'll want to be making to make the move worthwhile. You can also check salary ranges on sites such as Glassdoor and Payscale.
How to find work: If you want to have a job lined up before you move to Phoenix, but aren't sure where to begin, the following sites are good places to start: Monster, Indeed, Snagajob, Craigslist and Career Builder. You may also want to google recruiters in your industry, as they can often help land you some initial interviews as well.
14. Moving to Phoenix from Australia
There are a large group of Australians living in Phoenix, enjoying the sun, heat and lifestyle.
Size comparison: If you compare the population size of Phoenix with a city in Australia, then the closest would be Adelaide. The Phoenix metro area is around the size of Melbourne.
Join expat groups: There are a number of expat groups enabling you to meet fellow Aussies. Try Internations and Facebook.
15. Moving to Phoenix from Canada
There's a large group of Canadians living and working in Phoenix.  If you're considering making the move from Canada here are a few things to consider.
Size comparison: If you look at the population size of Phoenix and compare it with a city in Canada, Ottawa would be the closest, albeit a little smaller.
Expat groups: Meeting up with fellow Canadians helps the moving process. Link up through sites such as Internations and MeetUp.
16. Moving to Phoenix from the United Kingdom
Phoenix attracts a lot of people from the UK, probably because the sun shines.
Size comparison: If you compare the population size of Phoenix with that of a city in the UK, Phoenix is around 20% larger than Birmingham.
Expat groups: If you want to get together with others from the UK who are experiencing the sun and surf, then go to Internations and Meetup.
Hopefully, the tips and costs above are helpful. If want to get started pricing out how much it will cost you to move to Phoenix you can start by comparing moving quotes here.
Guides to moving and living in other American cities