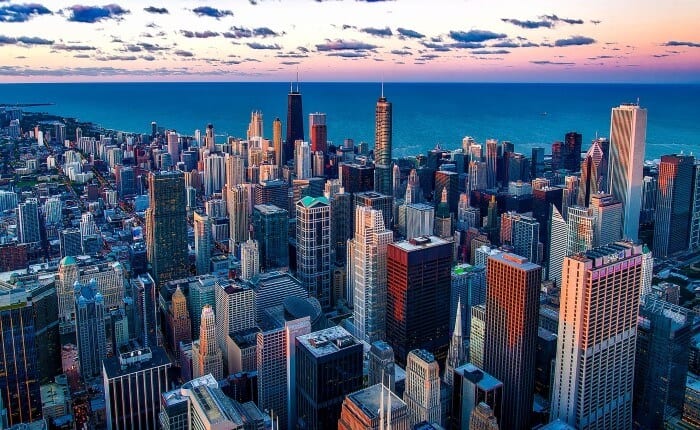 Chicago is the third largest city in the States and sits on the shores of Lake Michigan. It is a vibrant city and has a lot to offer residents and visitors alike. The arts, history, sport, wining and dining are just some of the many plus points that make up Chicago.
If you are considering moving to the Chicago, the various costs listed below will help you make an informed decision on what costs are involved when moving and living in the Windy City.
Quick Chicago Facts:
Population: 2,724,546 million (2016). The Chicago Metropolitan area has an estimated population of 9.4 million.
Official Language: English (de facto) with 30% of the population speaking a language other than English. Spanish, Polish, Arabic, Tagalog and Chinese are the most common.
GDP Per Capita: $57,685 USD
Colour TV: Chicago was the first city in the world to have colour television. It was launched on 15th April 1956.
Currency: US Dollar (US$). As of early 2017, £1 = $0.80, €1 = $1.08, $1 CAD = $0.75, $1 AUD = $0.77
1. Moving and Shipping Costs to Chicago
Below are some sample container shipping costs to Chicago from other major world cities. Just keep in mind they only reflect the shipping portion of the cost and not the full moving costs.
You can save money by comparing moving companies using our moving quote form above.
2. Chicago Housing Costs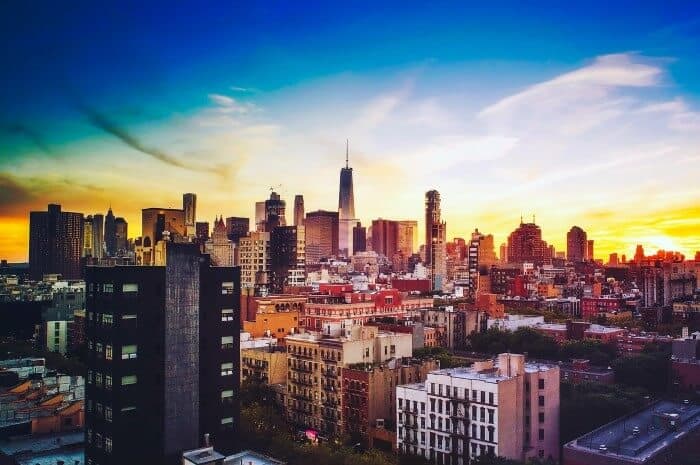 Chicago is basically split into four districts – West Side, Central, North Side and South Side. There are also areas which are naturally populated by people of the same nationality such as Little Italy, Chinatown and Little Saigon.
Property prices and rental prices vary greatly depending on which area you live in.
Monthly Rental Prices in Chicago
1 bedroom apartment in City Centre: $1,200+
1 bedroom apartment outside the City Centre: $900+
3 bedroom apartment in City Centre: $2,500+
3 bedroom apartment outside the City Centre: $1,300+
Chicago Home Purchase Prices
Price per square metre (10.7 square feet) to buy in City Centre: $3,300+
Price per square metre (10.7 square feet) to buy outside City: $1,850+
Chicago Housing Cost Comparison
This is how rents in Chicago compare with other cities around the globe.
London is 21.40% more expensive
New York is 72.08% more expensive
Los Angeles is 15.92% more expensive
Toronto is 31.35% cheaper
Sydney is 12.94% more expensive
Paris is 26.16% cheaper
Dubai is 26.99% cheaper
Source: Numbeo
How to Save on Housing Costs
Share an apartment or house. Have a look at the following sites to find your perfect room or flat mate: Apartment People, Kangaroom, Craigslist, Easyroommate and Metroroommates.
Different areas – different prices. Chicago has changed considerably over the last decade. Areas such as Bridgeport, which were known for their working-class communities, have become well known for their arts scene and culinary excellence. There are 77 different areas and neighbourhoods to choose from in Chicago including the beach, the lakeside, the high-rise blocks and quiet leafy suburbs. The purchase and rental prices vary from area to area.
3. Chicago Food, Grocery and Restaurant Costs
Chicago has 7,500 restaurants, so, not surprisingly, you will find any culinary experience you search for. The city prides itself on its gastronomic diversity and excellence and is most famous for its deep dish pizza.
There are also many specialist grocers, as well as the usual supermarket chains.
Inexpensive Restaurant: $10 – $20
Takeout Coffee: $3.00 – $5.00
Bottle of Coke: $1.50 – $2.50
1L of milk: $0.60 – $1.05
Loaf of Bread: $1.31 – $3.31
12 Eggs: $1.50 – $3.30
1kg Chicken: $5.49 – $13.23
1kg Beef: $8.80 – $19.82
1kg Apples: $2.20 – $6.61
1kg White Rice: $2.31 – $6.61
This is how restaurants and food prices compare with other major cities in the world.
London restaurants are 11.02% more expensive and groceries are 24.60% cheaper than Chicago.
New York restaurants are 22.94% more expensive and groceries are 25.47% more expensive than Chicago.
Los Angeles restaurants are 0.57% more expensive and groceries are 4.80% cheaper than Chicago.
Toronto restaurants are 18.79% cheaper and groceries are 20.72% cheaper than Chicago.
Sydney restaurants are 8.98% cheaper and groceries are 0.02% cheaper than Chicago.
Paris restaurants are 0.95% more expensive and groceries are 3.58% cheaper than Chicago.
Dubai restaurants are 25.97% cheaper and groceries are 27.25% cheaper than Chicago.
Source: Numbeo
Bonus Tips for Cheaper Food, Restaurants and Groceries
4. Chicago Alcohol Costs
Chicago's has thousands of bars and clubs, ranging from basic bars to sophisticated night clubs.
Pint (0.5L) domestic beer at a restaurant/pub: $4.00 – $6.00
Bottle of imported beer at a restaurant/pub: $6.00 – $8.00
Pint (0.5L) domestic beer at a supermarket: $1.00 – $2,50
Bottle of imported beer at a supermarket: $1.25 – $3.00
Mid-range bottle of wine at a supermarket: $11.45 – $16.00
How to drink for less in Chicago
Keep an eye on the local papers and websites for specials over weekends and public holidays.
Many bars and restaurants have specials after work. Try A10 Hyde Park every day from 4.00 p.m. for $8 cocktails, $6 wine and $4 beer or Highline for half price beer, cocktails and wine after 7.00 p.m. Go to Metromix and Four Square for more ideas.
5. Chicago Transportation Fares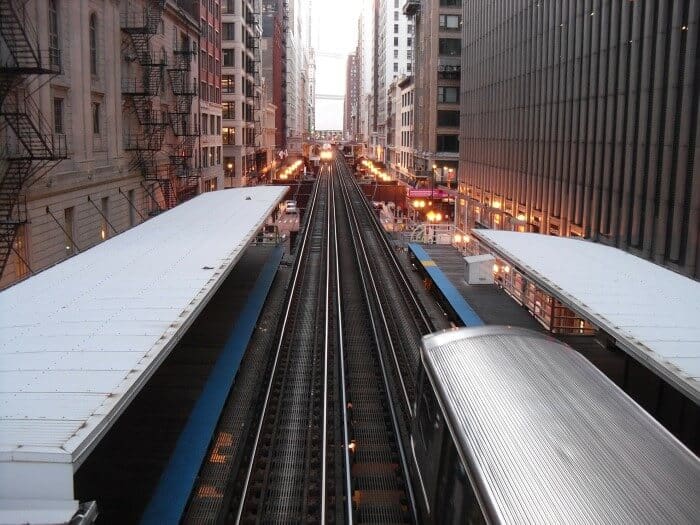 The CTA runs an efficient transport system consisting of buses and elevated trains (L trains) which means that many people living in Chicago don't use cars for work, shopping for evenings out.
Here are some example ticket costs.
Adult Single – $2.25
One day ticket – $10.00
Monthly season ticket, unlimited – $100
How to save money on public transport
Buy a Ventracard for convenience
Buy a 7-day pass on your Ventracard for $28
Buy a bike. Depending on where you live and work, cycling around the city may be an option. The mayor of Chicago has vowed to have 650 miles of cycle lanes in place by 2020.
If you live relatively close to where you work, try walking.
6. Cost of Internet in Chicago
Internet prices in the States are expensive compared with many other countries in the world. Here are some sample broadband internet prices from early 2017 for unlimited downloads, based on a 12-month contract:
7. Cost of Clothing, Personal Items, Gym and Leisure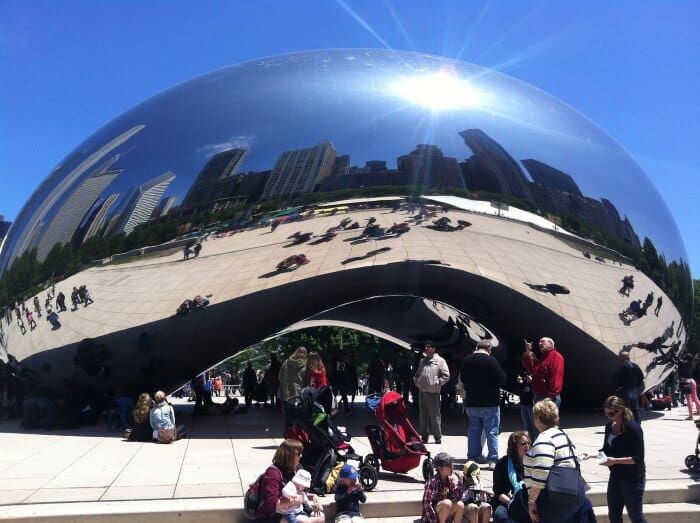 Chicago's hottest and wettest month is July, with average temperatures of 73°F (23°C) and rainfall of 4 inches (100mm). January is the coldest winter month, with the average temperature being a very chilly 21°F (-6°C), so dress accordingly.
Here are some clothing prices, together with other useful prices.
Pair of Jeans: $35 – $69
Summer Dress: $25 – $60
Running Shoes (Trainers): $59 – $100
Business Shoes: $70 – $130
Short Doctor's visit (15 mins): $117
Deodorant: $3.20
Shampoo: $4.69
Toilet Paper (4 rolls): $3.51
Gym membership: $25-$85 per month
Movie (cinema) ticket: $10-$15
Source: Numbeo and Expatistan
8. Cost of Owning a Car and Driving a Car in Chicago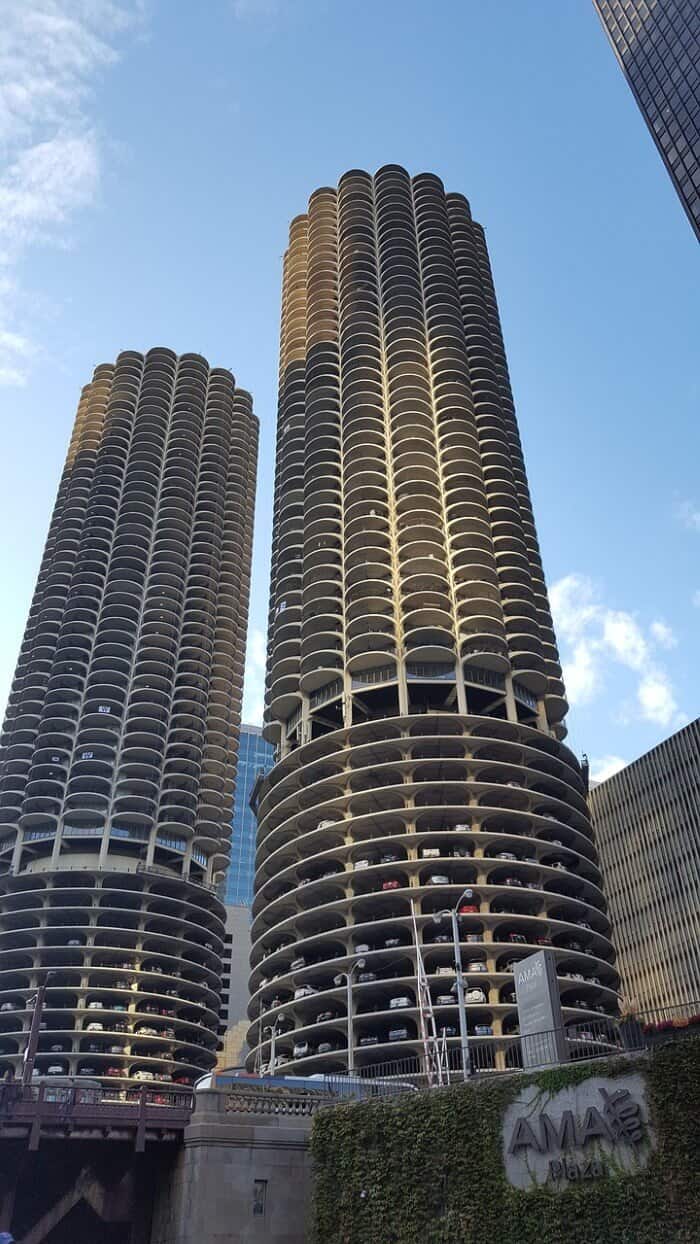 Many people in Chicago choose to use public transport when going into the city, rather than sit in the traffic for hours.
If you're moving to Chicago from within the US, you'll be able to keep your license but need to update your address to your new one.
You can drive on a foreign license for up to 12 months as a tourist but after that you will need to get an American license. If you are working or studying in the US, you can drive on your foreign license for 30 days. If you want to exchange your foreign driver's license you have to follow the process here.
Here are some other sample costs of owning and operating a car in Chicago:
Volkswagen Golf: $22,500
1 litre (¼ gallon) of gas (petrol): $0.69
Other fees (if any): The average cost of state and local taxes, license, title and registration fees is $665 per annum
Source: Expatistan, AAA Study
Ways to save money driving in New Chicago
Need your car/vehicle moved to Chicago? Then read our guide to: Car Transport & Vehicle Shipping
9. Taxes in Chicago
No matter where you live in Illinois, you will pay state and federal taxes. To learn more about the different taxes in the States go to Immihelp and USA taxes.
Sales Tax in Chicago is 10.25% and is added to most goods and services. Generally, the price you see on an item does not include sales tax.
If you own your home, you will be subject to property tax based on the area in which you live and the size of the property you live in. Learn more about property tax in Chicago at Smart Asset Property Tax.
Finally, if you decide to buy a flat or house in Chicago you'll have to pay Real Estate Transfer Tax.
10. Flight Costs from Chicago
If you do make the move to Chicago, here's approximately how much it will cost to fly to other major world cities based on lowest, one-way fares from Skyscanner as of early 2017:
London: $268
New York: $64
Los Angeles: $63
Toronto: $76
Vancouver: $193
Dubai: $426
Sydney: $553
Melbourne: $594
Cape Town: $835
Hong Kong: $302
Other Chicago Relocation Tips
The costs and pricing above should give you a good idea of the cost of living in Chicago but perhaps the following extra tips will make your move go smoothly.
11. Relocating to Chicago Alone
Moving anywhere can be a lonely experience, but moving to a new city, especially one a large as Chicago, can be rather daunting. Here are a few tips about settling in Chicago.
Meetups: Chicago has many Meetup groups covering a wide range of activities from book clubs to sports clubs.
Attend local events: There is so much going on in Chicago every day. See what you fancy doing at Timeout, Choose Chicago, Chicago Eventful and Metromix.
12. Moving to Chicago with a Family
Chicago has a lot to attract families. The beach, the lake, museums, sport and much more.
New parents (or parents to be): Check out Birthlink and Active Parenting for advice, courses and ways to meet other parents or parents to be.
Live in a family friendly area: Lincoln Square is considered one of the best areas to live if you have a young family. It is also the German area of the city and so celebrates Oktoberfest and a traditional German Christmas. Other family friendly areas include Rogers Park, Beverly, West Ridge and Andersonville.
Fun things to do with the kids: Have a look at Parents, Chicago Kids, AlphaMom and Chicago Traveller to see what appeals to your children.
13. Moving to Chicago for Work
Chicago has a strong job market with an impressive manufacturing sector, business and finance sector; printing, publishing, insurance and food processing are also dominant industries.
Here are a few things to consider when moving for work:
Salary: Salaries in relatively high depending on which employment sector you intend to work in. The costs we outlined above should give you a rough idea, how much more you'll want to be making to make the move worthwhile. You can also check salary ranges on sites such as Glassdoor and Payscale.
How to find work: If you want to have a job lined up before you move to Chicago, but aren't sure where to begin, the following sites are good places to start: Monster, Indeed, Snagajob, Craigslist and Career Builder. You may also want to google recruiters in your industry, as they can often help land you some initial interviews as well.
14. Moving to Chicago from Australia
There is a small Aussie contingent in Chicago. The main influx of Australians was after WWII, when Australian women came to the States to join their American forces sweethearts whom they had met while they were stationed in Australia.
Size comparison: If you compare the population size of Chicago with a city in Australia, then the closest would be Brisbane
Join expat groups: Meetup and InterNations offer ways of meeting up with other Australians in Chicago.
15. Moving to Chicago from Canada
Chicago has a large Canadian population. If you're considering making the move from Canada here are a few things to consider.
Size: Vancouver is the city which is nearest in size to Chicago, although metro Chicago is larger than Toronto.
Expat groups: Meeting up with fellow Canadians helps the moving process. Link up through sites such as InterNations and Meetup.
16. Moving to Chicago from the United Kingdom
Chicago has a large contingent from the UK and they have some active groups who enjoy getting together at weekends and during holidays.
Size: To give you an idea of the size of Chicago compared with a UK City, the metro area has slightly more people than Greater London.
Expat groups: If you want to get together with others from the UK who are experiencing the Big Apple, then go to Internations, Windy City Brits and Meetup.
Hopefully, the tips and costs above are helpful. If want to get started pricing out how much it will cost you to move to Chicago you can start by comparing moving quotes here.
Guides to moving and living in other American cities