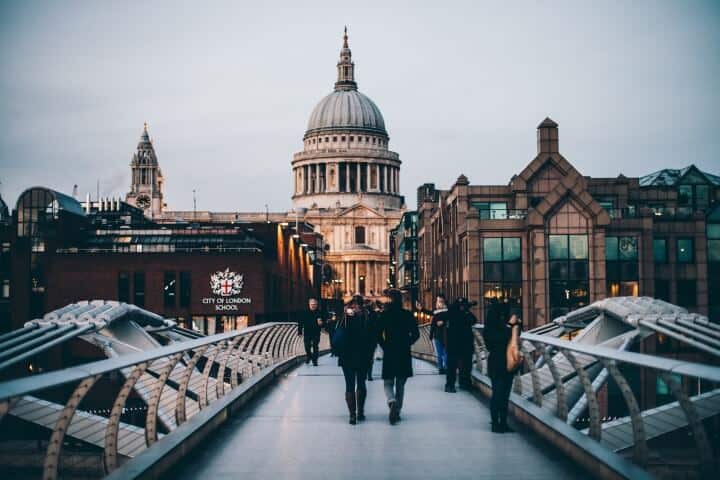 Every year, hundreds of thousands of people make the move to London both from within the UK and from overseas.
If you're looking to do the same, the costs below should help you create a realistic budget of what it costs to move to and live in London.
Quick London Facts:
Population: 8.6 million (2015 estimate) of which 37% were born outside the UK.
Official Language: English (de facto) but over 300 other languages are also spoken
GDP per capita: $162,200 USD (Central London), $61,823 USD (Outer London)
Consists of: 32 boroughs, plus the City of London.
Currency: Pound Sterling or Great Britain Pound (£, GBP). As of early 2017, $1 USD = £0.80, €1 EUR = £0.85, $1 CAD = £0.61, $1 AUD = £0.62.
1. Moving & Shipping Costs To London
Moving costs to London are relatively low from within the UK and from continental Europe, but can be quite expensive from overseas.
However, you can save money by comparing removals companies if moving from within the UK and international moving companies if coming from abroad using our moving quote form above.
Here are some sample International Container Shipping Rates & Costs to London from other major world cities:
| City | 20ft | 40ft |
| --- | --- | --- |
| New York, USA | £950 | £1,419 |
| Sydney, Australia | £2,423 | £3,617 |
| Vancouver, Canada | £1,619 | £2,417 |
| Hong Kong | £521 | £778 |
| Dubai, UAE | £1,850 | £2,762 |
Source:
WorldFreightRates.com
However, please keep in mind the prices listed above are shipping costs only and do not cover all moving costs. To better understand international moving costs have a look at our guide: International Moving Costs: 9 Things You Can't Ignore. Also have a look at the form below:
Thank you. You will hear from us soon.
Wait!
an agent is calling you now from
+1 (800) 680-6439
Please pick up your phone to be connected with an agent to give you a personalized quote based on your move details.
2. London Housing Costs
London housing and rental prices are among the highest in the world and can eat up to 50% of your after tax income if you're not careful. Below are some typical rental prices for individual flats (apartments) but they can vary widely from borough to borough.
Monthly Rental Prices in London
1 bedroom flat (apartment) in City Centre: £1,200+
1 bedroom flat outside of centre: £900+
3 bedroom flat in City Centre: £2,150+
3 bedroom flat outside of Centre: £1,500+
London Home Purchase Prices
Price per square meter (10.7 sq ft) to buy in City Centre: From £10,000
Price per square meter (10.7 sq ft) to buy outside of Centre: From £5,000
London Housing Cost Comparison
Here's how London rents stack up against other major world cities:
Edinburgh is 55.68% cheaper
New York is 41.73% more expensive
Los Angeles is 5.48% cheaper
Toronto is 42.35% cheaper
Sydney is 5.52% cheaper
Paris is 40.01% cheaper
Dubai is 3.97% more expensive
Source: Numbeo
Bonus tips for cheaper housing:
Flat shares: It's very common in London to share a flat with other people. Generally speaking each person or couple will have their own bedroom and share a common areas (living room, kitchen, bathroom, etc). While flat shares are generally significantly cheaper than renting your flat, you do lose out on privacy. Websites such as SpareRoom, Easyroommate and Gumtree make finding people to live with a little easier.
Inner vs Outer London: London is made up of 32 boroughs, plus the City of London. Not surprisingly, living in inner London is generally more expensive than living in outer London.

Inner London boroughs include: Camden, City of London, Greenwich, Hackney, Hammersmith and Fulham, Islington, Kensington and Chelsea, Lambeth, Lewisham, Southwark, Tower Hamlets, Wandsworth and Westminster.
Outer London boughs include: Barking and Dagenham, Barnet, Bexley, Brent, Bromley, Croydon, Ealing, Enfield, Haringey, Harrow, Havering, Hillingdon, Hounslow, Kingston upon Thames, Merton, Newham, Redbridge, Richmond upon Thames, Sutton and Waltham Forest.
3. London Food, Grocery & Restaurant Costs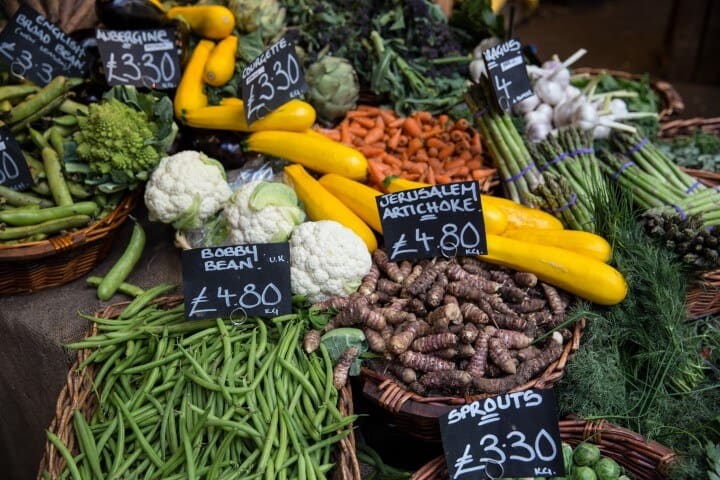 Being a major global city, you can find food from around the world in London. However, the UK does important a large quantity of it's food, which means recent drops in the value of the pound are starting to push prices up.
Inexpensive Restaurant: £10-£20
Takeout Coffee: £2.00-£3.00
Bottle of Coke: £0.75-£2.00
1L of Milk: £0.70-£1.00
Loaf of Bread: £0.66-£1.50
12 Eggs: £1.30-£3.00
1kg Chicken: £5.00-£10.00
1kg Beef: £5.00-£12.00
1kg Apples: £1.00-£3.00
1kg White Rice: £0.90-£2.00
In terms of restaurant and grocery prices here's how London compares to some other similar cities.
New York restaurants are 8.58% more expensive and groceries are 40.96% more expensive.
Toronto restaurants are 36.14% cheaper but groceries are 6.96% more expensive.
Sydney restaurants are 23.08% cheaper but groceries are 25.51% more expensive.
Paris restaurants are 15.63% cheaper but groceries are 21.26% ore expensive.
Dubai restaurants are 39.39% cheaper and groceries are about the same.
Source: Numbeo
Bonus tips for cheaper food, restaurants and groceries:
Know your supermarkets: In the UK, there is a very large range of supermarkets to choose from for almost any income level. At the top end (and most expensive) in London there is M&S, Waitrose, Whole Foods and Ocado (online only). Mid-market brands include Tesco, Sainsbury's and Morrisons. The cheapest options include Aldi, Lidl, ASDA and Iceland.
Eat out for less: Most of the big chain restaurants (Nandos, Pizza Express, Zizzi, etc.) offer deals and discounts if you check out their website, sign-up to their e-mail lists and/or download their app. For other restaurants be sure to check out the Time Out Black card and tastecard for even more choice.
4. London Alcohol Costs
The cost of going out to drink in London is the highest in the UK. However, if you know where to go it doesn't have to break the bank.
Here are some typical costs for alcohol in London and few ideas on how you can drink for less.
Pint (0.5L) domestic beer at restaurant/pub: £3.00-£6.00
Bottle of imported beer at restaurant: £3.50-£5.00
Pint (0.5L) domestic beer at supermarket: £1.00-£2.00
Bottle of imported beer at supermarket: £1.20-£2.00
Mid-range bottle of wine at supermarket: £5.00-£10.00
How to drink for less in London
Many central London pubs are now charging well over £5 per pint. However, deals can still be found especially in Wetherspoons and Sam Smiths pubs. Weatherspoons pubs tend to be relatively nondescript but offer an excellent selection of drinks. Sam Smiths pubs on the other hand are often great venues (e.g. Ye Olde Cheshire Cheese) but they only serve their own brand of beers/drinks.
If you want to spend less on your pint, go for a hand pulled pint of "real" ale instead of lager as they tend to be cheaper at pubs.
Keep an eye out for events that include free alcohol such as art events, book launches, networking events, etc. You can find many of these events on Eventbrite, Londonist and Time Out.
5. London Public Transportation Fares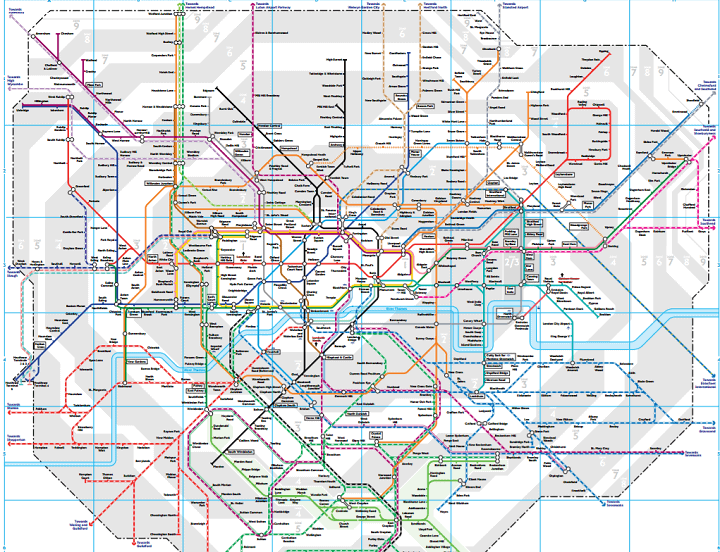 Train and Tube map of London, from TFL
Public transport fares in London are among the highest in the world. it can also be quite difficult to figure what the best deal is, since there are so many different options.
The main distinction is between TFL (Transport for London) services and non-TFL services. The Tube, Overground, TFL Rail, DLR and Busses are all run by TFL. Non-TFL services primarily consist of commuter trains that are the main transport option in South London.
For most rail based transportation (Tube, Overground, DLR and National Rail Trains) you pay based on the zones you travel through. Busses, South London Trams and the Cable Car all charge a flat fare irrespective of distance.
Busses and Trams also now automatically offer hopper fares if you use your Oyster or contactless cards. These allow you to catch a second bus or tram for free if you do so within 1 hour of the start of your journey.
Below are some sample fares as of early 2017:
Zones 1-2 Tube, Overground DLR, or TFL Rail fare: £4.90 (cash) or £2.40 with contactless / Oyster
Bus/Tram: £1.50, but you can no longer pay cash and must use an Oyster / contactless card
Monthly Zone 1-6 Travel Card: £231.20
Thames Clipper (central): £8.00 (cash) or £6.30 (with Oyster)
Emirates Air Line (Cable Car): £4.50 (cash) or £3.50 (Oyster)
This is honestly just a small sample of how much you may have to pay. To get a better idea use TFL's Single Fare Finder tool here.
Ways to pay less on transportation in London:
Whenever possible use an Oyster card or contactless credit/debit card to pay for your journey. It's almost always the cheapest option. If you're going to be travelling on a certain route regularly, look into buying a monthly or annual travel card as they can work out to be cheaper.
For shorter journeys take a bus rather than the Tube/Train as the fares can work out to be far less, especially if you'll be travelling through multiple zones.
Walk! If you're in central London walking can be a great way to get around and it's often faster than you think. Plus, it's a great way to see more of London.
6. Cost of Internet in London
Internet in the UK is one of the few things that is cheaper than the US, Canada or Australia. Here are some sample broadband internet prices from early 2017 for unlimited downloads, based on a 12 month contract:
7. Cost of Clothing, Personal Items, Gym & Leisure
London has a relatively temperate climate both in the winter and summer. The typical temperature in January is 4°C and in July is 17.5°C. While it will occasionally get significantly warmer and cooler than these temperatures, it does not tend to be for long.
One other thing to be aware of in London is that while it rarely rains hard, it does rain often. So you're advised to invest in a good umbrella and rain jacket.
Below are some average costs of clothing and a few other personal items:
Pair of Jeans: £45-£85
Summer Dress: £20-£50
Running Shoes (Trainers): £50-£90
Business Shoes: £50-£120
Short Doctor's visit (15 mins): £69
Deodorant: £2.00
Shampoo: £4.00
Toilet Paper (4 rolls): £1.75
Gym membership: £63 per month
Movie (cinema) ticket: £12
Source: Numbeo and Expatistan.com
8. Cost of Owning a Car & Driving in London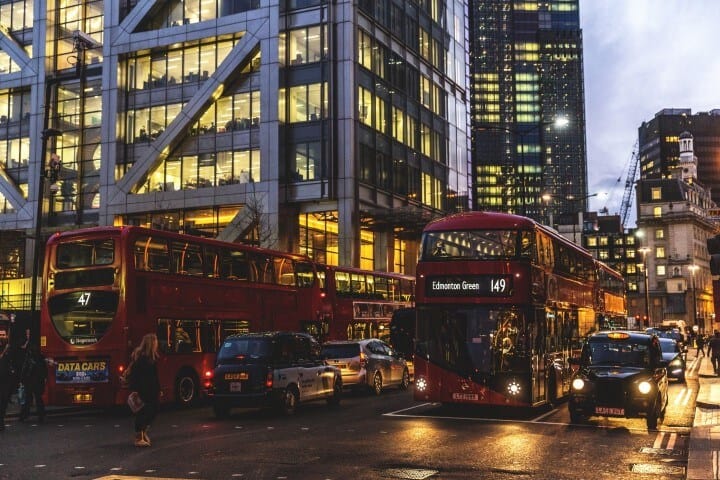 Like the rest of the UK, Londoners drives on the left. However, only 54% of London households own a car, and that number has been declining in recent years.
That is partly caused by the fact that driving in London is not cheap.
If you drive into central London between 07:00 and 18:00, Monday to Friday you will have to £11.50 per day for the congestion charge. On top of that, you may also be charged an emission surcharge of £10 per day if your car does not meet minimum exhaust emission standards.
If you're moving to London from elsewhere in the UK, you'll be able to keep your license but need to update your address to your new London one.
If you want to exchange your foreign drivers license you have to follow the process here. Just be aware if you can't prove you took your driving test in manual transmission car, you'll only be able to exchange your license for an automatic only one.
Here are some other sample costs of owning and operating a car in London:
Volkswagen Golf: £18,918
1 litre (¼ gallon) of gas (petrol): £1.15
Registration fee (if any): £55 one time
Other fees (if any): No more than £54.85 for an MOT fee, after cars are 3 years old.
Source: Expatistan.com, Gov.uk
Ways to save money on driving in London
Car Clubs/Shared Cars: Using car share or car club services such as easyCar Club, Zipcar, or DriveNow (floating car service) can be a cheaper way of driving without actually owning a car.
Taxis: Often it can be easier and cheaper to take taxis than driving in London. But, if you want to save money don't use Black Cabs as they are extremely expensive. Instead consider using Uber, Addison Lee and/or other local minicab companies.
Ride Sharing/Carpooling: Finally, you may also want to consider carpooling/ride sharing options such Bla Bla Car or Liftshare.
Need your car/vehicle moved to London? Then read our guide to: Car Transport & Vehicle Shipping
9. Taxes in London
In terms of income, self-employment, business, capital gains, etc. taxes, you pay the same rates as the rest of the UK. To learn more about those have a look at our moving to the United Kingdom guide.
Most goods and services sold in London include VAT (sales tax) at a rate of 20%. This is included in the marked price, so you don't tend to notice it.
Whether you own your home or rent, you will also be subject to council tax based on the London borough where you live.
Westminster has the lowest council tax rates in London whereas Kingston Upon Thames has the highest. The amount you pay depends on what band your property falls into, which in turn is based on your what your home was worth in April 1991. It can range anywhere from £450-£3,000+ per year. You can learn more on GOV.UK.
Finally, if you decide to buy a flat or house in London you'll have to pay stamp duty. While there's no tax on the first £125,000 of home value, the marginal rate increases to 12% on the value above £1.5 million.
10. Flight Costs From London
If you do make the move to London, here's approximately how much it will cost to fly to other major world cities based on lowest, one-way fares from Skyscanner as of early 2017:
New York: £145
Los Angeles: £157
Toronto: £157
Vancouver: £225
Dubai: £70
Sydney: £348
Melbourne: £331
Cape Town: £279
Hong Kong: £228
Other Tips On Moving To London
The costs above should give you a pretty good idea of how much it will cost to live in London. However, you may also be interested in a few extra tips to help make your move easier.
11. Moving to London Alone
Moving to London alone can be quite scary, since London can be a lonely place to live if you don't know anyone. Here are a few tips on how to meet people in London:
Meetups: London has hundreds of free meetup groups you can find on Meetup.com – There's everything from hiking and walking groups to book clubs to board game groups to club nights and every possible other thing you can imagine. And if for some reason you can't find what you're looking for, you can likely start your own group. With 8.6 million people in London, there's a good chance someone else will have the same interests.
Social Clubs: Very similar to meetups, social clubs usually have a membership fee associated with them. Popular options include: Citysocializer, Thinkingbob and Spice.
Pubs: Pubs used to be the hub of social activity in the UK, but their importance has waned somewhat in recent years due to decreases in the amount people are drinking and the vast increase in alternative activities available in London. Nevertheless, there are still a huge number to choose from in London and a good local boozer can still be place to meet new people if you enjoy a pint.
12. Moving To London With A Family
London is an amazing place to raise kids with it's free museums, city farms and huge range of parks. However, moving with kids is never easy, so here are some tips:
Ofsted: This is the Office for Standards in Education and it rates all schools throughout the UK. You can check their reports here and will definitely want to do so before choosing a school for your kids.
Understand catchment areas: Schools rated 'Outstanding' are often oversubscribed. When this happens people living closest to the school, within the 'catchment area' are given priority for enrolment.
Do your homework: Before moving to London with your family, you'll need to explore different areas to understand what feels right to you and fits within your budget. The Family Moving To London blog, while no longer being updated, contains a huge amount of very useful information on moving with a family and kids.
13. Moving To London For Work
Moving to London for work is one of the most common reasons people choose to move. While it is possible to move without a job, this is generally not advisable since London can be very expensive and eat through your savings quickly.
That said, London's economy, despite Brexit, continues to perform strongly and there are lots of jobs available.
Here are a few things to consider when moving for work:
Work permits/right to work: When you first get a job in London you should be asked to prove you have the legal right to work. If you're a British Citizen a copy of your passport is fine. If you're an EU national a copy of EU passport should also be fine (NB: Until the UK actually leaves the EU, the rights of EU nationals to live and work in the UK will not change). And if coming from outside the UK your work permit/visa and a copy of your passport will be required.
Salary: While salaries in London are, on average, higher than the rest of the UK they are not always higher than in other major international cities. The costs we outlined above should give you a rough idea, how much more you'll want to be making to make the move worthwhile. You can also check salary ranges on sites such as Glassdoor and Payscale.
How to find work: If you want to have a job lined up before you move to London, but aren't sure where to begin, the following sites are good places to start: Monster, Total Jobs, Gumtree, Reed.co.uk, Guardian Jobs, Indeed. You may also want to google recruiters in your industry, as they can often help land you some intial interviews as well.
14. Moving To London from Australia
According to the 2011 Census there are around 54,000 Australians living in London, which means they make up around 0.7% of the population. If you're Australian and would like to join them here are some tips:
Living around other Australians: You may or may not want to live near other Australians. If you do, the following areas are quite popular with Aussies: South London: Clapham, Streatham, and Tooting, North London: While Earl's Court, Shepherd's Bush and Acton all used to be very popular with Aussies currently you'll find more in Willesden or Kilburn. If you don't then you may want to steer clear of these areas.
Youth Mobility Visa: Besides a work visa this is the easiest visa for young Australians to live and work in the UK for up to 2 years. Basically if you're between 18 and 30 and hold an Australian passport you should be able to qualify. You can learn more about the Tier 5 (Youth Mobility Scheme) visa here.
Coffee: Antipodeans have basically taken over London's coffee shops in the last decade or so, which means finding a good cup of coffee has never been easier. The following sites may be of use: The London Coffee Guide, London's Best Coffee App, TimeOut guide Coffee and Cafes guide.
15. Moving To London From Canada
Surprisingly, given it's historical connections and commonwealth ties, there are relatively few Canadians living in London. According to the 2011 census there were just over 21,000 Canadians living in London which means they only make up around 0.3% of London's population.
Nevertheless, if you are among the few considering making the move the following tips may be useful:
Weather: London is much warmer than almost any other Canadian city in the winter (expect Vancouver or Victoria), with typical winter temperatures well above freezing. It's also much cooler in the summer, with summer highs rarely going above about 25C. Finally, the city can't handle snow, public transport more or less stops working at the first sign of a snowflake.
Canadian Food and Drinks: London only has one Canadian themed pub, one dedicated Poutine purveyor but several Second Cup locations.
Accent: People will often assume you're American based on your accent. While this can be a little tiring at times, people are generally apologetic when they find out you're Canadian and will then tell you how much they love Canada (whether or not they've been).
16. Moving To London From The United States
There are nearly 64,000 Americans living in London as of 2011, which means they make-up around 0.8% of London's population.
Here are a few tips about moving to London from America:
Healthcare: While you can find private doctors and hospitals in London, the majority of people use the NHS (National Health Service). It's free at the point of service, which makes things like medical bills a non-issue, although as a foreign citizen, you will have to pay the healthcare surcharge, which currently costs £200 per year for Americans.
Vacation time: Unlike the US, almost all employees in the UK are legally entitled paid holidays. The current requirement is 5.6 weeks per year, which for full-time employees works out to 28 days, although bank (public) holidays are often included in this total.
British Spelling and Vocabulary: Finally, it may take you some time to get used to how the British spell things (e..g replacing Z's with S's and adding U's into words). They also use a slightly different vocabulary to American English, Oxford University Press has a good guide here or you can check out these illustrated examples and Wikiepedia's List of words having different meanings in American and British English.
Hopefully, the tips and costs above are helpful. If want to get started pricing out how much it will cost you to move to London, you can start by comparing moving quotes.
More London guides:
39 Best International Removal Companies in London
10 Best Removal Companies In London
Guides to moving and living in other UK cities