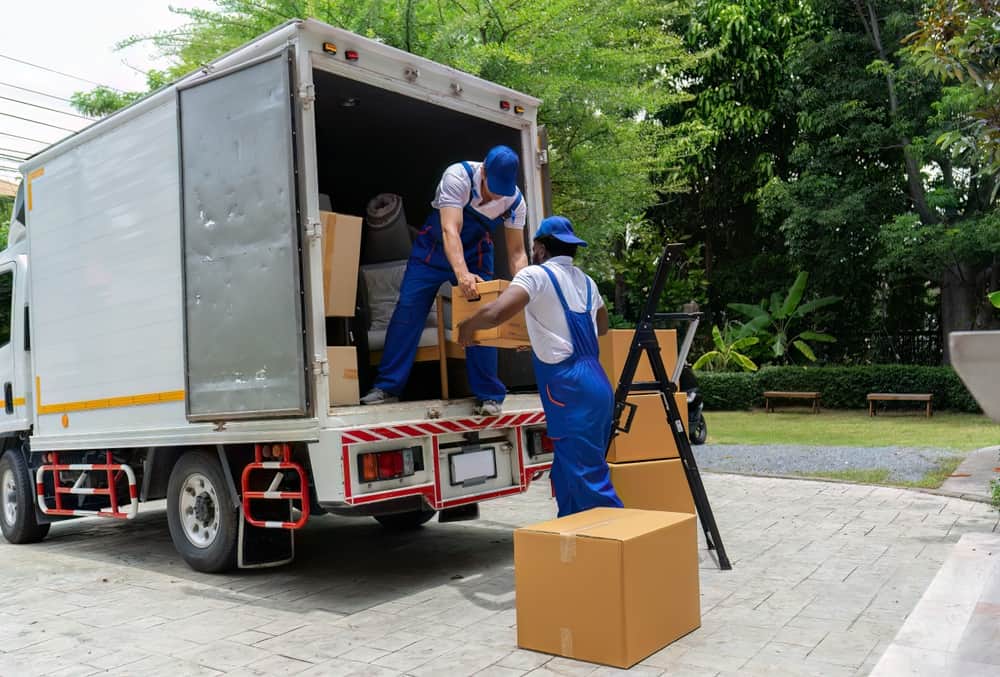 When it comes to life stages, one of the most expensive parts can be moving to a new house. It can be hard to know where to begin the budget with so many variables – do you hire a removal company, or try to do it yourself?
In this guide, we'll be covering:
How much it costs to move house

What affects the cost of moving house 

How to save money on moving house

What's involved in hiring a home removal company

How to know if hiring a home removal company is the best choice for you

How to find and hire a home removal company
To get a clearer idea of moving house and the associated costs, keep reading to find out the most cost-effective way of moving house in the UK.
How Much Does Moving House Cost?
There are plenty of costs that crop up when it comes to moving house, from movers to van hire and storage units – let's take a look at the top offenders.
| Service | Hire Duration | Cost per Room (Approx.) | Cost per House Size (Approx.) |
| --- | --- | --- | --- |
| Man With a Van | Half-day to Full-day | £40 to £100 per room | £200 to £600 (1 to 3 bedrooms) |
| Home Removal Company | Half-day to Full-day | £50 to £150 per room | £300 to £800 (1 to 3 bedrooms) |
| Self-Drive Van Rental | Daily or Flexible | £30 to £80 per room | £150 to £450 (1 to 3 bedrooms) |
| DIY Container Solutions | Varies based on provider | £20 to £60 per room | £100 to £300 (1 to 3 bedrooms) |
| Professional Packing | Service add-on to moving company | £50 to £150 per room | £250 to £600 (1 to 3 bedrooms) |
| Full-Service Moving | Half-day to Full-day | £80 to £200 per room | £400 to £1000 (1 to 3 bedrooms) |
Whether you choose to opt for a fully-serviced move, complete with professional packing and a home removal company, or if you prefer a DIY route with a simple van hire and perhaps some storage units, these are the costs you're likely to encounter.
The more DIY your route, the cheaper your costs will be. A man with a van hire commonly comes in at around £200 to £600, depending on your house size and volume of items, while a fully-serviced home removal company can cost you between £300 to £800 for the same size.
If you choose to add on extra services such as professional packing, that'll likely be around £50 to £150 per room, depending on the volume of items. DIY container storage unit costs vary from provider to provider but can cost upwards of £100 per unit.
ANYVAN: Instant House Removal Quotes
What Affects the Cost of Moving House?
While we know that moving house is inherently expensive, let's take a closer look at the factors impacting the cost of moving the most so you can be aware of them when the time comes for you to up roots.
Location and Market Trends
The location of the property significantly influences the cost of moving house in the UK. Properties in high-demand urban areas or popular residential neighbourhoods tend to have higher prices due to increased competition, which makes properties in less sought-after regions more affordable options. 
Fluctuations in the property market can affect prices, meaning that during periods of high demand, prices may rise, making it more expensive to move.
Property Size and Type
The size and type of the property, such as a flat, a house, or a bungalow, play a pivotal role in determining the cost of moving. Larger properties generally come with higher purchase prices, and the number of bedrooms, bathrooms, and living spaces directly impacts the overall cost. 
The build makeup of the property also influences the cost, with features like developed and mature gardens, internal or external garages, or converted spaces such as at-home gyms or offices can also impact the cost.
Stamp Duty and Other Fees
Stamp Duty Land Tax (SDLT) is a significant expense in the UK property market and directly affects the cost of moving. The tax is based on the property's purchase price and can increase substantially for properties above certain price thresholds.
In addition to stamp duty, there are other fees involved in the moving process, including solicitor fees, survey costs, and mortgage arrangement fees, which collectively contribute to the overall cost. For some houses, such as new builds, there may be even more fees to pay with maintenance charges to bear in mind.
Moving Services and Renovations
Lastly, the cost of moving house extends beyond the property purchase itself. Expenses related to hiring professional moving services, such as removal companies or storage facilities can easily add up.
It's a good idea to bear in mind that if renovations or improvements are needed in the new property, these should be factored into your overall purchase price. Renovations can impact the immediate and long-term costs of the move, as they may require additional funding and time before settling into the new home.
How Can I Save Money on Moving House?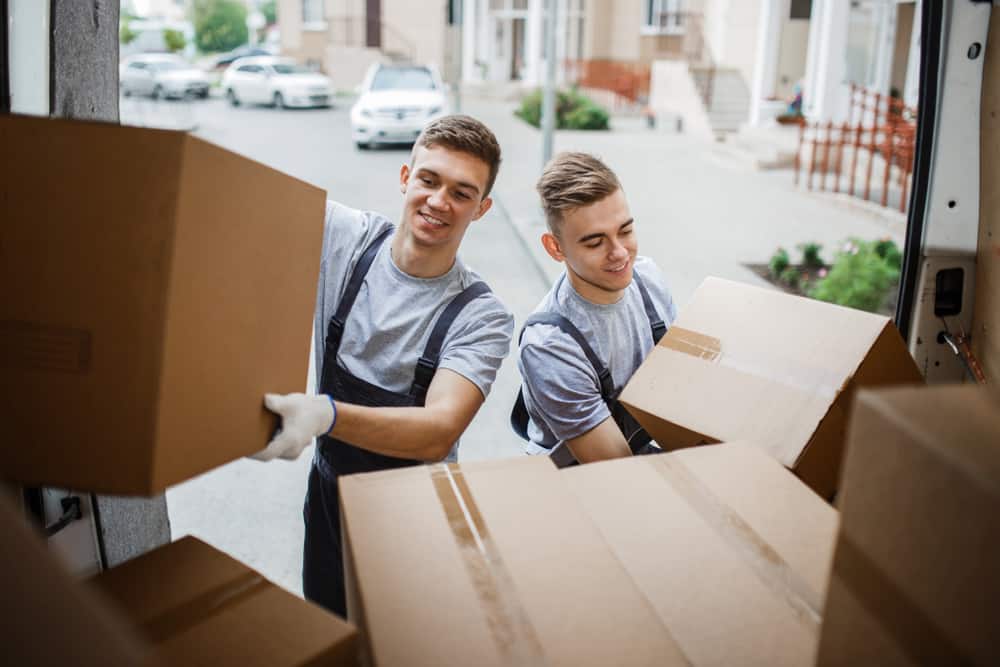 ANYVAN: Instant House Removal Quotes
Now that we know some of the ways in which moving house can quickly begin to add up, let's look at the ways we can look to cut costs down with some savvy know-how.
A great place to start is simply considering purchasing in less 'popular' areas. By opting for neighbourhoods that are slightly outside the prime city centres, or are emerging as up-and-coming locations, can offer more affordable housing options. 
The property market might be less competitive in these areas, and there's also a chance of better value for money.
Where possible, opting for a smaller property, such as a flat or a smaller house, can significantly reduce the purchase price. While this might not be an option for some who are looking for a specific number of rooms or to be within a certain catchment area for school purposes, by focusing on your essential needs rather than excessive space you can save a substantial amount.
It can be tedious, but taking the time to research and understand stamp duty exemptions and relief schemes can help you to save. First-time buyers, for instance, may benefit from reduced stamp duty rates on properties below a certain threshold, and some new build property developers might offer to pay off your stamp duty as an incentive to buy.
Finally, you should always negotiate and shop around for services. This means removal companies, solicitors, and other service providers to secure competitive rates, but also being competitive when placing an offer on a property.
Shopping around for services and getting multiple quotes can help you identify the best deals and potentially save hundreds or even thousands of pounds in moving-related expenses.
What's Involved in Moving House?
Moving house is quite the adventure – but it's also stressful! Your process will include hunting down and securing your dream property, sorting out finances and mortgages, getting your old house ready for a new owner, and then eventually packing up and transporting your stuff into your new home sweet home. 
You'll need to enlist the help of property professionals – from estate agents to moving companies and solicitors – to ensure everything runs smoothly and legally.
Is It Better to Hire a Man in a Van or a Removals Company For My House Move?
Now, let's compare the differences between hiring a man in a van service or enlisting the help of a removal company when it comes to transporting your possessions from one property to another.
| Advantages of a Home Removal Company | Disadvantages of a Home Removal Company |
| --- | --- |
| Convenience - a home removal company will take care of more than a single man and a van might | Expensive - home removal companies are usually more expensive than man in a van services |
| Cutomisable service - with companies, more manpower is available if you need it, making the job quicker as a result | Not necessary for smaller properties - if you are a solo lodger, hiring an entire company might not be necessary and could lead you to pay more than you need to for your service |
| Advantages of Man in a Van Hire | Disadvantages of Man in a Van Hire |
| --- | --- |
| Cost-effective - man in a van services are usually less expensive than larger moving corporations | Fewer resources - unlike corporations, the equipment/vehicles could be limited, giving you less choice when it comes to availability |
| Personalised service - with a smaller company, you're more likely to have a personalised service | Less accountability - you likely won't be protected by as many terms and conditions as you may with a larger business |
The main advantage of having a home removal company instead of a single man in a van is the extra manpower it brings – you'll get your house move done far quicker than with a single person helping you out.
The obvious drawback is the cost – it'll be more expensive than a simple van hire or man in a van hire, so it's something to bear in mind if you only have a small number of items to move as it might not be the most cost-effective method. 
How Do I Find and Hire a Removals Company or Man in a Van?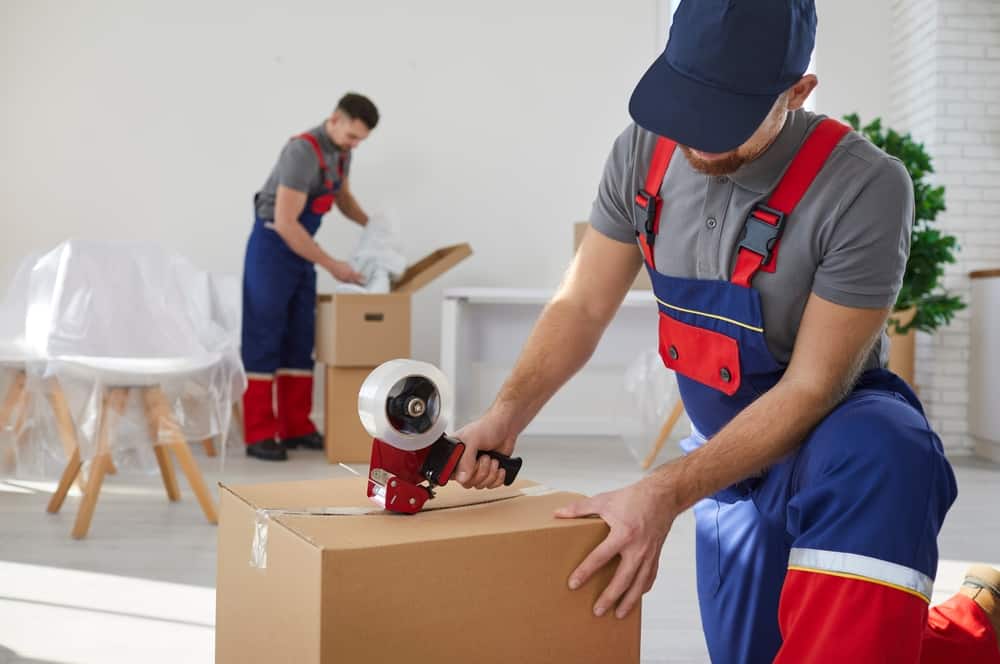 ANYVAN: Instant House Removal Quotes
No matter the route you choose, you should always start by searching online for local moving services. You can use search engines or ask for recommendations from friends, family, or neighbours – this can be particularly useful to cut out any potential rogue traders.
Once you've settled on your chosen traders to shortlist, contact them to get quotes for your move. Provide them with as much information as possible, including the size of your move, the distance, and any special requirements.
Compare your quotes to make sure you're getting the best deal for your money. Once you've selected a service that meets your requirements, discuss the date and time of your move, being sure to confirm all the details and ensure that both parties are on the same page regarding the logistics.
Ensuring the Professional Is the Right Fit
With so many companies and services to choose from, it can be hard to know which route is right for you.
No matter how good the deal is, you should always verify that the moving company is properly licensed, insured, and registered with relevant authorities. You can usually find this information on their website or by contacting them directly.
Once you've selected a moving company, ensure that all the details you've discussed are documented in a written agreement. This should cover the scope of services, costs, moving date, and other important information.
Finally, be cautious if a company asks for a large deposit upfront, provides an unusually low estimate, or lacks a physical address. These could be indicators of potential issues.
Final Checklist
When the time comes to move, you want to make sure everything runs as smoothly as possible – so be sure to make note of our final checklist to ensure everything is ticked off your list.
Ensure you've arranged for the disconnection of utilities (electricity, gas, water) at your current property and the connection of utilities at your new home

Notify relevant parties of your change of address

Double-check that all your belongings are properly packed and labelled. Use clear, labels on boxes to make unpacking easier, and ensure that fragile items are securely packed

Keep important documents – such as contracts, leases, and moving company agreements – easily accessible throughout the move

Before leaving your current property, do a final walk-through to make sure you haven't left anything behind. Clean the premises thoroughly, including carpets, appliances, and fixtures, to leave the property in good condition for the next occupants
ANYVAN: Instant House Removal Quotes
Frequently Asked Questions
How Far in Advance Should I Start Planning My Move?
It's recommended to start planning your move at least 8 to 12 weeks before your desired moving date. This timeframe allows you to research and hire moving companies, declutter, pack, and handle all the necessary logistics without feeling rushed.
Should I Hire Professional Movers or Do It Myself?
The decision depends on your budget, the size of your move, and your comfort level with the moving process. Professional movers offer convenience, expertise, and reduced physical strain. DIY moves can save money but require more time, effort, and planning.
How Can I Keep My Belongings Safe During the Move?
To ensure the safety of your belongings, use sturdy boxes, proper packing materials, and cushion fragile items with bubble wrap or packing paper. Label boxes clearly, indicating their contents and whether they're fragile, and if you're hiring movers, discuss their insurance coverage for your items during transit.
What Should I Pack In My "Essential Items" Box?
Your essentials box should contain items you'll need immediately upon arrival at your new home. Include toiletries, a change of clothes, basic kitchen utensils, important documents (passports, IDs, contracts), chargers, and a few snacks.
This box will help you settle in comfortably before unpacking everything else.
Other Useful UK Guides