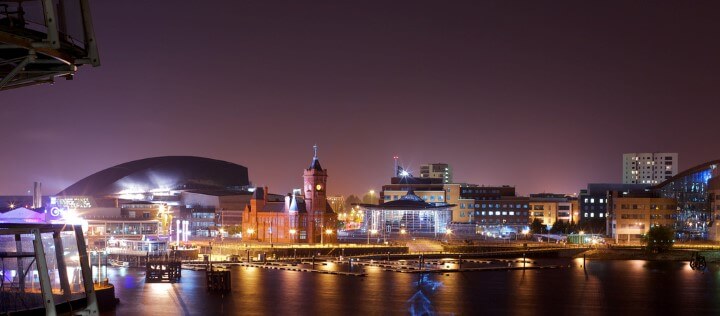 Photo by by Pete Birkinshaw
Cardiff is the capital city of Wales, it has grown into a modern, thriving, cosmopolitan town, which welcomes people from around the globe, especially when it hosts rugby. Nothing is more moving than listening to the Welsh singing their national anthem before a home rugby match.
If you are considering moving to Cardiff, the various costs listed below will help you make an informed decision on what costs are involved when moving and living in the UK's second city.
Quick Cardiff Facts:
Population: 357,200 (2017 estimate). The Larger Urban Zone has a population of 890,000.
Official Language: Welsh and English with 94 languages being spoken in schools, including Somali, Urdu, Bengali, Arabic and many others.
GDP Per Capita: $34,470 USD
Captain Morgan: Capital Morgan, of pirate and rum fame, was born in Cardiff in the 1600s.
Currency: Pound Sterling or Great Britain Pound (£, GBP). As of early 2017, $1 USD = £0.80, €1 EUR = £0.85, $1 CAD = £0.61, $1 AUD = £0.62
1. Moving and Shipping Costs to Cardiff
Below are some sample 2019 container shipping costs to Cardiff from other major world cities. Just keep in mind they only reflect the shipping portion of the cost and not the full moving costs.
Source: WorldFreightRates.com
You can save money by comparing removals companies if moving from within the UK and international moving companies if coming from abroad using our moving quote form above.
2. Cardiff Housing Costs
House prices in Cardiff are very reasonable compared with other major cities around the globe. Prices obviously vary from area to area but the figures below will give you an indication of what's available at what price.
Monthly Rental Prices in Cardiff
1 bedroom flat (apartment) in City Centre: £500+
1 bedroom flat outside the City Centre: £400+
3 bedroom flat in City Centre: £800+
3 bedroom flat outside the City Centre: £650+
Cardiff Home Purchase Prices
1 bed flats (apartments): £60,000+
3 bed house: £110,000+
Cardiff Housing Cost Comparison
This is how rents in Cardiff compare with other cities around the globe.
London is 189.50% more expensive
New York is 316.06% more expensive
Los Angeles is 176.02% more expensive
Toronto is 65.20% more expensive
Sydney is 172.33% more expensive
Paris is 74.73% more expensive
Dubai is 203.59% more expensive
Source: Numbeo
How to Save on Housing Costs
Share a flat or house. Cardiff has areas of flats and large houses which are divided into flats which are ideal for those wishing to save money. You can rent a room and share a bathroom or, if you want to save even more, then find some like-minded soul to share a room with you. Gumtree page or SpareRoom or Easyroommate and find someone you can get on with to share the costs with you. And if you're a student you may want to try Resooma.
Different areas – different prices. Like all cities, different areas vary in price. Cathays is one of the cheaper areas and is located near the university. Roath is a little further out from the city centre and is great for young professionals and those with young families. The up and coming Bay area suits a wide variety of pockets. Pontcanna and Llandaff suit those people with a higher income. The houses in these areas are large and sit on tree lined road.
3. Cardiff Food, Grocery and Restaurant Costs
Cardiffians, as those who live in Cardiff are affectionately known, enjoy a wide variety of foods, and their shops and restaurants reflect this. However, do note that with the recent decline in sterling, a lot of imported food has increased in price, which has obviously pushed up restaurant prices.
Inexpensive Restaurant: £8.00 – £12.00
Takeout Coffee: £2.00 – £2.80
Bottle of Coke: £0.70 – £1.15
1L of milk: £0.75 – £0.90
Loaf of Bread: £0.62 – £1.20
12 Eggs: £1.00 – £3.00
1kg Chicken: £5.00 – £8.00
1kg Beef: £5.00 – £12.00
1kg Apples: £0.79 – £1.00
1kg White Rice: £0.45 – £2.00
This is how restaurants and food prices compare with other major cities in the world.
New York restaurants are 52.84% more expensive and groceries are 71.56% more expensive than Cardiff.
Toronto restaurants are 1.78% cheaper and groceries are 22.98% more expensive than Cardiff.
Sydney restaurants are 12.39% more expensive and groceries are 34.44% more expensive than Cardiff.
Paris restaurants are 20.72% more expensive and groceries are 28.66% more expensive than Cardiff.
Dubai restaurants are 0.11% more expensive and groceries are 1.43% cheaper than Cardiff.
Source: Numbeo
Bonus Tips for Cheaper Food, Restaurants and Groceries
4. Cardiff Alcohol Costs
The Welsh, like most people in the UK, love their pubs. A warm welcome can be expected wherever you go. The following is a list of basic prices of beer and wine from the supermarket and restaurants.
Pint (0.6L) domestic beer at a restaurant/pub: £2.50 – £3.50
Bottle of imported beer at a restaurant/pub (0.33L): £2.50 – £4.00
Pint (0.6L) domestic beer at a supermarket: £1.00 – £2.00
Bottle of imported beer at a supermarket: £1.00 – £2.00
Mid-range bottle of wine at a supermarket: £5.00 – £7.00
How to drink for less in Cardiff
Keep an eye on the local papers, bulletin boards and websites for specials over weekends and public holidays.
The pub scene in Cardiff is huge. There are new bars opening up every month. As such, competition is great, so you can always find some good deals. Try this link for the ultimate cheap pub crawl – cheap pub crawl or Happy Hour for suggestions on various pubs that offer highly discounted cocktails, wine and beer.
Scour the areas around Cardiff University and other tertiary institutions to find the best alcohol deals. Students have no difficulty in finding them!
5. Cardiff Transportation Fares
Cardiff is a compact city, so most places are relatively close to each other. However, there is a good bus service within the city and trains to take you to the rest of the country. The buses are run by Cardiff Bus and the trains by National Rail.
Here are some example ticket costs.
Adult Single – £1.80
One day ticket for bus and train – £3.50
Weekly season ticket for bus – £13
Monthly season ticket – £45
How to save money on public transport
Buy a weekend family ticket (2 adults and 3 children) unlimited travel – £5
Buy a PlusBus ticket, giving discounted travel on buses and trains
Buy a bike. There is good system of cycle lanes all around the city
The city is not that big and exercise is always good.
6. Cost of Internet in Birmingham
Internet in the UK is one of the few things that is cheaper than the US, Canada or Australia. Here are some sample broadband internet prices from early 2017 for unlimited downloads, based on a 12 month contract:
7. Cost of Clothing, Personal Items, Gym and Leisure
The climate in Cardiff is mild, with a high summer temperature average of 16°C. February is the coldest month, where the average temperature is around 4°C. January is the wettest month with an average rainfall of 90mm.
Like most places in the UK, rain is always a possibility, so it's wise to carry an umbrella or a fold up waterproof jacket.
Here are some clothing prices, together with other useful prices.
Pair of Jeans: £45 – £60
Summer Dress: £20 – 540
Running Shoes (Trainers): £50 – £70
Business Shoes: £39 – £85
Short Doctor's visit (15 mins): £60
Deodorant: £1.72
Shampoo: £3.43
Toilet Paper (4 rolls): £1.95
Gym membership: £18 – £35 per month
Movie (cinema) ticket: £4 – £7.50
Source: Numbeo and Expatistan
8. Cost of Owning a Car and Driving a Car in Cardiff
Remember to drive on left in the UK. Cardiff is a small city, so, even though driving is easy, finding parking can be a nightmare.
If you're moving to Cardiff from within the UK, you'll be able to keep your license but need to update your address to your new Cardiff one.
If you want to exchange your foreign driver's license you have to follow the process here. Note that you will need to prove you took your driving test in a manual transmission car. If you can't prove it, you'll only be able to exchange your license for an automatic.
Here are some other sample costs of owning and operating a car in Cardiff:
Volkswagen Golf: £18,000
1 litre (¼ gallon) of gas (petrol): £1.10
Registration fee (if any):£55 one time
Other fees (if any): No more than £54.85 for an MOT fee, after cars are 3 years old.
Source: Expatistan.com, Gov.uk
Ways to save money on driving in Cardiff
Taxis can sometimes be a cheaper option, especially if you are going to have to park all day. Try Uber.
Most countries in the world now are encouraging car sharing and carpooling. Have a look at easyCar Club, Bla Bla Car, Car Pool World and Car Share for the latest information.
Need your car/vehicle moved to Cardiff? Then read our guide to: Car Transport & Vehicle Shipping
9. Taxes in Cardiff
No matter where you live in England and Wales, you will pay the same rate of tax. To learn more about the different taxes – income, self-employment, business, capital gains etc, have a look at our moving to the United Kingdom guide.
Sales Tax, or VAT (Value Added Tax) is 20% in the UK and is added to most goods and services throughout the country. Unlike some countries, it is always included in the marked price.
Whether you own or rent your home, you will be subject to council tax based on the area in which you live and the size of the property you live in. Learn more about council tax in Cardiff at Cardiff Council.
Finally, if you decide to buy a flat or house in Cardiff you'll have to pay stamp duty. While there's no tax on the first £125,000 of your home value, the marginal rate increases to 12% on a value of over £1.5 million.
10. Flight Costs from Cardiff
If you do make the move to Cardiff, here's approximately how much it will cost to fly to other major world cities based on lowest, one-way fares from Skyscanner as of early 2017:
New York: £267
Los Angeles: £333
Toronto: £403
Vancouver: £345
Dubai: £143
Sydney: £505
Melbourne: £448
Cape Town: £441
Hong Kong: £277
Other Cardiff Relocation Tips
The costs and pricing above should give you a good idea of the cost of living in Cardiff but perhaps the following extra tips will make your move go smoothly.
11. Relocating to Cardiff Alone
Moving is always a stress, but moving alone can be exceptionally stressful. The following suggestions are there to help you make the transition as painless as possible.
Meetups: Cardiff has lots of free meetup groups you can find on Meetup.com. Find groups where you can join people who share your interests.
Attend local events:Cardiff always has a lot going on at any given time. Find out what's on by looking at Skiddle, Cardiff.gov.uk or Cardiff events.
11. Moving to Cardiff with a Family
Cardiff is a great city for families with lots to explore within it and in the surrounding countryside. Here's some extra food for thought.
New parents (or parents to be): Check out the local NCT Courses and NCT events.
Live in a family friendly area: Cyncoed is a great place to bring up children but is one of the more expensive areas. Victoria Park is an area which has a mix of houses, many of which are suitable for families. It has the added advantage of having the park right on its doorstep.
Find things to do with the kids: Have a look at the following sites to see what activities and sites are suitable to do with the kids – Dayoutwiththekids. Walesonline and Picniq.
13. Moving to Cardiff for Work
Cardiff main employment sector used to be manufacturing, this is no longer the case. It is now known as a retail and finance centre, plus a centre for media and science based companies.
Here are a few things to consider when moving for work:
Salary: Salaries are not as high as in many other cities around the globe. Ensure that you are going to be happy with your salary before you make that big move. You can also check salary ranges on sites such as Glassdoor and Payscale.
How to find work: Many people try and secure a job before they move. Is that's what you want to do the following sites are good places to start: Monster, Total Jobs, Gumtree, Reed and Indeed. You may also want to google recruiters in your industry, as they can often help land you some initial interviews as well.
14. Moving to Cardiff from Australia
There aren't many Australians in Cardiff. Of course, Aussies will descend on the town if their country and playing rugby in Cardiff. For those who are considering moving to Cardiff, here are a few pointers.
Size comparison:The Larger Urban Zone of Cardiff is in between the size of Adelaide and the Gold Coast. The actual city of Cardiff is around the size of the Sunshine Coast.
Join expat groups: Joining expat groups gives you the opportunity to meet people from your home country. Have a look at Internations and Expat.com.
15. Moving to Cardiff from Canada
There aren't many Canadians living in Cardiff, however, despite that if you're considering making the move from Canada here are a few things to consider.
Size: The whole urban area of Cardiff is around the size of Ottawa. The actual city is on a par with Oshawa or Quebec City.
Expat groups:Even though there aren't many Canadians living in Cardiff, there are a couple of websites which will help you connect with the ones that are – Internations and Expat.com
16. Moving to Cardiff from the United States
Not many Americans move to Cardiff, however, there still some who make the move. If you're considering it, here are a few bonus tips:
Size: Cardiff, including the Metropolitan area, has a population similar to that of San Francisco. The actual city of Cardiff is slightly smaller than New Orleans.
Expat groups:There are a few organisations who will help you meet up with fellow Americans. Try Meetup, Internations and Exapt.com.
Hopefully, the tips and costs above are helpful. If want to get started pricing out how much it will cost you to move to Cardiff you can start by comparing moving quotes here.
Guides to moving and living in other UK cities