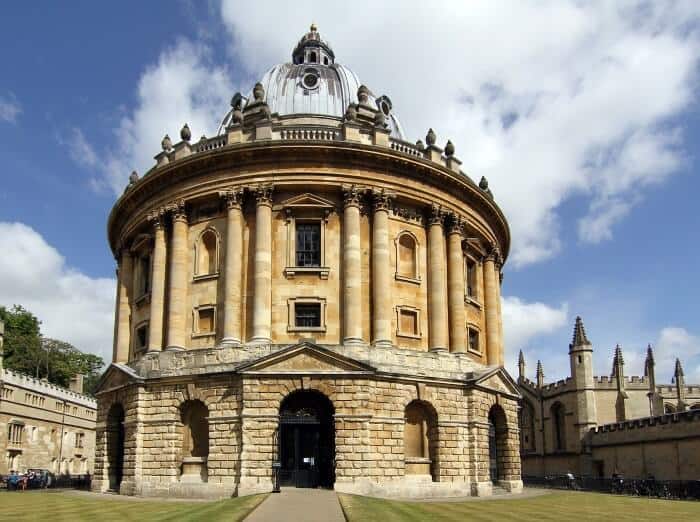 Oxford is a beautiful city, full of history, architectural beauty and one of the UK's oldest seats of learning. It has excellent schools, job opportunities and is under an hour from London by train.
If you are considering moving to Oxford, the various costs listed below will help you make an informed decision on what costs are involved when moving and living in Oxford.
Quick Oxford Facts:
Population: 161,600 (2017 estimate)
Official Language: English (de facto) with many other languages being spoken in schools, such as Polish, Mandarin, French, Portuguese, Spanish, Urdu, Bengali and Punjabi.
GDP Per Capita: $58,200 USD
Movies: Oxford is a one of the movie industry's favourite cities for filming in. Movies such as Harry Potter, Brideshead Revisited and the History Boys were filmed here.
Currency: Pound Sterling or Great Britain Pound (£, GBP). As of early 2017, $1 USD = £0.80, €1 EUR = £0.85, $1 CAD = £0.61, $1 AUD = £0.62
1. Moving and Shipping Costs to Oxford
Below are some sample shipping rates to Oxford from other major world cities. Just keep in mind they only reflect the shipping portion of the cost and not the full moving costs.
You can save money by comparing removals companies if moving from within the UK and international moving companies if coming from abroad using our moving quote form above.
Also see: 10 Best Removal Companies In Oxford
2.Oxford Housing Costs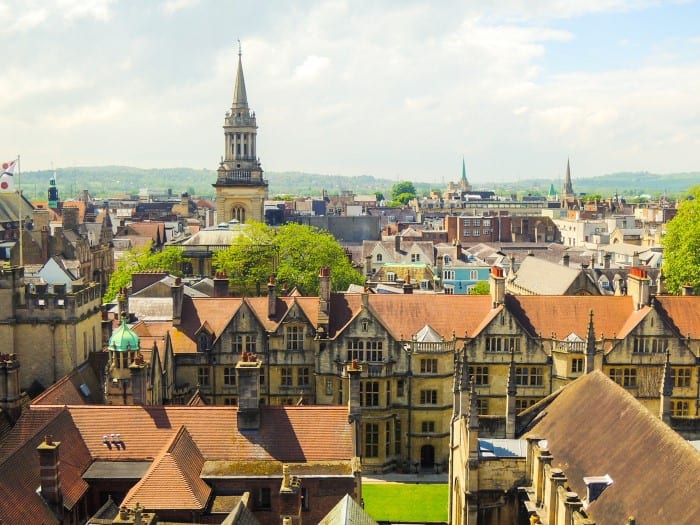 Oxford is an expensive place to live and, in some areas, prices are on a par with London. Its proximity to London, its excellent schools and the fact that it houses one of the world's top universities all add to the cost of living in Oxford.
Prices obviously vary from area to area but the figures below will give you an indication of what's available at what price.
Monthly Rental Prices in Oxford
1 bedroom flat (apartment) in City Centre: £850+
1 bedroom flat outside the City Centre: £650+
3 bedroom flat in City Centre: £1500+
3 bedroom flat outside the City Centre: £1250+
Oxford Home Purchase Prices
Price per square metre (10.7 square feet) to buy in City Centre: £6,216+
Price per square metre (10.7 square feet) to buy outside City: £4,600+
Oxford Housing Cost Comparison
This is how rents in Oxford compare with other cities around the globe.
London is 43.90% more expensive
New York is 107.78% more expensive
Los Angeles is 38.33% more expensive
Toronto is 17.04% cheaper
Sydney is 37.21% more expensive
Paris is 10.71% cheaper
Dubai is 51.89% more expensive
Source: Numbeo
How to Save on Housing Costs
Share a flat or house: Oxford has a large selection of apartments and houses which have either been converted into flats or are shared houses. With a house share you will have your own room, or, for a cheaper option, you can share a room. The bathroom/s will be shared with other people in the house. There are many flats available for shared rental as well. Have a look on Oxford's Gumtree page or SpareRoom or Easy Room Mate and find someone you can get on with to share the costs with you.
Different areas – different prices. Botley and Cutteslowe are family friendly areas close to the city centre by bus or car. East Oxford is ethnically diverse and has a vibrant music scene. Grandpont and Summertown are upmarket areas popular with professionals, academics, London commuters and families who enjoy the excellent schools in the area. Jericho is a popular area with students and young professionals. Marston is also an area which is popular with families and those commuting to London.
3.Oxford Food, Grocery and Restaurant Costs
Oxford has an excellent selection of restaurants, from simple takeaways to fine dining. There is food to tempt any palate and pocket. However, do note that with the recent decline in sterling, a lot of imported food has increased in price, which has obviously pushed up restaurant prices.
Inexpensive Restaurant: £9.00 – £12.00
Takeout Coffee: £2.20- £3.00
Bottle of Coke: £0.80 – £2.00
1L of milk: £0.49 – £1.00
Loaf of Bread: £0.53 – £1.29
12 Eggs: £1.75 – £2.50
1kg Chicken: £4.00 – £7.00
1kg Beef: £5.00 – £10.00
1kg Apples: £0.75 – £2.00
1kg White Rice: £0.45 – £2.00
This is how restaurants and food prices compare with other major cities in the world.
New York restaurants are 35.54% more expensive and groceries are 88.46% more expensive than Oxford.
Toronto restaurants are 10.14% cheaper and groceries are 18.48% more expensive than Oxford.
Sydney restaurants are 0.98% more expensive and groceries are 50.34% more expensive than Oxford.
Paris restaurants are 11.03% more expensive and groceries are 43.20% more expensive than Oxford.
Dubai restaurants are 12.92% cheaper and groceries are 8.39% more expensive than Oxford.
Source: Numbeo
Bonus Tips for Cheaper Food, Restaurants and Groceries
Shop local: Oxford and the surrounding village have some excellent farmer's markets which sell a variety of seasonal produce.
Find Cheap Eats: The Culture Trip, TripAdvisor and The Guardian all have their own guides to cheap eats in Oxford, which include everything from pizzas to fine dining experiences.
4.Oxford Alcohol Costs
Oxford is a university city, so it obviously has lots of pubs, bars and clubs for students. However, it also has many establishments for the more discerning palate and those with more money.
The following is a list of basic prices of beer and wine from the supermarket and restaurants.
Pint (0.6L) domestic beer at a restaurant/pub: £3.50 – £4.50
Bottle of imported beer at a restaurant/pub (0.33L): £4.00 – £4.40
Pint (0.6L) domestic beer at a supermarket: £1.00 – £2.00
Bottle of imported beer at a supermarket: £0.80 – £2.00
Mid-range bottle of wine at a supermarket: £6.00 – £7.00
How to drink for less in Oxford
Keep an eye on the local papers and websites for specials over weekends and public holidays.
Try the Duke of Cambridge in Jericho – 4 pm to 9 pm Sunday to Thursday and 4 pm to 7.30 pm Friday and Saturday. House beer and wine start at £2.95 and cocktails start at £4.95. Have a look at Yelp for lots more suggestions.
Scour the areas around Oxford University and other tertiary institutions to find the best alcohol deals.
5. Oxford Transportation Fares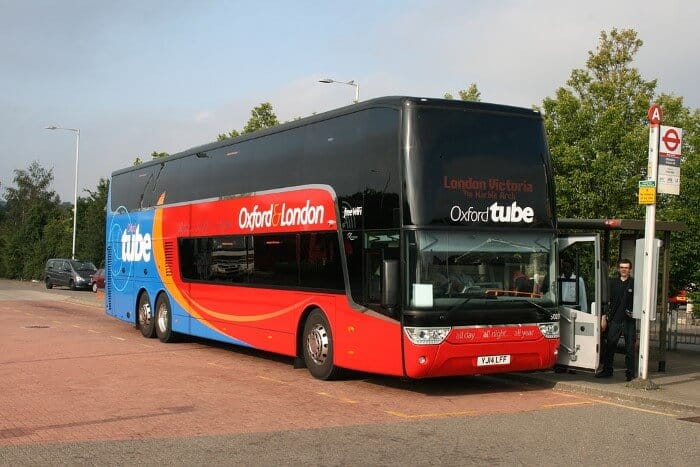 Photo by Au Morandarte
Oxford is served by three bus companies which cover the city and all the outlying area. There is an excellent rail service to London which gets you there in 58 minutes.
Here are some example ticket costs.
Adult Single – £2.20
One day ticket for bus – £8.50
Monthly season ticket for bus – £55
Yearly season ticket for bus – £435
How to save money on public transport
Use a Family Day Pass ( 2 adults + 3 children) and your day ticket will cost £8.50
Buy a Day Pass and travel for 24 hours from purchase for £4.20
Buy a bike. There is good system of cycle lanes all around the city
The city is not that big and exercise is always good.
6.Cost of Internet in Oxford
Internet in the UK is one of the few things that is cheaper than the US, Canada or Australia. Here are some sample broadband internet prices from early 2017 for unlimited downloads, based on a 12 month contract:
7.Cost of Clothing, Personal Items, Gym and Leisure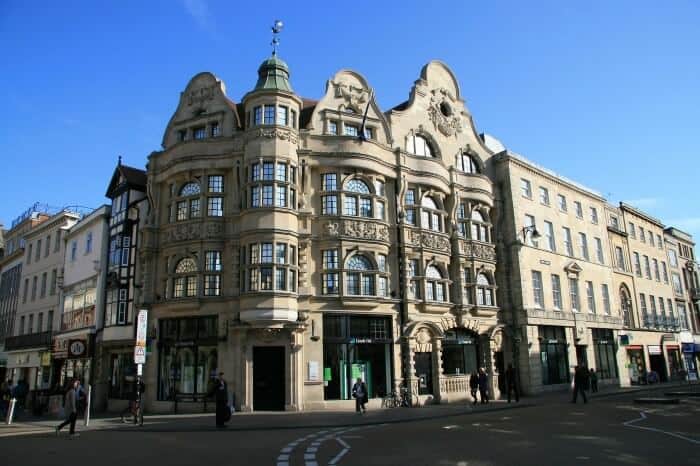 Oxford has a mild climate with its hottest month being in July, where the temperature reaches an average high of 16°C. December is the wettest month with an average rainfall of 66mm and January is the cold one, with an average temperature of 4°C.
It's advisable to carry an umbrella and light waterproof jacket during most months of the year.
Here are some clothing prices, together with other useful prices.
Pair of Jeans: £40 – £80
Summer Dress: £20 – £35
Running Shoes (Trainers): £55 – £100
Business Shoes: £75 – £150
Short (private) Doctor's visit (15 mins): £100
Deodorant: £1.60
Shampoo: £3.56
Toilet Paper (4 rolls): £2.07
Gym membership: £20 – £50 per month
Movie (cinema) ticket: £8 – £14
Source: Numbeo and Expatistan
8.Cost of Owning a Car and Driving a Car in Oxford
Everyone in Oxford along with the rest of the UK drives on the left. The roads in Oxford are fine to drive on but parking can be a nightmare and is very expensive.
If you're moving to Oxford from within the UK, you'll be able to keep your license but need to update your address to your new Oxford one.
If you want to exchange your foreign driver's license you have to follow the process here. Note that you will need to prove you took your driving test in a manual transmission car. If you can't prove it, you'll only be able to exchange your license for an automatic.
Here are some other sample costs of owning and operating a car in Oxford:
Volkswagen Golf: £20,500
1 litre (¼ gallon) of gas (petrol):£1.14
Registration fee (if any):£55 one time
Other fees (if any): No more than £54.85 for an MOT fee, after cars are 3 years old.
Source: Expatistan.com, Gov.uk
Ways to save money on driving in Oxford
Need your car/vehicle moved to Oxford? Then read our guide to: Car Transport & Vehicle Shipping
9.Taxes in Oxford
No matter where you live in the UK, you will pay the same rate of sales and income tax. To learn more about the different taxes – income, self-employment, business, capital gains etc, have a look at our moving to the United Kingdom guide.
Sales Tax, or VAT (Value Added Tax) is 20% in the UK and is added to most goods and services throughout the country. Unlike some countries, it is always included in the marked price.
Whether you own or rent your home, you will be subject to council tax based on the area in which you live and the size of the property you live in. Learn more about council tax in Oxford at Oxford Council Tax.
Finally, if you decide to buy a flat or house in Oxford you'll have to pay stamp duty. While there's no tax on the first £125,000 of your home value, the marginal rate increases to 12% on a value of over £1.5 million.
10.Flight Costs from Oxford
If you do make the move to Oxford, here's approximately how much it will cost to fly to other major world cities based on lowest, one-way fares from Skyscanner as of early 2017.
Note you'll likely have to fly from some of London's airports rather than Oxford's regional airport when flying to most international destinations. Fortunately, Heathrow is on the right side of London for those living in Oxford.
Other Tips on Moving to Oxford
The costs and pricing above should give you a good idea of the cost of living in Oxford but perhaps the following extra tips will make your move go smoothly.
11. Moving to Oxford Alone
Moving home is rated as one of the top stressors. Moving on your own can be really stressful, so here are a few tips to help you settle in quickly.
Meetups: Oxford has lots of societies and clubs to suit all ages and interests. Go to Meetup and begin making new friends.
Attend local events: There is so much going on in Oxford and the surrounding areas that you will be spoilt for choice. Have a look at the following websites to plan your evenings and weekends – Experience Oxfordshire, Oxford Mail, Skiddle and The Best Of.
12.Moving to Oxford with a Family
Oxford is a great place to move to with a family. The city itself has excellent schools, medical facilities, shopping and entertainment while the surrounding countryside has lots to offer: long walks, cycling, camping and lots of fresh air.
Not only that, you are very close to the bright light of London.
13. Moving to Oxford for Work
One of the most common reasons for moving to a new city or country is for work. While it is possible to move without a job, it makes sense to ensure there are jobs in your field before you make the move.
The unemployment rate in Oxford is at 3.7%, which is below the national average. Health and education are the major employers in the city.
Here are a few things to consider when moving for work:
Salary: Salaries in Oxford are relatively high. The costs we outlined above should give you a rough idea, how much more you'll want to be making to make the move worthwhile. You can also check salary ranges on sites such as Glassdoor and Payscale.
How to find work: If you want to have a job lined up before you move to Oxford, but aren't sure where to begin, the following sites are good places to start: Oxford Mail, Gumtree, reed.co.uk, The Guardian and Indeed. You may also want to google recruiters in your industry, as they can often help land you some initial interviews as well.
14. Moving to Oxford from Australia
Most of the Australians in Oxford work in academia or in the health sector. However, as London is only a short train ride from Oxford, you can meet some of 56,000 living in London with the greatest of ease.
Size comparison: If you use population size as a parameter, then Oxford comes mid-way between Cairns and Townsville.
Join expat groups: InterNations is a good site when it comes to meeting up with other Australians.
15. Moving to Oxford from Canada
Most Canadians moving to Oxford are students and academics who are drawn by the long and distinguished history of Oxford University. If you're considering making the move from Canada here are a few things to consider.
Size:If you look at population size, Oxford is around the size of Greater Sudbury, Ontario.
Expat groups: If you want to get in touch with other Canadians in Oxford have a look at InterNations or MeetUp.
16. Moving to Oxford from the United States
Most people who move from the States to Oxford are either students or academics. If you're considering it, here are a few bonus tips:
Size:If you look at population sizes, Oxford is around the same size as Fort Lauderdale.
Expat groups: If you want to connect with other Americans in Oxford go to InterNations and Expat.com.
Hopefully, the tips and costs above are helpful. If want to get started pricing out how much it will cost you to move to Oxford you can start by comparing moving quotes here.
Guides to moving and living in other UK cities