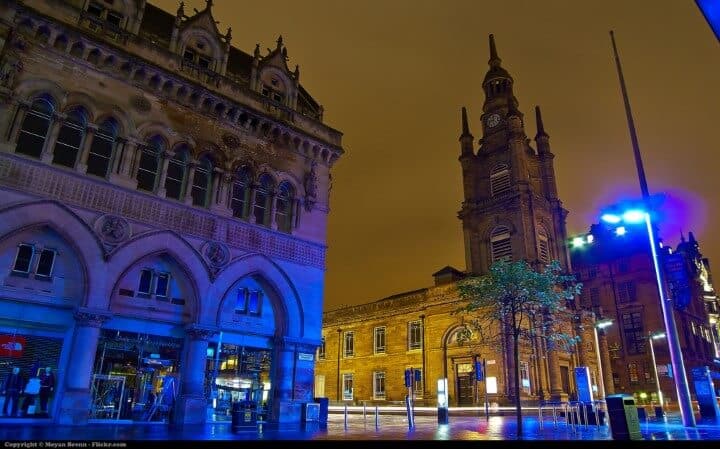 Photo by Moyan Brenn
Glasgow is the largest city in Scotland and the fourth largest city in the UK. It sits on the banks of the River Clyde and is full of parks and peaceful places dotted amongst the buzz of the city.
It's important to get an insight into the costs of living in another city, so, listed below, are various costs involved for those thinking of moving to Glasgow.
Quick Glasgow Facts:
Population: 606,340 (2017 estimate), 1,209,143 in the Greater Glasgow Urban Area. Almost 80% of the population is Scottish.
Official Language: English (de facto) with 86 different languages in schools
GDP Per Capita: $24,897.17
Claim to fame: Longest Bar in Europe
Currency: Pound Sterling or Great Britain Pound (£, GBP). As of early 2017, $1 USD = £80, €1 EUR = £0.85, $1 CAD = £0.61, $1 AUD = £0.62
1. Moving and Shipping Costs to Glasgow
Below are some sample International Container Shipping Rates & Costs to Glasgow from other major world cities.
| City | 20ft | 40ft |
| --- | --- | --- |
| London, UK | £218 | £336 |
| New York, USA | £1,098 | £1,640 |
| Sydney, Australia | £2,687 | £4,011 |
| Vancouver, Canada | £1,819 | £2,715 |
| Hong Kong | £635 | £949 |
| Dubai, UAE | £2,032 | £3,033 |
Source:
WorldFreightRates.com
You can save money by comparing removals companies if moving from within the UK and international movers if coming from abroad using our moving quote form below:
Thank you. You will hear from us soon.
Wait!
an agent is calling you now from
+1 (800) 680-6439
Please pick up your phone to be connected with an agent to give you a personalized quote based on your move details.
Also see: 10 Best Removal Companies In Glasgow
2. Glasgow Housing Costs
Living in Glasgow is much cheaper than most major cities around the world. Obviously, prices do vary depending on the area you choose, but the figures below will give you an idea of what is available at what price.
Monthly Rental Prices in Glasgow
1 bedroom flat (apartment) in City Centre: £450+
1 bedroom flat outside the City Centre: £350+
3 bedroom flat in City Centre: £900+
3 bedroom flat outside the City Centre: £600+
Glasgow Home Purchase Prices
Price per square metre (10.7 square feet) to buy in City Centre: £2,000+
Price per square metre (10.7 square feet) to buy outside City: £1,100+
Glasgow Housing Cost Comparison
This is how rents in Glasgow compare with other cities around the globe.
London is 151.52% more expensive
New York is 260.01% more expensive
Los Angeles is 138.99% more expensive
Toronto is 43.40% more expensive
Sydney is 137.70% more expensive
Paris is 50.22% more expensive
Dubai is 163.11% more expensive
Source: Numbeo
How to Save on Housing Costs
Share a flat or house. Glasgow has a large variety of accommodation from modern flats to old houses. Flat shares and house shares certainly reduce the price of accommodation. You can share a room and a bathroom, or have your own room. Bathrooms are usually shared. Have a look on Glasgow's Gumtree page or SpareRoom or Easyroommate and find someone you can get on with to share the costs with you.
Different areas – different prices. Like all cities, Glasgow has its good and bad areas, which are reflected in the price. Some of the most expensive areas are in the region of the University (West End). Other expensive areas in the city are Milngavie and Bearsden. The South Side enjoys leafy suburbs and has good public transport connections into the city. Prices vary from middle of the road to expensive. If you are looking for trendy, then live in the converted warehouses in The Merchant Quarter.
3. Glasgow Food, Grocery and Restaurant Costs
Glasgow is renowned for its variety of vibrant and varied restaurants and food shops. The different nationalities in the city ensure there are many culinary delights awaiting. Not forgetting those shops and restaurants that service traditional Scottish fare.
However, do note that with the recent decline in sterling, a lot of imported food has increased in price, which has obviously pushed up restaurant prices.
Inexpensive Restaurant: £8.00 – £15.00
Takeout Coffee: £2.00 – £3.00
Bottle of Coke: £0.80 – £2.00
1L of milk: £0.50 – £1.00
Loaf of Bread: £0.62 – £1.25
12 Eggs: £1.00 – £2.80
1kg Chicken: £4.00 – £10.00
1kg Beef: £4.50 – £8.82
1kg Apples: £1.50 – £3.00
1kg White Rice: £1.00 – £2.00
This is how restaurants and food prices compare with other major cities in the world.
New York restaurants are 29.07% more expensive and groceries are 78.30% more expensive than Glasgow.
Toronto restaurants are 14.83% cheaper and groceries are 11.38% more expensive than Glasgow.
Sydney restaurants are 4.28% more cheaper and groceries are 41.72% more expensive than Glasgow.
Paris restaurants are 1.38% more expensive and groceries are 33.62% more expensive than Glasgow.
Dubai restaurants are 15.40% cheaper and groceries are 3.01% more expensive than Glasgow.
Source: Numbeo
Bonus Tips for Cheaper Food, Restaurants and Groceries
Find Cheap Eats:TimeOut, TripAdvisor and WOW247 all have their own guides to cheap eats in Glasgow, which include everything from traditional Indian curries and good burgers, to seafood.
4. Glasgow Alcohol Costs
Glasgow is renowned for its pub scene, clubs and nightclubs. The following is a list of basic prices of beer and wine from the supermarket and restaurants.
Pint (0.6L) domestic beer at a restaurant/pub: £2.70 – £3.80
Bottle of imported beer at a restaurant.pub: £3.00 – £4.00
Pint (0.6L) domestic beer at a supermarket: £1.00 – £2.10
Bottle of imported beer at a supermarket (0.33L): £1.00 – £2.00
Mid-range bottle of wine at a supermarket: £5.00 – £8.99
How to drink for less in Glasgow
Keep an eye on the local papers and websites for specials over weekends and public holidays. Try browsing Designmynight and Glasgowlive for the latest places to go.
There are lots of pubs in Glasgow that offer mid week or weekend specials. Try the Slug and Lettuce on Vincent Street in the city centre for half price cocktails and great wine prices. Campus on Sauchiehall Street offers some unbelievable specials at certain times of the month.
The areas around the Universities and various colleges in Glasgow are always good places to find alcohol specials.
5. Glasgow Transportation Fares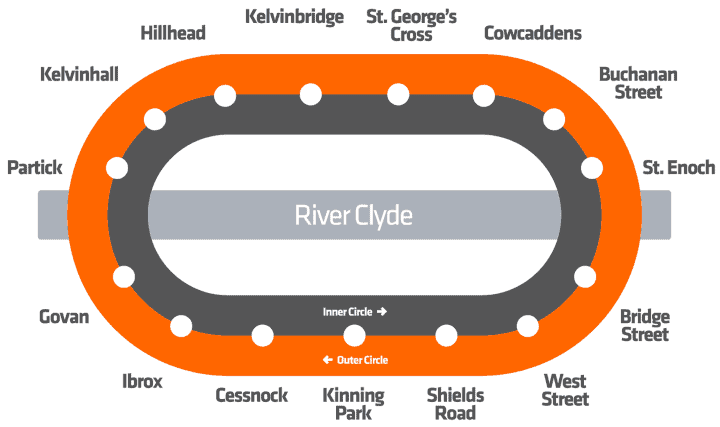 Glasgow Subway Map – Copyright SPT
Glasgow public transport system works well with regular bus, rail, ferry and subway services. Go to SPT to plan your journey and find the best deals for your needs. Here some examples of ticket costs. If you are going to use public transport regularly, buy a ZoneCard which gives you concessions on bus, rail, ferry and subway journeys.
Adult Single – to any station – £1.40
One day ticket for bus, subway and train – £2.70
Monthly season ticket for bus, subway and train – £50
Yearly season ticket for bus, subway and train – £450
How to save money on public transport
Buy a travel card.
Travel out of rush hour for reduced prices on all tickets
Cycling is a good option. There are cycle lanes around the city.
Walking is great exercise and you don't have to sit in the traffic.
6. Cost of Internet in Glasgow
Internet in the UK is one of the few things that is cheaper than the US, Canada or Australia. Here are some sample broadband internet prices from early 2017 for unlimited downloads, based on a 12-month contract:
7. Cost of Clothing, Personal Items, Gym and Leisure
July is the hottest month in Glasgow, where the average temperature is 15°C. The coldest month is February with the average temperature being around 3°C. The wettest month is January, where an average of 130mm falls.
Glasgow has its fair share of rain throughout the year, so carry an umbrella and a light, fold up waterproof jacket. Here are some clothing prices, together with other useful prices.
Pair of Jeans: £45 – £90
Summer Dress: £25 – £50
Running Shoes (Trainers): £45 – £90
Business Shoes: £40 – £100
Short Doctor's visit (15 mins): £65
Deodorant: £1.41
Shampoo: £2.61
Toilet Paper (4 rolls): £1.72
Gym membership: £17 – £39 per month
Movie (cinema) ticket: £8 – £10
Source: Numbeo and Expatistan
8. Cost of Owning a Car and Driving a Car in Glasgow
Driving in Glasgow isn't a problem, but like most cities in the world parking can be difficult and expensive. Remember that everyone in the UK drives on the left.
If you're moving to Glasgow from within the UK, you'll be able to keep your license but need to update your address to your new Glasgow one.
If you want to exchange your foreign driver's license you have to follow the process here. Note that you will need to prove you took your driving test in a manual transmission car. If you can't prove it, you'll only be able to exchange your license for an automatic.
Here are some other sample costs of owning and operating a car in Glasgow:
Volkswagen Golf: £17,900
1 litre (¼ gallon) of gas (petrol): £1.11
Registration fee (if any): £55 one time
Other fees (if any): No more than £54.85 for an MOT fee, after cars are 3 years old.
Source: Expatistan.com, Gov.uk
Ways to save money on driving in Glasgow
Need your car/vehicle moved to Glasgow? Then read our guide to: Car Transport & Vehicle Shipping
9. Taxes in Glasgow
Scotland now sets its own income tax rates, which may differ from the rest of the UK. To learn more about the different taxes – income, self-employment, business, capital gains etc, have a look at our moving to the United Kingdom guide.
Sales Tax, or VAT (Value Added Tax) is 20% in the UK and is added to most goods and services throughout the country. Unlike some countries, it is always included in the marked price.
Whether you own or rent your home, you will be subject to council tax based on the area in which you live and the size of the property you live in. Learn more about council tax in Glasgow at Glasgow Council Tax
Finally, if you decide to buy a flat or house in Glasgow you'll have to pay the Scottish Land and Buildings Transaction Tax. While there's no tax on the first £145,000 of your home value, the marginal rate increases to 12% on a value of over £750,000.
10. Flight Costs from Glasgow
If you do make the move to Birmingham, here's approximately how much it will cost to fly to other major world cities based on lowest, one-way fares from Skyscanner as of early 2017:
New York: £236
Los Angeles: £261
Toronto: £262
Vancouver: £306
Dubai: £168
Sydney: £474
Melbourne: £377
Cape Town: £406
Hong Kong: £316
Other Tips on Moving to Glasgow
The costs and pricing above should give you a good idea of the cost of living in Glasgow but perhaps the following extra tips will make your move go smoothly.
11. Moving to Glasgow Alone
Moving anywhere can be a lonely experience, but moving to a new city can be rather daunting. Here are a few tips about settling into Glasgow.
Meetups: Glasgow has lots of free meetup groups for the newcomer to the city. Have a look on com. Find like-minded souls and enjoy a good social life doing what you love.
Attend local events: Glasgow is a vibrant city with lots going on, especially at weekends. Find out what's going on from People Make Glasgow, Whats On Glasgow, Time Out and The List.
12. Moving to Glasgow with a Family
Glasgow is a great city for families. It has lots of parks and activities for children. Here's some extra food for thought.
New parents (or parents to be):Check out the local NCT courses and events at NCT.
Live in a family friendly area: The south of Glasgow is becoming an increasingly popular area for families. It not far from the heart of the city but it has lovely green, open spaces for the kids. Another popular area for families is Langside. Both areas have good schools.
Find things to do with the kids: Glasgow has many activities and venues which are suitable for children. Have a look at Day Out With The Kids, Timeout and What's On Glasgow to get some ideas.
13. Moving to Glasgow for Work
Most people move to Glasgow for work. Unless you are single and fancy free it makes sense to get a job before you move or at least investigate the job market in your field to ensure that there are jobs available for you.
The key job sectors in Glasgow are in manufacturing, retail, healthcare, finance and business services.
Here are a few things to consider when moving for work:
Salary: Salaries in Glasgow are not as high as other major cities in the world. The costs we outlined above should give you a rough idea, how much more you'll want to be making to make the move worthwhile. You can also check salary ranges on sites such as Glassdoor and Payscale.
How to find work: One route is to email recruiters who specialise in your line of work as they may be able to get you some initial interviews. Otherwise, have a look at some online sites. Some of the best sites to look at the get an idea of what jobs are available in Glasgow are Monster, Total Jobs, Gumtree, Reed and Indeed.
14. Moving to Glasgow from Australia
There aren't many Australians living in Glasgow and, most those that are there, are students.
Size comparison: Glasgow is nearest in size to the Gold Coast in Australia. If you look at the whole greater Glasgow area, then the city is on a par (population wise) with Adelaide.
Join expat groups: Both InterNations and Expat.com offer ways of meeting up with other Australians in Glasgow.
15. Moving to Glasgow from Canada
While you won't find a huge number of Canadians living in Glasgow but there are a few students. If you're considering making the move from Canada, here are a few things to consider.
Size:The City of Glasgow's population is around the same as Winnipeg, Calgary and Quebec. However, if you take in the whole metropolitan area, then the size of the city equates with Ottawa and Calgary.
Expat groups: There are few expat groups for Canadians in Glasgow, including InterNations, Expatica and Exapt.com.
16. Moving to Glasgow from the United States
There are around 18,000 American expats living in Scotland, some of whom live in Glasgow. The American community organises meet ups and reunions.
Size: The size of the population of the city of Glasgow equates to that of Jacksonville, Florida and Columbus, Ohio. The whole metropolitan area of Glasgow is around the size of San Diego or Dallas.
Expat groups: InterNations, Expat.com and Expats Blog have resources for Americans moving to and living in Glasgow, including details of clubs and groups.
Hopefully, the tips and costs above are helpful. If want to get started pricing out how much it will cost you to move to Glasgow, you can begin by comparing moving quotes here.
Guides to moving and living in other UK cities