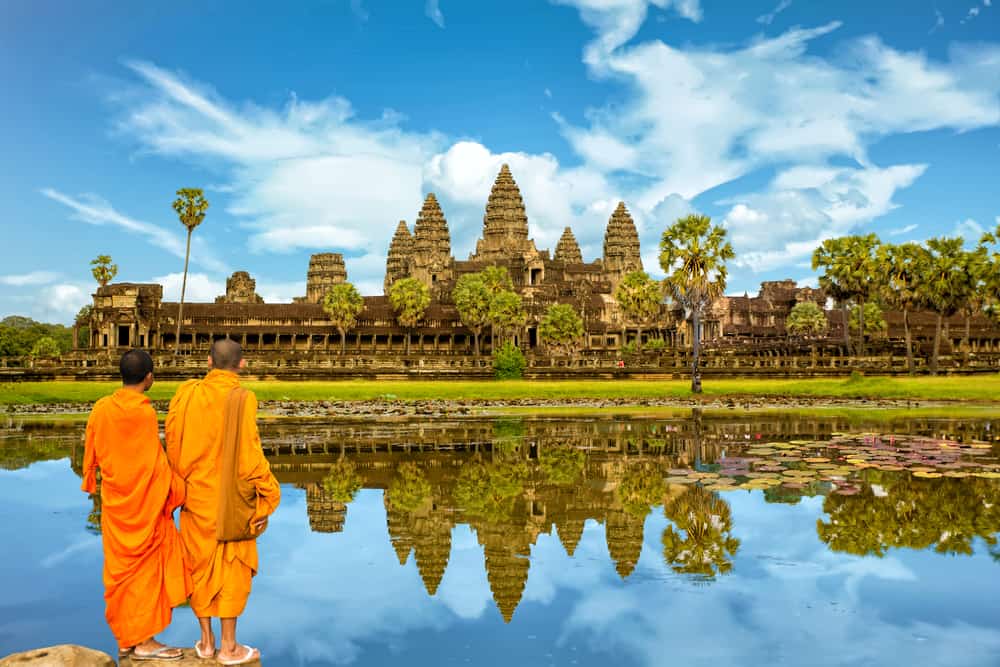 Cambodia is a fascinating country with a long history. The population of the country is comprised of 90% Khmer, 5% Vietnamese, 1% Chinese, and 4% other nationalities. It is a developing country with an elected government and a constitutional monarchy.
If you are considering moving to Cambodia, the various costs listed below will help you make an informed decision on what costs are involved when moving and living in Cambodia.
Quick Cambodia Facts:
Population: 17,240,924 (2022 estimate)
Official Language:Khmer is the official language of Cambodia which is spoken by 95% of people in Cambodia. Khmer is derived from the ancient Palli language which is one of the oldest in the world and is connected to Sanskrit. Besides this, French and English are also widely spoken in the country.
GDP Per Capita:$1,512.73 USD
Temples: There are over 4,000 temples that have been discovered excavated in Cambodia. It's thought there are many, many more hidden templates waiting to be found.
Currency: Cambodian riel (៛ or ri) is the currency in Cambodia. The value of ri: 1 USD = ri4,162.70, 1 CAD = ri3035.29, 1 AUD = ri1,672.22. €1 = ri4,078.22, £1 = ri4,660.91
1. Moving and Shipping Costs to Cambodia
Here are some sample container shipping rates to Cambodia from other countries around the world. (All prices in USD)
2. Cambodia Housing Costs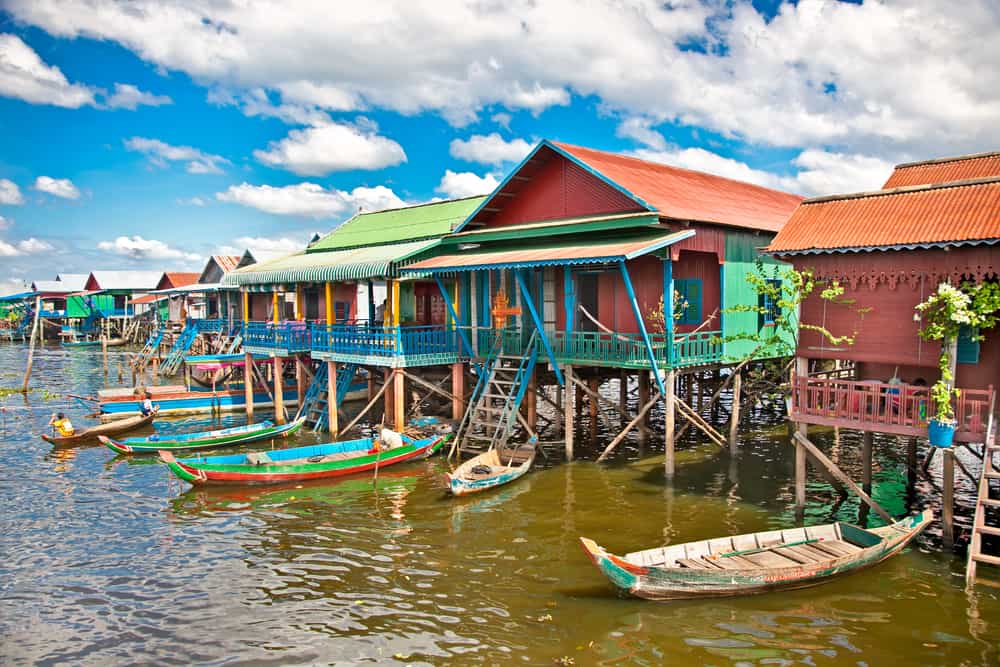 Housing costs have tripled in the last 10 years both for rental and purchasing. However, it is still cheaper compared to other countries in the world.
Monthly Rental Prices in Cambodia
1 bedroom apartment in City Centre: $527.81+
1 bedroom apartment outside the City Centre: $321.67+
3-bedroom apartment in City Centre: $1,479.00+
3-bedroom apartment outside the City Centre: $793.33+
Price per square metre (10.7 square feet) to buy in City Centre: $2,339.50+
Price per square metre (10.7 square feet) to buy outside City: $1,625.83+
Cambodia Housing Cost Comparison
This is how rents in Cambodia compare with other cities across the world.
United Kingdom is 69.08% more expensive
United States is 83.09% more expensive
Australia is 60.93% more expensive
Singapore is 72.85% more expensive
France is 54.36% more expensive
UAE is 56.81% more expensive
Spain is 33.73% more expensive
Source: Numbeo
How to Save on Housing Costs
3. Cambodia Food, Grocery and Restaurant Costs
Cambodia is known for its food culture. Amok, the national dish of Cambodia and Samlor Korkor are very popular dishes among Western visitors to Cambodia. When it comes to food costs in Cambodian restaurants and supermarkets, you'll find them very affordable.
Inexpensive Restaurant: $1.50 – $7.00
Domestic beer: $0.50 – $2.00
Coke/Pepsi: $0.50 – $2.00
1L of milk: $1.70 – $2.60
Loaf of Bread: $1.00 – $3.00
12 Eggs: $1.20 – $2.40
1kg Chicken Fillets: $2.50 – $8.82
1kg Beef: $7.72 – $12.60
1kg Apples: $2.00 – $5.50
1kg White Rice: $0.70 – $2.00
Source: NUMBEO
This is how restaurants and food prices compare with other cities across the world.
UK restaurants are 67.25% more expensive and groceries are 13.78% more expensive than in Cambodia.
United States restaurants are 75.75% more expensive and groceries are 15.13% more expensive than in Cambodia.
Australia restaurants are 63.87% more expensive and groceries are 35.07% more expensive than in Cambodia.
Singapore restaurants are 56.20% more expensive and groceries are 33.11% more expensive than in Cambodia.
French restaurants are 62,50% more expensive and groceries are 31.38% more expensive than in Cambodia.
UAE restaurants are 56.71% more expensive and groceries are 1.83% cheaper than in Cambodia.
Spanish restaurants are 52.74% more expensive and groceries are 15.21% cheaper than in Cambodia.
Source: Numbeo
Bonus Tips for Restaurants, Cheaper Food, and Groceries
Know your supermarkets: Cambodia has many supermarkets and independently owned grocery stores as well as ethnic stores. You'll find markets everywhere that sell good quality fresh produce and even the occasional deep fried spider on a stick! Have a look at the following sites for information on supermarkets and food shopping in general in Cambodia: Stackexchange, Move to Cambodia, Phnompenh Expat, Travel Plans in Mom Hands, and Food Buzz
Find Cheap Eats:Food is a lot cheaper in Cambodia than most countries in the world, but if you want to search for further bargains have a look at the following sites – Wandelog, Phnompenhpost, Culturetrip, and Hotels.
4. Cambodian Alcohol Costs
Drinking in Cambodia is a social and popular activity. Cambodian alcohol can be divided into two basic categories, traditional homemade wines and popular local and international brands.
Bottle of imported beer at a restaurant/pub: $2.50 – $3.00
Pint (0.5L) domestic beer at a restaurant/pub: $1.00 – $1.50
Pint (0.5L) domestic beer at a supermarket: $0.92 – $1.50
Bottle of imported beer at a supermarket: $1.30 – $3.00
Mid-range bottle of wine at a supermarket: $8.00 – $15.00
How to drink for less in Cambodia
Local papers and flyers can be helpful to find out cheap drinks, either in bars, clubs and restaurants, or supermarkets.
Look for bars and restaurants that have happy hours that are usually after work. Sundown Special Club, Elephant Bar, Long After Dark, etc. have happy hours. Have a look at the following sites for more tips on where to go to save money on a night out – Phnompenhpost, Elephant Bar, Phnom Penh Bars, Wanderlog, and CultureTrip.
5. Cambodia Transportation Fares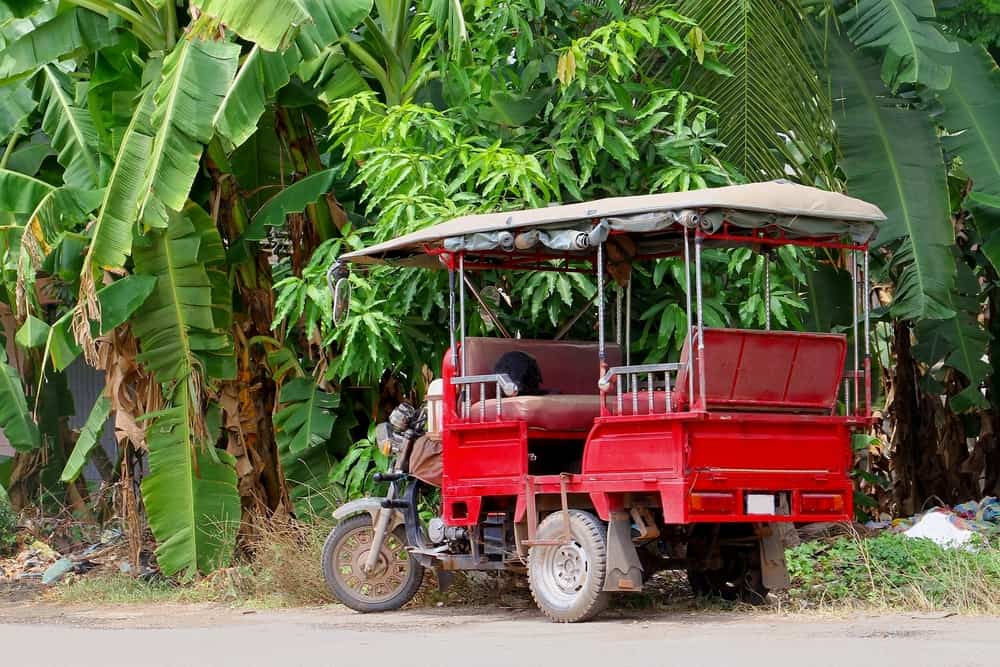 Cambodia has a good road system which connects the capital city of Phnom Penh with the rest of the country. Bus services, taxis, tuk-tuks, and private transport services are excellent in the country. There are no railway services except the newly developed shuttle that runs from Phnom Pen International Airport to the city centre.
Below are a few example ticket costs.
One-way ticket (Local transport) – $1.00 – $2.00
Monthly Pass, (Regular Price) – $10.62 – $75
Taxi start (normal tariff) – $1.00 – $2.00
Taxi 1km (normal tariff) – $1.00
How to save money on public transport
Renting bicycles is popular in Cambodia.
Walking is safe.
Travel by express minivans instead of night busses for long-distance trips. Night buses are double the price.
Use Grab and PassApp for cheaper taxi and tuk tuk fare. These apps will save you from haggling over fares. They'll also help you avoid cash payments, especially at night for safety reasons.
6. Cost of Internet in Cambodia
Cambodia was noted number 1 in terms of affordable internet prices in Southeast Asia and 3rd in Asia. Below are two of the most popular service providers: –
7. Cost of Clothing, Personal Items, Gym and Leisure
Cambodia has a tropical climate and remains warm all through the year. The country primarily experiences two seasons. December to April is the northeast monsoon season when it's generally dry and sunny, especially in January and February. May to November brings the southeast monsoon season and lots of rain with it. The average rainfall in Cambodia is up to 4,000mm per annum depending on which part of the country you live in.
Here are Cambodian clothing prices, along with other useful prices.
Pair of Jeans: $22 – $50
Summer Dress: $20.12 – $35
Running Shoes (Trainers): $88.57 – $100
Business Shoes: $39.38 – $90
Gym membership: $75.81-$130 per month
Movie (cinema) ticket: $4.50-$7
Source: Numbeo
8. Cost of Owning a Car and Driving a Car in Cambodia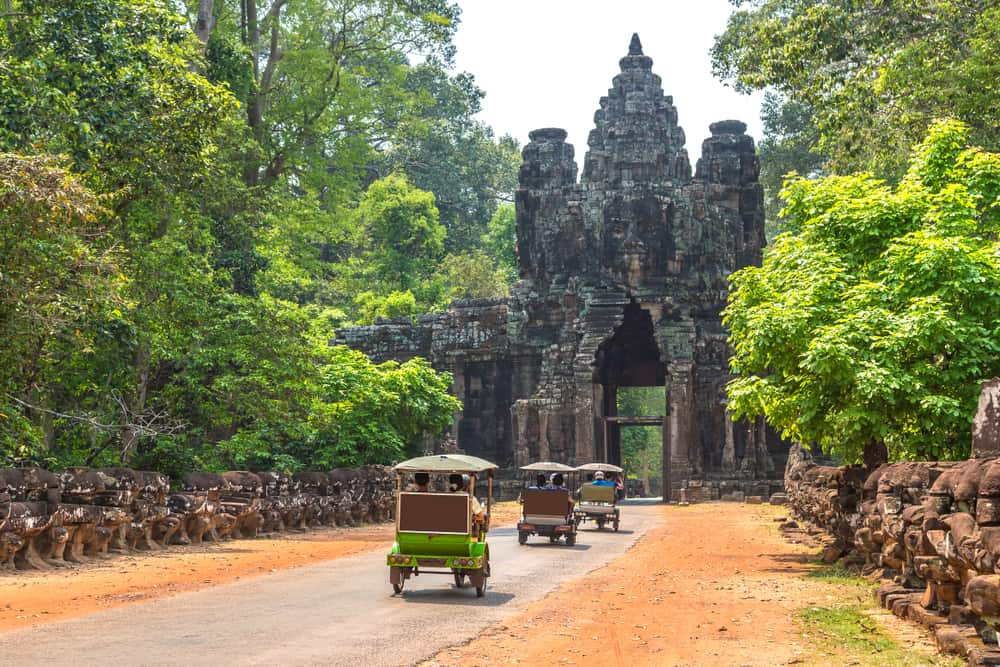 Car ownership in Cambodia is increasing due to rising incomes and economic expansion. Buying a second hand vehicle in Cambodia is the easiest option. Importing a vehicle requires a lot of paperwork and time queuing in government offices.
If you want to drive in Cambodia, you must have Cambodian driving license or a temporary license certificate. Penalties for traffic violations are high so ensure you follow the Cambodian rules of the road. For more information on driving in Cambodia here.
Here are a few other sample costs of owning and operating a car in Cambodia:
Volkswagen Golf:$48,000 – $50,00
1 litre (¼ gallon) of gas (petrol):$1.18 – $1.20
Other fees (if any):The average cost of state and local taxes, title and registration fees is $ 30.27 and driving license costs $21.79 along with a medical test costing $2.42.
Source: NUMBEO, KnightFrank,
Ways to save money driving in Cambodia
Car sharing or pooling is a good option to save money. Try Car sharing, or download WACA app for ride-hailing which is popular in Cambodia.
If you are on a short trip and parking the car the whole day, then Taxis can sometimes be a cheaper option. Try Uberand Taxis and Shuttles.
Need your car/vehicle moved to Cambodia? Then read our guide to Car Transport & Vehicle Shipping
9. Taxes in Cambodia
Non-residents in Cambodia are required to pay a flat rate of 20% on their Cambodian source of income. Learn more about income tax in Cambodia through movetocambodia.
VAT (sales tax) in Cambodia is 10% and is included in the displayed prices. Learn more about VAT in Cambodia here.
If you buy a home, you'll have to pay the property tax. Learn more about property tax and other taxes in Cambodia through this site: Global Property Guide.
10. Flight Costs from Cambodia
If you do make the move to Cambodia, here's approximately how much it will cost to fly to other major world cities based on the lowest, one-way fares from Skyscanner as of September 2022:
London: KHR1,375,895
Paris: KHR1,644,404
New York: KHR2,360,948
Los Angeles: KHR1,702,822
Dubai: KHR1,171,966
Sydney: KHR922,833
Cape Town: KHR2,489,580
Hong Kong: KHR546.700
Other Cambodian Relocation Tips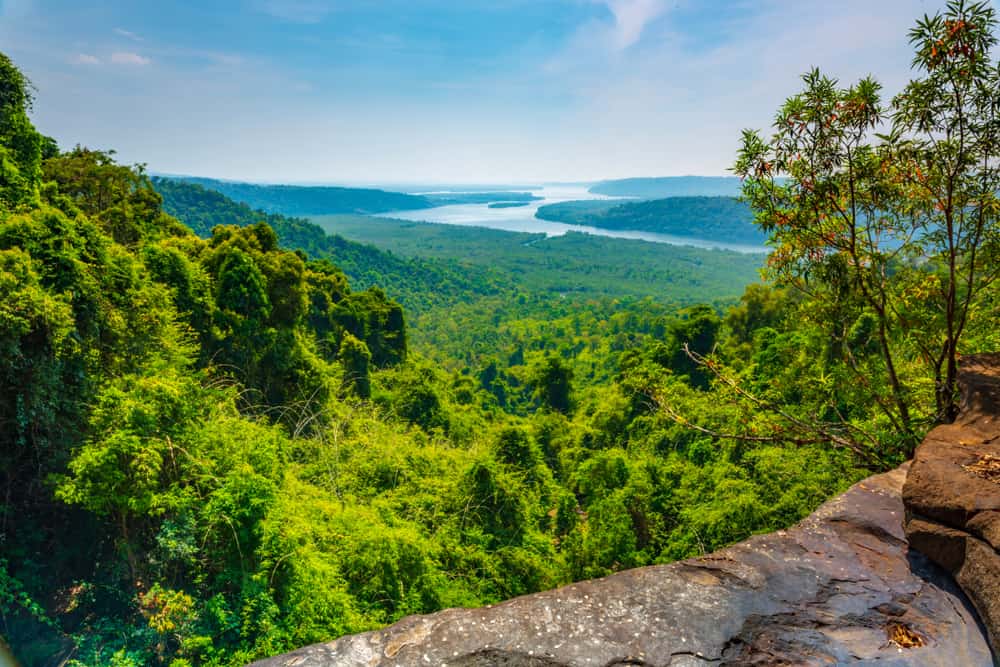 The above costs and prices should give you a good idea of the cost of living in Cambodia. Perhaps the following extra tips will make your move go smoothly.
11. Relocating to Cambodia Alone
Moving, especially to another country is stressful but moving on your own can be exceptionally difficult. However, the atmosphere and friendly people in Cambodia will help you ease into your new life. Here are a few tips about settling in Cambodia.
12. Moving to Cambodia with a Family
Cambodians are family orientated and love children. There's a lot going on in the country which will interest children of all ages.
New parents (or parents-to-be):Check out Mummy Daddy Club and Mother's Heart Cambodia for advice, courses and ways to meet other parents or parents-to-be.
Live in a family-friendly area:Family comes first in Cambodia. Visit a few Cambodian families and you will see great grandparents cooking or spending time with the kids. However, the most family-friendly locations and neighbourhoods are Siem Reap, Toul Kork, BKK1, Tonle Bassac, Tuek Thala, etc. Have a look at the following sites for detailed information: Culture Trip and Real Estate.
Find things to do with the kids:Cambodia has lots for children to do. Have a look at the following website for inspiration – Asiasomeday, AsiaHighlights, Holliday Activities, Family Holidays, and Cambodia with Kids.
13. Moving to Cambodia for Work
Moving to a new country for work is one of the most common reasons people choose to move. While it is possible to move without a job, it makes sense to ensure there are jobs in your field before you make the move.
Cambodia is always looking for experienced teachers, IT professionals, healthcare workers and people to work in one of the many multinationals in the country.
Consider the below few things when moving for work:
14. Moving to Cambodia from Australia
There are a small number of Aussies living in Cambodia. If you are thinking of moving from Australia to Cambodia, here are a few things to consider.
Size comparison:Australia is 43 times bigger than Cambodia geographically. The total population of Cambodia is 17,240,924 whereas Australia has a total population of 26,167,266 as of 2022.
Join expat groups: Search for Australians living in Cambodia through Meetup, Internationsand Facebook.
15. Moving to Cambodia from Canada
There are a small number of Canadians living in Cambodia. Here are a few things to consider if you're planning to move from Canada
Size: Canada is about 55 times bigger geographically than Cambodia. Similarly, the Canadian population is more than double than the population of Cambodia. Canada's population is 38,264,000 and Cambodia has 16,946,000 people.
Expat groups:Connect with fellow Canadians in Cambodia through sites such as Internations and Meetup.
16. Moving to Cambodia from the United Kingdom
The Cambodian climate, friendly atmosphere, and natural beauty attract people from the UK. There are a small number of Brits who live in the country. If you're considering joining them, here are a few bonus tips:
Size: The UK is 1.4 times bigger than Cambodia and its population is four times the size.
Expat groups:If you want to connect with Brits in Cambodia join them through Internations, Cambodia British Council, and Meetup.
Hopefully, the above tips and costs must have helped you. If want to get started pricing out how much it will cost you to move to Cambodia you can start by comparing moving quotes here.