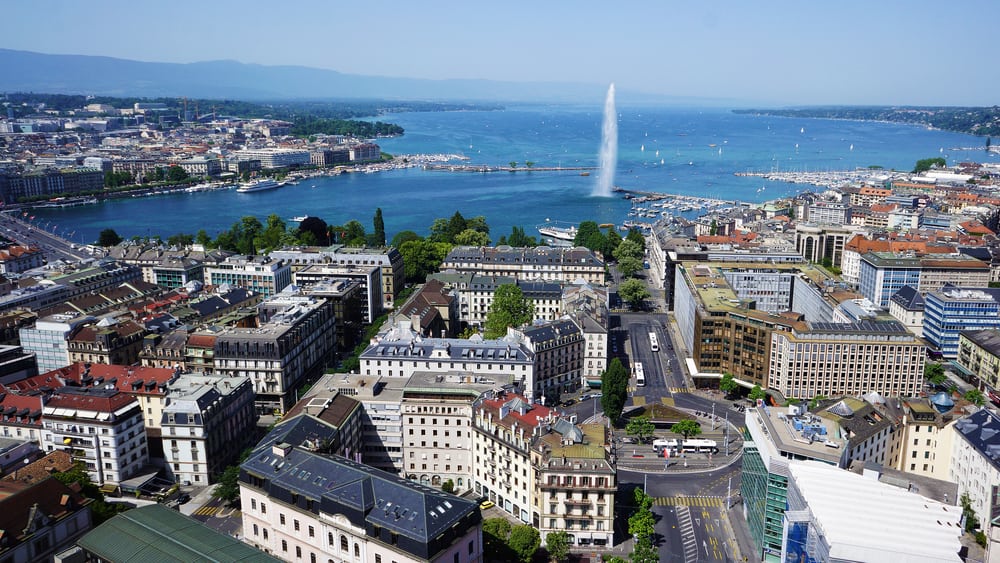 Switzerland's dramatic and beautiful landscape draws millions of visitors every year. The land-locked country in the centre of Europe has so much to offer and is the perfect place for anyone who enjoys the outdoors, history and anyone interested in European culture in general.
If you are considering moving to Switzerland, the various costs listed below will help you make an informed decision on what costs are involved when moving and living in this part of Europe.
Quick Swiss Facts:
Population: 8,797,019 (2022 estimate)
Official Language:Switzerland has four official languages – German, French, Italian, and Romansh. English is also widely spoken in towns and cities.
GDP Per Capita:$86.601 USD
A country covered in mountains: Switzerland is known around the globe for its majestic mountains which are divided into 2 mountain ranges: the Alps and the Jura. These awe-inspiring mountain ranges cover 70% of the country
Currency: Swiss Franc (CHF). As of September 2022, £1 = CHF1.07, €1 = CHF0.95, $1 US$ = CHF0.98, $1 AUD = CHF0.64
1. Moving and Shipping Costs to Switzerland
The table below shows sample international container shipping costs to Switzerland from other countries.
| Destination Country (Port/City) | 20FT | 40FT |
| --- | --- | --- |
| Andorra (Andorra la Vella) | $638 | $675 |
| Antigua and Barbuda (St John's) | $250 | $250 |
| Australia (Sydney) | $3,510 | $6,350 |
| Austria (Vienna) | $200 | N/A |
| Cambodia (Sihanoukville) | $2,900 | $4,865 |
| China (Shanghai) | $2,481 | $3,726 |
| Gibraltar | $286 | $452 |
| Greece (Piraeus) | $220 | $368 |
| Guatemala (Guatemala City) | $1,122 | $1,586 |
| Guernsey (St Peter Port) | $407 | $693 |
| Haiti (Port-au-Prince) | $836 | $914 |
| Hong Kong (Hong Kong) | $6,930 | $11,025 |
| India (Mumbai) | $4,900 | $4,100 |
| Indonesia (Jakarta) | $6,310 | $11,416 |
| Ireland (Dublin) | $1,184 | $1,806 |
| Isle of Man (Douglas) | $556 | $860 |
| Israel (Haifa) | $495 | $849 |
| Italy (Trieste) | $632 | $1,122 |
| Japan (Tokyo) | $6,266 | $11,332 |
| Jersey (St Helier) | $407 | $693 |
| Jordan (Aqaba) | $722 | $1,023 |
| Kenya (Mombasa) | $660 | $1,296 |
| Kuwait (Shuwaikh) | $1,705 | $2,646 |
| Latvia (Riga) | $580 | $908 |
| Lebanon (Beirut) | $495 | $873 |
| Liechtenstein (Vaduz) | $1,380 | $1,808 |
| Lithuania (Klaipeda) | $517 | $800 |
| Luxembourg | $574 | $927 |
| Malaysia (Port Kelang) | $9,158 | $13,662 |
| Pakistan (Karachi) | $5,830 | $6,372 |
| Philippines (Manila) | $3,365 | $5,800 |
| Singapore | $2,750 | $4,560 |
| South Korea (Busan) | $2,915 | $4,428 |
| Taiwan (Kaohsiung) | $3,025 | $4,428 |
| Thailand (Laem Chabang) | $2,695 | $3,780 |
| US (Los Angeles) | $1,350 | $1,637 |
| US (New York) | $1,023 | $1,307 |
| Vietnam (Saigon) | $3,190 | $4,968 |
2. Swiss Housing Costs
Switzerland is an expensive country to live in and housing costs are no exception. The most expensive cities are Geneva and Zürich. Cheaper housing can often be found in rural areas, especially in small towns and villages in the east of the country. However, many areas that were once affordable have become quite expensive as people around the world decide to make Switzerland their home.
Monthly Rental Prices in Switzerland
1 bedroom apartment in City Centre: CHF1,200 – CHF2,500
1 bedroom apartment outside the City Centre: CHF860 – CHF2,000
3 bedroom apartment in City Centre: CHF2,000 – CHF5000
3 bedroom apartment outside the City Centre: CHF1600 – CHF3500
Price per square metre (10.7 square feet) to buy in City Centre: 8,000 CHF-20,000 CHF
Price per square metre (10.7 square feet) to buy outside City: CHF5500 CHF-14000 CHF
Swiss Housing Cost Comparison
This is how rents in Switzerland compare with other countries around the globe.
The United Kingdom is 44.11% cheaper
The United States is 2.21% cheaper
Australia is 28.90% cheaper
Singapore is 38.38% more expensive
France is 51.09% cheaper
The UAE is 30.09% cheaper
Spain is 58.55% cheaper
Source: Numbeo
How to Save on Housing Costs
Share an apartment or house. Sharing an apartment or house can be a smart option to drastically reduce your housing costs in Switzerland. Search JustLanded, RealAdvisor, and irrommates to save on your housing cost by sharing the apartment or house.
Different areas – different prices. Housing costs are much cheaper in rural areas so if you don't mind commuting then that's an option. Many people live over the border in France, Germany and Italy and commute into Switzerland every day to make living more affordable. Glarus, Uri, Obwalden, Thurgua, Jura, Valais are more affordable places to live but employment opportunities are obviously more limited.
3. Swiss Food, Grocery and Restaurant Costs
When you think of food in Switzerland you generally picture fondue, chocolate and cheese. Switzerland is expensive when it comes to eating out and food in general, but it does have high quality produce, especially when it comes to fresh fruit and vegetables. Switzerland doesn't import as much fresh produce as the rest of Europe so the supermarkets and grocers stock seasonal produce.
Inexpensive Restaurant: CHF15 – CHF35
Takeout Coffee: CHF3.50 – CHF6
Bottle of Coke: CHF3- CHF5
1L of milk: CHF1.20 – CHF2
Loaf of Bread: CHF1.80 – CHF4.50
12 Eggs: CHF3 – CHF8
1kg Chicken Fillets: CHF12 – CHF36
1kg Beef: CHF25 – CHF80
1kg Apples: CHF2 – CHF5
1kg White Rice: CHF1.50 – CHF4.50
This is how restaurants and food prices compare with other major cities in the world.
UK restaurants are 40% cheaper and groceries are 60.48% cheaper than in Switzerland.
United States restaurants are 62% cheaper and groceries are 35.48% cheaper than in Switzerland.
Australian restaurants are 6% cheaper and groceries are 36.78% cheaper than in Switzerland.
Singapore restaurants are restaurants are 47.22% cheaper and groceries are 37.75% cheaper than in Switzerland.
French restaurants are 35% cheaper and groceries are 45.71% cheaper than in Switzerland.
UAE restaurants are 1% cheaper and groceries are 56.73% cheaper than in Switzerland.
Spanish restaurants are 68% cheaper and groceries are 66.03% cheaper than in Switzerland.
Source: Numbeo
Bonus Tips for Cheaper Food, Restaurants and Groceries
Know your supermarkets: The main supermarkets in Switzerland are Coop, Migros, Aldi, and Lidl. Adli and Lidle are the cheapest of the main supermarkets and are good places to shop for specials and essentials. Migros is more expensive but has a wider range of food, especially fresh produce.
Find Cheap Eats: Eating out in Switzerland is very expensive. Ask people who've lived in your area for a while for tips on affordable restaurants. Restaurants often offer diners discounts or special menus for dining early in the evening or out of peak hours. Have a look at the following sites for ideas on where to eat for less: Swiss Family Fun, Tales of a Backpacker, LA Times and My Swiss Alps.
4. Swiss Alcohol Costs
Like in a lot of other countries, social drinking is a big part of most people's lives and many adults in Switzerland love to have a glass of wine when chatting with their friends on a Sunday afternoon. Switzerland also produces a lot of its own, good quality wine and some of its vineyards in Canton Vaud are UNESCO world heritage sites.
Bottle of imported beer at a restaurant/pub: CHF4.50 – CHF8
Pint (0.5L) domestic beer at a restaurant/pub: CHF4.50 – CHF9
Pint (0.5L) domestic beer at a supermarket: CHF1 – CHF3
Bottle of imported beer at a supermarket: CHF1.50 – CHF4
Mid-range bottle of wine at a supermarket: CHF9 – CHF25
Source: Numbeo
How to drink for less in Switzerland
Bars in cities and in areas where there are universities and colleges often have Happy Hour between 5pm and 7pm.
Look out for flyers or search local papers or the internet for information on specials at bars, clubs or restaurants.
Supermarkets usually have some type of alcohol on sale so keep an eye out for these promotions when you go shopping. Find information on cheaper places to drink alcohol at the following sites:- Trip Advisor, English Forum, The Local and Cheap Adviser.
5. Swiss Transportation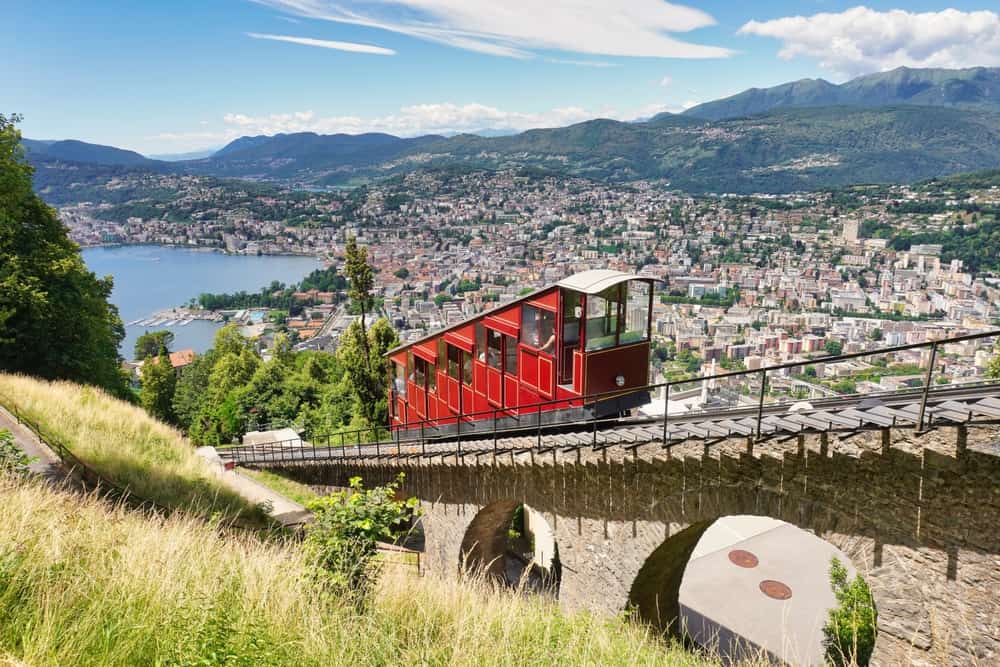 Switzerland has an amazing public transportation network, you can get to almost every corner of the country on trains and buses. The system, like everything in Switzerland, works very and is punctual and and reliable so if you live in a big city, having a car is not a must. Many Swiss who live in cities have cars which they only use at weekends, especially those who enjoy weekend hikes or skiing.
Here are some example ticket costs.
Adult Single – 65 – CHF6
Monthly season ticket, unlimited – CHF70 – CHF150
Taxi start (normal tariff) – CHF6 – CHF11
Taxi 1km (normal tariff) – – CHF5
Source: Numbeo
How to save money on public transport
Buy an annual unlimited pass for the region that you live in.
Buy a yearly half-price Swiss pass, this will allow you to only pay half the price of any public transportation ticket in the whole of Switzerland.
Walking and cycling are also options. This possible throughout Switzerland, even in the winter months.
6. Cost of Internet in Switzerland
Internet and phone plans in Switzerland are very expensive compared to many other countries in the world. Here are some examples of internet prices from September 2022 for unlimited downloads based on a 12-month contract:
7. Cost of Clothing, Personal Items, Gym and Leisure
Switzerland experiences all kinds of weather and temperatures vary a lot between seasons. Temperatures can reach 35 degrees Celsius on the hottest days and can go all the way down to -10C on the highest mountain peaks in the winter. The country also receives around 1800mm of precipitation per year and 1700 hours of sunshine on average which is pretty standard for central Europe.
Here are some clothing prices, together with other useful prices.
Pair of Jeans: 50 CHF-150 CHF
Summer Dress: 30 CHF-80 CHF
Running Shoes (Trainers): 70 CHF-159 CHF
Business Shoes: 80 CHF-250 CHF
Short Doctor's visit (15 mins): 120 CHF
Deodorant: 4 CHF
Shampoo: 3.90CHF
Toilet Paper (4 rolls): 2.75 CHF
Gym membership: 45CHF-120 CHF
Movie (cinema) ticket: 16 CHF-24 CHF
Source: Numbeo and Expatistan
8. Cost of Owning a Car and Driving in Switzerland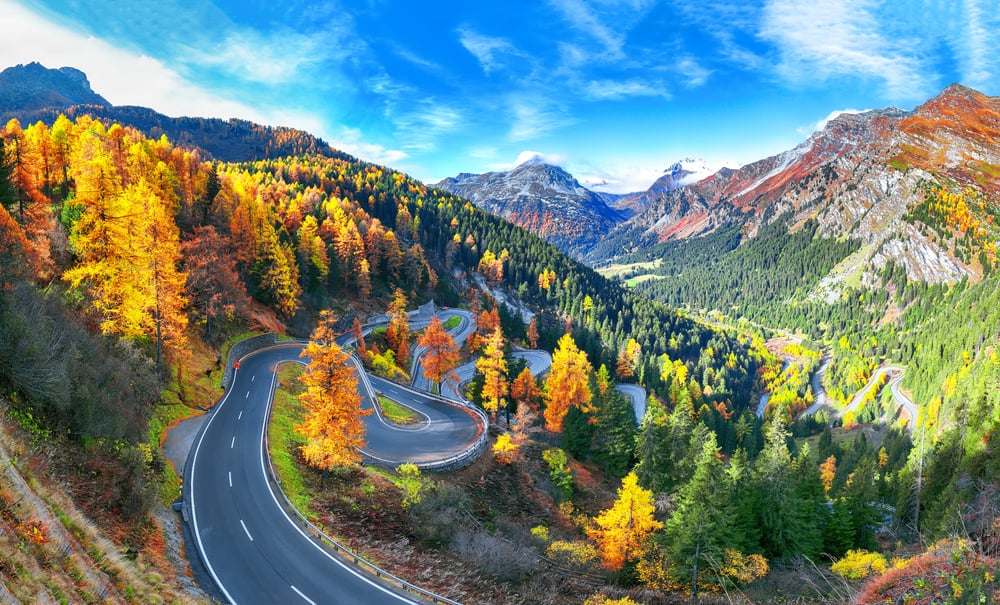 Switzerland has an excellent good road system both in the cities and in the countryside. If you live and work in the city, however, it is more convenient to just take public transportation as it's not only quicker but you won't have to pay expensive parking fees.
You can drive in Switzerland with a foreign license for up to a year but after that you'll have to swap it out for a Swiss licence which is very easy, especially if you come from an EU/EEA country. A minimum of third party insurance is mandatory.
Here are some other sample costs of owning and driving a car in Switzerland:
Volkswagen Golf: CHF30,000
1 litre (1⁄4 gallon) of gas (petrol): CHF60 – CHF2.25
Other fees (if any): The average cost of owning and running a car in is around CHF8800 per annum
Source: Expatistan, Numbeo
Ways to save money driving in Switzerland
Since parking can be very expensive, especially in the big cities, Ubering is often a cheap alternative.
Carpooling is another way to save money. Try companies such as Carpoolworld, Coop Pronto and eCarpooling
9. Taxes in Switzerland
Taxes in Switzerland have to be paid to three different authorities, the municipality, the canton that you live in as well as to the federal government. This means that the amount of tax that you pay depends not only on your salary but also on where you live in the country. The lowest rates can be found in the canton of Zug and the highest ones are in the Canton of Geneva. Every Swiss resident is taxed on their worldwide income. Learn more about taxes in Switzerland on the official government website. Sales tax or VAT is 7.7% on most goods and the price displayed usually includes tax.
10. Flight Costs from Switzerland
The following are the approximate prices of flights from Zurich to other major world cities based on the lowest, one-way fares from Skyscanner as of late 2022.
London: CHF60
Paris: CHF59
New York: CHF 234
Los Angeles: CHF380
Dubai: CHF338
Sydney: CHF650
Melbourne: CHF680
Cape Town: CHF430
Hong Kong: CHF563
Other Swiss Relocation Tips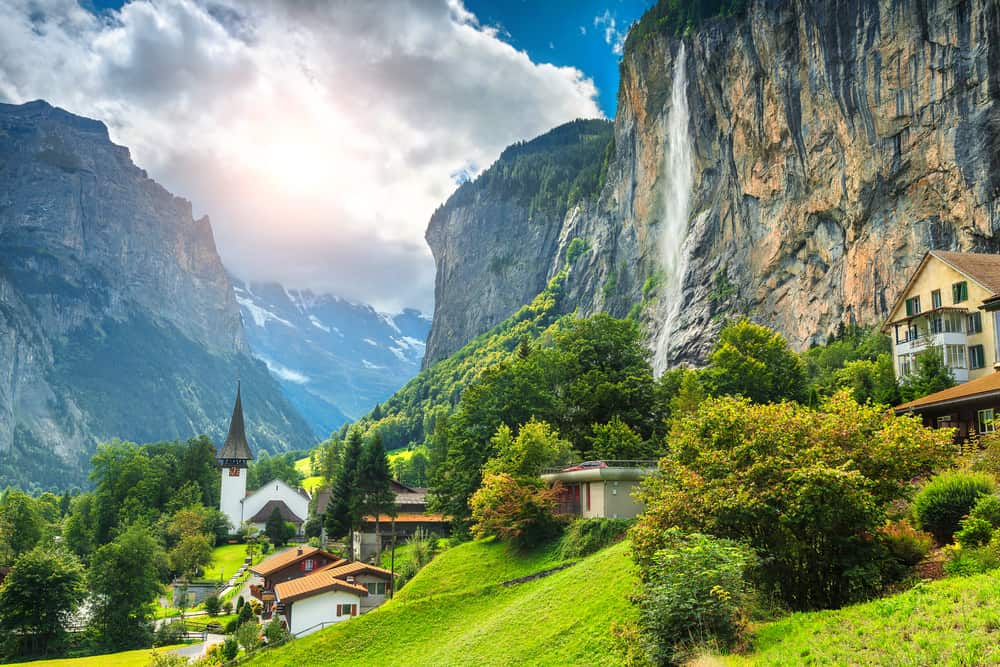 The costs and prices above should give you a good idea of the cost of moving to and living in Switzerland but the following extra tips should make your move go smoother.
11. Relocating to Switzerland Alone
Moving is always a stressful time but moving on your own can be exceptionally difficult. Switzerland is a country full of expats and foreign residents which makes it easier to fit in. Here are a few tips about settling in Switzerland.
Attend local events: There are many events all across the country, so you're bound to find something that fits your taste. These events, which are sometimes free, are a great way for you to meet like-minded people. Have a look on the following sites to see what's on: Eventbrite, Expatica, My Switzerland and Rough Guides.
Meetup groups: There are many organisations in Switzerland which help you make friends quickly and restart the hobbies and activities that you've always enjoyed. Meetup, Internations and Expat Services are good places to start.
12. Moving to Switzerland with a Family
Switzerland's safety, school system and healthcare make it a great family-friendly country to live in. Everywhere you go you'll find parks and playgrounds for children plus, of course, the glorious countryside is there for exploring, hiking, mountaineering and winter sports.
13. Moving to Switzerland for Work
Moving to a new country for work is one of the most common reasons people choose to move. While it is possible to move without a job, it makes sense to ensure there are jobs in your field before you make the move.
Switzerland is one of the world's wealthiest countries and is home to many international companies. Salaries are high and there's fierce competition for the available jobs. Companies search for the best of the best. Currently, the most jobs on offer are in IT, medicine, teaching, law, banking, engineering and hospitality but there are available jobs in most fields. Just remember that whatever profession you are in, the competition is high.
Here are a few things to consider when moving for work:
Salary: Salaries in Switzerland are high. The costs we outlined above should give you a rough idea, how much more you'll want to be making to make the move worthwhile. Have a look at Glassdoor and Salary Explorer to see what you can expect to earn.
How to find work: If you want to have a job lined up before you move to Switzerland, but aren't sure where to begin, the following sites are good places to start: Jobs, Internations, Prospects and Total Jobs You may also want to Google recruiters in your industry, as they can often help land you some initial interviews as well.
14. Moving to Switzerland from Australia
Annually there are between 500 and 800 work visas granted to Australian citizens. The following are a few things to consider if you want to join them.
Size comparison: Australia is approximately 188 times bigger than Switzerland, that said, Australia's population is only around double that of Switzerland
Join expat groups: Meeting fellow Aussies through expat groups such as Internations and Meetup which can be a great way to expand or create your social circle.
15. Moving to Switzerland from the United States
It is estimated that there are around 30,000 American citizens working and living in Switzerland, with most of them living in Zurich and Geneva. If you're considering joining them then here are a few things to consider.
Size: The United States of America is the third largest country in the world. You could fit Switzerland into Texas seventeen times and still have space left. The population of Switzerland around 8 million whereas the US almost has 340 million inhabitants.
Join expat groups and clubs: Expat clubs such as the American Club of Zurich are great ways to meet fellow Americans. Internations and Meetup are also avenues to explore and have groups dotted all over the country.
16. Moving to Switzerland from the United Kingdom
There are around 41,000 Brits living and working in Switzerland, mostly in Geneva and Zurich. If you are thinking about joining them, here are a few things to take into account:
Size: Switzerland is around six times smaller than the UK. The UK's population is eight times that of Switzerland.
Join expat groups: If you want to get together with other British people then joining expat groups on Internations or Meetup is a great way to start.
Hopefully, the tips and costs above are helpful. If want to get started pricing out how much it will cost you to move to Switzerland you can start by comparing moving quotes here.