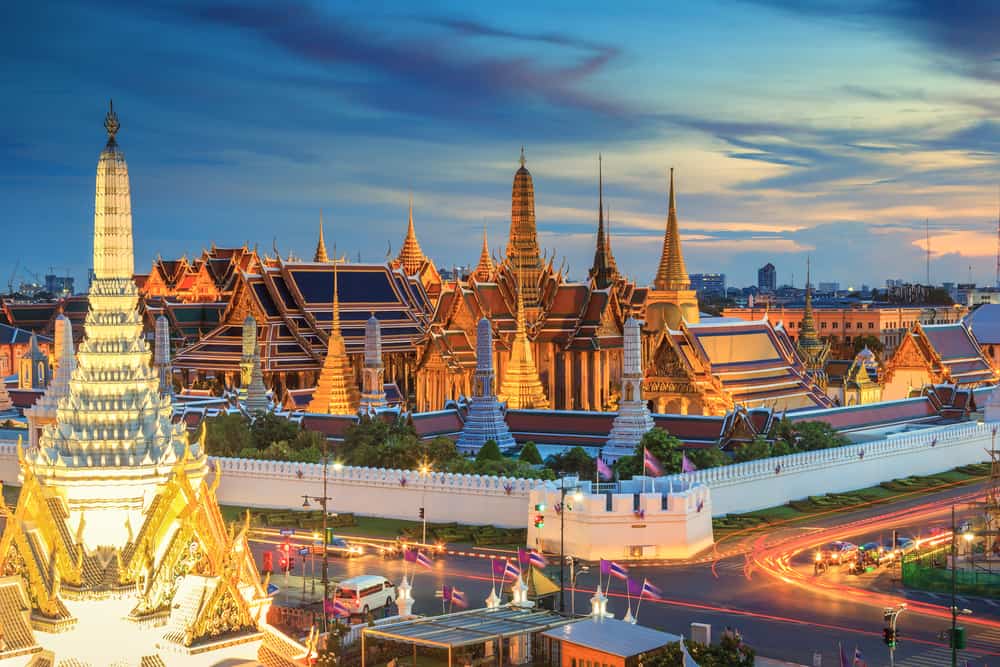 Thailand is one of the most popular expat destinations in the world, and it's not hard to see why. With its idyllic beaches, delicious food, and affordable cost of living, it's many people's idea of paradise.
If you are considering moving to Thailand, the various costs listed below will assist you in making an informed decision on the costs you are likely to incur when relocating and living in this part of Asia.
Quick Thailand Facts:
Population: 71,697,030 (2022 estimate)
Official Language:Thailand has three most commonly spoken languages – Central Thai, Northern Thai, and Isan. Central Thai is the official language of the country and is used by approximately 20 million people. Northern Thai is spoken by around 6 million individuals, while Isan is the native tongue of 15 million people.
GDP Per Capita:$45,348 USD
Chiang Rai – This is the northernmost province of Thailand. It is often referred to as the "Golden Triangle" because it shares borders with Myanmar and Laos. Chiang Rai is known for its mountainous terrain and lush jungle landscapes.
Currency: Thai Baht (THB). As of 2022, 1THB = 0.026462 USD, €1 = $36.34 TBH, $1 CAD = 27.81 TBH, $1 AUD = 24.4956 TBH
1. Moving and Shipping Costs to Thailand
Below you can find sample container shipping rates to Thailand from various countries around the world.
| Origin Country (Port/City) | 20FT | 40FT |
| --- | --- | --- |
| Andorra (Andorra la Vella) | $1,864 | $2,318 |
| Antigua and Barbuda (St John's) | $814 | $1,298 |
| Argentina (Buenos Aires) | $1,650 | $1,728 |
| Australia (Sydney) | $1,400 | $2,150 |
| Austria (Vienna) | $318 | $405 |
| Belgium (Antwerp) | $800 | $584 |
| Belize (Belize City) | $747 | $604 |
| Brazil (Santos) | $2,475 | $2,415 |
| Brunei (Muara) | $679 | $1,439 |
| Canada (Toronto) | $1,282 | $16,275 |
| Canada (Vancouver) | $670 | $853 |
| Chile (San Antonio) | $665 | $755 |
| China (Beijing) | $3,457 | $3,026 |
| China (Shanghai) | $779 | $1,487 |
| Colombia (Barranquilla) | $823 | $1,087 |
| Croatia (Rijeka) | $742 | $926 |
| Curaçao (Willemstad) | $1,391 | $1,413 |
| Cyprus (Limassol) | $825 | $1,208 |
| Czech Republic (Prague) | $1,256 | $1,464 |
| Dominican Republic (Santo Domingo) | $1,202 | $1,353 |
| Egypt (Alexandria) | $968 | $924 |
| Estonia (Tallinn) | $1,540 | $1,575 |
| Finland (Helsinki) | $1,540 | $1,575 |
| France (Marseilles) | $1,511 | $1,971 |
| Germany (Hamburg) | $160 | $127 |
| Gibraltar | $517 | $345 |
| Greece (Piraeus) | $488 | $688 |
| Guatemala (Guatemala City) | $697 | $689 |
| Guernsey (St Peter Port) | $887 | $886 |
| Haiti (Port-au-Prince) | $1,202 | $1,353 |
| Hong Kong (Hong Kong) | $500 | $780 |
| India (Mumbai) | $160 | $480 |
| Indonesia (Jakarta) | $275 | $420 |
| Ireland (Dublin) | $1,290 | $1,235 |
| Isle of Man (Douglas) | $1,290 | $1,235 |
| Israel (Haifa) | $726 | $713 |
| Italy (Trieste) | $720 | $1,715 |
| Japan (Tokyo) | $700 | $1,100 |
| Jersey (St Helier) | $887 | $886 |
| Jordan (Aqaba) | $539 | $486 |
| Kenya (Mombasa) | $443 | $722 |
| Kuwait (Shuwaikh) | $679 | $1,078 |
| Latvia (Riga) | $1,386 | $1,620 |
| Lebanon (Beirut) | $784 | $1,015 |
| Liechtenstein (Vaduz) | $725 | $1,764 |
| Lithuania (Klaipeda) | $317 | $845 |
| Luxembourg | $844 | $847 |
| Malaysia (Port Kelang) | $165 | $324 |
| Mexico (Manzanillo) | $715 | $810 |
| Netherlands (Rotterdam) | $353 | $156 |
| Pakistan (Karachi) | $55 | $105 |
| Philippines (Manila) | $625 | $950 |
| Poland (Gdansk) | $575 | $458 |
| Singapore | $220 | $432 |
| Slovenia (Koper) | $476 | $717 |
| South Africa (Durban) | $2,934 | $2,441 |
| South Korea (Busan) | $880 | $1,620 |
| Spain (Valencia) | $1,789 | $1,883 |
| Taiwan (Kaohsiung) | $434 | $432 |
| UAE (Jebel Ali) | $215 | $49 |
| UK (London) | $899 | $1,117 |
| Uruguay (Montevideo) | $1,650 | $1,728 |
| US (Los Angeles) | $835 | $1,035 |
| US (New York) | $1,556 | $1,671 |
| Vietnam (Saigon) | $121 | $206 |
You can save money by comparing moving companies using our moving quote form above.
2. Thailand Housing Costs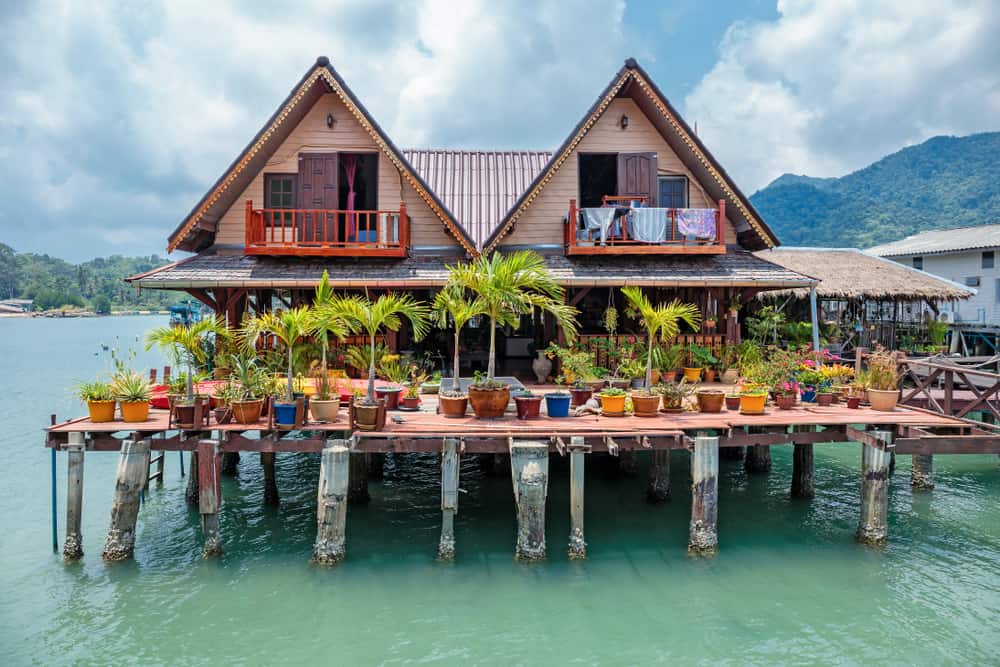 Many people in Thailand choose to rent rather than purchase a home. The cost of living in Thailand is relatively low, which makes renting an attractive option for many residents.
Monthly Rental Prices in Thailand
1 bedroom apartment in City Centre: THB7,500 – THB25,000
1 bedroom apartment outside the City Centre: THB4,000 – THB14,000
3 bedroom apartment in City Centre: THB18,000 – THB80,000
3 bedroom apartment outside the City Centre: THB10,000 – THB40,000
Price per square metre (10.7 square feet) to buy in City Centre: THB50,000 – THB250,000
Price per square metre (10.7 square feet) to buy outside City: THB30,000 – THB100,000
Thailand Housing Cost Comparison
This is how rents in Thailand compare with other countries around the globe.
United Kingdom is 134.26% more expensive
United States is 288.70% more expensive
South Africa is 9.5% cheaper
Canada is 169.51% more expensive
Australia is 176.10% more expensive
France is 100.50% more expensive
Dubai is 178.61% more expensive
Source: Numbeo
How to Save on Housing Costs
Share an apartment or house. Have a look at the following sites to find your perfect room or flat mate: Hipflat, Coliving, Likibu, dotproperty, and Agoda.
Different areas – different prices. It's no secret that some areas in Thailand are more expensive than others. To save on accommodation costs, consider staying in a less popular area. It doesn't mean you will live in the middle of nowhere, but prices will be lower for sure.
3. Thailand Food, Grocery and Restaurant Costs
Thailand's large expat population enjoys many different types of restaurants serving food from around the globe. You can find Thai, Chinese, Indian, Italian, French, American, and food from many other countries in Thailand. The cost of eating out depends on the type of restaurant you choose.
Inexpensive Restaurant: 40THB – 150THB
Takeout Coffee: 60THB – 80THB
Bottle of Coke: 19THB
1L of milk: 40THB – 91THB
Loaf of Bread: 30THB – 120THB
12 Eggs: 96THB – 91 TBH
1kg Chicken: 65TBH – 70 THB
1kg Beef: 180TBH – 250TBH
1kg Apples: 40TBH – 150TBH
1kg White Rice: 43TBH – 100TBH
This is how restaurants and food prices compare with other countries in the world.
UK restaurants are 221% more expensive and groceries are 17.53% more expensive than Thailand.
US restaurants are 255.45% more expensive and groceries are 86.94% more expensive than Thailand.
South African restaurants are 41.3% cheaper and groceries are 33.64% more expensive than Thailand.
Canadian restaurants are 223.89% more expensive and groceries are 66.07% more expensive than Thailand
Australian restaurants are 215.57% more expensive and groceries are 78.92% more expensive than Thailand.
French restaurants are 224.21% more expensive and groceries are 59.01% more expensive than Thailand.
Dubai restaurants are 184.98% more expensive and groceries are 25.19% more expensive than Thailand.
Source: Numbeo
Bonus Tips for Cheaper Food, Restaurants and Groceries
Know your supermarkets: Thailand has a variety of supermarkets, from big chains to small local stores. You can find foods from various countries in big supermarkets, but local produce is cheaper in smaller stores. There are also farmers' markets and shops which sell health foods and organic foods. Popular supermarkets in Thailand are Lotus's, Big C, Villa Mart, and Makro.
Find Cheap Eats:Contrary to popular opinion Thailand isn't the cheapest place to eat but if you hunt around you will find some good restaurants that offer specials on various days of the week. Many people swear by the street food which is extremely popular with locals. Have a look at the following sites for suggestions – TopTravelFoods, HostelWorld, ThaiSpicy, Seeker, and Tripadvisor
4. Thailand Alcohol Costs
Drinking is a popular pastime in Thailand. Drinking with friends is seen as a way to relax and socialise, and it's not uncommon for people to drink heavily in social situations.
Pint (0.5L) domestic beer at a restaurant/pub: THB50 – THB120.00
Bottle of imported beer at a restaurant/pub: THB90 – THB200.00
Pint (0.5L) domestic beer at a supermarket: THB40 – THB80.00
Bottle of imported beer at a supermarket: THB55 – THB150.00
Mid-range bottle of wine at a supermarket: THB349 – THB850
How to drink for less in Thailand
Stick to local beers and wines: Thai beer is actually quite good, and it's much cheaper than imported brands. Likewise, Thai wines are also a great value.
Happy hours are your friend: Many bars and restaurants offer discounts on drinks during happy hour. If you're looking to save money, this is a great time to enjoy a few drinks. Check out the following sites for wonderful offers on alcohol, Four Square, The Bamboo Bar, The Russel Sunset bar, and the Mojjo Rooftop Lounge Bar.
5. Thailand Transportation Fares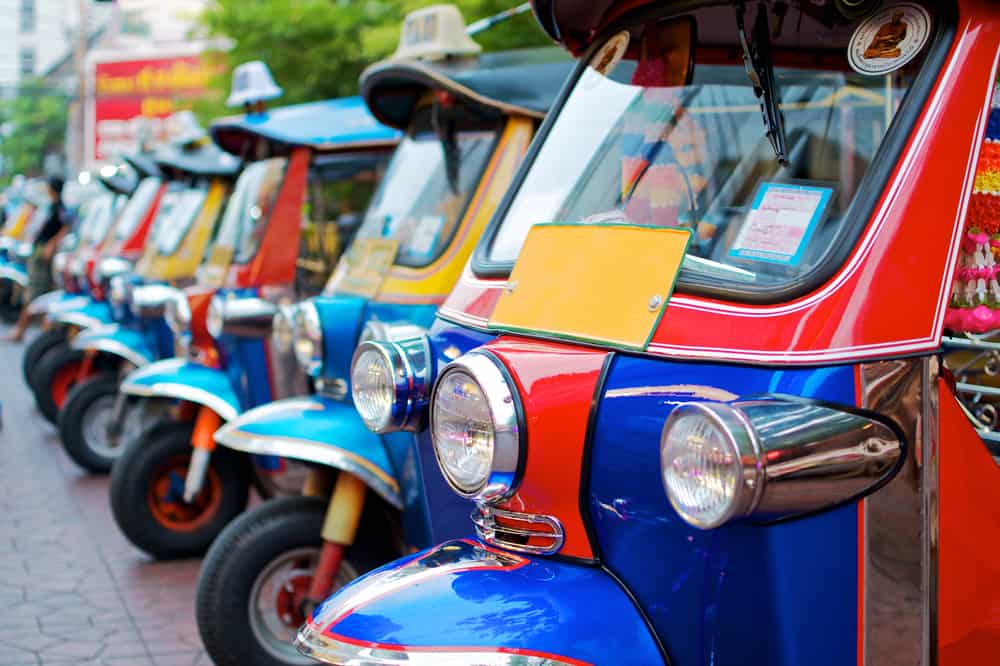 Getting around Thailand is relatively easy and inexpensive. The most popular way to get around is by bus, which can take you to just about anywhere in the country. However, if you're planning on travelling long distances, you may want to consider taking a train or flying. Thailand's public transportation system also includes trains and boats. Bangkok has an extensive public transportation network that can get you just about anywhere you need to go.
When it comes to getting around cities and towns, the most popular option is by motorbike taxi. These are small, motorcycle-style taxis that can zip through traffic and get you to your destination quickly. Many people hire scooters in Thailand but, even if you're great on a bike, it's not recommended as the accident rate is extremely high.
Here are some example ticket costs.
Adult Single Metro – 44 THB
One day ticket – 58 THB
Monthly season ticket, unlimited – 1,300 THB
How to save money on public transport
Look for free rides and free transfers from bus to rail and vice versa
If you're planning on travelling to multiple destinations in Thailand, consider buying a Rail Pass. This pass allows you unlimited travel on all of Thailand's trains for a certain period of time and can save you a money in the long run.
Buy a bike. There are cycles lanes and lots of rides in and around the city and it is also good for your health.
Many people walk to work and the shops in Thailand.
6. Cost of Internet in Thailand
One of the first things you'll need to do when moving to Thailand is set up your internet service. Luckily, internet in Thailand is relatively inexpensive and widely available. The average price for a basic internet plan is around 538.28THB per month FOR 60Mbps.
7. Cost of Clothing, Personal Items, Gym and Leisure
Thailand has a tropical climate, which means it is hot and humid all year round. The best time to visit Thailand is during the cooler season from November to February, when temperatures are more moderate.
The rainy season in Thailand runs from May to October, so if you're planning on visiting during this time, be sure to pack your rain gear. April is the hottest month, with average temperatures of 30C. Monsoon season runs from May to October and the country experiences torrential downpours during this time. August and September are usually the wettest month, with an average of 342mm of rain per month.
Here are some clothing prices, together with other useful prices.
Pair of Jeans: THB800 – THB3,190
Summer Dress: THB500 – THB2,000
Running Shoes (Trainers): THB1,800 – THB5,000
Business Shoes: THB1,500 – THB5,500
Short Doctor's visit (15 mins): THB4,500
Deodorant: THB4,671.54
Shampoo: THB200
Toilet Paper (4 rolls): THB60
Gym membership: THB1,000 – THB3,000 per month
Movie (cinema) ticket: THB200 – THB350
Source: Numbeo and Expatistan
8. Cost of Owning a Car and Driving a Car in Thailand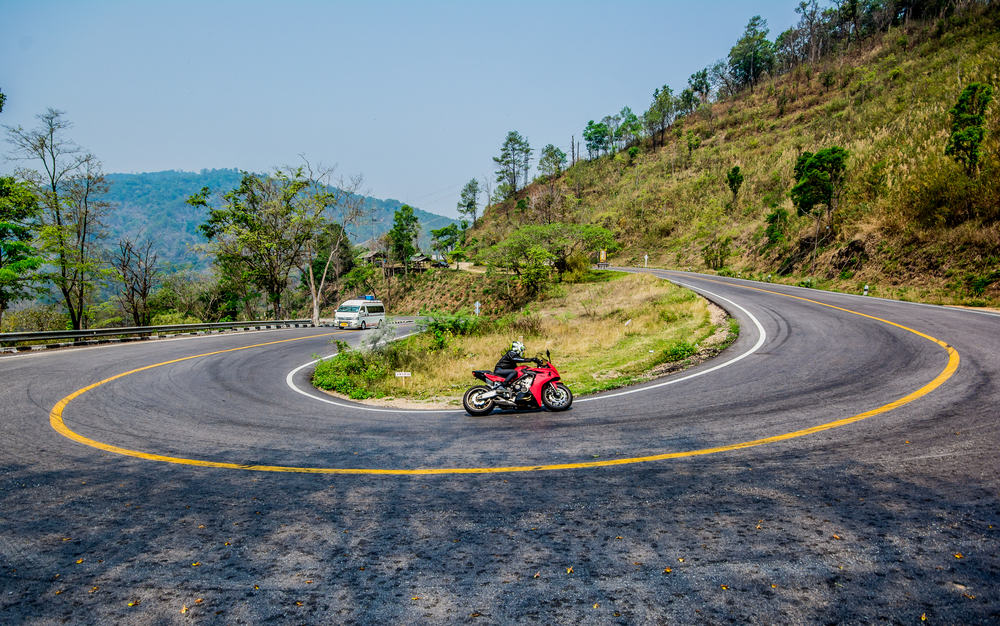 If you're planning on living in Thailand, you may want to consider owning a car. While cars are not essential for getting around, they can make life much easier, especially if you live in a rural area. Expat Den has in depth and reliable information on everything involved in buying a vehicle and driving it in Thailand.
Driving in Thailand can be challenging, as the roads are often crowded and chaotic. However, with a bit of practice, you'll be able to navigate your way around with ease. You need an International Driving Licence to drive in Thailand. For detailed information on driving licence rules for visitors and long term stays go to https://www.dlt.go.th/en/.
Here are some other sample costs of owning and operating a car in Thailand:
Volkswagen Golf:2,000,000THB
1 litre (¼ gallon) of gas (petrol):49THB
Other fees (if any):The average cost of state and local taxes, license, title and registration fees is 25,259.69THB per annum
Source: Expatistan
Ways to save money driving in Thailand
Need your car/vehicle moved to Thailand? Then read our guide to: Car Transport & Vehicle Shipping
9. Taxes in Thailand
No matter where you live in Thailand, you will have to pay tax. To learn more about the different taxes in Thailand, go to KPMG and Thailand Taxes. Sales Tax (VAT) is 7% and is added to most goods and services. Generally, the price you see on an item does not include sales tax.
If you own your home, you will be subject to property tax based on the area in which you live and the size of the property you live in. Learn more about property tax in Thailand at Thai Property Guide. Finally, if you decide to an apartment or house in Thailand you'll have to pay real estate transfer tax.
10. Flight Costs from Thailand
If you do make the move to Thailand, here's approximately how much it will cost to fly to other major world cities based on lowest, one-way fares from Skyscanner as of 2022:
London: THB10,052
New York: THB16,737
Los Angeles: THB15,868
Toronto: TBH17,561
Vancouver: THB15,846
Dubai: THB7,442
Sydney: THB5,122
Melbourne: THB5,872
Cape Town: THB11,825
Hong Kong: THB3,410
Other Thailand Relocation Tips
The costs and pricing above should give you a good idea of the cost of living in Thailand but perhaps the following extra tips will make your move go smoothly.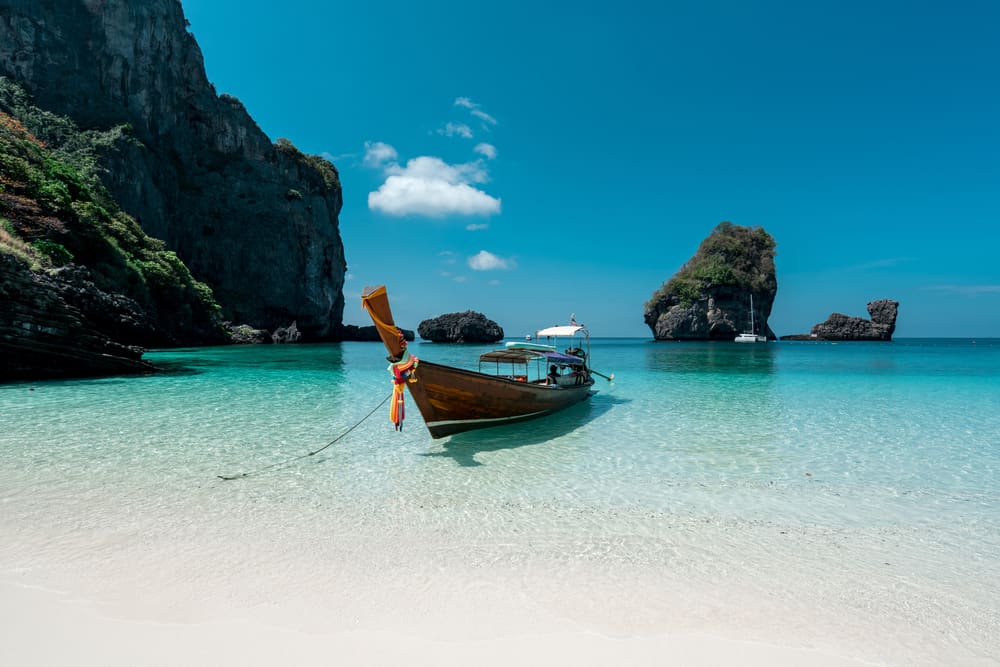 11. Relocating to Thailand Alone
Moving is always a stressful time but moving on your own can be exceptionally difficult. The relatively laid back atmosphere in Thailand and the friendly people will help you ease into your new life. Here are a few tips about settling in Thailand.
12. Moving to Thailand with a Family
Apart from the obvious drawcard of beautiful beaches and the ocean, Thailand has a lot to interest children. There are some stunning national parks where children can enjoy supervised hikes and educational visits. The countryside is extremely varied offering a wide range of activities.
New parents (or parents to be):Check out Bambiweb and Facebook for advice, courses and ways to meet other parents or parents to be.
Live in a family friendly area:Hua Hin is a popular place to live for families, especially as it has an international school. For families who enjoy nature, Chang Mai is a great choose, especially as it's cooler during the summer. Koh Samai, Bangkok and Phuket have great schools and a lot to keep children busy and engaged.
Find things to do with the kids:Thailand has lots for children to do. Have a look at the following website for inspiration – Trip Advisor, Edarabia, Rainforest Cruises and World Travel Family.
13. Moving to Thailand for Work
There are a few factors to consider before moving to Thailand for work. First, you'll need to make sure you have the necessary qualifications and experience. Additionally, it's important to research the job market in Thailand and understand the culture. There are many opportunities for work in Thailand. The most popular industries include tourism, hospitality, and manufacturing. There are also opportunities in the education, healthcare, and IT sectors.
Here are a few more things to consider when moving for work:
Salary: Salary in Thailand vary depending on the industry and position. However, in general, salaries are lower than they would be in Western countries. Keep in mind that the cost of living in Thailand is relatively low. This means that you can live comfortably on a lower salary. You can check salary ranges on sites such as Glassdoor and Payscale.
How to find work: If you want to have a job lined up before you move to Thailand, but aren't sure where to begin, the following sites are good places to start: JobsDB, The Thailand Life, Monster, Move to Asia and Thailand Redcat. You may also want to Google recruiters in your industry, as they can often help land you some initial interviews as well.
14. Moving to Thailand from Australia
There are approximately 30,000 Aussies living in Thailand. If you are thinking of moving from Australia to Thailand, here are a few things to consider.
Size comparison:Thailand is about 15 times smaller than Australia but its population is almost triple the size of Australia.
Join expat groups:Meetup, Internations and Facebook offer ways of meeting up with other Australians in Thailand.
15. Moving to Thailand from Canada
There are around 5,000 Canadians living in Thailand at any one time. If you're considering making the move from Canada here are a few things to consider.
Size:Thailand is approximately 19 times smaller than Canada but has over 31 million more residents.
Expat groups:Meeting up with fellow Canadians helps the moving process. Link up through sites such as Internations and Meetup
16. Moving to Thailand from the United Kingdom
The climate and way of life in Thailand attracts people from the UK. Currently, it's estimated there are over 41,000 Brits living here. If you are thinking of joining them, here are a few bonus tips:
Size: The United Kingdom is approximately 2.1 times smaller than Thailand. Population-wise, Thailand has 3.1 million more residents.
Expat groups:If you want to get together with others from the UK who are enjoying the weather, then go to Internations, and Meetup.
Hopefully, the tips and costs above are helpful. If want to get started pricing out how much it will cost you to move to Thailand you can start by comparing moving quotes here.