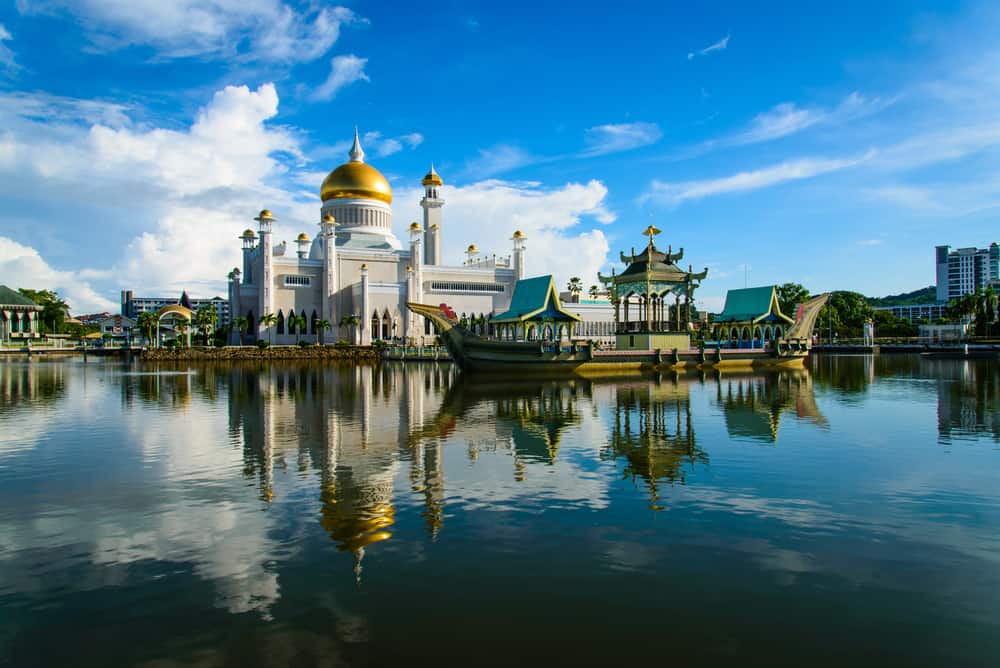 Brunei is another country where you can enjoy warm and pleasant weather all year round. This beautiful South Asian country has a higher cost of living, but, considering its top economy and the welcoming job market, Brunei can be an excellent choice for a place you can easily afford to call home.
Apart from that, Brunei is one of the most tax-friendly countries out there. Other advantages of moving to Brunei include its great infrastructure, the hospitality of its citizens, the low crime rate, and its magnificent scenery.
To aid your research of how high the Brunei container shipping rates are to move to or from the country, we've put together the charts below which display the lowest shipping container prices for many top destinations from all over the world.
Here, you can check the current prices for shipping a 20-feet or a 40-feet intermodal container to or from Brunei. Additionally, use the quote tool above to discover the price that reflects your unique circumstances.
Shipping Container Costs to Brunei (Muara)
Shipping Container Costs from Brunei (Muara)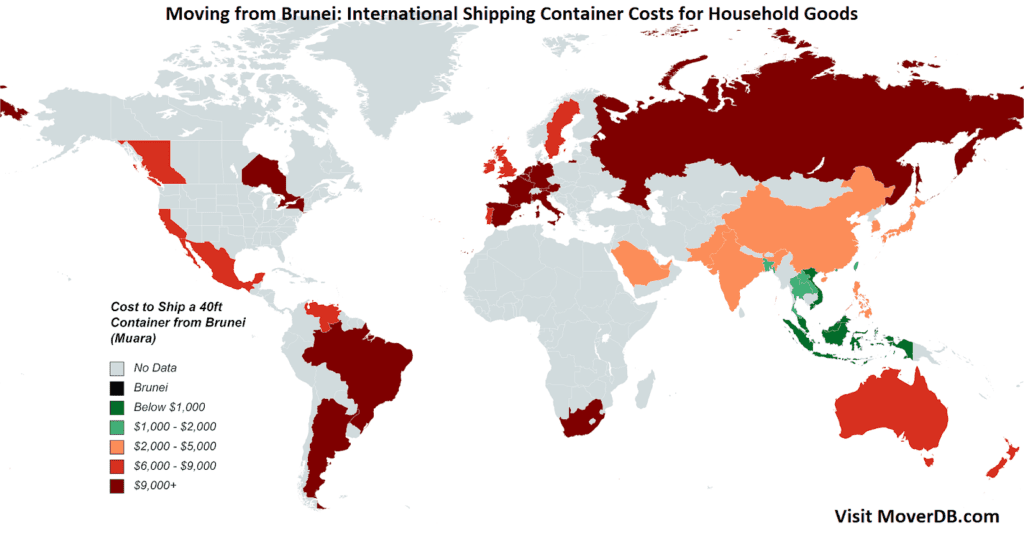 | Destination Country (Port/City) | 20FT | 40FT |
| --- | --- | --- |
| Andorra (Andorra la Vella) | 7599 | 13579 |
| Antigua and Barbuda (St John's) | 9396 | 12200 |
| Argentina (Buenos Aires) | 9373 | 11660 |
| Aruba (Oranjestad) | 9373 | 11660 |
| Australia (Sydney) | 2511 | 6239 |
| Austria (Vienna) | 9717 | 12750 |
| Bangladesh (Chittagong) | 679 | 1439 |
| Belgium (Antwerp) | 6413 | 9581 |
| Brazil (Santos) | 9373 | 11660 |
| Canada (Toronto) | 13595 | 15660 |
| Canada (Vancouver) | 8080 | 8400 |
| China (Beijing) | 2420 | 4728 |
| China (Shanghai) | 2169 | 4315 |
| France (Marseilles) | 6413 | 9581 |
| Germany (Hamburg) | 6413 | 9581 |
| Hong Kong (Hong Kong) | 952 | 1155 |
| India (Mumbai) | 1452 | 2006 |
| Indonesia (Jakarta) | 796 | 828 |
| Ireland (Dublin) | 6433 | 8529 |
| Italy (Trieste) | 9512 | 9599 |
| Japan (Tokyo) | 2820 | 4104 |
| Laos (Vientiane) | 679 | 1439 |
| Luxembourg (Luxembourg) | 6413 | 9581 |
| Malaysia (Port Kelang) | 464 | 712 |
| Mexico (Manzanillo) | 7403 | 7801 |
| Netherlands (Rotterdam) | 6413 | 9581 |
| New Zealand (Auckland) | 2511 | 6239 |
| Pakistan (Karachi) | 1452 | 2006 |
| Philippines (Manila) | 2618 | 4011 |
| Portugal (Lisbon) | 6433 | 8529 |
| Russia (Saint Petersburg) | 8720 | 11109 |
| Saudi Arabia (Jeddah) | 1529 | 2919 |
| Singapore (Singapore) | 242 | 462 |
| South Africa (Durban) | 8604 | 9440 |
| South Korea (Busan) | 2820 | 4104 |
| Spain (Valencia) | 7659 | 15110 |
| Sweden (Gothenburg) | 6433 | 8529 |
| Taiwan (Kaohsiung) | 1034 | 1784 |
| Thailand (Laem Chabang) | 679 | 1439 |
| Trinidad and Tobago (Port of Spain) | 7403 | 7801 |
| UAE (Jebel Ali) | 1529 | 2919 |
| UK (London) | 6433 | 8529 |
| US (Los Angeles) | 8080 | 8400 |
| US (New York) | 13595 | 15660 |
| Venezuela (Puerto Cabello) | 7403 | 7801 |
| Vietnam (Saigon) | 728 | 844 |
Notes about data:
All $ figures in United States Dollars (USD);
Rates accurate as of mid 2022;
The maps in this article were created using https://www.mapchart.net. You are free to share the maps so long as you provide an attribution link back to MoverDB;
The rates above are estimates only and may have changed since the time this article was published (May, 2022). They are based on the lowest estimated rate from either https://www.icontainers.com or https://www.freightos.com;
To get a more accurate idea of the cost for you, please use the quote form at the top of this page;
Please also see our guide to international container shipping