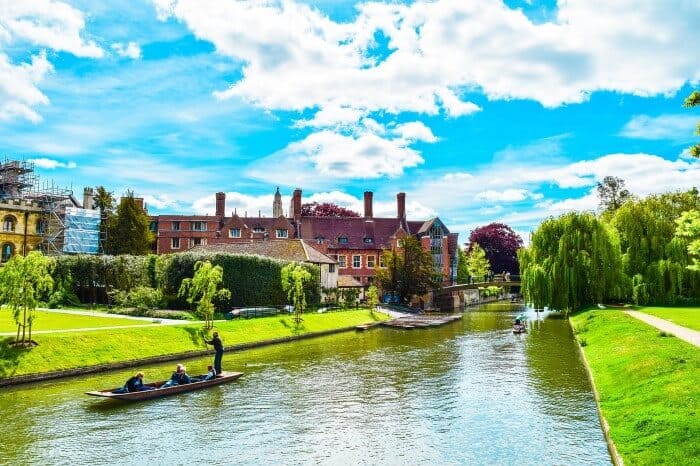 Cambridge is known for being the home of one of best and oldest universities in the world. The grandeur of the university's buildings make Cambridge the envy of many cities around the globe.
The River Cam flows through the city and that, together with the many green spaces, make it a very attractive place in which to live.
If you are considering moving to Cambridge, the various costs listed below will help you make an informed decision on what costs are involved when moving and living in one of the UK's top seats of academia.
Quick Cambridge Facts:
Population: 129,000 (2017 estimate)
Official Language: English (de facto)
GDP Per Capita: $55,900 USD
City: Cambridge is called a city, even though it doesn't have a cathedral
Currency: Pound Sterling or Great Britain Pound (£, GBP). As of early 2017, $1 USD = £0.80, €1 EUR = £0.85, $1 CAD = £0.61, $1 AUD = £0.62
1. Moving and Shipping Costs to Cambridge
Below are some sample container shipping prices to Cambridge from other major world cities. Just keep in mind they only reflect the shipping portion of the cost and not the full moving costs.
Source: WorldFreightRates.com
Also see: 10 Best Removal Companies In Cambridge
You can save money by comparing removals companies if moving from within the UK and international moving companies if coming from abroad using our moving quote form below:
Thank you. You will hear from us soon.
Wait!
an agent is calling you now from
+1 (800) 680-6439
Please pick up your phone to be connected with an agent to give you a personalized quote based on your move details.
2. Cambridge Housing Costs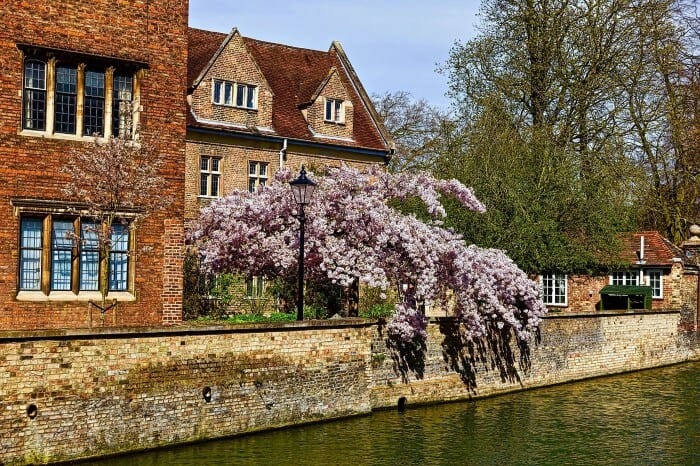 House prices in Cambridge as comparatively high. Not only is Cambridge only 50 miles from London, so easily commutable by train, it is a desirable city to live in.
There's a constant shortage of both properties to buy and rent. Properties are snapped up the minute they are advertised. One of the reasons for this is that out of the 129,000 residents, over 25,000 are students looking for accommodation.
Monthly Rental Prices in Cambridge
1 bedroom flat (apartment) in City Centre: £800+
1 bedroom flat outside the City Centre: £535+
3 bedroom flat in City Centre: £1300+
3 bedroom flat outside the City Centre: £1000+
Cambridge Home Purchase Prices
Price per square metre (10.7 square feet) to buy in City Centre: £1,058.62+
Price per square metre (10.7 square feet) to buy outside City: £819.49+
Cambridge Housing Cost Comparison
This is how rents in Cambridge compare with other cities around the globe.
London is 30.26% more expensive
New York is 151.31% more expensive
Los Angeles is 67.53% more expensive
Toronto is 0.94% cheaper
Sydney is 63.17% more expensive
Paris is 6.59% more expensive
Dubai is 83.27% more expensive
Source: Numbeo
How to Save on Housing Costs
Share a flat or house. As house and flat prices are so expensive in Cambridge, it makes sense to share. You can share a house and have your own room, but you will probably have to share a bathroom. To cut the cost even further, you could share a room. Have a look on Cambridge's Gumtree page, Flatmaterooms, SpareRoom or Easyroommate and find someone you can get on with to share the costs with you.
Different areas – different prices. The centre of Cambridge has mainly apartments and townhouses and they are expensive. More affordable properties and rentals are found outside the city and in the neighbouring towns. Trumpington is popular and has a variety of housing at different prices. Riverside is the most expensive area, with very grand houses sitting right on the river Cam. Chesterton is a suburb in the north of the city which has grown since the opening of the new railway station, and has some reasonably priced rentals and properties.
3. Cambridge Food, Grocery and Restaurant Costs
Cambridge has a great variety of pubs, clubs and restaurants. The constant influx of international students means there are restaurants to suit almost every palate. The prices in pubs and restaurants in Cambridge are expensive, often on a par with London.
Also, do note that with the recent decline in sterling, a lot of imported food has increased in price, which has obviously pushed up restaurant prices.
Inexpensive Restaurant: £12.00 – £17.00
Takeout Coffee: £2.20 – £3.00
Bottle of Coke: £1.00 – £2.00
1L of milk: £0.58 – £1.20
Loaf of Bread: £0.79 – £1.40
12 Eggs: £1.50 – £2.40
1kg Chicken: £4.00 – £8.00
1kg Beef: £4.00 – £10.00
1kg Apples: £1.95 – £3.00
1kg White Rice: £0.45 – £1.60
This is how restaurants and food prices compare with other major cities in the world.
New York restaurants are 17.13% more expensive and groceries are 71.57% more expensive than Cambridge.
Toronto restaurants are 23.15% cheaper and groceries are 6.71% more expensive than Cambridge.
Sydney restaurants are 13.99% cheaper and groceries are 34.88% more expensive than Cambridge.
Paris restaurants are 4.63% cheaper and groceries are 29.52% more expensive than Cambridge.
Dubai restaurants are 4.01% cheaper and groceries are 1.80% cheaper than Cambridge.
Source: Numbeo
Bonus Tips for Cheaper Food, Restaurants and Groceries
Know your supermarkets: Cambridge also has some great farmer's markets which sell organic and fresh produce and specialist shops selling foods from around the globe.
Find Cheap Eats: With its large student population from all four corners of the globe, Cambridge has plenty of places to find exciting and well-priced food. Have a look at the following websites for suggestions – The Guardian, Cambridge Food Tour, TripAdvisor, Cambridge News and Buzz Feed.
4. Cambridge Alcohol Costs
Being a student city, Cambridge has a good selection of pubs, bars and clubs. The following is a list of basic prices of beer and wine from the supermarket and restaurants.
Pint (0.6L) domestic beer at a restaurant/pub: £3.30 – £4.00
Bottle of imported beer at a restaurant/pub (0.33L): £2.00 – £4.00
Pint (0.6L) domestic beer at a supermarket: £0.80 – £2.00
Bottle of imported beer at a supermarket: £0.80 – £2.00
Mid-range bottle of wine at a supermarket: £6.00 – £9.00
How to drink for less in Cambridge
Keep an eye on the local papers and websites for specials over weekends and public holidays. Cambridge is a university city, so there are lots of ways to drink for less. Have a look at View, Trinity Hall and Design my Night for some tips.
5. Cambridge Transportation Fares
Cambridge is a small city where parking is almost impossible, so a good bus service is important. Stage Coach runs the bus services in Cambridge. There are route throughout the city and surrounding areas with a variety of tickets from singles to yearly season tickets.
Here are some example ticket costs.
Adult Single – £2.50
One day ticket for bus – £8.50
Monthly season ticket for bus – £60
Yearly season ticket for bus – £620
How to save money on public transport
A Stagecoach Dayrider Plus gives unlimited daily travel for £6.40
Buy a Stagecoach Megarider plus for unlimited travel around Cambridgeshire for 7 days for £24.50
Buy a bike. Cambridge is a bicycle city, rather like Amsterdam
The city is small, therefore walking is a viable option
6. Cost of Internet in Cambridge
Internet in the UK is one of the few things that is cheaper than the US, Canada or Australia. Here are some sample broadband internet prices from early 2017 for unlimited downloads, based on a 12 month contract:
7. Cost of Clothing, Personal Items, Gym and Leisure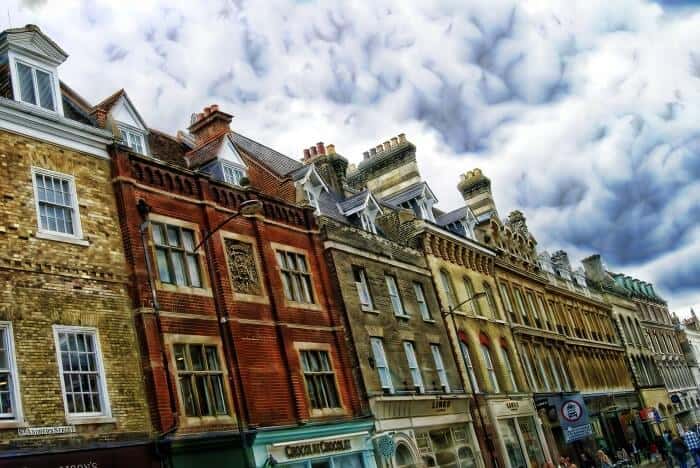 Cambridge has a mild climate with its hottest and wettest month being August with an average high of 18°C and average rainfall of 53mm.
January is its coldest month, with an average temperature of 4°C. Like most places in the UK, rain is always a possibility, so it's wise to carry an umbrella or a fold up waterproof jacket.
Here are some clothing prices, together with other useful prices.
Pair of Jeans: £30 – £90
Summer Dress: £20 – £40
Running Shoes (Trainers): £50 – £90
Business Shoes: £45 – £100
Short Doctor's visit (15 mins): £123
Deodorant: £2.00
Shampoo: £4.62
Toilet Paper (4 rolls): £1.85
Gym membership: £30 – £57 per month
Movie (cinema) ticket: £8 – £12
Source: Numbeo and Expatistan.com
8. Cost of Owning a Car and Driving a Car in Cambridge
Everyone in the UK drives on the left. Cambridge is a small city and parking is at a premium. Undergraduate students are not allowed cars whilst at university except under exceptional circumstances.
If you're moving to Cambridge from within the UK, you'll be able to keep your license but need to update your address to your new Cambridge one.
If you want to exchange your foreign driver's license you have to follow the process here. Note that you will need to prove you took your driving test in a manual transmission car. If you can't prove it, you'll only be able to exchange your license for an automatic.
Here are some other sample costs of owning and operating a car in Cambridge:
Volkswagen Golf: £16,500
1 litre (¼ gallon) of gas (petrol): £1.13
Registration fee (if any): £55 one time
Other fees (if any): No more than £54.85 for an MOT fee, after cars are 3 years old.
Source: Expatistan.com, Gov.uk
Ways to save money on driving in Cambridge
Need your car/vehicle moved to Cambridge? Then read our guide to: Car Transport & Vehicle Shipping
9. Taxes in Cambridge
No matter where you live in the UK, you will pay the same rate of income and sales tax. To learn more about the different taxes – income, self-employment, business, capital gains etc, have a look at our moving to the United Kingdom guide.
Sales Tax, or VAT (Value Added Tax) is 20% in the UK and is added to most goods and services throughout the country. Unlike some countries, it is always included in the marked price.
Whether you own or rent your home, you will be subject to council tax based on the area in which you live and the size of the property you live in. Learn more about council tax in Cambridge at Cambridge Council Tax.
Finally, if you decide to buy a flat or house in Cambridge you'll have to pay stamp duty. While there's no tax on the first £125,000 of your home value, the marginal rate increases to 12% on a value of over £1.5 million.
Flight Costs from Cambridge
If you do make the move to Cambridge, here's approximately how much it will cost to fly to other major world cities based on lowest, one-way fares from Skyscanner as of early 2017.
Cambridge does have a regional airport but you will need to travel to Stansted Airport or other London Airports for international flights. Stansted is 35 miles from Cambridge.
Other Tips on Moving to Cambridge
The costs and pricing above should give you a good idea of the cost of living in Cambridge but perhaps the following extra tips will make your move go smoothly.
11. Moving to Cambridge Alone
Moving anywhere can be a lonely experience, but moving to a new city can be rather daunting. Here are a few tips about settling into Cambridge.
Meetups: Meetups gives you information on all the Meetup groups within a 25-mile radius.  There is an enormous variety of groups in this university city.
Attend local events: There's always something going on in Cambridge. Have a look at Visit Cambridge, Cambridge News, Skiddle, Local Secrets and TripAdvisor to see which events appeal to you.
12. Moving to Cambridge with a Family
Cambridge is a pleasant city to live in with a family. There are plenty of parks and open countryside for walks and cycle rides. The schools are excellent and there is always the hope that the academic atmosphere of the city will rub off on your child and he/she will be accepted into Cambridge.
Here's some extra food for thought.
New parents (or parents to be): Check out the local NCT Courses and NCT events.
Live in a family friendly area:Trumpington has a variety of houses, at various prices, which are suitable for families.  De Freville Avenue is a beautiful long street full of large, family homes and close to the river. Riverside is also great for families but its price tag is high as many of the houses have a river frontage.
Find things to do with the kids: There's plenty to entertain the kids in Cambridge. Have a look at Day out with the kids, Cambridge with kids, com and Family Guide To for inspiration.
13. Moving to Cambridge for Work
Most people move to a city to take up a new job or to study. While it is possible to move without a job, it makes sense to ensure there are jobs in your field before you make the move.
Cambridge is often used as base for London commuters. However, apart from tourism, pharmaceuticals, agriculture and education, Cambridge is well known in the IT industry and is often referred to as 'Silicon Fen'.
Here are a few things to consider when moving for work:
Salary: Salaries in Cambridge are high, although not as high as London. The costs we outlined above should give you a rough idea, how much more you'll want to be making to make the move worthwhile. You can also check salary ranges on sites such as Glassdoor and Payscale.
How to find work: If you want to have a job lined up before you move to Cambridge, but aren't sure where to begin, the following sites are good places to start:Monster, Total Jobs, Gumtree, Reed.co.uk and Indeed. You may also want to google recruiters in your industry, as they can often help land you some initial interviews as well.
14. Moving to Cambridge from Australia
Most of the Australians living in Cambridge are either students or in academia. You can meet up with some of the 56,000 Aussies living in London by hopping on a train – it only takes 48 minutes on the fast train.
Size comparison: If you look at the population of Cambridge, the nearest city to it in Australia is Darwin.
Join expat groups:Both InterNations and Expat.com offer ways of meeting up with other Australians in Cambridge.
15. Moving to Cambridge from Canada
While you won't find a huge number of Canadians living in Cambridge. Those that you do find will probably be students or lecturers.  If you're considering making the move from Canada here are a few things to consider.
Size: Going on population size, Cambridge is around the same size as Thunder Bay, Ontario.
Expat groups: To join expat groups where you can meet fellow Canadians, go to InterNations or Canada International.
16. Moving to Cambridge from the United States
The majority of Americans in Cambridge are either studying at the university or lecturing there. If you're considering moving to Cambridge, here are a few bonus tips:
Size: If you look at the number of people living in Cambridge, the town which is closest in size is Berkeley, California, another seat of learning.
Expat groups: If you want to join an expat group, have a look at InterNations and Expatsblog.
Hopefully, the tips and costs above are helpful. If want to get started pricing out how much it will cost you to move to Cambridge you can start by comparing moving quotes here.
Guides to moving and living in other UK cities