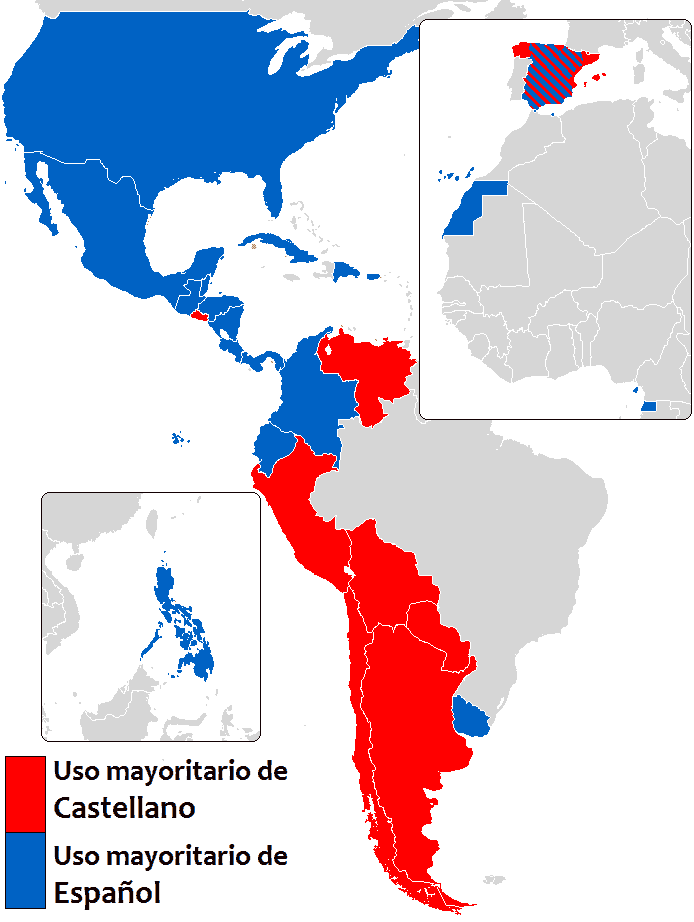 The map above shows how various "Spanish" speaking countries refer to their language. In the US. Mexico, the Caribbean, Philippines, Africa and the majority of Central America the language is known as Español (Spanish), whereas in most of South America it is known as Castellano (Castilian).
And of course to make matters more confusing it can be know by either in Span itself.
10 other facts about the "Spanish" language:
It is estimated that over 400 million people speak Spanish making it the 2nd most widely spoken native language, behind Mandarin and just ahead of English.
Brazilians call Spanish, espanhol.
Spanish is the official or national language in Spain, Equatorial Guinea, and 19 countries in the Americas.
In the European Union, Spanish is the mother tongue of 8% of the population, with an additional 7% speaking it as a second language.
While Spanish is largely based on Latin, around 8% of its vocabulary is Arabic in origin.
The first systematic written use of the language happened in Toledo, then capital of the Kingdom of Castile, in the 13th century.
13% percent of the US population over five years old speaks Spanish at home.
Mexico is the largest Spanish speaking country with over 120 million speakers.
The main grammatical variations between dialects of Spanish involve differing uses of pronouns.
Spanish is one of the six official languages of the United Nations.
Prominent differences of pronunciation among dialects of Spanish include:
the maintenance or loss of distinction between the phonemes /θ/ and /s/ (distinción vs. seseo and ceceo);
the maintenance or loss of distinction between phonemes represented orthographically by ll and y (yeísmo);
the maintenance of syllable-final [s] vs. its weakening to [h] (called aspiration, or more precisely debuccalization), or its loss; and
the tendency, in areas of central Mexico and of the Andean highlands, to reduction (especially devoicing), or loss, of unstressed vowels, mainly when they are in contact with voiceless consonants.
Find this post interesting? Pleas help us by sharing it: