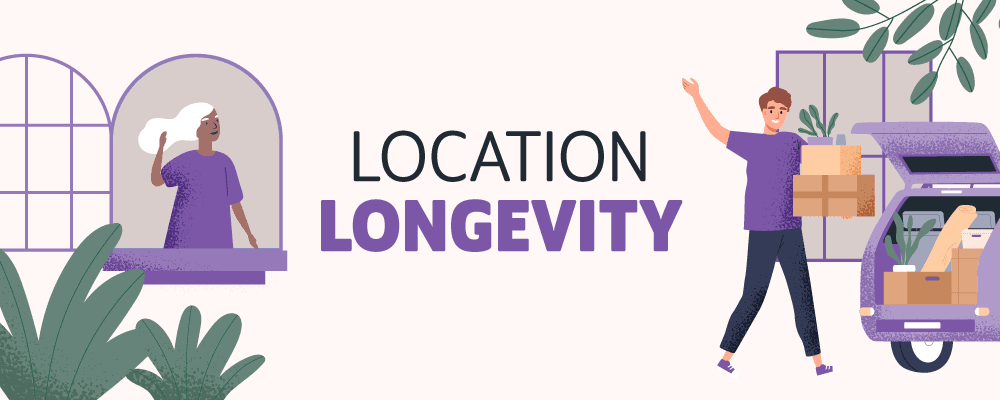 They say that moving house is one of the most stressful life events (especially if it involves international container shipping) , and one study reveals that (for Brits at least) it's very true. But unfortunately — like taxes — it's an inevitable part of life for most people, with the same study revealing that the average Briton moves four times throughout their lifetime.
People move house for all sorts of reasons, from wanting to be closer to family or work to needing more room (as is the case for 42% of Brits). For those renting privately, soaring rental costs may make staying in the same property simply unaffordable.
That being said, many homeowners across the country are able and content to settle for the long term, living somewhere ideal for their lifestyle and family, work and school connections. A friendly neighborhood or cheaper local cost of living might also anchor someone to their home — but in other cases, the decision to stay put is forced by record-high house prices that make moving feel like an impossible dream.
But from leafy rural towns to bustling city centers, have you ever wondered where in the UK homeowners are the most and least likely to move away from? With this in mind, MoverDB.com delved into a houseful of Rightmove data to discover the towns, cities, council areas and London boroughs where homeowners stay for the longest and shortest time.
What We Did
We first collected a sample of 1,000 properties sold in each UK postcode area (25 million properties in total) from Rightmove and calculated the difference between the date of the property's latest sale and the date of data retrieval (25th Jan 2023). We could then work out each location's average homeowner tenure.
Key Findings
Homeowners in

Buckfastleigh, South Devon,

are the most settled in the UK, with an average tenure of

4,292 days

or

143.1 months

(nearly 12 years)

…

But Welsh towns like

Llanfairfechan

,

Newcastle Emlyn

and

Tyn-y-gongl

also see the longest homeowner tenures

Inverness

homeowners have the

longest tenures

of any city (

1,998 days

/

66.6 months

); meanwhile,

Dunfermline

homeowners stay for the

shortest

time (

357 days/11.9 months

)

The

City of London

holds onto homeowners for

longer

than any other council area (

4,131 days/137.7 months

), while

Broxtowe

in Nottinghamshire ranks last

Wandsworth's

homeowners have the

shortest

tenures of any London borough (

471 days/15.7 months

)
Buckfastleigh, South Devon, Holds Onto Homeowners for the Longest
When you move into the right home, staying put is easy to do, and it's something of a hobby for Britons: according to a Statista survey, Brits who own their home outright will stay for over 22 years. That's quite a long time when you consider it's more than a quarter of the average Brit's life span — but where on a local level are homeowners staying the longest?
Our analysis reveals that the answer is Buckfastleigh, South Devon, where the average homeowner enjoys a tenure of 4,292 days or 143.1 months — that's nearly 12 years. So what's the appeal of settling in for the long haul in this small market town? For one thing, Buckfastleigh is located just a stone's throw from Dartmoor National Park, arguably the quietest and calmest national park in the country, as it draws the fewest crowds. Staying close to nature likely benefits Buckfastleigh's deep-rooted residents, as studies have shown that spending time in nature boosts mental health.
Eight other locations in our ranking are in Wales, the leading location being the seaside town of Llanfairfechan, where the average homeowner stays put for 4,251 days or 141.7 months (11.8 years). A plan for new houses has drawn ire from locals, fearing out-of-towners will snap them up.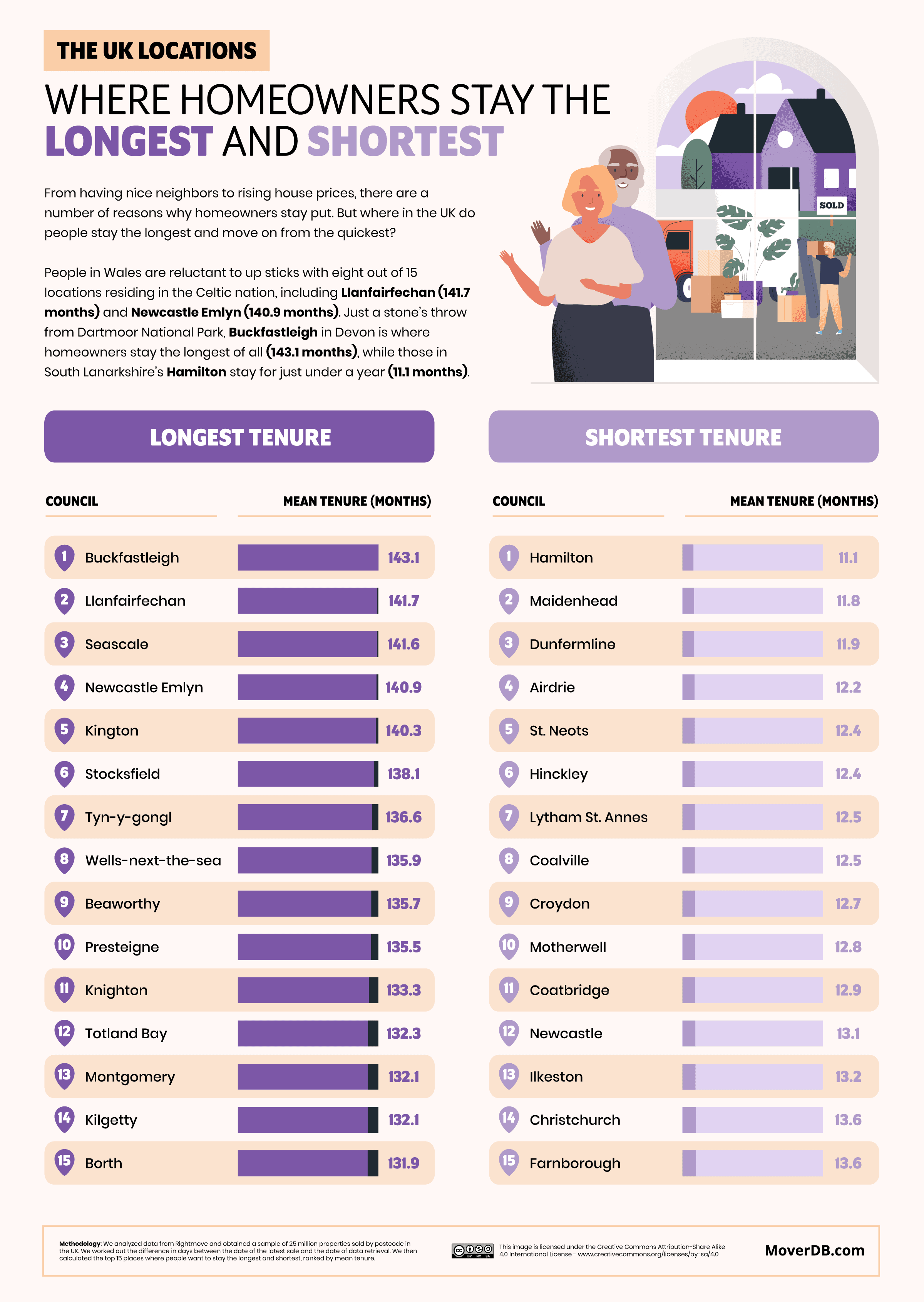 Click here to see the image in full size
But as the saying goes, some people only stay for a good time, not a long time. Homeowners in Hamilton, South Lanarkshire, stay for just under a year (333 days or 11.1 months) on average before upping sticks — the shortest tenure in our analysis. In recent years, some parts of Hamilton have ranked among the most deprived in the country, according to the Scottish Index of Multiple Deprivation (SIMD).
Next is Maidenhead, where the average homeowner's tenure is 355 days or 11.8 months. Perhaps the Berkshire town's struggling shopping district is one factor that pushes residents to move elsewhere.
Inverness Homeowners Stick Around Longer in Than Any Other City
Next, we turned our attention to the UK's cities, revealing that the average homeowner in Inverness, nicknamed the Gateway to the Highlands, enjoys a tenure of 1,998 days or 66.6 months. Situated close to Loch Ness and among rolling hills, writer Tom Dyckhoff highlights the Scottish city's "casually ordinary beauty," fresh air and wildness. Beauty aside, residents are perhaps unwilling to move away from one of Europe's fastest-growing cities and the happiest place to live in Scotland.
Several cities in the Midlands also rank highly: Birmingham (1,374 days/45.8 months), Wolverhampton (1,336 days/44.5 months) and Worcester (1,296 days/43.2 months). The average house prices in the East Midlands and West Midlands fall below the national average, which could explain why homeowners in the area are content not to relocate to a pricier part of the country.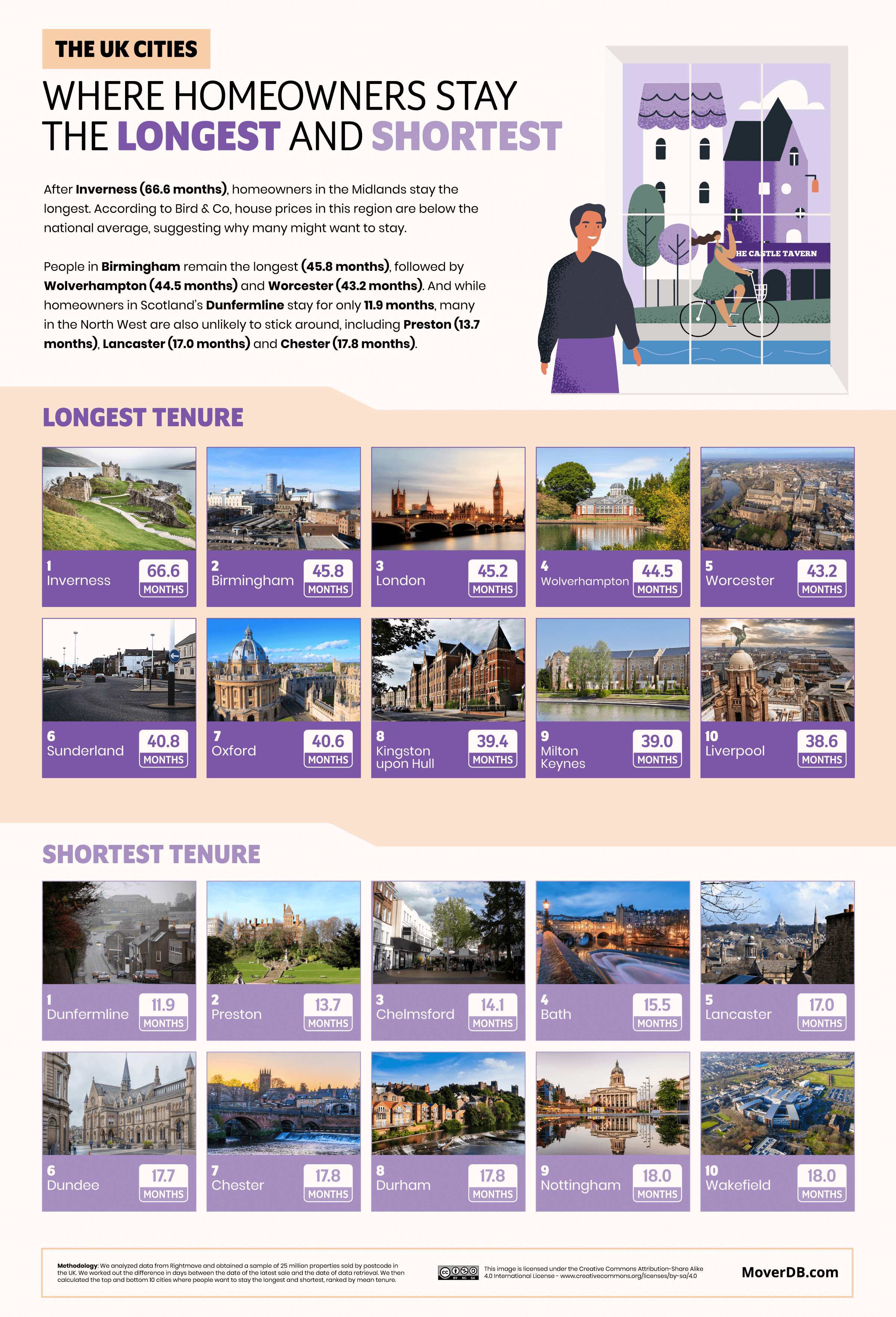 Click here to see the image in full size
However, our data paints a drastically different picture of resident tenures in other cities. Dunfermline, Fife, holds onto homeowners for the shortest time on average at 357 days (slightly over a year). One factor that could be pushing out residents is a fairly high crime rate; out of 100 of the worst neighborhoods for crime in Scotland, Dunfermline Central ranks 34th.
Speaking of crime, the second-shortest tenure can be found in Preston (411 days/13.7 months), the third most dangerous city in Lancashire, with a crime rate 53% higher than the county's overall rate.
City of London Homeowners Have the Longest Tenures of Any Council Area
Our research reveals that homeowners in the City of London stay put for longer than those in any other council area. The average length of a tenure here is 4,131 days or 137.7 months, which works out to over 11 years. As councils go, the City of London is unique — not only is it the smallest ceremonial county in the UK (at just over a square mile), but it has its own government and police force.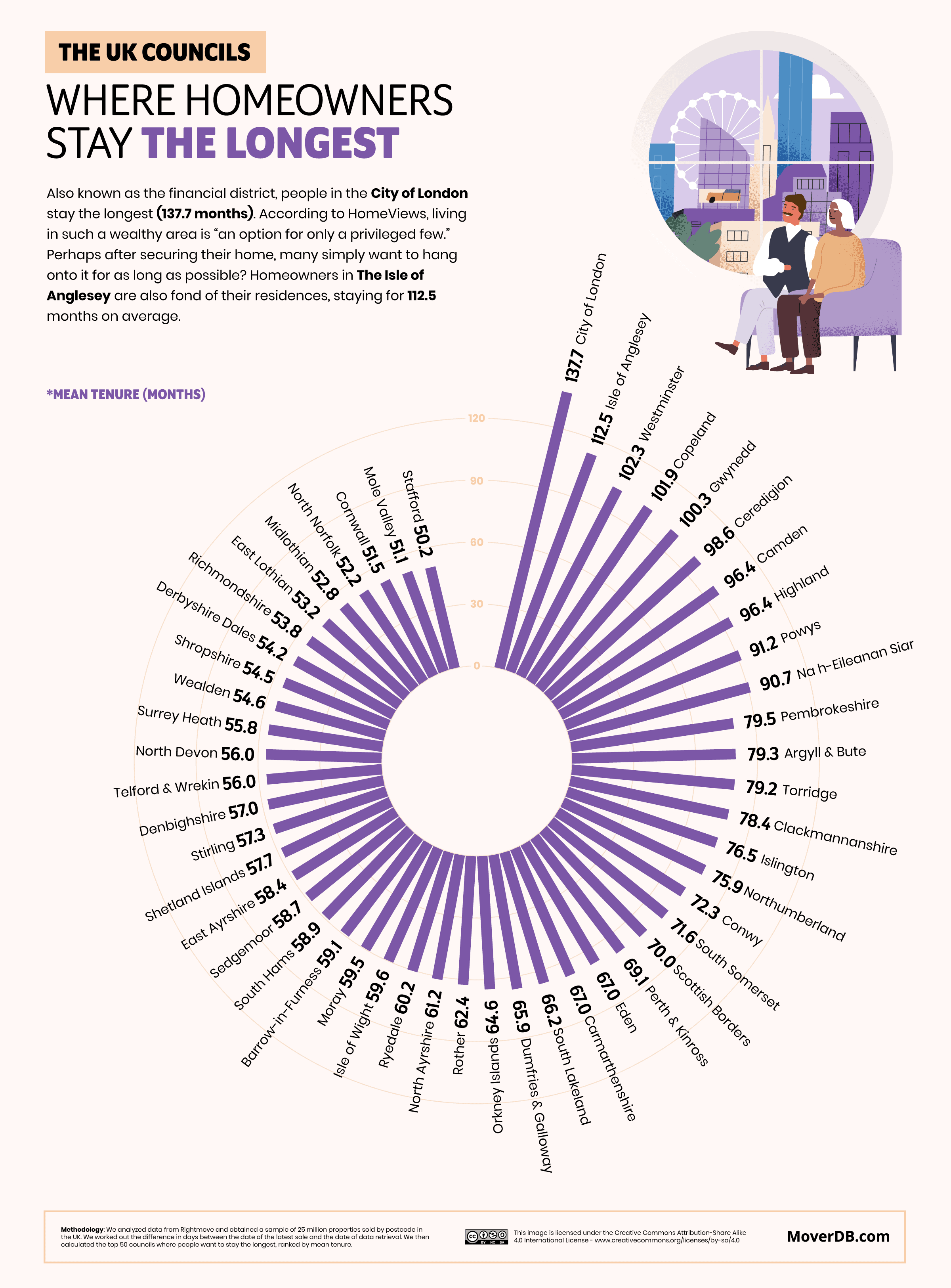 Click here to see the image in full size
Housing much of the country's financial district, not many people live in the City of London — indeed, it's the second least populated council area in the UK. But with the average flat in the "Square Mile" going for nearly a million pounds, it's not surprising that people living here might want to hang onto their very valuable homes for as long as possible.
Homeowners on the Isle of Anglesey rank next, settling for an average 3,376 days or 112.5 months. In recent years, Anglesey has been found to be one of the happiest places to live in the UK, boasting "fantastic views, sandy coves and relative isolation."
…While Homeowners in the Broxtowe Council Area Move on the Quickest
At the other end of the scale, Broxtowe in Nottinghamshire holds onto the average homeowner for the shortest time (375 days/12.5 months) of any UK council. It could be that homeowners are choosing to move away from deprived areas, as three areas in Broxtowe are among the country's top 20% most deprived. Homeowners in nearby Ashfield, also in Nottinghamshire, don't stay for much longer (389 days/13.0 months).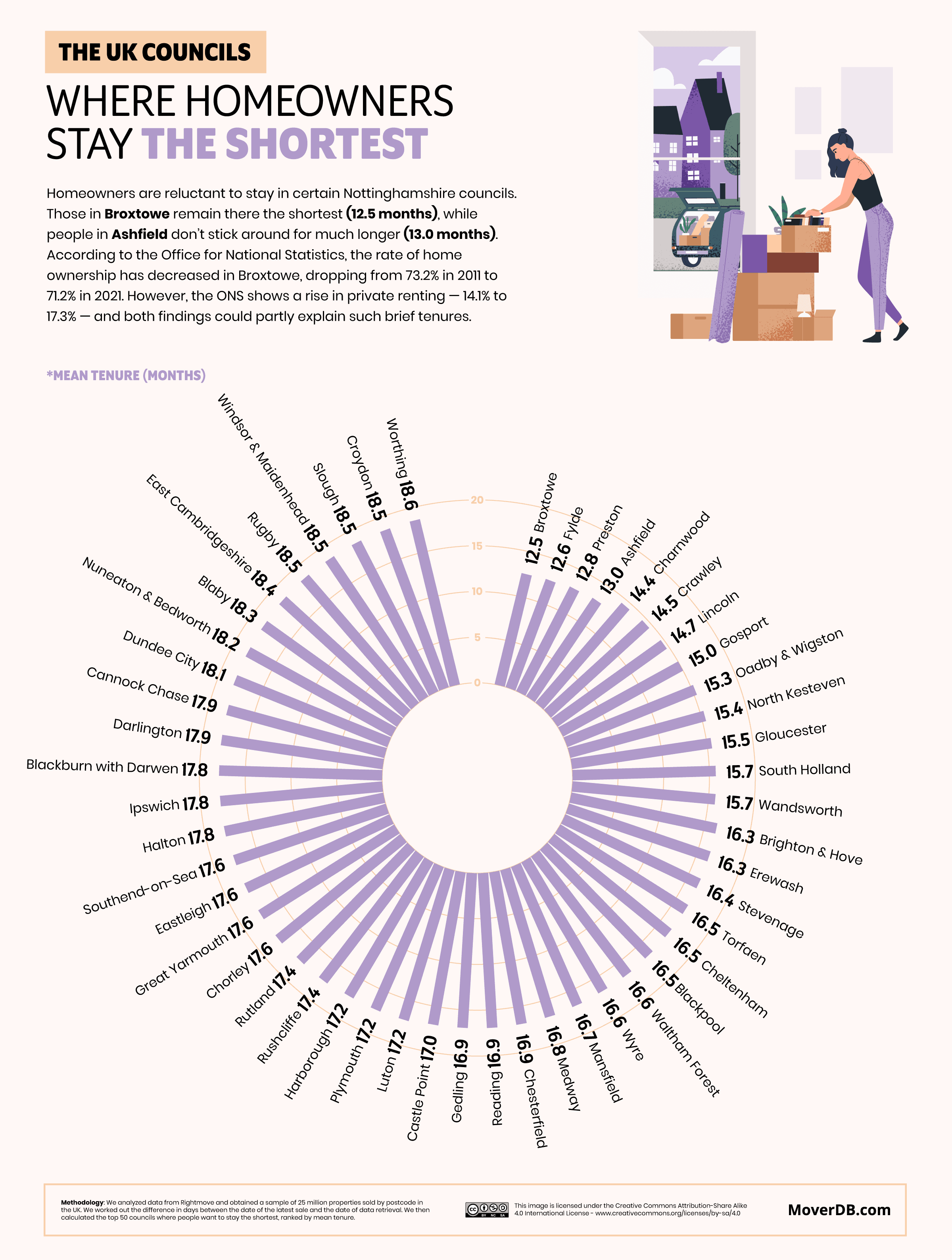 Click here to see the image in full size
Two Lancashire councils also place highly when it comes to short tenures — Fylde (378 days/12.6 months) and Preston (385 days/12.8 months), the latter of which is home to four schools in need of improvement, according to Ofsted. Not much further down our ranking is Crawley in West Sussex (436 days/14.5 months), which may be to do with the COVID-19 pandemic's damaging effect on the local economy.
Wandsworth Homeowners Stay for Just 15.7 Months Before Moving On
From Hillingdon to Havering, Greater London spans 32 boroughs and is home to just over one in ten people in the UK. It's a region of the country where renters are leaving in spades due to rising rental costs — but which borough, in particular, do homeowners move on from the quickest? Our research reveals that Wandsworth takes the crown in that respect: the average homeowner in the southwest borough stays for just 471 days (or 15.7 months) before moving on.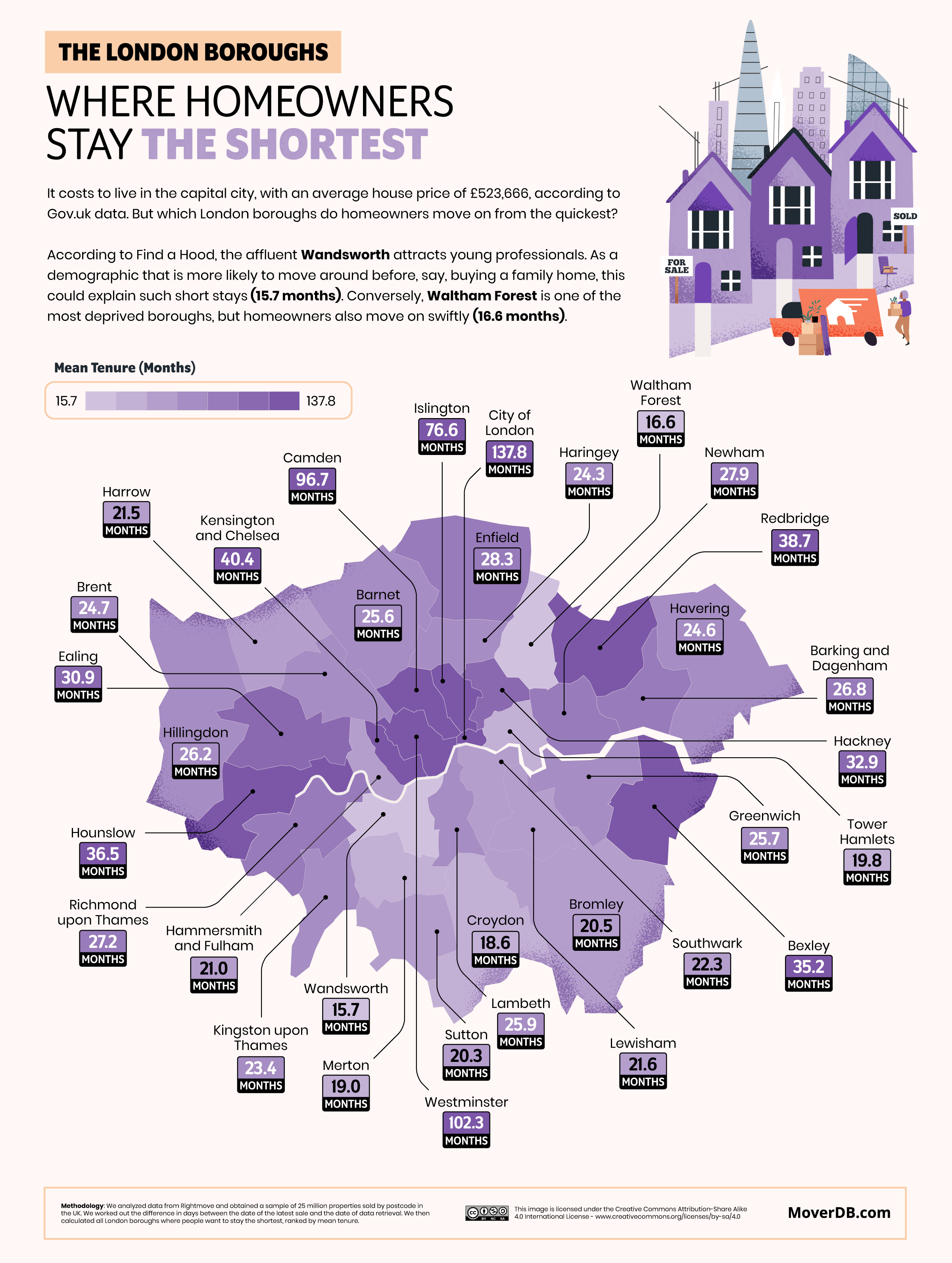 Click here to see the image in full size
As an area once found to be the most popular in the UK for young professionals, it could be that Wandsworth homeowners are moving onto properties elsewhere as they age and start to grow their families. Residents might also be following the council's encouragement to relocate to the countryside to free up housing in the borough.
After runner-up Waltham Forest (498 days/16.6 months) comes Croydon, where the average homeowner may leave after just 18.6 months to avoid the third-highest crime rate of any London borough.
Where in the UK Do Homeowners Stay for the Longest and Shortest Time?
As the Clash once crooned: should I stay or should I go? The decision to move house crosses the minds of many homeowners during their tenure — but what do homeowners tend to do in your neck of the woods? Explore our table below to find out the average length of time a homeowner stays in their property on a local level.
Even if you're smack-bang in the middle of a friendly neighborhood with good local schools and shops, sometimes your house is just no longer in tune with your needs. The most common reason people in the UK move is for more room, but when the process of moving house takes between 11 to 21 weeks and costs close to £12,000, refurbishing might be a cost-saving and value-adding way to improve your home.
One study found that 64% of Brits that once thought about moving house changed their mind after having renovation work carried out. There's no shortage of ways you can change up your home; for example, if you're dreaming of another bedroom or a new study, you could look into having your loft converted (if you've got the space). Loft conversions in the UK typically cost between £21,000 to £44,000 — much cheaper than upping sticks entirely.
How We Did It
We analyzed data from Rightmove and obtained a sample of 25 million properties sold by postcode in the UK, searching the first 1,000 properties by postcode. For each property, we only considered the date of the most recent sale.
We calculated the mean tenure by city, county and London borough. To do this, we worked out the difference in days between the date of the latest sale and the date of data retrieval (25th Jan 2023).
After that, we mapped each postcode with three types of geographic areas: postal towns/cities, councils/admin areas and London boroughs. We used three-digit granularity (AB10, E1, EC1, etc.) for cities and full postcodes for London boroughs and councils.
Finally, we calculated the mean tenure for each geographic area in all available locations.
We only reported results for locations with more than 1,000 recorded transactions.
The data was collected in January 2023.