Seattle is a beautiful city and, even though there is a lot of rain, everyone who goes there seems to enjoy spending time in this stunning location. It sits between the Cascade and Olympic Mountain ranges and the shores of Lake Washington and the Puget sound. It is a city which enjoys the outdoors, sports, dogs, coffee and arts and culture.
If you are considering moving to Seattle, the various costs listed below will help you make an informed decision on what costs are involved when moving and living in the Emerald City.
Quick Seattle Facts:
Population: 659,000 (2016 estimate). The Seattle metro has a population of around 3.7 million people.
Official Language: English (de facto) with many other languages being spoken including Spanish, Chinese, Vietnamese, African languages, Tagalog and Korean.
GDP Per Capita: $73,158 USD (2016 estimate)
Starbucks: Starbucks was born in Seattle, with the first one opening in 1971.
Currency: US Dollar (US$). As of early 2017, £1 = $1.30, €1 = $1.08, $1 CAD = $0.75, $1 AUD = $0.77
1. Moving and Shipping Costs to Seattle
Below are some sample container shipping costs to Seattle from other major world cities. Just keep in mind they only reflect the shipping portion of the cost and not the full moving costs.
Find Seattle moving companies here.
You can save money by comparing moving companies using our moving quote form below:
Thank you. You will hear from us soon.
Wait!
an agent is calling you now from
+1 (800) 680-6439
Please pick up your phone to be connected with an agent to give you a personalized quote based on your move details.
2. Seattle Housing Costs
Seattle is an expensive city for renters. The Census Bureau of Seattle says it is ranked in the top ten of most expensive cities in the US.
Monthly Rental Prices in Seattle
1 bedroom apartment in City Centre: $1,400+
1 bedroom apartment outside the City Centre: $1,000+
3 bedroom apartment in City Centre: $2,700+
3 bedroom apartment outside the City Centre: $1,650+
Seattle Home Purchase Prices
Price per square metre (10.7 square feet) to buy in City Centre: $5,700+
Price per square metre (10.7 square feet) to buy outside City: $2,900+
Seattle Housing Cost Comparison
This is how rents in Seattle compare with other cities around the globe.
London is 9.97% more expensive
New York 57.54% more expensive
Los Angeles is 4.68% more expensive
Toronto is 36.87% cheaper
Sydney is 1.88% more expensive
Paris is 34.17% cheaper
Dubai is 12.66% more expensive
Source: Numbeo
How to Save on Housing Costs
Share an apartment or house. Have a look at the following sites to find your perfect roommate: Easyroommate, Kangaroom, Roommate, Craigslist, Trulia, Apartment List and Zillow.
Different areas – different prices. Mercer Island is perhaps the most upmarket area, with a combination of modern condos, ranch style properties and waterfront gems. Madison Park is another expensive area on the water. Capitol Hill is a mix of mansions and apartments. If you go east of 15th Avenue, you'll find houses suitable for families. Upper Rainier Beach and Puget Ridge deliver excellent value for money in Seattle terms.
3. Seattle Food, Grocery and Restaurant Costs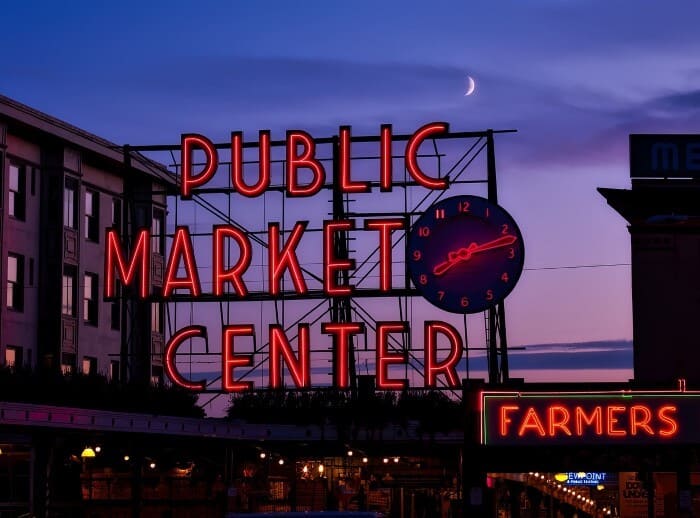 Seattle, with its ethnic diversity, has restaurants and food to suit everyone. There is a strong Filipino and Asian influence, but you will find most countries represented on the food front.
Inexpensive Restaurant: $10 – $20
Takeout Coffee: $3.25 – $5.00
Bottle of Coke: $1.25 – $3
1L of milk: $0.71 – $1.19
Loaf of Bread: $2.20 – $3.86
12 Eggs: $2.00 – $4.00
1kg Chicken: $6.59 – $15.43
1kg Beef: $5.84 – $19.84
1kg Apples: $2.20 – $6.61
1kg White Rice: $3.00 – $6.80
This is how restaurants and food prices compare with other major cities in the world.
London restaurants are 7.69% more expensive and groceries are 34.39% cheaper than Seattle.
New York restaurants are 15.73% more expensive and groceries are 5.10% more expensive than Seattle.
Los Angeles restaurants are 2.89% cheaper and groceries 17.87% cheaper than Seattle.
Toronto restaurants are 21.26% cheaper and groceries are 31.61% cheaper than Seattle.
Sydney restaurants are 12.84% cheaper and groceries are 12.06% cheaper than Seattle.
Paris restaurants are 4.29% cheaper and groceries are 19.05% cheaper than Seattle.
Dubai restaurants are 23.54% cheaper and groceries are 36.41% cheaper than Seattle.
Source: Numbeo
Bonus Tips for Cheaper Food, Restaurants and Groceries
Know your supermarkets: Seattle prides itself on its healthy living and eating and, as such, as a good selection of independent grocers which sell organic and healthy produce. There are also excellent farmers' markets held regularly in and around the city. Popular supermarkets are Whole Foods Market, Trader Joe's, Kress IGA, Island Pacific (Filipino supermarket), Uwajimaya (gourmet Asian supermarket) and PCC Natural Markets (pure, fresh food).
Find Cheap Eats: Seattle has a wide variety of restaurants and it's worth searching for those which offer excellent food at affordable prices. Have a look at Seattle Times, Seattle Eater, Serious Eats, 10 Best and Best City.
4. Seattle Alcohol Costs
Seattle has an excellent selection of bars and nightclubs where its residents and visitors can enjoy the great atmosphere of this city.
Pint (0.5L) domestic beer at a restaurant/pub: $4.00 – $6.00
Bottle of imported beer at a restaurant/pub: $5.00 – $7.59
Pint (0.5L) domestic beer at a supermarket: $1.00 – $3.00
Bottle of imported beer at a supermarket: $1.50 – $3.25
Mid-range bottle of wine at a supermarket: $10.00 – $18.00
How to drink for less in Seattle
Keep an eye on the local papers and websites for specials over weekends and public holidays.
Sit on the patio at Bar Vacilando in Capitol Hill and enjoy happy hour fom Tuesday to Sunday from 3-6pm. Nue on 14th Avenue offers wine at $6, beer at $5 and $2 off cocktails at various times of the week. For a great Mexican experience, go to Mama's Cantina where they have happy hour seven days a week from 4-6pm and again from 10pm until 2am. Enjoy $5 16oz margaritas, $1 off draft beer, wine and well drinks. Have a look at the following sites for further ideas – Seattle Eater, Thrillist, Four Square, Best Happy Hour and The Seattle Times.
5. Seattle Transportation Fares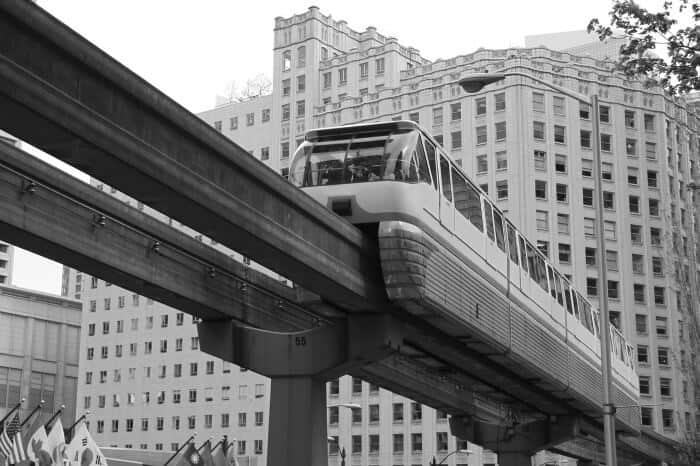 Seattle has an excellent public transportation system consisting of light rail, buses, monorail, streetcar, Sounder trains, ferries and water taxis.
Here are some example ticket costs.
Adult Single – $2.74
One day ticket – $7.00
Monthly season ticket, unlimited – $99
How to save money on public transport
Buy an ORCA card for various discounts
Buy a bike. Depending on where you live and work, cycling around the city is certainly an option. Seattle also has a bike sharing scheme.
If you live relatively close to where you work, you can walk to work, to the shops or to local restaurants.
6. Cost of Internet in Seattle
Internet prices in the States are expensive compared with many other countries in the world. Here are some sample broadband internet prices from early 2017 for unlimited downloads, based on a 12-month contract:
7. Cost of Clothing, Personal Items, Gym and Leisure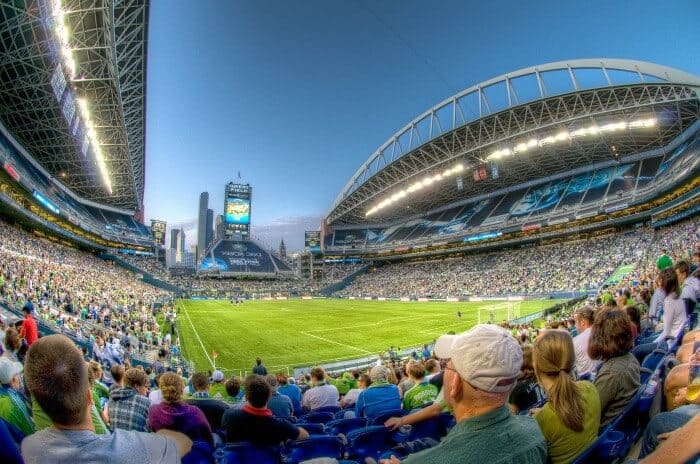 It rains in Seattle on over 150 days a year, so an umbrella and waterproof coat or jacket are necessities. The hottest month is July, with an average high of 64°F (18°C) and the coldest month is January, with an average high of 41°F (5°C). December is the wettest month with an average 6 inches (150mm) of rain falling.
Here are some clothing prices, together with other useful prices.
Pair of Jeans: $37 – $65
Summer Dress: $23 – $65
Running Shoes (Trainers): $55 – $120
Business Shoes: $60 – $200
Short Doctor's visit (15 mins): $109
Deodorant: $3.45
Shampoo: $4.78
Toilet Paper (4 rolls): $3.72
Gym membership: $30-$70 per month
Movie (cinema) ticket: $11-$15
Source: Numbeo and Expatistan
8. Cost of Owning a Car and Driving a Car in Seattle
Driving in Seattle during the busy times of the day isn't fun which is why many people use public transport.
If you're moving to Seattle from within the US, you'll be able to keep your license but need to update your address to your new one.
You can drive on a foreign license for up to 12 months as a tourist but after that you will need to get an American license. If you are working or studying in the US, you can drive on your foreign license for 30 days. If you want to exchange your foreign driver's license you have to follow the process here.
Here are some other sample costs of owning and operating a car in Seattle:
Volkswagen Golf: $25,000
1 litre (¼ gallon) of gas (petrol): $0.74
Other fees (if any): The average cost of state and local taxes, license, title and registration fees is $665 per annum
Source: Expatistan, AAA Study
Ways to save money driving in Seattle
Need your car/vehicle moved to Seattle? Then read our guide to: Car Transport & Vehicle Shipping
9. Taxes in Seattle
No matter where you live in Washington State, you will pay state and federal taxes. To learn more about the different taxes in the States go to Immihelp and USA taxes.
Sales Tax in Seattle is 9.6% and is added to most goods and services. Generally, the price you see on an item does not include sales tax.
If you own your home, you will be subject to property tax based on the area in which you live and the size of the property you live in. Learn more about property tax in Seattle at Smart Asset Property Tax.
Finally, if you decide to buy an apartment or house in Seattle you'll have to pay real estate transfer tax.
10. Flight Costs from Seattle
If you do make the move to Seattle, here's approximately how much it will cost to fly to other major world cities based on lowest, one-way fares from Skyscanner as of early 2017:
London: $360
New York: $119
Los Angeles: $109
Toronto: $197
Vancouver: $192
Dubai: $499
Sydney: $531
Melbourne: $507
Cape Town: $764
Hong Kong: $356
Other Seattle Relocation Tips
The costs and pricing above should give you a good idea of the cost of living in Seattle but perhaps the following extra tips will make your move go smoothly.
First of all, it ranked as one of the best places to live in the United States for young adults.
11. Relocating to Seattle Alone
Moving anywhere can be a lonely experience, but moving to a new city can be rather daunting. Here are a few tips about settling in Seattle.
Meetups: There are many Meetup groups to choose from. You will definitely find something to join which will help you to settle in. There's a lot to choose from – young professionals, 'beers with engineers', hiking and outdoorsy groups, sports, high tech and lots more.
Attend local events:There's always something going on in Seattle. Have a look at Seattle events, Timeout, Events Calendar, The Stranger, Seattle Eventful and Wikido.
12. Moving to Seattle with a Family
Seattle has a lot to attract families. There are water sports, hiking and gentle walks and lots of art, drama and social events to entertain everyone.
New parents (or parents to be): There are free and paid antenatal classes and courses. Have a look at NW Hospital and Parent Trust.
Live in a family friendly area: Woodinville, one of the outer suburbs of Seattle, is lovely area for families with farm style homes on large plots, however, it is expensive. Queen Anne sits on top of a hill above Downtown and is very popular with young families and young professionals. Families are also drawn to West Seattle which has good sized family homes at affordable prices. Another family friendly area is Capitol Hill, east of 15th Avenue, where there are detached houses and kid-friendly streets.
Find things to do with the kids: Seattle is fun place for kids to live. Have a look at the following sites to be inspired – Seattle with Kids, Families, Free Things, Delicious Baby and Flashpacker Family.
13. Moving to Seattle for Work
Seattle has a low unemployment rate and has an ever-growing tech industry, thanks to companies like Microsoft, Amazon, Expedia and Zillow. Other employment fields are biotech, health care and maritime industries. Manufacturing is also big, with companies like Boeing and Weyerhaeuser employing thousands.
Here are a few things to consider when moving for work:
Salary: Salaries vary enormously depending which industry you are in. The costs we outlined above should give you a rough idea, how much more you'll want to be making to make the move worthwhile. You can also check salary ranges on sites such as Glassdoor and Payscale.
How to find work: If you want to have a job lined up before you move to Seattle, but aren't sure where to begin, the following sites are good places to start: Indeed, Monster, Snagajob, Career Builder and Seattle Mag. You may also want to google recruiters in your industry, as they can often help land you some initial interviews as well.
14. Moving to Seattle from Australia
There's a sizeable group of Australians living in Seattle. If you are thinking of moving to Seattle, here are a few things to consider.
Size comparison: If you compare the population size of Seattle with a city in Australia, then the closest would be the Gold Coast.
Join expat groups: There are a number of expat groups enabling you to meet fellow Aussies. Try Internations, Facebook and Meetup.
15. Moving to Seattle from Canada
Seattle has a large group of Canadians living the city. If you're considering making the move from Canada here are a few things to consider.
Size: If you compare the size of the population of Seattle with the size of a city in Canada, the closest would be Hamilton, Ontario which is marginally larger than Seattle.
Expat groups: Meeting up with fellow Canadians helps the moving process. Link up through sites such as Internations, Facebook and I love Seattle.
16. Moving to Seattle from the United Kingdom
Seattle attracts a lot of people from the UK, probably because they are not deterred by the weather.
Size: If you compare the size of the population of the Seattle with a city in the UK, the closest in size would be Glasgow.
Expat groups: If you want to get together with others from the UK who are living and working in Seattle, then go to Meetup and Internations.
Hopefully, the tips and costs above are helpful. If want to get started pricing out how much it will cost you to move to Seattle you can start by comparing moving quotes here.
Guides to moving and living in other American cities