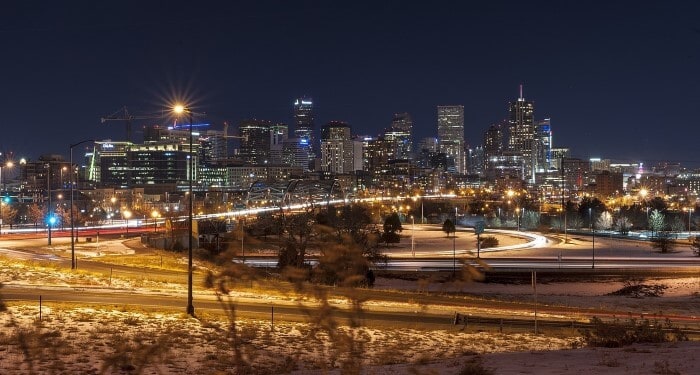 Denver, Colorado is not only one of the fastest growing cities in the States, it's also the place to go for those who love cycling, hiking, climbing and snow sports. It sits a mile above sea level, overlooking the Great Plains, with the Rocky Mountains to the east.
If you are considering moving to Denver, the various costs listed below will help you make an informed decision on what costs are involved when moving and living in this beautiful part of the United States.
Quick Denver Facts:
Population: 682,545 (2016 estimate). The Denver/Aurora/Broomfield metropolitan area is estimated to have a population of around 2.8 million.
Official Language: English (de facto) with 145 languages being spoken in Denver, including Spanish, Vietnamese, Arabic, Somali, Norwegian and Zuni.
GDP Per Capita: $61,995 USD (2013)
Mountain Parks: The original plan behind the mountain park system was to make Denver a rival to Switzerland. Frederick Law Olmsted Jr (son of the man who designed New York's Central Park) designed the system which was completed in 1914.
Currency: US Dollar (US$). As of early 2017, £1 = $1.25, €1 = $1.08, $1 CAD = $0.75, $1 AUD = $0.77
1. Moving and Shipping Costs to Denver
Below are some sample container shipping costs to Denver from other major world cities. Just keep in mind they only reflect the shipping portion of the cost and not the full moving costs.
You can save money by comparing moving companies using our moving quote form above.
2. Denver Housing Costs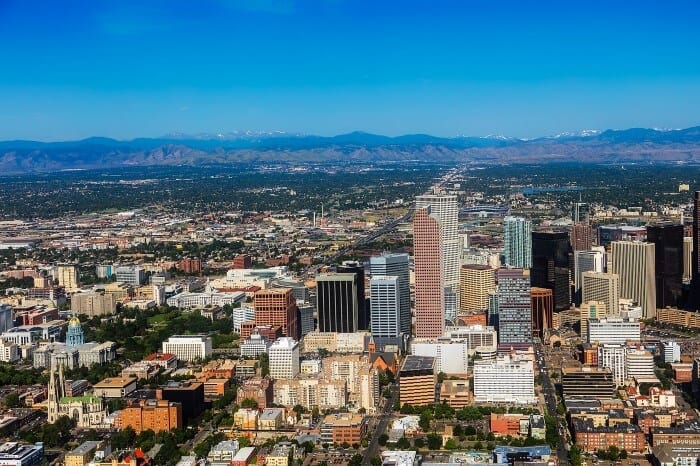 Housing in Denver is a lot cheaper than many major cities in the United States.
Monthly Rental Prices in Denver
1 bedroom apartment in City Centre: $1,200+
1 bedroom apartment outside the City Centre: $900+
3 bedroom apartment in City Centre: $2,100+
3 bedroom apartment outside the City Centre: $1,508+
Denver Home Purchase Prices
Price per square metre (10.7 square feet) to buy in City Centre: $4,026.63
Price per square metre (10.7 square feet) to buy outside City: $2,326.19
Denver Housing Cost Comparison
This is how rents in Denver compare with other cities around the globe.
London is 33.64% more expensive
New York 87.68% more expensive
Los Angeles is 24.68% more expensive
Toronto is 25.01% cheaper
Sydney is 21.44% more expensive
Paris is 21.52% cheaper
Dubai is 33.90% more expensive
Source: Numbeo
How to Save on Housing Costs
Share an apartment or house. Have a look at the following sites to find your perfect roommate: Easyroommate, Kangaroom, Craigslist, Trulia and RoomLaLa.
Different areas – different prices. Capitol Hill and the Golden Triangle Museum District are the most expensive areas in Denver and are popular with rich professionals. The lower part of Downtown is also popular with young professionals who like to be close to their work and the nightlife of Denver. Five Points is a neighbourhood which began life in the 1860s. It is close to the CBD and is far more affordable than the ones mentioned so far. Uptown is considered the newest trendy part of town with its combination of Victorian buildings and skyscrapers. Areas which artists and musicians would enjoy, include the Art District on Santa Fe, River North and East Colfax.
3. Denver Food, Grocery and Restaurant Costs
Denver has restaurants and grocers to suit any pocket and palate.
Inexpensive Restaurant: $10 – $18
Takeout Coffee: $3.25 – $5.00
Bottle of Coke: $1.25 – $2
1L of milk: $0.53 – $0.95
Loaf of Bread: $1.65 – $3.30
12 Eggs: $2.00 – $4.00
1kg Chicken: $4.41 – $17.59
1kg Beef: $7.72 – $15.41
1kg Apples: $2.84 – $6.61
1kg White Rice: $2.20 – $4.41
This is how restaurants and food prices compare with other major cities in the world.
London restaurants are 17.41% more expensive and groceries are 19.97% cheaper than Denver.
New York restaurants are 23.34% more expensive and groceries are 25.30% more expensive than Denver
Los Angeles restaurants are 3.73% more expensive and groceries are 0.68% more expensive than Denver.
Toronto restaurants are 16.52% cheaper and groceries are 18.84% cheaper than Denver.
Sydney restaurants are 6.98% cheaper and groceries are 4.99% higher than Denver.
Paris restaurants are 2.83% more expensive and groceries are 3.36% cheaper than Denver.
Dubai restaurants are 18.51% cheaper and groceries are 21.19% cheaper than Denver.
Source: Numbeo
Bonus Tips for Cheaper Food, Restaurants and Groceries
4. Denver Alcohol Costs
Denver has everything on the alcohol front, from sophisticated cocktail lounges to secret speakeasies to wine bars and craft breweries.
Pint (0.5L) domestic beer at a restaurant/pub: $4.00 – $5.00
Bottle of imported beer at a restaurant/pub: $5.00 – $7.00
Pint (0.5L) domestic beer at a supermarket: $1.50 – $3.00
Bottle of imported beer at a supermarket: $1.50 – $3.75
Mid-range bottle of wine at a supermarket: $12.00 – $20.00
How to drink for less in Denver
Keep an eye on the local papers and websites for specials over weekends and public holidays.
Go on the Denver Beer Trail and discover new breweries, brew pubs and tap rooms who often offer cheap tastings. Have a look at the following sites to see which bar or club suits your mood, pocket and palate – Four Square, Thrillist, Front Porch Denver, Denver: The Drink Nation and Westword.
5. Denver Transportation Fares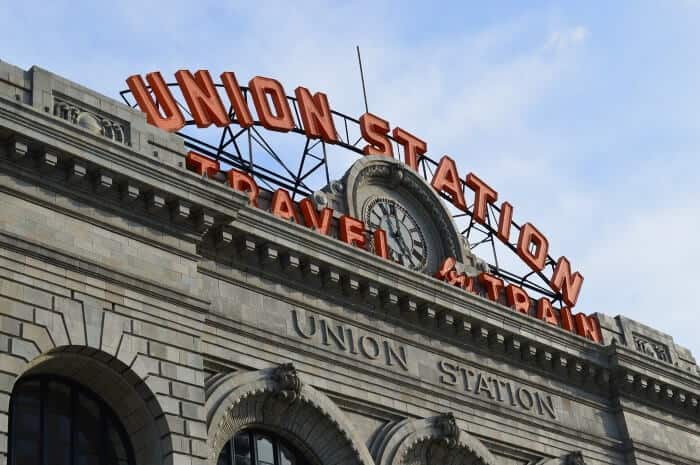 Denver has a good public transport system comprising bus and rail and it's run by RTD. There are 1,000 busses which service 125 bus routes throughout the metro. The rail system is a quick and efficient alternative to the bus.
Here are some example ticket costs.
Adult Single – $2.60
One day ticket – $5.20
Monthly season ticket, unlimited – $99
How to save money on public transport
Buy a 12-month Value Pass for $1,089
Buy a bike. Denver has lots of dedicated cycle lanes and you can use your bike at the weekend to explore the many trails in the area.
If you live relatively close to where you work, you can walk to work.
6. Cost of Internet in Denver
7. Cost of Clothing, Personal Items, Gym and Leisure
The coldest month in Denver is January, where the average daily temperature is 29.7°F (-1.3°C). July is the hottest month with an average daily temperature of 73.6°F (23.1°C). The wettest month is May with an average 110mm of rain.
Here are some clothing prices, together with other useful prices.
Pair of Jeans: $32 – $60
Summer Dress: $20 – $40
Running Shoes (Trainers): $54 – $99
Business Shoes: $75 – $120
Short Doctor's visit (15 mins): $95
Deodorant: $2.82
Shampoo: $4.72
Toilet Paper (4 rolls): $3.11
Gym membership: $22 -$75 per month
Movie (cinema) ticket: $9 – $12.90
Source: Numbeo and Expatistan
8. Cost of Owning a Car and Driving a Car in Denver
Most people in Denver own a car so the roads can become grid locked during rush hour.
If you're moving to Denver from within the US, you'll be able to keep your license but need to update your address to your new one.
You can drive on a foreign license for up to 12 months as a tourist but after that you will need to get an American license. If you are working or studying in the US, you can drive on your foreign license for 30 days. If you want to exchange your foreign driver's license you have to follow the process here.
Here are some other sample costs of owning and operating a car in Denver:
Volkswagen Golf:$22,809
1 litre (¼ gallon) of gas (petrol):$0.57
Other fees (if any): The average cost of state and local taxes, license, title and registration fees is $665 per annum
Source: Expatistan, AAA Study
Ways to save money driving in Denver
Need your car/vehicle moved to Denver? Then read our guide to: Car Transport & Vehicle Shipping
9. Taxes in Denver
No matter where you live in Colorado, you will pay state and federal taxes. To learn more about the different taxes in the States go to Immihelp and USA taxes.
Sales Tax in Denver is 7.65% and is added to most goods and services. Generally, the price you see on an item does not include sales tax.
If you own your home, you will be subject to property tax based on the area in which you live and the size of the property you live in. Learn more about property tax in Denver at Property Tax.
Finally, if you decide to buy an apartment or house in Denver you'll have to pay real estate transfer tax.
10. Flight Costs from Denver
If you do make the move to Denver, here's approximately how much it will cost to fly to other major world cities based on lowest, one-way fares from Skyscanner as of early 2017:
London: $315
New York: $89
Los Angeles: $43
Toronto: $181
Vancouver: $98
Dubai: $552
Sydney: $546
Melbourne: $623
Cape Town: $756
Hong Kong: $414
Other Tips on Moving to Denver
The costs and pricing above should give you a good idea of the cost of living in Denver but perhaps the following extra tips will make your move go smoothly.
11. Moving to Denver Alone
Moving anywhere can be a lonely experience, but moving to a new city can be especially daunting. Here are a few tips to help you relocate to and settle in the Mile-High City.
Meetups: There are many Meetup groups to choose from. You will definitely find something to join which will help you to settle in. As you can imagine, there are many groups which enjoy various outdoor activities plus wide variety of other interests.
Attend local events: There's always lots going on in Denver. Have a look at Tripadvisor, Travel US, Airbnb, Thrillist and Travel Channel.
12. Moving to Denver with a Family
Denver has a lot to offer families; especially those families that enjoy the great outdoors.
New parents (or parents to be): There are free and paid antenatal classes and courses. Have a look at Cherry Creek Club and The Mamahood.
Live in a family friendly area: Highlands is a great, if expensive, area for families. It has excellent schools and a low crime rate. Washington Park is another area which is good for families. As its name suggests, it sits on a park with various recreational activities to keep the kids happy. Cherry Creek has larger, older family friendly homes and is close to shops and schools. Stapleton/Lowry Field is a new development with excellent schools which was built on the old airfield. Country Club is another area suitable for families.
Find things to do with the kids: Denver is a great place to bring up kids. Have a look at the following sites to be inspired – Denver, Kids Out and About, Colorado and Family Days Out.
13. Moving to Denver for Work
People move to Denver for jobs, the winter sports and possibly, the vast selection of beer. While it is possible to move without a job, it makes sense to ensure there are jobs in your field before you make the move.
The main areas of employment in Denver are technology, telecommunications, travel and tourism. The metropolitan area of Denver was ranked fourth on the Forbes list of Best Places for Businesses and Careers in 2014.
Here are a few things to consider when moving for work:
Salary: Salaries vary enormously depending which industry you are in. The costs we outlined above should give you a rough idea, how much more you'll want to be making to make the move worthwhile. You can also check salary ranges on sites such as Glassdoor and Payscale.
How to find work: If you want to have a job lined up before you move to Denver, but aren't sure where to begin, the following sites are good places to start:Monster, Indeed, Snagajob, Craigslist and Career Builder. You may also want to google recruiters in your industry, as they can often help land you some initial interviews as well.
14. Moving to Denver from Australia
Denver has a number of Australians living and working in the city, if you are thinking of joining them, here are a couple of things to consider.
Size comparison: If you compare the population size of Denver with a city in Australia, then the closest would be the Gold Coast.
Join expat groups: There are a number of expat groups enabling you to meet fellow Aussies. Try Internations, Facebook and Meetup.
15. Moving to Denver from Canada
There are a large number of Canadians living and working in Denver. If you're considering making the move from Canada here are a few things to consider.
Size:If you compare the population size of Denver with a city in Canada, the nearest would be Hamilton, Ontario.
Expat groups: Meeting up with fellow Canadians helps the moving process. Link up through sites such as to Internations, Canada/Colorado and Meetup.
16. Moving to Denver from the United Kingdom
Denver attracts a lot of people from the UK. The variety of beers is definitely a draw card.
Size: If you look at the population size of Denver and compare it with a city in the UK, you would be look at a city a little smaller than Liverpool.
Expat groups: If you want to get together with others from the UK then go to Meetup, Internations and Facebook.
Hopefully, the tips and costs above are helpful. If want to get started pricing out how much it will cost you to move to Denver you can start by comparing moving quotes here.
Guides to moving and living in other American cities