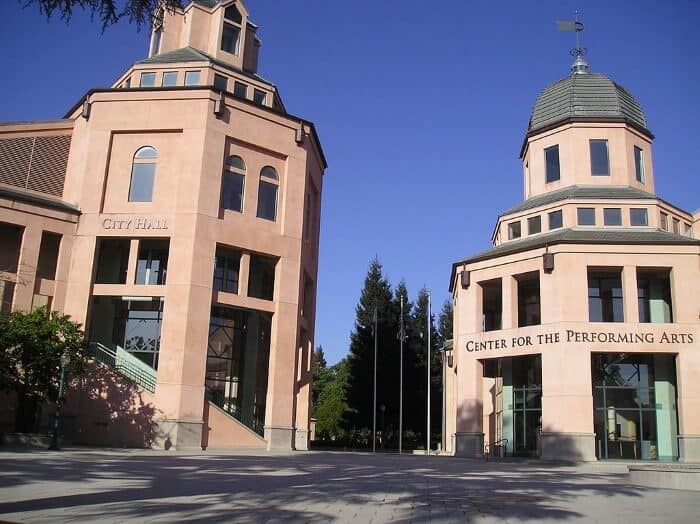 Mountain View was named because of its bird's eye view of the Santa Cruz Mountains. It's most famous for being home to Google headquarters, Googleplex.
Google provides city-wide free wi-fi for everyone in the area. Microsoft, Symantec, Intuit and LinkedIn offices also have large office complexes in the city.
If you are considering moving to Mountain View, the various costs listed below will help you make an informed decision on what costs are involved when moving and living in this city in Silicon Valley.
Quick Mountain View Facts:
Population: 77,846 (2017 estimate).
Official Language: English (de facto) with over 100 languages being spoken in the area, including Spanish, Chinese (Mandarin and Cantonese), Vietnamese, Tagalog, Hindi and Korean.
GDP Per Capita: $71,857 USD (2017 estimate)
Google: Google employs almost 10% of Mountain View's population and owns over 10% of taxable property there.
Currency: US Dollar (US$). As of early 2017, £1 = $1.25, €1 = $1.08, $1 CAD = $0.75, $1 AUD = $0.77
1. Moving and Shipping Costs to Mountain View
Below are some sample container shipping costs to Mountain View from other major world cities. Just keep in mind they only reflect the shipping portion of the cost and not the full moving costs.
Source: WorldFreightRates.com
You can save money by comparing moving companies using our moving quote form above.
2. Mountain View Housing Costs
Property in Mountain View is expensive but salaries are generally high.
Monthly Rental Prices in Mountain View
1 bedroom flat (apartment) in City Centre: $2,200+
1 bedroom flat outside the City Centre: $1,800+
3 bedroom flat in City Centre: $3,500+
3 bedroom flat outside the City Centre: $3,000+
Mountain View Home Purchase Prices
Price per square metre (10.7 square feet) to buy in City Centre: $6,603.66
Price per square metre (10.7 square feet) to buy outside City: $4,419.91
Mountain View Housing Cost Comparison
This is how rents in Mountain View compare with other cities around the globe.
London is 21.32% cheaper
New York 13.09% more expensive
Los Angeles is 24.96% cheaper
Toronto is 54.89% cheaper
Sydney is 27.08% cheaper
Paris is 52.81% cheaper
Dubai is 19.23% cheaper
Source: Numbeo
How to Save on Housing Costs
Share an apartment or house: Have a look at the following sites: Easyroommate, Kangaroom, Recycler, Metro Active, Craigslist and Roommates.
Different areas – different prices. Mountain View is a city which loves the outdoors. It's great for cycling, running, hiking and sports. Old Mountain View is one area which is affordable and is close to public transport. It has a good range of shops and excellent restaurants. Many people love Cuesta Park with its classic older homes. Blossom Valley is also a favourite. Rex Manor is filled with large, old style homes, with prices to match.
3. Mountain View Food, Grocery and Restaurant Costs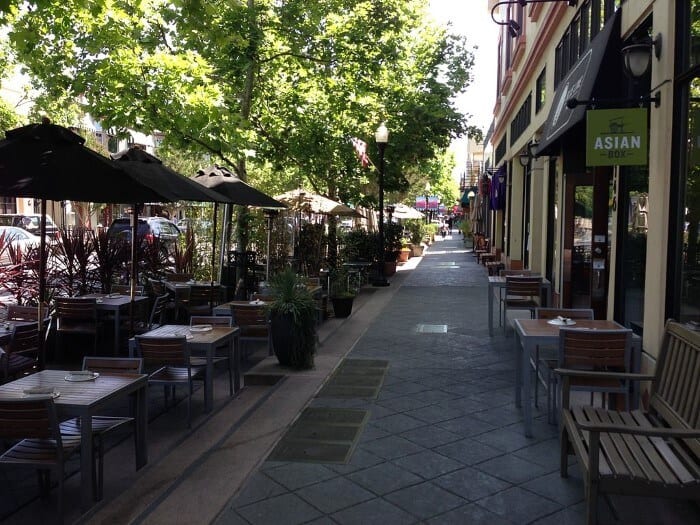 Photo by Runner1928
Mountain View has a European feel to it and this is reflected in the restaurants and food. However, there are still many other nationalities represented on the food front.
Inexpensive Restaurant:  $12 – $15
Takeout Coffee: $3.00 – $5.00
Bottle of Coke:  $1.50 – $2
1L of milk:  $0.79 – $1.19
Loaf of Bread:  $2.20 – $4.41
12 Eggs:  $3.00 – $4.00
1kg Chicken: $8.80 – $11.02
1kg Beef:  $7.69 – $19.84
1kg Apples: $2.20 – $6.61
1kg White Rice: $5.51 – $8.82
This is how restaurants and food prices compare with other major cities in the world.
London restaurants are 17.46% more expensive and groceries are 29.20% cheaper than Mountain View.
New York restaurants are 26.49% more expensive and groceries are 14.37% more expensive than Mountain View.
Los Angeles restaurants are 6.38% more expensive and groceries are 11.19% cheaper than Mountain View.
Toronto restaurants are 13.94% cheaper and groceries are 26.02% cheaper than Mountain View.
Sydney restaurants are 4.89% cheaper and groceries are 4.82% cheaper than Mountain View.
Paris restaurants are 4.49% more expensive and groceries are 12.47% cheaper than Mountain View.
Dubai restaurants are 16.42% cheaper and groceries are 30.20% cheaper than Mountain View.
Source: Numbeo
Bonus Tips for Cheaper Food, Restaurants and Groceries
Know your supermarkets: Mountain View has a large number of independently owned grocery stores and ethnic stores as well as the usual supermarket chains. There are some great farmers' markets and shops which sell health foods and organic foods. Popular supermarkets are Whole Foods Market, Trader Joe's, The Milk Pail Market (gourmet supermarket) and Ava's.
Find Cheap Eats: With a little bit of effort you can find places which offer excellent food at affordable prices. Have a look at TripAdvisor, Zomato, Yelp, and City Mug.
4. Mountain View Alcohol Costs
Mountain View has a variety of bars and nightclubs to entertain residents and business people alike.
Pint (0.5L) domestic beer at a restaurant/pub: $4.00 – $6.00
Bottle of imported beer at a restaurant/pub: $5.00 – $8.00
Pint (0.5L) domestic beer at a supermarket: $1.00- $2.00
Bottle of imported beer at a supermarket: $2.00 – $6.00
Mid-range bottle of wine at a supermarket: $10.00 – $14.00
How to drink for less in Mountain View
Keep an eye on the local papers and websites for specials over weekends and public holidays.
Like everywhere in Silicon Valley, there are lots of bars and clubs to choose from for drinks. Have a look at the following sites to see which ones suit your mood – Yelp, MV Voice and Drank Bank.
5. Mountain View Transportation Fares
Silicon Valley has an excellent transport system for moving around and in and out of the valley. Mountain View doesn't have the best public transport system. It has been described as being like a bicycle wheel, where you need to get to the hub before going to another destination.
So basically you need to go to Downtown Mountain View Transit Centre to begin most journeys. However, looking at the Silicon Valley region,  the Santa Clara Valley Transportation Authority runs buses and light rails throughout San Jose, Santa Clara and Sunnyvale.
The Caltrain takes you around San Jose and into San Francisco. The Acetrain takes passengers out of San Jose towards Livermore and Stockton and has stations in San Jose, Santa Clara and Great America. Bay Area Rapid Transit moves thousands of people every day around Silicon Valley and San Francisco.
Here are some example ticket costs.
Adult Single – $5.50
One day ticket – $8.00
Monthly season ticket, unlimited – $71.50
How to save money on public transport
Buy a Clipper Card to get the best daily, monthly and annual deals.
Buy a bike. Depending on where you live and work, cycling around the city may be an option. There is also a bike sharing system where you can hire a bike at the Downtown Transit Centre.
If you live relatively close to where you work, you can walk to work.
6. Cost of Internet in Mountain View
As mentioned above, Wi-Fi is free in Mountain View, courtesy of Google.
7. Cost of Clothing, Personal Items, Gym and Leisure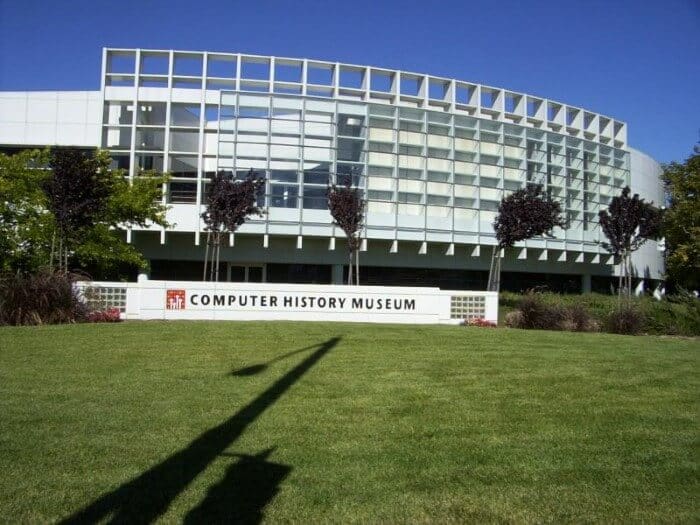 Photo by Dzou
Mountain View has a wonderful climate. The average summer high in August of 79°F (26°C), with temperatures sometimes reaching 104°F (40°C). January is the coldest month with average highs of 59°F (15°C). The wettest month is February with an average rainfall of 3 inches (78.7mm).
Here are some clothing prices, together with other useful prices.
Pair of Jeans: $30 – $50
Summer Dress: $40 – $50
Running Shoes (Trainers): $50 – $88
Business Shoes: $75 – $120
Short Doctor's visit (15 mins): $147
Deodorant: $4.42
Shampoo: $5.30
Toilet Paper (4 rolls): $3.00
Gym membership: $40 – $60 per month
Movie (cinema) ticket: $11-$15
Source: Numbeo and Expatistan
8. Cost of Owning a Car and Driving a Car in Mountain View
Traffic in Mountain View is not as bad as other US cities but rush hour can still be trying.
If you're moving to Mountain View from within the US, you'll be able to keep your license but need to update your address to your new one.
You can drive on a foreign license for up to 12 months as a tourist but after that you will need to get an American license. If you are working or studying in the US, you can drive on your foreign license for 30 days. If you want to exchange your foreign driver's license you have to follow the process here.
Here are some other sample costs of owning and operating a car in Mountain View:
Volkswagen Golf:$20,000
1 litre (¼ gallon) of gas (petrol):$0.79
Other fees (if any): The average cost of state and local taxes, license, title and registration fees is $665 per annum
Source: Expatistan, AAA Study
Ways to save money driving in Mountain View
Need your car/vehicle moved to Mountain View? Then read our guide to: Car Transport & Vehicle Shipping
9. Taxes in Mountain View
No matter where you live in California you will pay both state and federal taxes. To learn more about the different taxes in the States go to Immihelp and USA taxes.
Sales Tax in Mountain View is 8.7% and is added to most goods and services. Generally, the price you see on an item does not include sales tax.
If you own your home, you will be subject to property tax based on the area in which you live and the size of the property you live in. Learn more about property tax in Mountain View at Property Tax.
Finally, if you decide to buy an apartment, condo or house in Mountain View you'll have to pay real estate transfer tax.
10. Flight Costs from Mountain View
If you do make the move to Mountain View, here's approximately how much it will cost to fly to other major world cities based on lowest, one-way fares from Skyscanner as of early 2017:
London: $346
Los Angeles: $59
New York: $125
Toronto: $163
Vancouver: $89
Dubai: $626
Sydney: $590
Melbourne: $582
Cape Town: $942
Hong Kong: $389
Other Tips on Moving to Mountain View
The costs and pricing above should give you a good idea of the cost of living in Mountain View but perhaps the following extra tips will make your move go smoothly.
11. Moving to Mountain View Alone
Relocating anywhere can be a lonely experience, but moving to a new city can be rather daunting. Here are a few tips about settling in Mountain View.
Meetups: There are many Meetup groups to choose from. You will definitely find something to join which will help you to settle in. Try Silicon Valley Entrepreneurs and Startups, Sleep Late and Hike or 2016 Babies.
Attend local events:There's always lots going on in Mountain View. Have a look at Event Brite, Yelp, Patch and TripAdvisor.
12. Moving to Mountain View with a Family
Mountain View is a place for families who enjoy the outdoors. There are parks, mountains, the beach and many other places which families will enjoy.
New parents (or parents to be):There are free and paid antenatal classes and courses. Have a look at PAMF and HFPA.
Live in a family friendly area: Old Mountain View is considered a family friendly area for small families. Cuesta Park is a more upmarket area and is full of detached family-type homes. This area is known for its good schools. You'll find the further south you go in this area, the more expensive the houses become. Waverley Park is another area which is good for families and start just a few blocks away from excellent schools.
Find things to do with the kids: Mountain View is healthy place for kids to live. Have a look at the following sites to be inspired – Trip Buzz, Trekaroo, Mountain View and Quora.
13. Moving to Mountain View for Work
People usually move to Mountain View for job opportunities in the IT field.  While it is possible to move without a job, it makes sense to ensure there are jobs in your field before you make the move.
Here are a few things to consider when moving for work:
Salary: Salaries vary depending which industry you are in. The costs we outlined above should give you a rough idea, how much more you'll want to be making to make the move worthwhile. You can also check salary ranges on sites such as Glassdoor and Payscale.
How to find work: If you want to have a job lined up before you move to Mountain View, but aren't sure where to begin, the following sites are good places to start:Monster, Indeed, Snagajob and Craigslist. You may also want to google recruiters in your industry, as they can often help land you some initial interviews as well.
14. Moving to Mountain View from Australia
There's a large group of Australians living in Silicon Valley. It is estimated that there are 20,000 software engineers before you begin on other skills, so if you are thinking of joining them, here are a few things to consider.
Size comparison: If you compare the population size of Mountain View with a city in Australia, then the closest would be Rockhampton in Queensland. The whole of Silicon Valley is comparable to a slightest bigger version of Brisbane.
Join expat groups: There are a number of expat groups enabling you to meet fellow Aussies. Try Internations and Meetup.
15. Moving to Mountain View from Canada
There are over 350,000 Canadians living and working in Silicon Valley so if you're considering making the move from Canada to Mountain View, here are a few things to consider.
Size: Peterborough, Ontario is the city nearest in size to Mountain View. However, if you look at the population size of the whole of Silicon Valley, the nearest sized city in Canada would be somewhere between Vancouver and Montreal.
Expat groups: Meeting up with fellow Canadians helps the moving process. Link up through sites such as Internations and Meetup.
16. Moving to Mountain View from the United Kingdom
Mountain View attracts many people from the UK, mainly for the high tech industry.
Size: If you look at the size of the population of Mountain View, it is equivalent to the size of Chester in the UK. If you compare the population size of the whole of Silicon Valley with the size of a city in the UK, then think of a city three times the size of Birmingham.
Expat groups: If you want to get together with others from the UK who are experiencing the sun and surf, then go to Internations and Meetup.
Hopefully, the tips and costs above are helpful. If want to get started pricing out how much it will cost you to move to Mountain View you can start by comparing moving quotes here.
Guides to other cities in the Bay Area & Silicon Valley
Guides to other cities in California
Guides to moving and living in other American cities