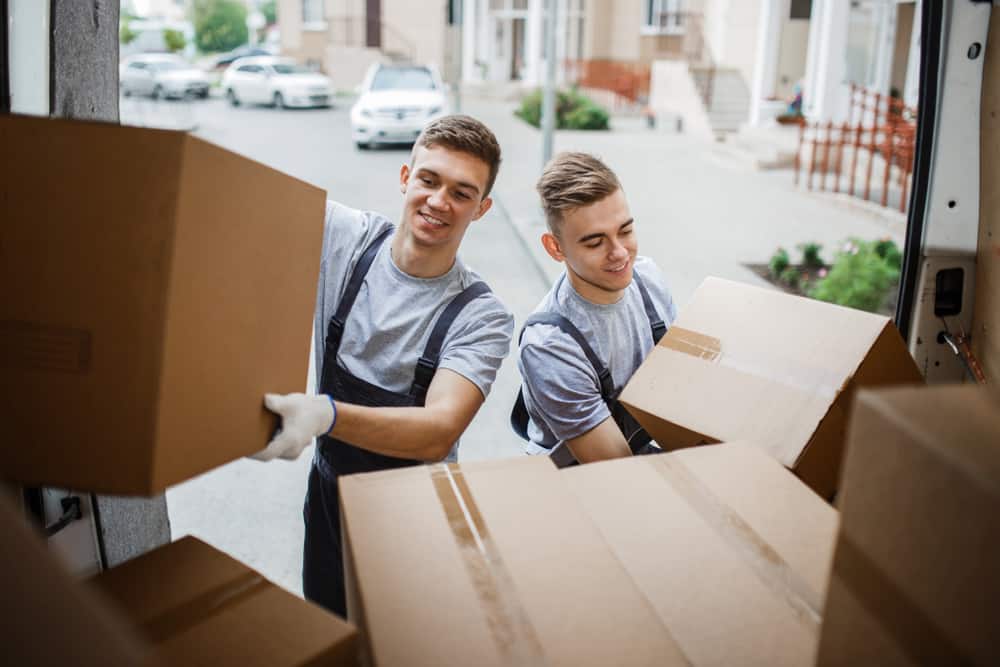 When it comes to relocating, one major consideration is the cost of hiring house movers. In this article, we explore the various factors that influence these expenses and offer insights into how you can optimise your moving budget effectively.
Our guide will be covering:
How much movers cost

What affects the cost of movers

How to save money on movers

What's involved in hiring movers

How to know if hiring movers is the best choice for you

How to find and hire movers
To explore your options and find the best solution for you and your house move, keep reading.
How Much Does Hiring Movers Cost?
If you want to take a traditional route and have professional movers on hand to help with your house move, these are the sort of costs you're likely to encounter during your search.
| Distance of Move | Cost per Bedroom | Total Cost per 3-Bed House |
| --- | --- | --- |
| 250 miles | $1,000 to $3,000 | $4,800 to $5,500 |
| 250 to 1,000 miles | $1,250 to $4,000 | $6,000 to $6,500 |
| 1,000 to 2,500+ miles | $1,650 to $5,000 | $8,500 to $9,000 |
As you're paying for a full-service move, your prices will be substantially higher than those encountered if you simply hire a van and take care of the packing and loading/unloading yourself. For a short journey distance of up to 250 miles, you are likely to pay between $4,800 to $5,500 for the move – the more rooms your house has, and the higher the distance required, the more expensive your quotes will be.
For example, a large cross-country move of over 1,000 miles can command costs of between $8,500 to $9,000 for a standard three-bed house. If you have any particularly tricky items to pack – such as fully-build solid wood furniture or a piano – expect your costs to rise further.
Thank you. You will hear from us soon.
Wait!
an agent is calling you now from
+1 (800) 680-6439
Please pick up your phone to be connected with an agent to give you a personalized quote based on your move details.
What Affects the Cost of Hiring Movers?
Here are some general factors that affect the cost of hiring movers in the US. It's important to request quotes from different moving companies and discuss these variables to get an accurate estimate for your specific move.
Distance of the Move
The distance between your current and new home is a significant cost factor. Longer distances generally lead to higher costs due to increased fuel, labor, and travel time for the movers – it's also a long period for that vehicle to be unavailable to other hirers, which influences the price, too.
Size and Weight
The volume and weight of your belongings influence the cost. More items and heavier loads require larger trucks and more manpower, affecting the overall price.
Services Needed
The specific services you require, such as packing, loading, unloading, and assembly, impact the cost. Additional services beyond basic loading and transport contribute to higher prices, as well as any special needs like climate-controlled storage for wooden or antique furniture.
Time of Year
The timing of your move can affect costs. Peak moving seasons, typically during summer months, can lead to higher prices due to increased demand for moving services.
Special Items or Requirements
If you have valuable or fragile items that require extra care, such as antiques or pianos, or if there are challenging circumstances like narrow staircases or limited parking, additional fees might apply.
How Can I Save Money on Hiring Movers?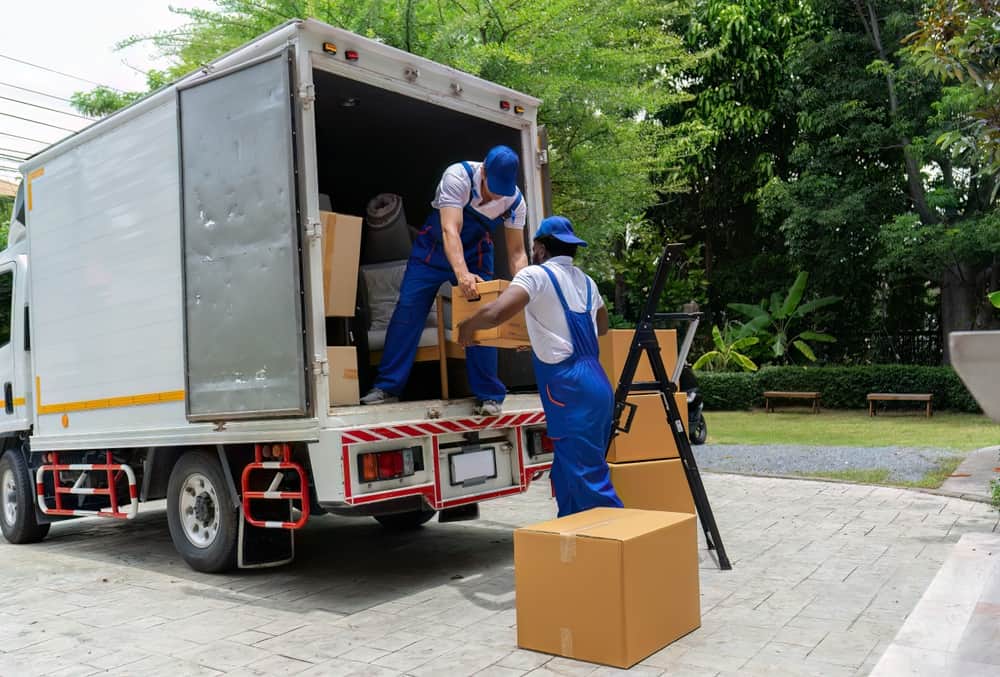 Compare Free Moving Quotes
Thank you. You will hear from us soon.
Wait!
an agent is calling you now from
+1 (800) 680-6439
Please pick up your phone to be connected with an agent to give you a personalized quote based on your move details.
The way to save money when moving house in the US is to be strategic and methodical with your planning and where you use your money.
For instance, don't just opt for the first company you come across. Get quotes from multiple moving companies to compare their rates and services, as this will help you to identify the most cost-effective option.
Being strategic can pay off where it's available to you. If possible, schedule your move during off-peak seasons, typically during fall or winter, when demand for moving services is lower, as movers might offer discounts during these times.
Before the move, go through your belongings and get rid of items you no longer need. A lighter load can result in lower moving costs. Similarly, if you're able, choosing to pack your belongings yourself can save money on packing services offered by the moving company.
If it's suitable, you should consider opting for basic services like loading, transporting, and unloading, as additional services such as packing and unpacking tend to come with extra charges.
Finally, be sure to ask about discounts. It doesn't hurt to inquire about any available discounts or promotions from the moving company, as they might offer special rates for certain groups or circumstances.
What's Involved in Hiring Movers?
You should start planning your move well in advance to ensure a smooth process and create a detailed moving checklist to keep track of tasks and deadlines. As soon as possible, research and choose a moving date that fits your schedule and budget.
At this point, you'll need to decide whether you'll hire professional movers or opt for a DIY move. If hiring professionals, research and request quotes from reputable moving companies; for DIY moves, arrange for a rental truck or other transportation options.
It's a good idea to declutter your belongings by sorting items into categories to keep, donate, or discard before you start packing to avoid packing more than you need to. 
Once you've booked in, be sure to confirm the details with your chosen moving company or finalize your DIY moving arrangements, and double-check your moving checklist to ensure everything is in order.
Is a Moving Company the Best Choice for My Home?
There are so many moving options available – it can be hard to see the wood for the trees at some points during the process. Let's take a closer look at the advantages and disadvantages of using a moving company when it comes to your move.
| Advantages of Hiring a Moving Company | Disadvantages of Hiring a Moving Company |
| --- | --- |
| Ease of move - your movers will do all the heavy lifting for you | Cost - hiring movers will be more expensive than doing it yourself |
| Insurance - your movers will carry insurance to keep your goods safe while on the road | Timelines - you will be tied down to the moving company's availability which may not line up exactly with your own needs |
| Experienced - movers are likely to be able to carry out the work far quicker than you could | Cancellations - Movers may need to reschedule or cancel your booking, which can leave you without a service on your moving day |
The main advantages are the ease of moving it affords you – unlike DIY or moving container options, you won't have to lift a finger when it comes to loading and unloading your goods – you can even use the mover's packing service to save you even more time and effort.
The disadvantages are that your belongings are likely to be loaded and unloaded on the same day, which can be daunting if you have a high volume of items. You'll also have less control over your timelines as they'll largely be dictated by the moving company.
How Do I Find and Hire a Moving Company?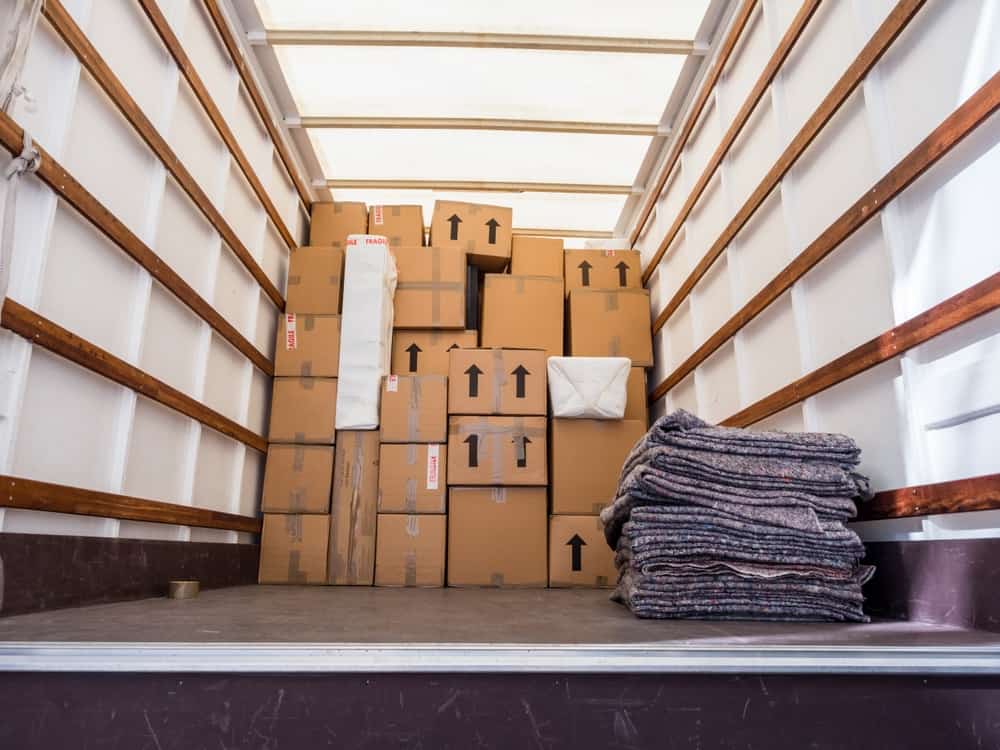 Compare Free Moving Quotes
Thank you. You will hear from us soon.
Wait!
an agent is calling you now from
+1 (800) 680-6439
Please pick up your phone to be connected with an agent to give you a personalized quote based on your move details.
Begin by researching moving companies in your area. Ask friends, family, or colleagues for recommendations – also, online review platforms can also provide insights into the experiences of previous customers.
Once you've found your companies, contact several of them to get quotes. Provide details about your move, including the distance, the size of your belongings, and any additional services you need.
Now it's time to compare the services offered by different companies along with their costs. Make sure you understand what's included in the quote and any additional charges.
When you've decided on a moving company, book their services well in advance. Summer months are usually busy for movers, so booking early can secure your desired moving date.
Carefully read and understand the terms and conditions of the contract before signing. Be sure to confirm the arrival time, discuss parking arrangements, and provide any necessary information they may need.
Ensuring the Professional Is the Right Fit
When you're researching your potential companies, it's important to ensure that the ones you're considering are licensed and insured. You can check their credentials on the Federal Motor Carrier Safety Administration (FMCSA) website.
Before booking, be sure to read reviews from past clients to gauge the quality of their services. You'll also want to check that they carry the necessary insurance to keep your possessions covered while on the road with them.
If there are any aspects of the contract you're unsure about, be sure to ask about them before signing so that you don't get bound into a contract you don't understand.
Final Checklist
When the time comes to move house, you want everything to run as smoothly as possible. Make sure to follow our final checklist to ensure everything is taken care of during your move.
Consider what service is best for you – do you have a lot of belongings? Would you benefit from having a dedicated team packing and loading your goods, or would you be happy doing this yourself?
Search available services, being sure to collect quotes as you go
Compare quotes to one another, and ask any follow-up questions where needed
Check that the company has insurance for your belongings, and look at their online reviews
Understand what's involved in the hire and any add-ons that may bump up your price
Book in and double-check the date!
Compare Free Moving Quotes
Thank you. You will hear from us soon.
Wait!
an agent is calling you now from
+1 (800) 680-6439
Please pick up your phone to be connected with an agent to give you a personalized quote based on your move details.
Frequently Asked Questions
How Far in Advance Should I Start Planning My Move?
It's recommended to start planning your move at least 2 to 3 months before your desired moving date. This allows ample time for research, packing, and booking moving services.
Should I Hire Professional Movers or Do a DIY Move?
The choice depends on your preferences, budget, and the complexity of your move. Professional movers offer convenience and expertise, while a DIY move can be more cost-effective if you're willing to handle the logistics yourself.
How Can I Estimate the Cost of My Move?
To estimate the cost, consider factors like the distance of the move, the size of your belongings, additional services needed, and timing. Obtain quotes from multiple moving companies to get a more accurate idea.
What Should I Pack First When Moving?
Start with items you use less frequently, such as seasonal items or belongings from storage areas. Gradually work your way to daily essentials, ensuring you leave out necessities until the last minute.
Do I Need to Change My Address Before Moving?
Yes, it's crucial to change your address with the United States Postal Service (USPS) before moving. This ensures your mail is forwarded to your new address. Additionally, update your address with important organizations and contacts.
Also see:
Compare Free Moving Quotes
Thank you. You will hear from us soon.
Wait!
an agent is calling you now from
+1 (800) 680-6439
Please pick up your phone to be connected with an agent to give you a personalized quote based on your move details.