Both Western Union and CurrencyTransfer are popular international money transfer services. But which one is better?
Below we compare them on their fees and reviews.
Fees
Western Union
CurrencyTransfer
Homepage
Transfer Fee
Based on the sender's location, transfer amount, and payment method. Usually, there's a fee that's as low as $0-$15, but some can be as high as $100 if sending to an exotic location or paying by credit card.
No fee
Average Exchange Rate Markup
1% – 5%
0.007
Minimum Transfer Amount
$1
£5,000 (or currency equivalent)
Maximum Transfer Amount
Depending on the sender's country:

$50,000 if identity verified
$3,000 if identity isn't verified

No limit
All information taken from each company's website, but have since changed.
Top Rated Money Transfer Service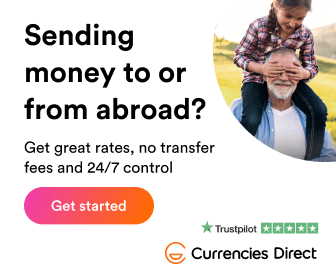 Currencies Direct are the top rated International Money Transfer Service on our list.
4.9 out of 5 on Trustpilot based on over 8,000 reviews
No transfer fees

Bank-beating rates

Award-winning service

Exclusive Amazon gift card offer for users of MoverDB.com
Reviews
Data taken from relevant websites at time of publication.
Features
Western Union
CurrencyTransfer
App Transfers
Yes
No
Online Transfers
Yes
Yes
Phone Transfers
Yes
No
In-person Transfers
Yes
No
Available Countries
200
170
Number of Currencies
130
28
Payment Methods
Bank account
Debit card
Credit card
Cash

Bank account
Receiving Methods
Online wallet
Bank account
Cash pickup
Home delivery

Bank account
Cash Pickup Option
Yes
No
Payments Flexibility
Web platform
Mobile app
Phone
In person

Web platform
Supported Languages
English, Spanish, French, Danish, Norwegian, Turkish, German, Italian, Russian, Swedish, Chinese, Dutch, Polish, Ukrainian, Portuguese, Japanese, and Finnish
English
Transfer Speed
Within minutes for cash or debit card transfers
1-3 days for transfers between bank accounts

1-4 days
Dedicated Dealer
No
Yes
Instant Custom Quote
Yes
Yes
Business Features
N/A
Spot contracts
Forwards contracts
Market orders
Batch payments
FX derivatives
Rate alerts
API integration

Debit Card
Western Union® Netspend® Prepaid Mastercard
None
Cancellation Policy
Cancellations are possible as long as the money hasn't been claimed by the recipient.
Booked currencies can be bought back from the selling provider with the costs falling on the customer
Suitability
Small money transfers
Large money transfers
Top Rated Money Transfer Service
Company Comparison
Western Union
CurrencyTransfer
Year Founded
1851
2015
Headquarters
Denver, CO, United States
London, UK
Other Office Locations
Brazil, Sweden, Australia, New Zealand, Poland, Austria, Canada, France, Germany, Italy, China, Japan, Malaysia, Malta, Singapore, Switzerland, South Korea, United Kingdom, etc.
Tel Aviv (Israel)
Annual Trading Volume
$300 billion
$500 million
Number of Employees
10500
23
Number of Clients
150 million
20000
Regulatory Institutions
State licensing in the USA
FINTRAC in Canada
FCA in the UK
AUSTRAC in Australia

FCA and HRMC in the UK
Awards
Digital Edge 25 Awards (2016)
Payments Innovation of the Year (2016)
Candidate Experience Award (Talent Board, 2017, 2018)
"Way to Go" Champion Award (Denver Regional Council of Governments, 2019)
Regional Partner Award (Education for Employment, 2019)
Humanitarian Logistics Award (American Logistics Aid Network, 2020)
Consumer Payments Innovation Award (FinTech Breakthrough Awards, 2021)

Top 9 Startups (Swift Innotribe Startup Challenge, 2014)
Presented at FinovateEurope – a FinTech-based conference (2014)

Data taken from company websites and other third-party sites. It was believed to be accurate at the time of publication but may have since changed.
Western Union Pros & Cons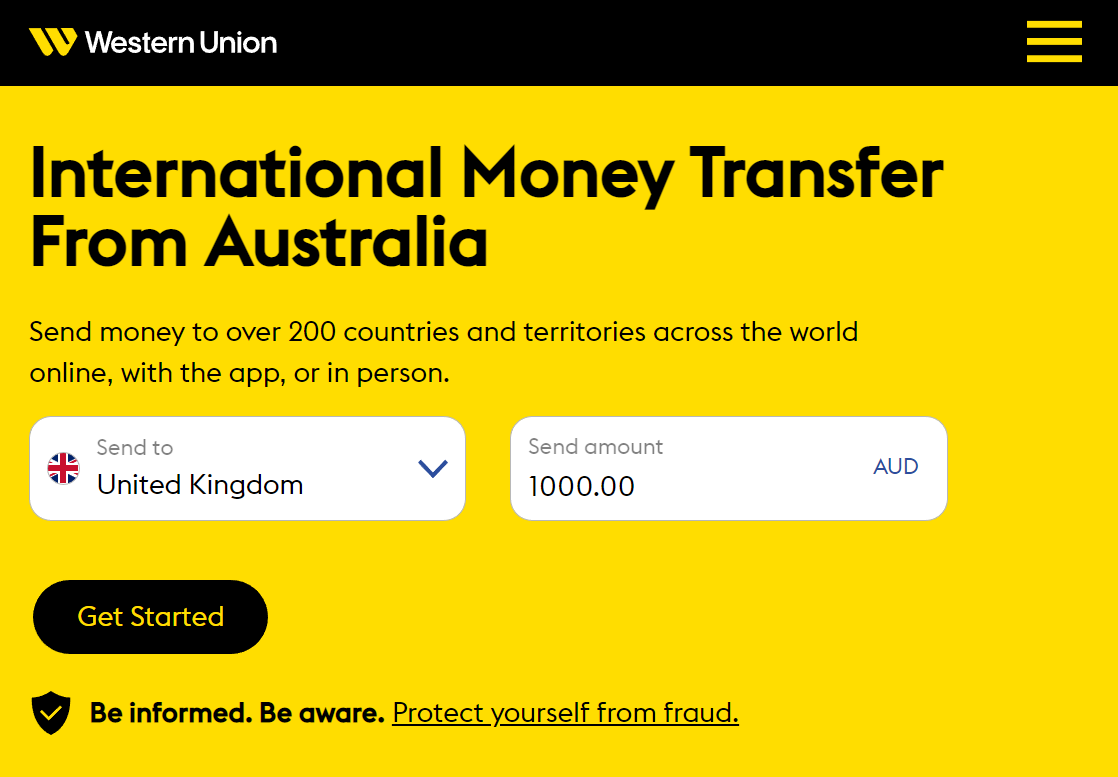 Western Union Pros
Diverse payment methods
Availability of cash pickup locations
High rating on Trustpilot
Excellent mobile application
An abundant industry experience
Comprehensive information repository
Exceptional convenience
Worldwide service reach
Robust currency handling
Rapid fund transfers
Fee and rate prediction tool
Beneficial rewards scheme
Western Union Cons
Not optimal for substantial money transfers
High transaction fees
High markups on exchange rates
Absence of hedging options for businesses
CurrencyTransfer Pros & Cons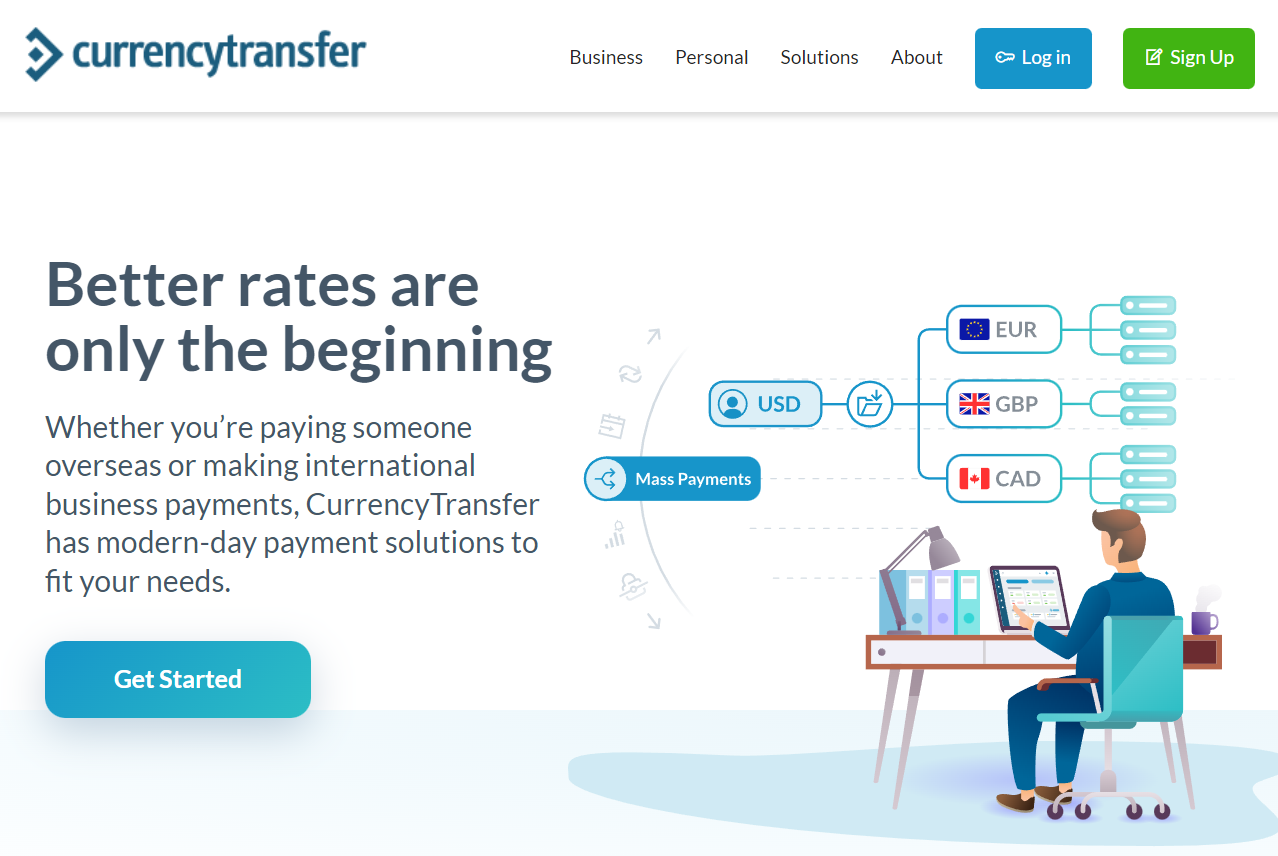 CurrencyTransfer Pros
Real-time personalized quotations
Excellent client support
Strong rating on Trustpilot
Zero fees on transfers
Attractive foreign exchange rates
Worldwide service availability
Wide range of options for businesses
Speedy transfer of funds
Notifications for exchange rate fluctuations
CurrencyTransfer Cons
Not suitable for small money transfers
High minimum transfer limit
No multi-language support
Limited payment options
No mobile app
Limited currency coverage
No local coverage
Top Rated Money Transfer Service
See More Comparisons:
Western Union vs WorldRemit
Western Union vs Send Payments
Western Union vs Instarem
Western Union vs Key Currency
Western Union vs VertoFX