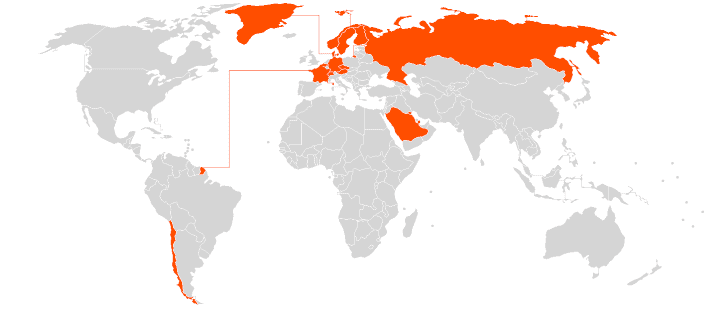 Map created by reddit user nahuelacevedopena
The map above shows which countries are deemed to be the least friendly according to expats who live in them.
The map is based of the results of the Expat Insider 2016 Survey, which:
offers an in-depth analysis of everyday expat life in more than 60 countries across the globe. More than 14,000 respondents representing 174 nationalities and 191 countries or territories took part and had their say on moving, living, and working abroad. 

In terms of the unfriendliness, the top 15 least friendly countries (from unfriendliest to "friendliest") are:
Russia
While some countries such as Saudi Arabia and Russia might not be too surprising, it's interesting to see that the majority are actually wealthy Western and Northern European countries.
This of course may be down to the expectations of expats who move to these countries, rather than the countries themselves being "unfriendly."
On the flip side, in case you're wondering, the top 15 friendliest countries are:
Taiwan
Uganda
Romania
Interestingly, despite Canada's reputation for being friendly it only clocks in at number 14 on the list.
Moreover, the other countries on the list tend to be a rather diverse mix, although skewing to slightly to Latin America. Also interesting to note that Oman is in the top 15 when nearby Kuwait and Saudi Arabia are ranked at the bottom.
Finally, remember no matter where you're moving, we can help you save money on container shipping costs and help you find the best international moving company.
What do you think of the countries listed above? Leave your comments below and help us spread this map by sharing it with your friends: