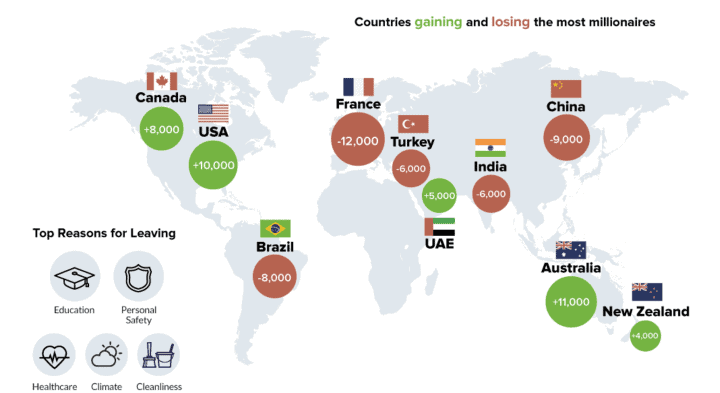 Map created by Visual Capitalist
The map above shows which countries gained and lost the most millionaires in 2016. Surprisingly, Australia was the winner with 11,000 millionaires moving down under and France was the big loser shedding 12,000 millionaires.
According to a report by New World Wealth, in 2016, there was a big increase in the total number of millionaires who decided to relocate from 64,000 to 82,000!
The top 5 countries gaining millionaires were:
Australia (+11,000)
United States (+10,000)
Canada (+8,000)
UAE (+5,000)
New Zealand (+4,000)
However, if you calculate the increase based as a share of the population rather than absolute numbers the top 5 look slightly different.
The UAE gained one millionaire per 1,156 people
New Zealand gained one millionaire per 1,192 people
Australia gained one millionaire per 2,216 people
Canada gained one millionaire per 4,394 people
The United States only gained one millionaire per 32,458 people
Top 5 countries losing millionaires were:
France (-12,000)
China (-9,000)
Brazil (-8,000)
India (-6,000)
Turkey (-6,000)
France's performance was especially dismal given its population. It lost one millionaire for every 5,583 people who live in the country, wheres India only lost one millionaire for every 218,345 people.
The following are the top 10 cities in the world for total millionaires according to World Atlas (total number in brackets):
Tokyo (461,000)
New York (389,000)
London (281,000)
Paris (219,000)
Frankfurt (217,000)
Beijing (213,000)
Osaka (190,000)
Hong Kong (187,000)
Shanghai (166,000)
Singapore (157,000)
You can see the full chart below: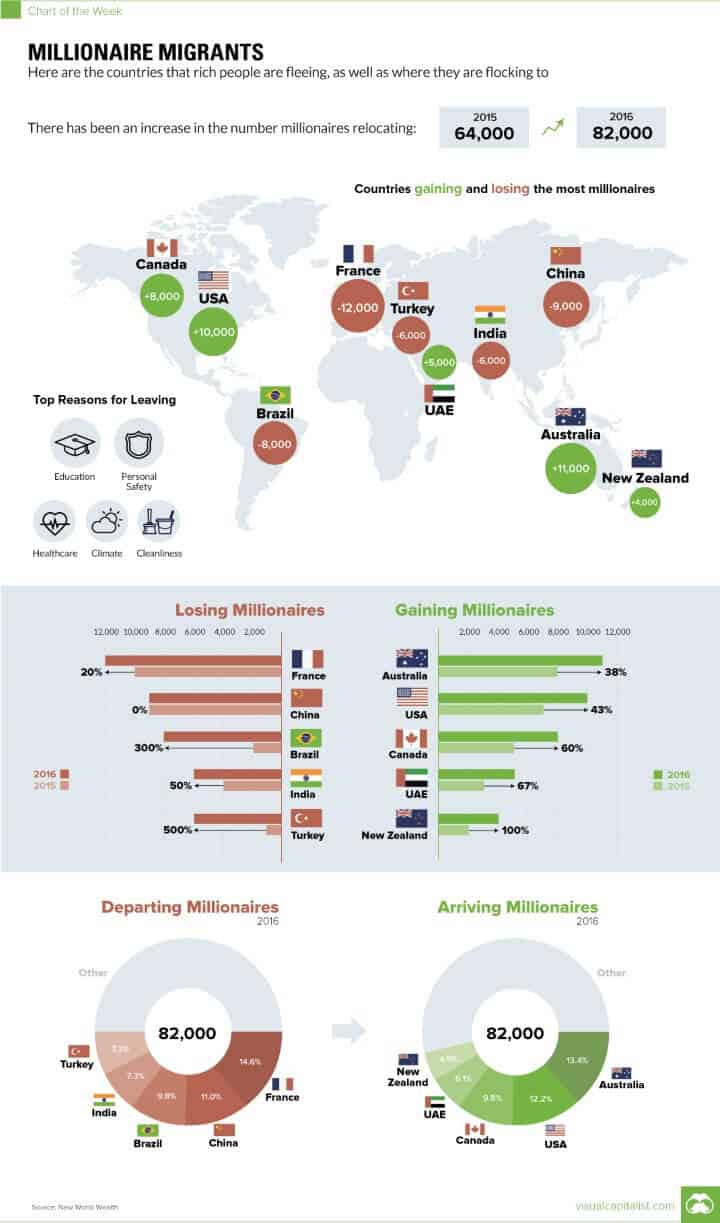 Enjoy this post? Please help us by sharing it: