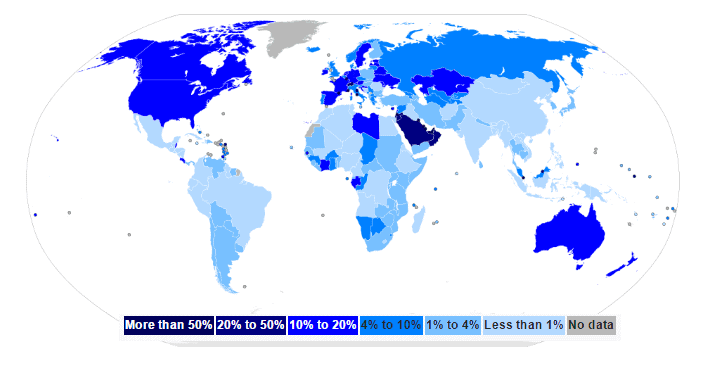 Map created by Stephen Bain via Wikimedia
The map above shows countries based on the percentage share of their population who are immigrants. As you can see the numbers vary widely by country.
Below we list the top 10 countries with the largest immigrant populations in terms of both relative and absolute numbers. The data comes from the UN's Trends in International migrant stock 2015.
Top 10 countries by relative share of the population made up of immigrants
In addition to the countries listed above, the following territories also have immigrant populations above 50%: American Samoa (71.2%), Caribbean Netherlands (65.9%), Falkland Islands (62.1%), US Virgin Islands (59.3%), Macau (58.8%), Isle of Man (52.0%), Channel Islands (51.0%).
Top 10 countries with the largest total number of immigrants
United States – 46,627,102 (14.3% of country total and 19.8% of world total)
Germany – 12,005,690 (14.9% of country total and 4.9% of world total)
Russia – 11,643,276 (7.7% of country total and 4.8% of global total)
Saudi Arabia – 9,060,433 (31.4% of country total and 3.9% of world total)
United Kingdom – 8,543,120 (11.3% of country total and 3.7% of world total)
United Arab Emirates – 7,826,981 (83.7% of country total and 3.4% of world total)
France – 7,784,418 (11.1% of county total and 3.1% of world total)
Canada – 7,284,069 (20.7% of country total and 3.1% of world total)
Australia – 6,763,663 (27.7% of county total and 2.8% of world total)
Spain – 5,852,953 (14% of country total and 2.8% of world total)
A few more interesting facts the data above reveals:
1 in 5 immigrants live in the United States
There are more immigrants living in the US than in the next four countries combined
Only the UAE appears in both lists
If birthright citizens in the US were counted as immigrants, then the total immigrant population would increase to 80-85 million
Surprised by the data? Help us by sharing it with a friend: