Both Revolut and Currencies Direct are popular international money transfer services. But which one is better?
Below we compare them on their fees and reviews.
Fees
Revolut
Currencies Direct
Homepage
Transfer Fee
No fee for transferring to other Revolut users
Card transfers: 0.7% (if you're in Europe), 2.3% (outside Europe)
Bank transfers: fees can range between 0.35% and 1%

No fee
Average Exchange Rate Markup
0.5% – 2%
0.4% to 1.4%
Minimum Transfer Amount
$1
$1
Maximum Transfer Amount
Depends on the selected plan, the sending country, and the recipient country.
£25,000 through the mobile app
£300,000 by placing a special request
All information taken from each company's website, but have since changed.
Top Rated Money Transfer Service
Reviews
Data taken from relevant websites at time of publication.
Features
Revolut
Currencies Direct
App Transfers
Yes
Yes
Online Transfers
Yes
Yes
Phone Transfers
No
Yes
In-person Transfers
No
Yes
Available Countries
200
200
Number of Currencies
29
70
Payment Methods
Bank account
Debit card
Credit card

Bank account
Debit card
Credit card
Check

Receiving Methods
Bank account
Debit card

Bank account
Cash Pickup Option
No
No
Payments Flexibility
Web platform
Mobile app

Web platform
Mobile app
Phone
In person

Supported Languages
English, German, Spanish, French, Portuguese, Dutch, Italian, Japanese, Chinese, Croatian, Greek, Czech, Danish, Russian, Hungarian, Polish, Slovak, Romanian, Swedish, Bulgarian, Latvian, and Lithuanian
English, French, Spanish, Portuguese, Italian, Norwegian, Swedish, German, Chinese, and Korean
Transfer Speed
Instant for Revolut users
1-2 days for the rest

1-2 hours within Europe
1-2 days for overseas transfers

Dedicated Dealer
No
Yes
Instant Custom Quote
Yes
N/A
Business Features
Forwards contracts
Stop-loss orders
Limit orders
Analytics
Payroll automation
Spending management
Digital multi-currency wallet
Rate alerts
API integration

Spot contracts
Forwards contracts
Limit orders
Stop-loss orders
Recurring transfers
Digital multi-currency wallet
Rate alerts
API portal

Debit Card
Many including: Standard, Plus, Premium, Metal, Ultra, Business and Revolut <18
Currencies Direct multi-currency debit card
Cancellation Policy
Cancellation is available as long as the transfer hasn't been completed. Refunds may take up to 10 days.
N/A
Suitability
Small money transfers
Large money transfers
Top Rated Money Transfer Service
Company Comparison
Revolut
Currencies Direct
Year Founded
2015
1996
Headquarters
London, UK
London, UK
Other Office Locations
Berlin (Germany), Dublin (Ireland), Krakow and Silesia (Poland), Madrid (Spain), Mexico City (Mexico), Porto (Portugal), São Paulo (Brazil), Bangalore, Chennai, Gurgaon, Indore, and Mumbai (India), Singapore, Tokyo (Japan), and Vilnius (Lithuania)
Orlando (USA), Saint John (Canada), Mumbai (India), Albufeira (Portugal), 3 locations in South Africa, and 19 locations in Spain
Annual Trading Volume
$140 billion
£9.5 billion
Number of Employees
8000
550
Number of Clients
30 million personal users
500,000 business users
430000
Regulatory Institutions
FCA in the UK
ASIC in Australia
The Bank of Lithuania in the EU
MAS in Singapore
Kanto Local Finance Bureau in Japan

FinCEN in the USA
FINTRAC in Canada
FCA in the UK
Bank of Spain in Spain and the EU
ACPR in France
FSB in South Africa

Awards
Top Startups (LinkedIn, 2018, 2019, 2020, 2021, 2022)
Fintech Company of the Year (City AM Awards, 2018)
Europe's Allstar Company (Investor Allstars Awards, 2018)
Top 10 Fastest Growing Startups To Work For (Otta, 2019)
Top 10 Companies Hiring Like Crazy (Glassdoor, 2019)
Top Spot at Deloitte's Tech Fast 50 (Deloitte, 2019, 2020)
Top Spot at The Startups 100 (Startups, 2019)
Top 10 in Tech Track 100 Companies (The Sunday Times, 2019)
Featured in The Best London Startups to Work (Rocket List, 2020)
Lithuania's TOP Employers (CV Online, 2020)
Innovation of The Year (British Bank Awards, 2020)
Featured in Best Startups To Watch (Seedtable, 2020, 2023)
Best Talent Acquisition Team (LinkedIn Talent Awards, 2021)
Featured in 150 Fastest Growing Companies to Work for in America (Otta, 2021)
Best FinTech Employer of the Year (SFF Global FinTech Awards, 2021)
Featured in Employer Branding Stars (EBstars Awards, 2022, 2023)

Credit Rating of Level 1 (Dun & Bradstreet Corporation, 2010)
National Business Awards Finalist (National Business Awards, 2016)
Most Positive Client Reviews (Money Transfer Comparison, 2017)
Consumer Champion of the Year (Money Age Magazine, 2017)
Money Transfer Provider of the Year (Money Age Magazine, 2016, 2017,2018, 2019, 2020, and 2021)
Best Rated Money Transfer (Money Transfer Comparison, 2019, 2020, 2021)

Data taken from company websites and other third-party sites. It was believed to be accurate at the time of publication but may have since changed.
Revolut Pros & Cons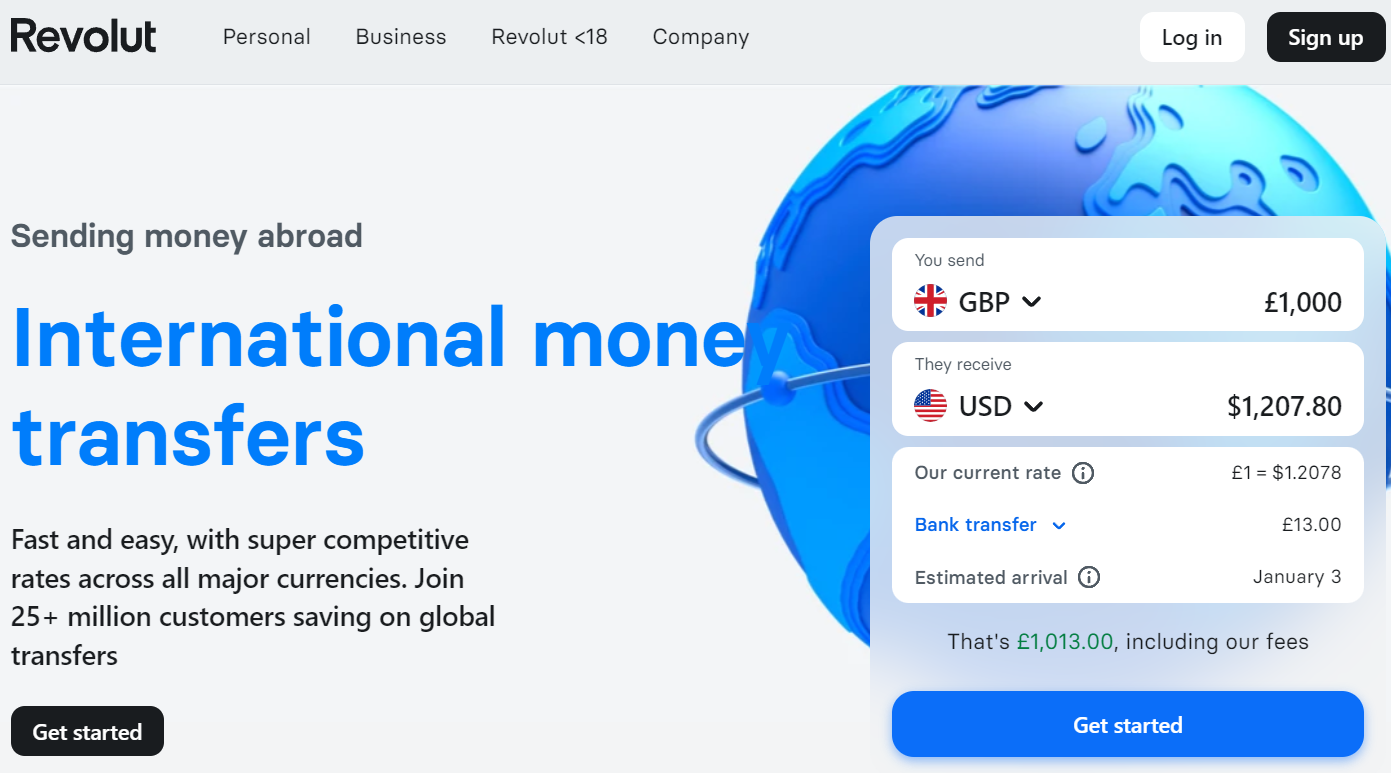 Revolut Pros
Offers a full range of banking features
Exceptional customer support
User-friendly debit card services
Zero transfer fees for smaller transfers
Attractive foreign exchange rates
Comprehensive suite of business-oriented features
Option to trade in cryptocurrencies
Virtual cards for secure online transactions
Broad coverage of services globally
Wide range of supported currencies for travelers
Fast money transfers
Revolut Cons
Not designed for large-scale money transfers
Complex fee structure
Limited scope of in-app currency support
No cash pickup options
A relative newcomer in the financial industry
Currencies Direct Pros & Cons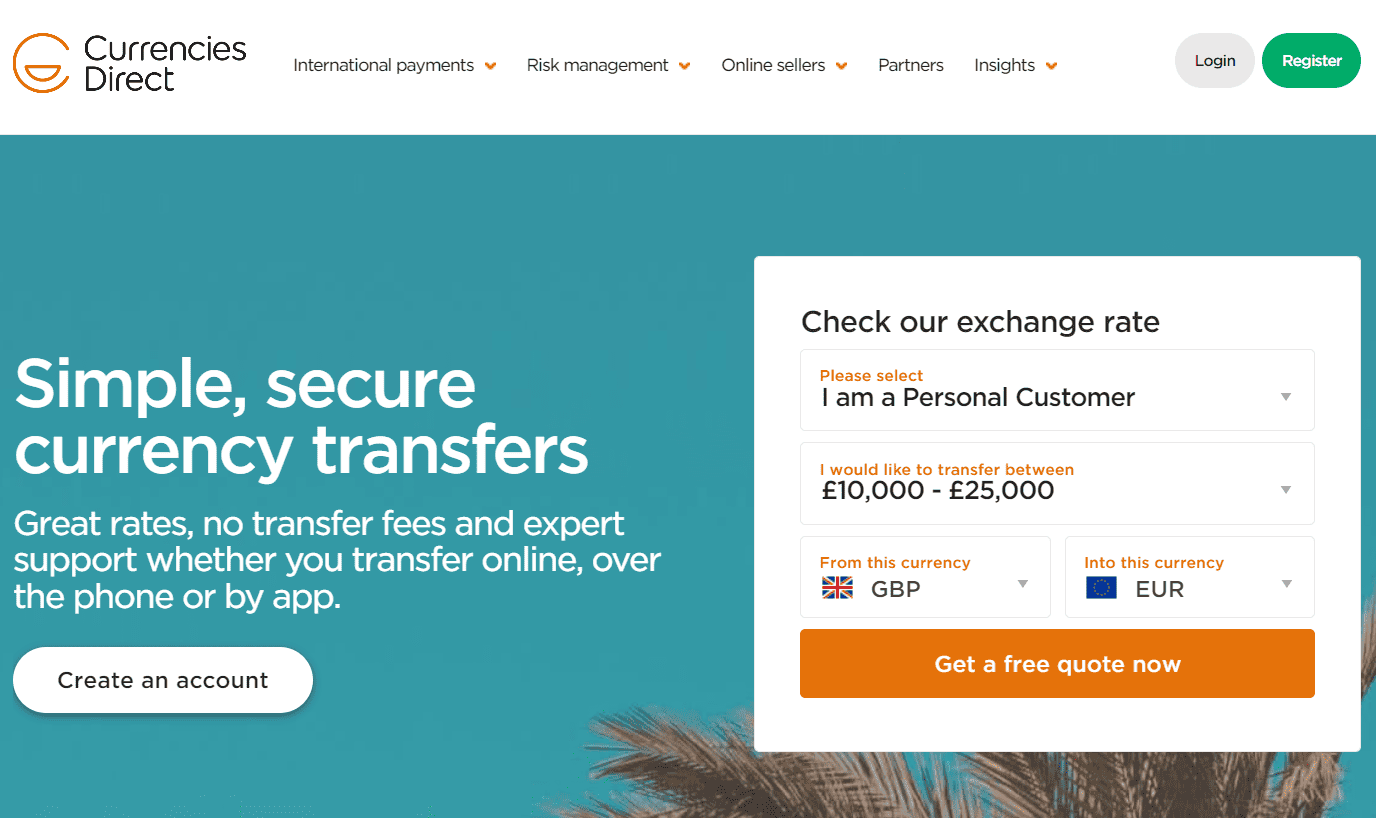 Currencies Direct Pros
4.9 out of 5 on Trustpilot based on over 8,000 reviews
No transfer fees
Free Amazon gift card for new paying customers
Multiple payment options
Amazing customer service
Favourable exchange rates
Extensive knowledge base
Highly convenient
Range of flexible solutions for everyone
Global service coverage
Solid currency coverage
Local coverage
Decades of experience
Fast money transfers
Exchange rate alerts option
Currencies Direct Cons
Not focused on small money transfers
Limited deposit options
Limited smaller currency coverage
No option for instant custom quotes
Lack of cancellation policy
Not available in some US states
Mobile app has transfer limits
Top Rated Money Transfer Service
See More Comparisons:
Revolut vs CurrencyFair
Revolut vs TorFX
Revolut vs CurrencyTransfer
Revolut vs WorldRemit
Revolut vs Send Payments