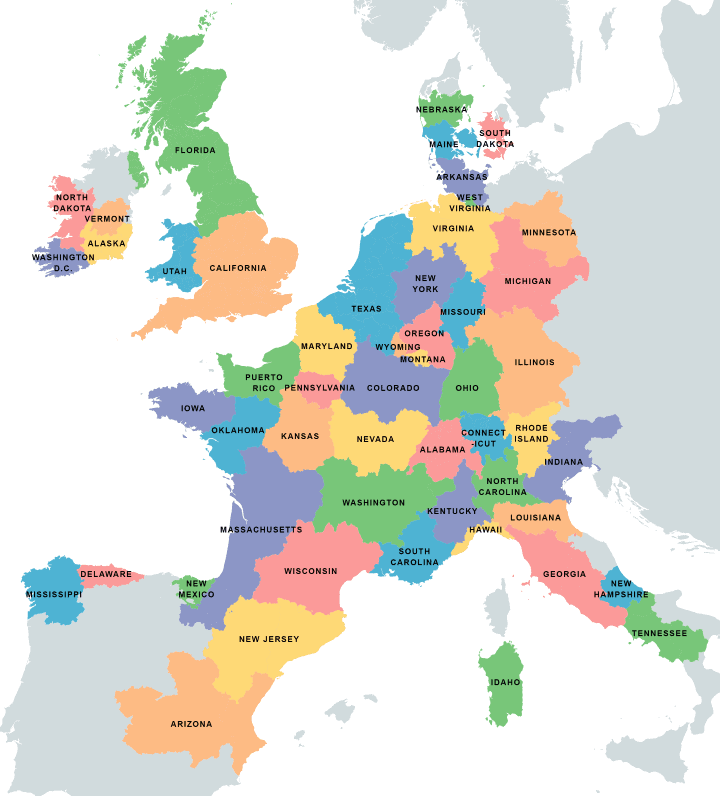 Map created by reddit user Speech500
The map above shows how the population of various US states compares with certain regions of Europe. For example, Wales has a population of around 3 million people, which is roughly the same as the US state of Utah.
The map is interesting because it shows just how densely populated Europe is in many places. For example, you could fit the entire population of California (38.8 million & the most populous state) in Southern England, despite the fact that California is around 70,000 sq miles (180,000 sq km) larger than the entire United Kingdom.
Similarly, you could fit the entire population of Pennsylvania into the Île-de-France (Greater Paris) region, which is just 1/10th the size.
The map does not cover the whole of Europe, because the continent has a population of 743 million people, compared to the US population of just 319 million people.
In terms of size the two are almost even, with Europe only slightly bigger than the US (10.2 million sq km vs 9.8 million sq km) but this includes large parts of Russia. The EU, which many people think of as Europe, has a population of 510 million people, in an area half the size of the US (4.3 million sq km).
To see how the two compare in terms of GDP have a look at our previous post: Areas of Europe Compared To US States With Equal GDP & Corresponding Cities
Enjoy this map? Then please share it with a friend: