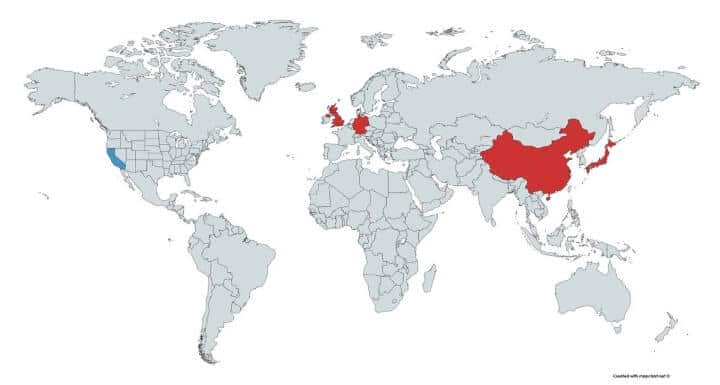 Map found via Reddit
The map above shows just how large California's economy is compared to almost every other country on earth. Depending on how you measure it, only the UK, Germany, Japan, China and of course the United States itself, have larger economies than California's.
California's Gross State Product (GSP) in 2015 was $2.589 trillion according to the United States Bureau of Economic Analysis (BEA). In comparison, the World Bank's 2015 nominal GDP figures were:
United States: $18.036 trillion
China: $11.007 trillion
Japan: $4.123 trillion
Germany: $3.363 trillion
UK: $2.858 trillion
* Note the EU's economy is $16.229 trillion but is split between 28 member states.
France just misses out, with an economy of $2.418 trillion, followed by India with a nominal GDP of $2.095 trillion.
Considering California's population is just 39.14 million people compared to India's 1.311 billion, it makes the numbers above even more unbelievable.
In fact the numbers above are somewhat misleading. The GDP figures used are based on the official exchange rates (nominal) between the local currency and the US dollar. If the dollar goes up in value, these economies will look smaller, even if there are absolutely no changes in local economic activity.
On that basis the UK's nominal GDP figures are now likely smaller than California's due to the enormous drop in the value of the pound following the Brexit vote.
A more accurate way of measuring economic activity is to use purchasing power parity dollars, which factors in cost of living.
On that basis: India, Russia, Brazil, Indonesia and France all also have economies larger than California's.
If you're thinking about moving to California have a look at our guides to: Los Angeles, San Francisco, and San Jose.
Enjoy this map? Please share it with a friend: