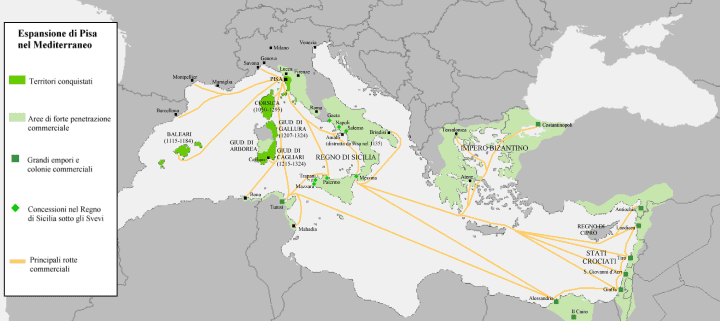 Map created by -kayac- via Wikimedia
The map shows the commercial and territorial expansion of the Republic of Pisa in the early 12th century. One of history's great, but slightly less famous, maritime commercial empires.
The map also includes trade routes, colonies, and warehouses.
While the maps's legend is in Italian, reddit user pisio has provided the following translation:
Translation of the legend, from top to bottom:

Conquered territories
Areas of strong commercial penetration
Great emporia and commercial colonies (warehouses)
Concession of the Kingdom of Sicily under the Suabian dinasty
Main commercial routes.
Pisa was one of many maritime republics that flourished in Italy between the 10th and 13th centuries. Others included: Venice, Genoa, Ragusa, and Amalfi.
As the name suggests, The Republic of Pisa was centred around Tuscan city of Pisa. It existed between the late 10th century and 1406, when it was forcibly absorbed into the Republic of Florence.
However, it's power had been waning long before its demise, as it was increasingly surpassed and finally superseded by Genoa in the 12th century.
You can learn more about the Republic of Pisa from Wikipedia.
And if you'd like to find out more about the container shipping costs between Pisa and Barcelona or the moving costs to the Balearic Islands today, we offer free international moving quotes.
Finally, if you enjoyed this map, please help us by sharing it: