If you are planning on moving to Spain, there are some things you need to know about life in this beautiful country in the European Union. Living abroad is an exciting adventure, but there are some things you should know about the Spanish people and their traditions, and we are here to help.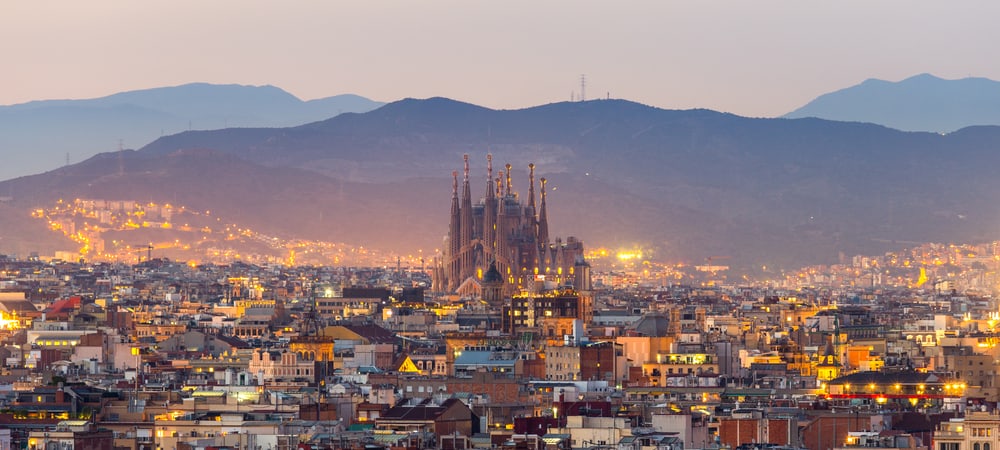 1. Accommodation in Spain
Despite recent foreign investment into the property market, you will still find affordable accommodation throughout Spain, especially if you plan on renting.
Rental agreements last between six months to a year, making it the perfect option while you're still getting to know the area.
When it comes to accommodation, there are plenty to choose from – apartments in multi-level buildings, free-standing homes, farmhouses, cottages, or semi-detached houses. Living in Spain offers plenty of variety!
For those interested in buying property in this foreign country, it is recommended that you enlist the help of a lawyer and building surveyor to ensure you get the best value for your money.
2. The local culture
Spain is a modern country, but unlike other European countries, there are extreme differences in culture and mannerisms across the country. Local laws differ as you travel around, which can be a bit frustrating.
Punctuality is not always important, and Spaniards can be blunt without intending to be rude. In rural areas, women may experience catcalling or be stared at by groups of men.
Most Spaniards can understand English-speaking expats; however, they will be more engaging if you speak Spanish – or at least try to!
3. They have a good healthcare system
Spain's healthcare is similar to the NHS for UK citizens. It is called Sistema Nacional de Salud (SNS) and is funded by the government. It is available to all Spanish citizens as well as EU citizens. If you are an expat living in Spain, you will also have access to the SNS; however, you will be able to purchase private health insurance if you would rather avoid public hospitals.
4. The cost of living in Spain
The cost of living is relatively low when compared to the rest of Europe; however, costs can be rather high in major cities. In terms of basic expenses – food, accommodation, and transport – you will be paying less than in other western European countries; however, your wages in Spain may also be less.
5. The incorrect time zone
Although Spain is supposed to be in the same time zone as the UK, the time zone is actually GMT+1. This is because during the Second World War, Francisco Franco – the dictator of Spain back then – decided that the country should match its time zone with Nazi Germany. And for some reason, they never switched it back to what it should be.
6. Mealtimes are really late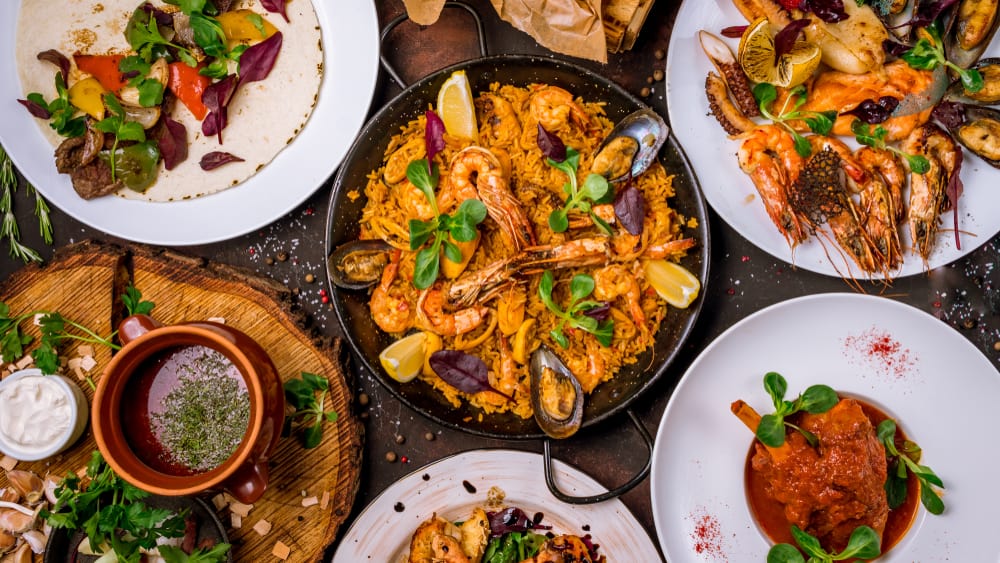 One thing bizarre thing about the Spanish culture is the extremely late mealtimes. You may think eating dinner at 8 pm is late, but the Spaniards will surprise you by inviting you out for dinner at 9 pm. This is because lunch is taken as late as 3 pm!.
Lunch is also no joke – it is an event. You can get rid of your microwave lunches; in Spain, you can expect a sit-down meal with friends, wine, and deep conversation.
7. You'll have to learn the language
Although English is widely understood in Spain, learning the local language is probably a good idea. Speaking Spanish will make navigating the roads easier, ordering food, and asking for directions a lot easier.
In a city center, you will most likely manage by speaking English, but once you travel to rural areas outside of the cities, you will be gesturing to communicate!
8. The majority of the Spanish population is Catholic
Catholicism has been prevalent in Spain since 1469 when King Ferdinand II married Queen Isabella. This couple was known as the Catholic Monarchs, and the uniting of Spain is attributed to them. Although there was Catholicism in Spain before this union, there were 750 years of ruling by the Moors, which had Islamic roots.
9. There are lots of national holidays
The Spanish believe in a work-life balance, and this can be seen in the number of national holidays in Spain. Although a lot of the holidays are centered around Catholicism, even non-Catholics benefit from the time off.
Some holidays unique to Spain include Epiphany, Assumption Day, All Saints' Day, Labour Day, Constitution Day, Immaculate Conception Day, and Hispanic Day.
10. The Moors left a mark on Spain
As mentioned earlier, Spain was under Islamic rule for hundreds of years before the marriage of the Catholic Monarchs.
In 711 AD, the Moors invaded Spain from North Africa, claimed the Iberian Peninsula, and named it Andalus (which explains the existence of Andalucia in southern Spain). In the 750 years that followed, the Moors influenced Spanish culture across the entire country.
Food found on traditional Spanish menus is because of the Moors, like paella, rice, alcohol, and fried food. The Moors also introduced irrigation which allowed for the cultivation of a lot of Mediterranean crops, like olives.
11. They have a king
The head of state in Spain is a king; however, the Prime Minister has a lot of decision-making power. The monarch, King Felipe VI, was crowned in 2014.
Interestingly, Spain's royal family had a bit of a pause between 1931 and 1975. King Alfonso XIII was deposed in 1931, and only when the dictator General Franco passed away in 1975 was the monarchy reinstated.
12. Spain is known for its red wine production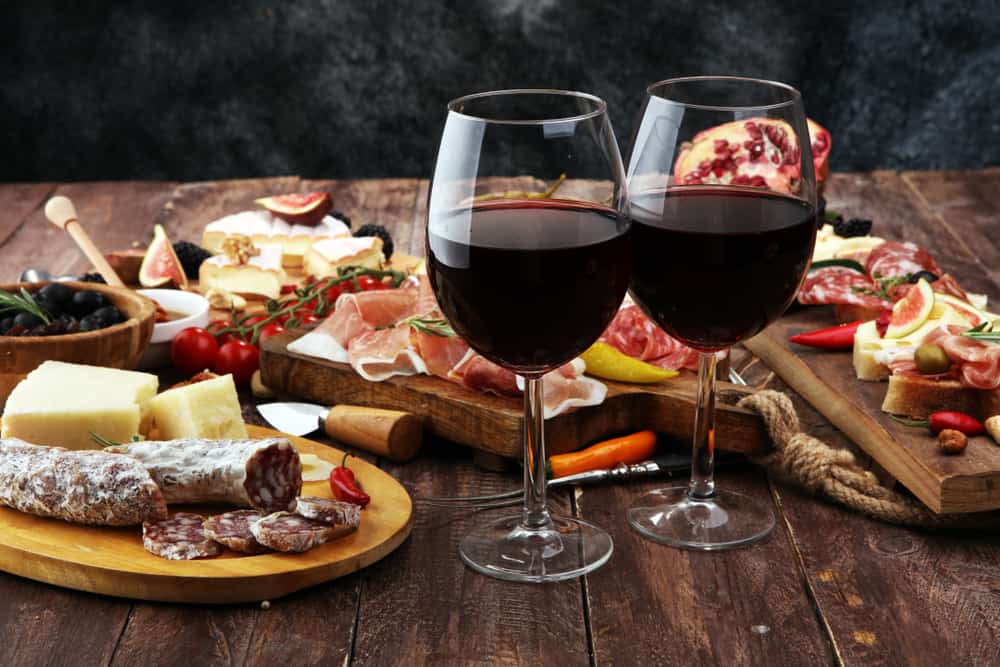 Spain has large areas of vineyards that produce top-notch wine, especially red wine. The most famous Spanish wine export is La Rioja, which is located in northern Spain, as well as Ribera del Duera, Cava, Sherry, and Jumilla. Spain is actually the third largest exporter of wine, behind Italy and France.
13. The Spanish are obsessed with jamón
Jamón is similar to gammon – it is a cured ham that is loved throughout Spain. For years the Spanish didn't bother to cook pork; they simply covered it in salt and hung it out to dry. You will find jamón no matter where you settle in Spain, and Iberico ham from the Iberian pig is especially a favorite to Spaniards and expats alike.
14. They still persist with bullfighting
Sadly, bullfighting is still something that is practiced in Spain, despite the citizens becoming more aware of the cruelty behind the "sport." Bullfighting starts with a bull being angered by mistreating or torturing it. It is then released into an arena, where the bullfighter (or matador) attempts to end the bull by thrusting a sword into the bull's back.
It appears that there is a decline in attendees at bullfighting events, but unfortunately, it has still not been banned.
15. Football is almost a religion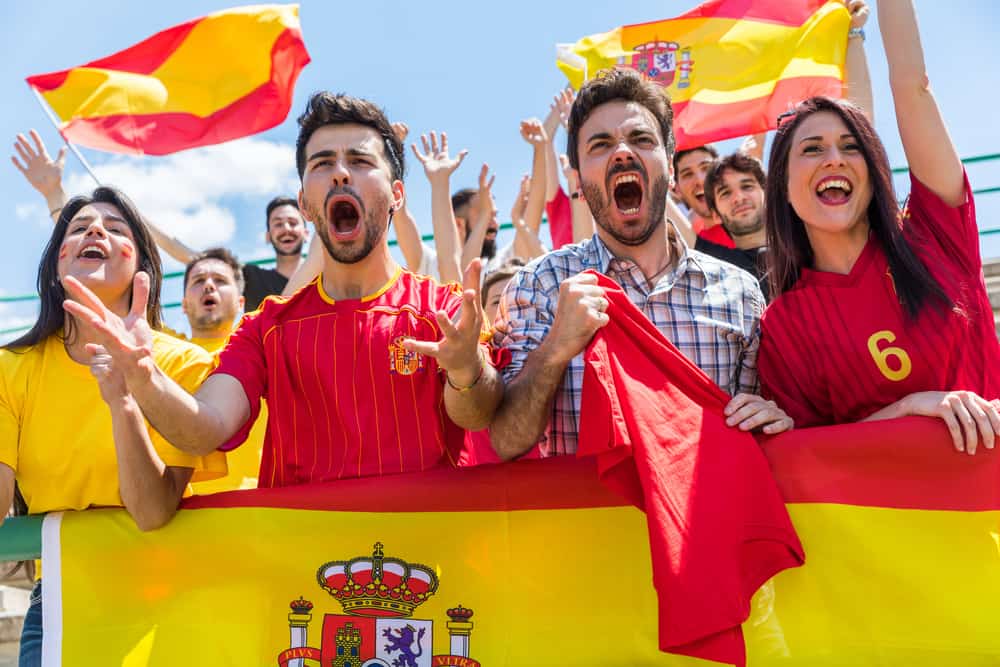 Spaniards are great futbol (soccer, or football) fans, and the national football team was declared world champs in 2010.
The teams Real Madrid and Barcelona FC have fans throughout the world and have won a lot of European Cups through the years.
16. Spain has a wide range of weather conditions
Although Spain is a relatively small country, any Spanish resident can tell you that the weather across the nation varies greatly. You might expect lovely, tropical summers and mild winters, but that will completely depend on where in Spain you decide to settle.
In the mountainous regions of the Pyrenees, you can expect colder weather, while the Andalusian plain gets desert-hot. You will have to do your research before moving to Spain to make sure you settle in an area with favorable weather.
17. The Spanish love oranges
Spain is known for its orange exports, and the residents also enjoy the variety of oranges on offer. From clementines to bitter blood oranges, you will find oranges for sale at most markets and grocery stores. The orange groves are also great holiday destinations, especially when the blossoms are in bloom.
18. The land is loaded with natural wonders
Spain offers more than white sandy beaches and bustling cities. Once you head out of the populated regions, you will find gorgeous natural landscapes. The national parks, like Somiedo Natural Park or the Cabo de Gata-Nijar Natural Park, offer beautiful scenery with mountainous peaks or sea views observed from tall cliffs.
19. Schooling in Spain
All kids between the ages of 6 and 16 must attend school. There are various schools to choose from, including public schools, semi-private schools, private schools, and international schools.
The school year begins in the middle of August and ends in late June. The summer and winter holidays are from June-July and December-January.
Public schools
Kids between 3 and 18 can attend public school for free. Lessons are conducted in Spanish, and all textbooks and extracurricular activities must be paid for.
Semi-private schools
Semi-private schools are subsidized by the government and have lower fees than private schools. Most lessons are taught in Spanish, and the national curriculum is followed. Classes tend to be smaller than those in public schools.
Private schools
Private schools are mostly based on religion; however, there are some secular schools. These schools are more expensive, and the most prestigious private schools can cost a lot of money.
International schools
Most Spanish cities have international schools that follow the British or American curricula. Lessons are taught in English, but you should be aware that these schools are incredibly expensive, and it is tough to get in due to limited spaces.
20. Catalonia's bid for independence from Spain
Catalonia, the province in which Barcelone is situated, really wants independence from the rest of Spain. People in Catalonia consider themselves to be Catalan, not Spanish, and they mostly speak Catalan as a language. The Catalonian flag is on display throughout Catalonia, as opposed to the Spanish flag.
In 2017 there was a referendum, and 90% of Catalans voted "yes" for independence from Spain; however, the referendum was deemed illegal.
21. 57.5% of Spaniards are Catholic
The Spanish Consitution allows freedom of religion; however, 57.5% of Spaniards are Catholic. Of these Catholics, 20% are practicing Catholics, meaning they attend church and actively practice their faith. 38.1% of Spaniards are irreligious, and 2.8% are non-Catholic and follow other religions.
FAQs
Can you move to Spain without a job?
That will depend on whether you are an EU citizen or not. EU citizens can move to Spain without a Spanish visa; however, non-EU citizens need to have either employment visas, student visas, non-lucrative visas, or investment visas.
For more information on moving to Spain and the visas required, see here.
Are there English-speaking hospitals in Spain?
Yes, there are international hospitals in Spain where English is spoken; however, most doctors in hospitals in the cities can communicate in English. Here is a list of international hospitals in Spain.
What is considered rude in Spain?
There are some basic rules to remember when visiting or moving to Spain:
No sorbas – do not slurp your drinks or soup.
No eructes – do not burp, that would be considered incredibly rude!
Not at least attempting to speak a bit of Spanish.
Not tipping your service providers, like waiters or taxi drivers.
Speaking loudly.
Is there a lot of crime in Spain?
Statistics show that Spain has one of the lowest crime rates in Europe. Although there is not a lot of violent crime, Spain is the entryway for a lot of drugs into Europe and has the highest number of drug users in Europe.
Final Thoughts
We hope that the above tips have made you look forward to living in Spain and will make the transition to Spanish culture a bit easier!
Spain is a wonderful country in southern Europe with a lot to offer, like free healthcare, free public education, outstanding landscapes, and delicious food. Once you move to Spain, you can expect warm weather, beautiful beaches, and an affordable housing market.
Just make sure you get started with learning Spanish as soon as possible to make the transition to living in Spain easier!
Also see: