Moving is complex at any time so if you are planning a move from, to or within the Ukraine, you may want to consider getting a moving company. They can assist with planning, packing and logistics. Below we have compiled a list of Ukrainian removal companies that are members of the International Association of Movers (IAM) and/or FIDI Accredited International Mover (FAIM) who could assist you with your move.
1. Eurodean International Movers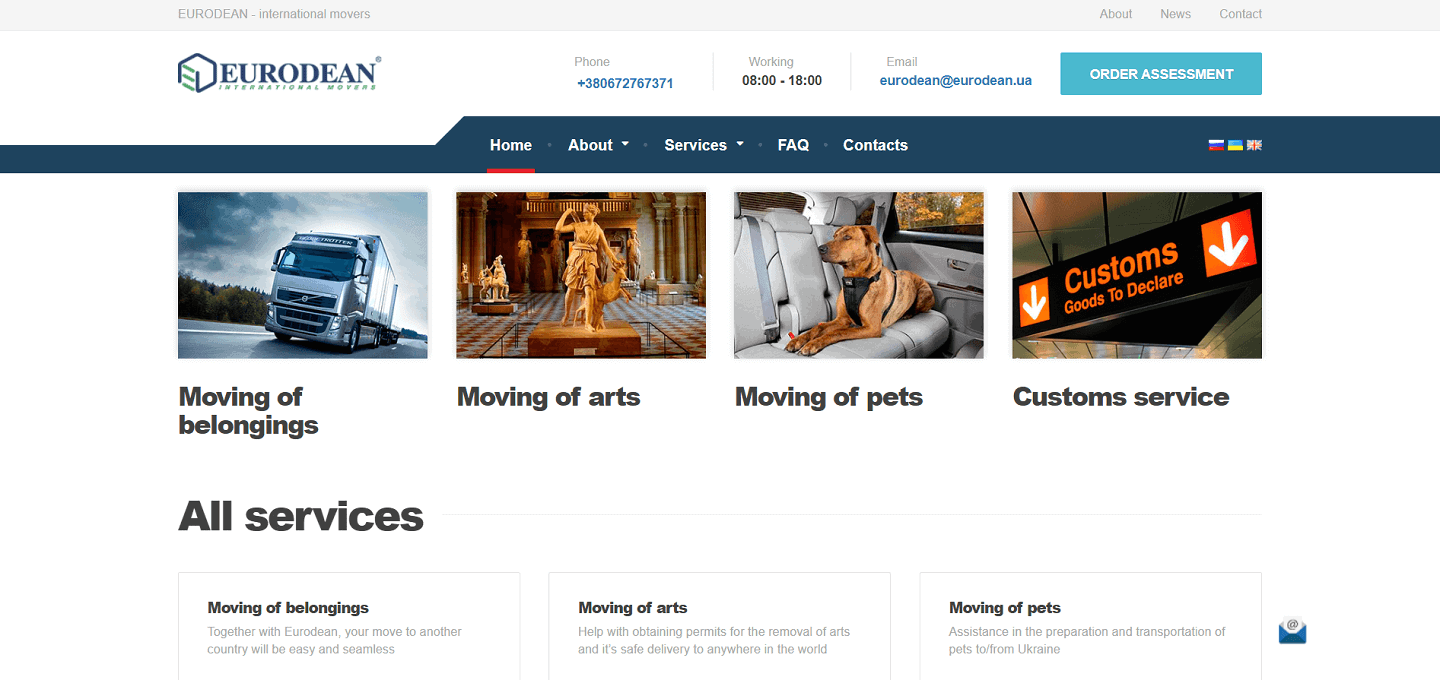 International moves
Household moves
Office moves
Packing service
Land, sea and air freight
Customs service
Artwork handling
Pet relocation
Insurance
Storage facilities
Eurodean International Movers is an international moving company that has been operating in the Ukraine since 2000. They are a member of IAM with 16 years of service which means that they have access to an international network of moving companies to support worldwide moves.
Eurodean International Movers offers door-to-door moving services including providing highly qualified packers who will use specifically designed packing for the items. They also produce custom wooden crates for fragile items. They will arrange transportation of your belongings by land, sea or air with customs clearance and processing of permits. They offer additional services including pet relocation and artwork handling.
Website: https://eurodean.ua/
2. Gosselin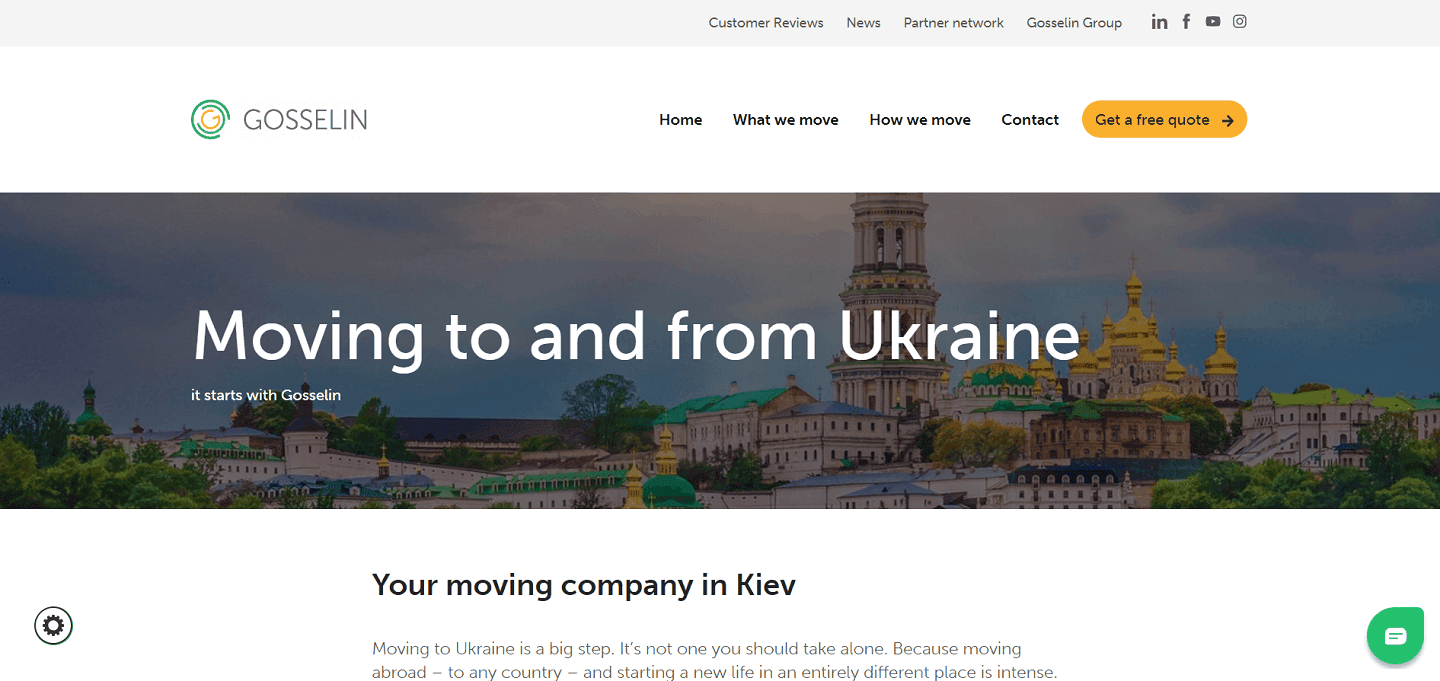 International moves
Residential moves
Corporate moves
Door-to-door service
Packing service
Arrangement of transportation
Customs handling
Pet and car transport
Transport insurance
Storage service
Gosselin is an international moving company that has offices in 34 countries in Europe, Caucasus and Central Asia with their Ukraine office in Kyiv. They also have a network of quality moving partners to complement their own network to deliver moves to almost anywhere. They are a member of IAM.
Gosselin provides a door-to-door moving service to and from the Ukraine with professional movers. Their packing service includes safely packing your belongings for transit, dismantling and reassembling furniture and unpacking on arrival. They use eco-friendly packing materials and provide transport insurance and support with customs processes.
Website: https://gosselin-moving.com/en/moving-to-ukraine
3. KLS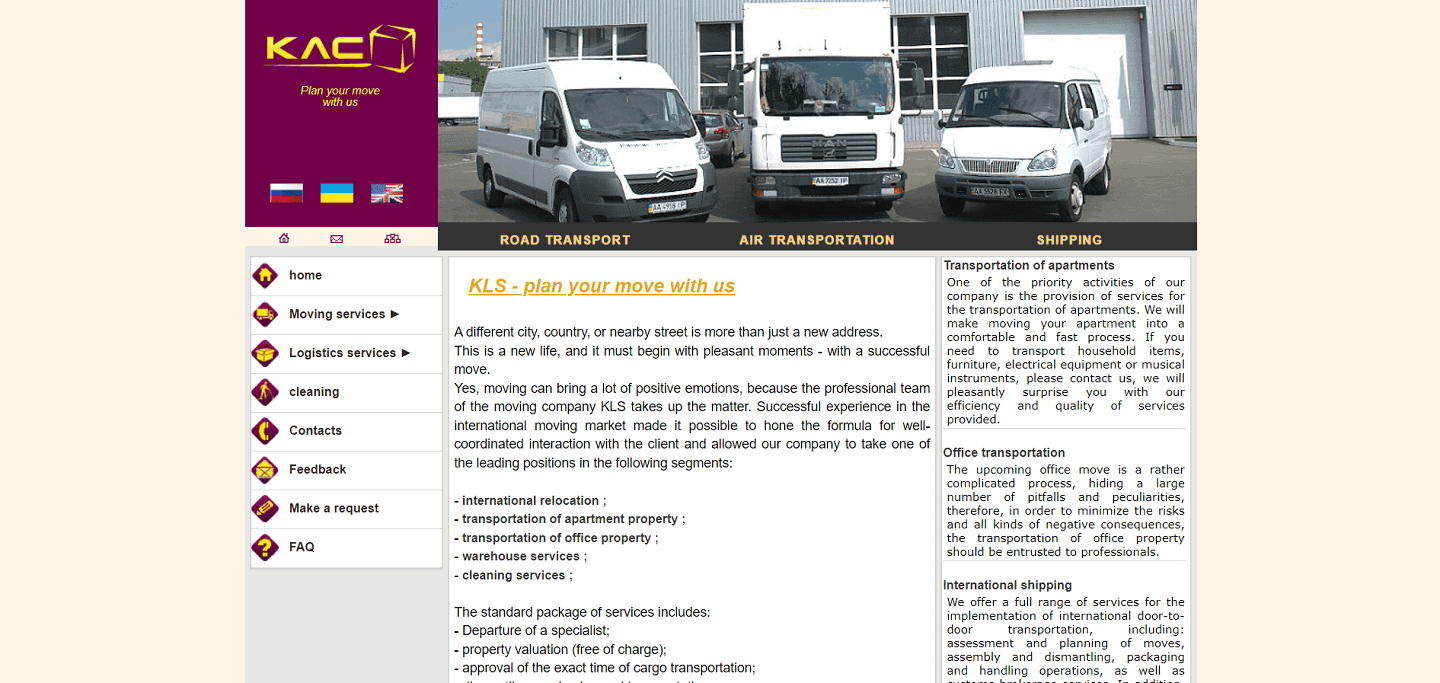 Local and national moves
International relocations
Residential transportation
Office transportation
Door-to-door transportation
Packing services
Road, sea and air transportation
Customs brokerage
Cleaning services
Storage facilities
KLS is a moving specialist that is based in Kyiv with representative offices in other Ukraine regions and capitals around the world. They have strategic partners across the world to support them in delivering their services. They are a member of IAM with 22 years of service.
KLS will assess and plan your move with one of their departure of specialists and offer a door-to-door service supported by a personal manager. They offer a packing service that includes safely packing your belongings, dismantling furniture, and on arrival, they will assemble furniture and unpack. They will arrange transportation by road, sea or air with customs brokerage.
Website: http://www.kls.ua/
4. Santa Fe Relocation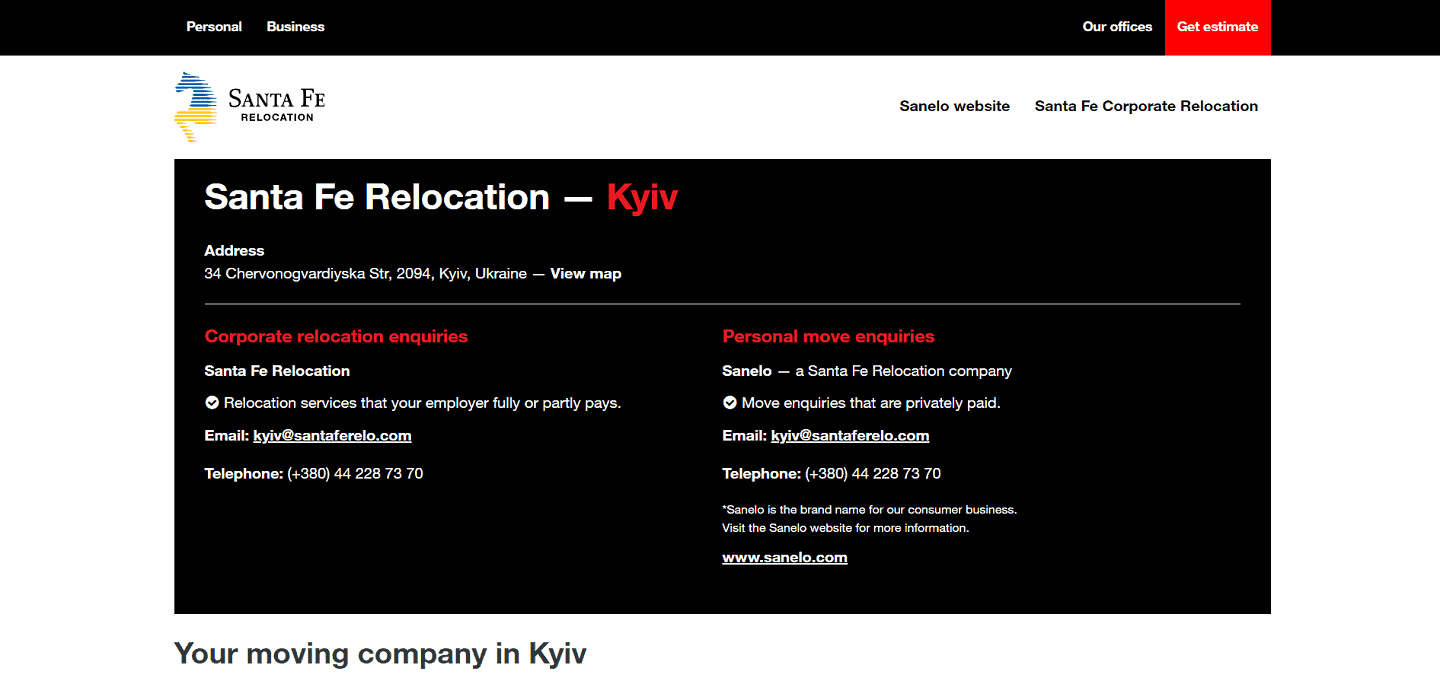 Local and national moves
International relocations
Household moves
Corporate relocations
Door-to-door service
Packing service
Transport arrangements
Customs clearance
Visas and immigration services
Storage facilities
Santa Fe Relocation is an international relocation company with 64 offices in 38 countries including an office in Kyiv that opened in 2002 but they have been providing services in the Ukraine since 1992. Their network spans many countries, and they have partners that support them in providing services to other countries. They are accredited by FIDI.
Santa Fe Relocation provides door-to-door moving and relocation services within, to and from Ukraine. They provide a packing service to protect your belongings in transit and arrange transportation for your belongings with customs clearance. They can also assist with visas, work permits and other documentation.
Website: https://www.santaferelo.com/en/contact/our-offices/ukraine-kyiv/