Moving your home or company within, to and from Uganda can be complicated so enlisting the assistance of a moving company can make a big difference. They can assist with packing, transport arrangements and import/export handling. Below we have compiled a list of Uganda based removal companies that are members of the International Association of Movers (IAM) and/or FIDI Accredited International Mover (FAIM) who could help you with your move.
1. JVK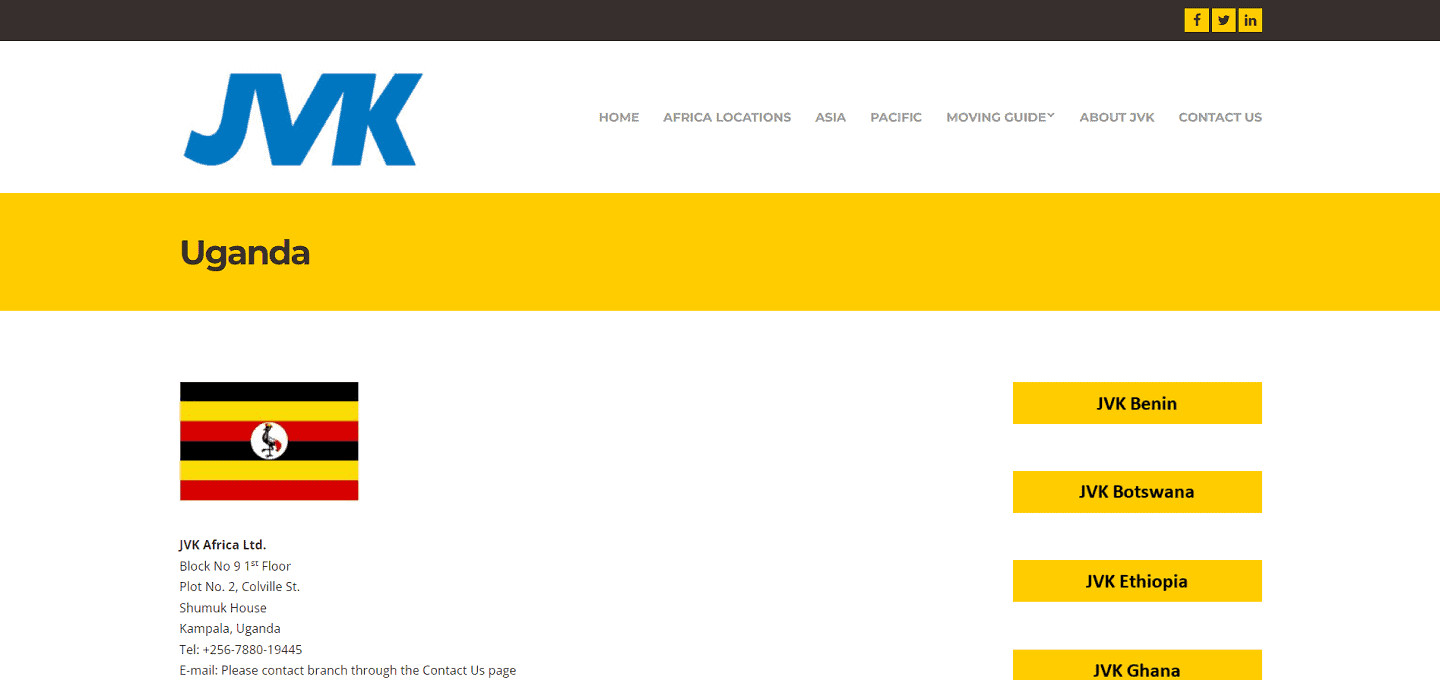 National moves
International moves
Household moves
Office moves
Packing service
Road, sea and air shipping
Documentation support
All-risk insurance
Secure storage
JVK is an international moving company founded in 1979 in Bangkok with over 50 offices across Africa, Asia and the Pacific including Kampala in Uganda. They have liaison offices and preferred moving partners in areas where they don't operate. They are a member of IAM.
JVK offers a pre-move survey to evaluate your packing requirements and create a door-to-door moving proposal. They will pack and crate your belongings for safe transit using high-quality packing materials and special crates for fragile items. They will arrange transportation by land, sea or air to your destination and they will be covered by all-risk insurance and customs support will be provided.
Website: https://jvkafrica.com/country/uganda/
2. Nellions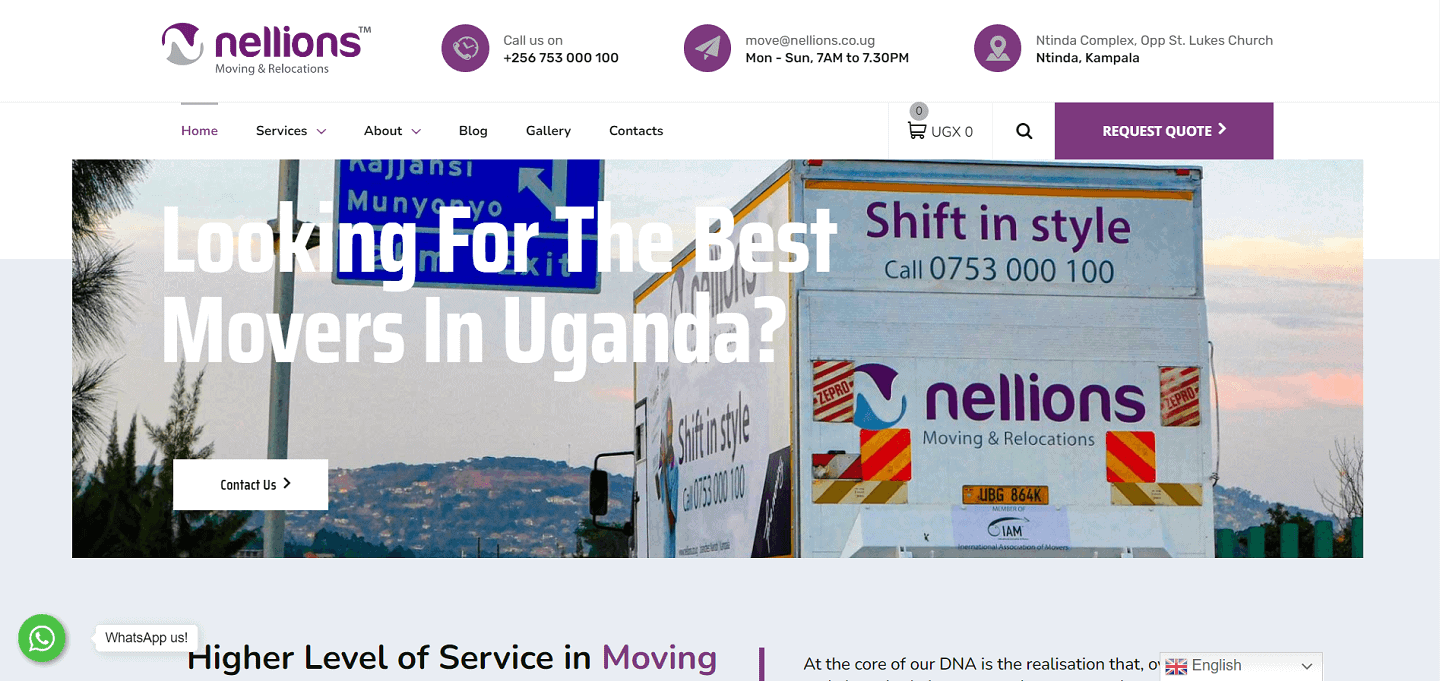 Local and national moves
International relocations
Household moves
Office moves
Personalised service
Door-to-door service
Air, sea and road freight
Customs support
Vehicle relocation
Storage services
Nellions is a moving and relocation company that has offices in Kenya and Uganda. The Uganda office is in Kampala and was founded in 2015. They work with credible partners that have been vetted to deliver services outside Uganda. They are a member of IAM with four years of service.
Nellions provides a personalised moving service with Move Consultants to support you throughout your move starting with a pre-move assessment in person or virtually. They provide door-to-door, door-to-port and port-to-door options with shipping by air, sea and road with customs support. They offer full and less than full container loads and groupage shipping options.
Website: https://nellions.co.ug/
3. Uni Movers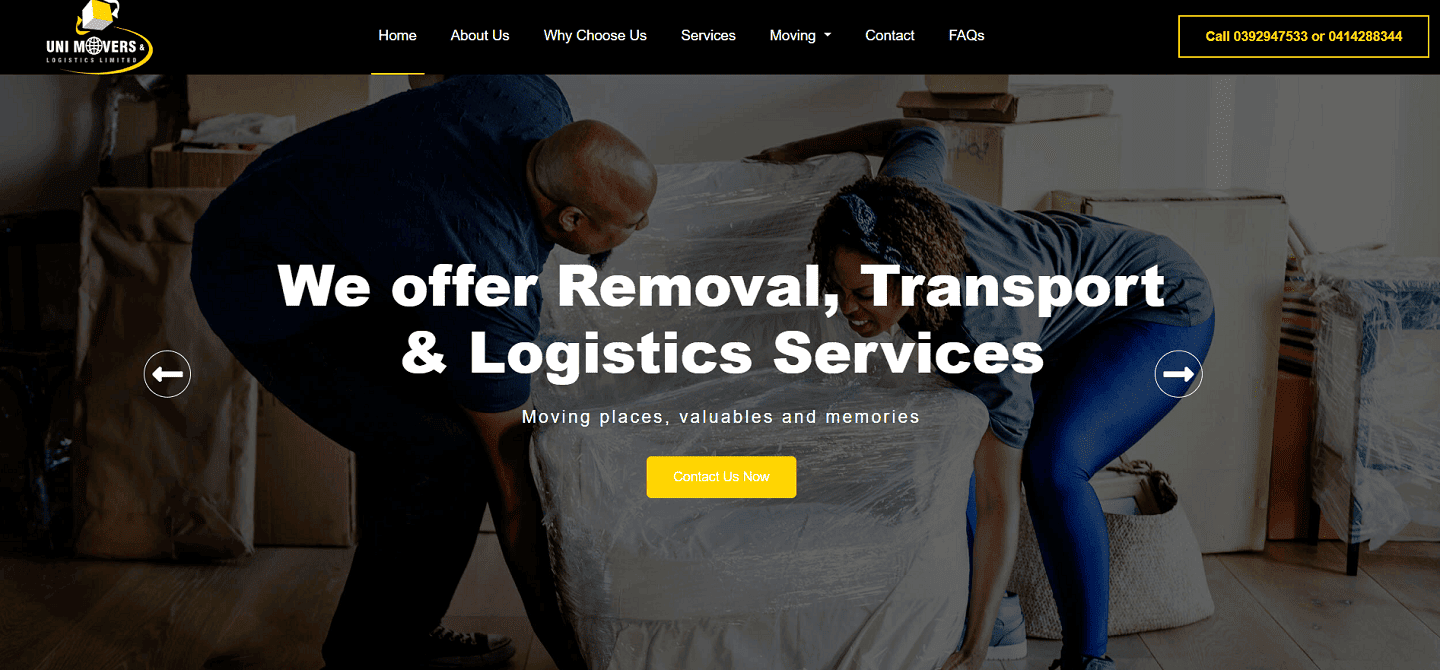 National removals
International relocations
Residential removals
Business removals
Packing service
Transport by road, sea and air
Customs clearance
Vehicle relocation
Insurance
Short and long-term storage
Uni Movers is a packing and removals company that offers national removals and international relocations, and they are based in Kampala. They are a member of IAM with 16 years of service which gives them access to an international networking of moving companies.
Uni Movers offers moving services for homes and businesses which can include taking your vehicles with you. They will assist you with all aspects of your move which include packing your items securely, arranging transportation and customs clearance. They offer additional services which include utility services, electrical and plumbing services, house search, fumigation, cleaning services, insurance and storage.
Website: https://www.unimoversug.com/
4. Worldwide Movers Africa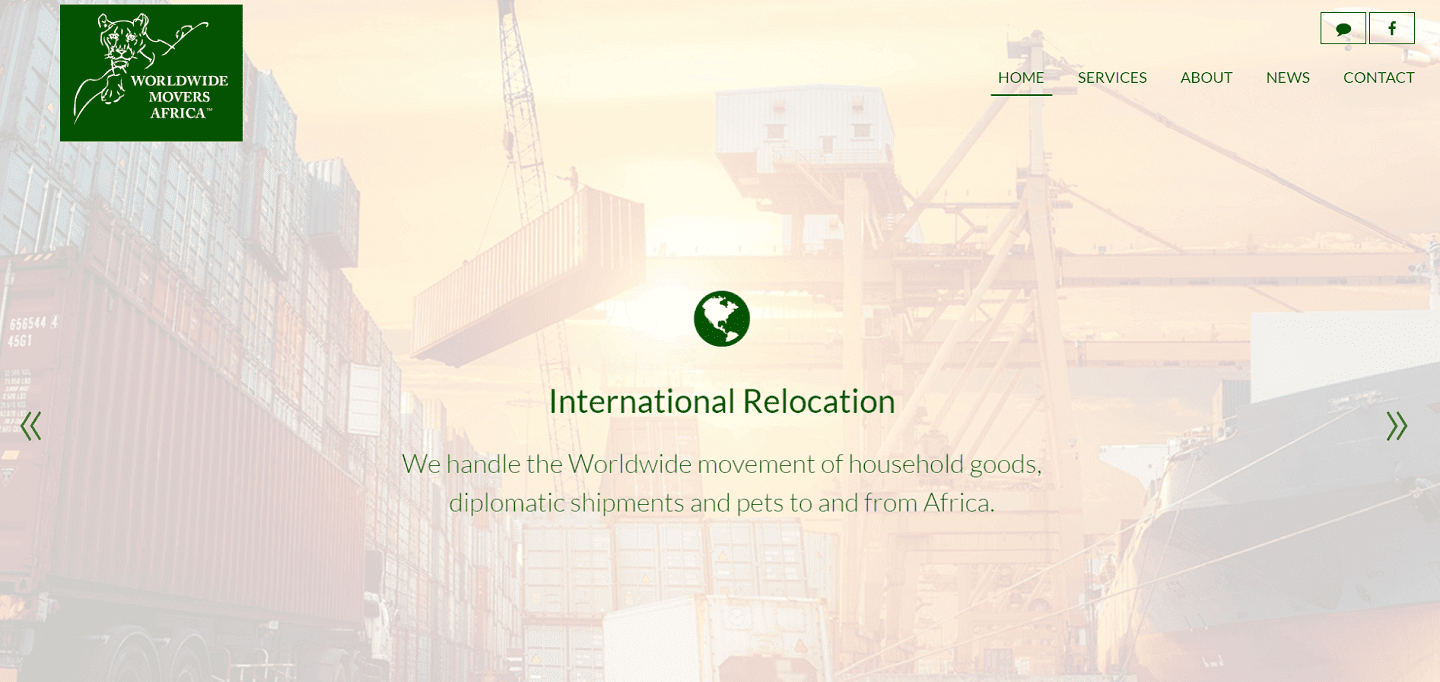 Local and national moves
International moves
Household moves
Office moves
Packing service
Road, sea and air transport
Customs clearance
Pet relocation
Insurance
Storage facilities
Worldwide Movers Africa is an international moving company established in Tanzania in 1993 with offices in 16 African countries including Kampala in Uganda that opened in 1997. They have agency network partners to support them with international moves. They are a member of IAM with 26 years of service and are accredited by FIDI.
Worldwide Movers Africa offers door-to-door moving services with professionally trained packers who use high-quality packing materials to protect your belongings. They will arrange safe transportation of your belongings by road, sea or air with customs clearance and insurance. They also provide support with relocating your pet, finding accommodation and schools, and orientation.