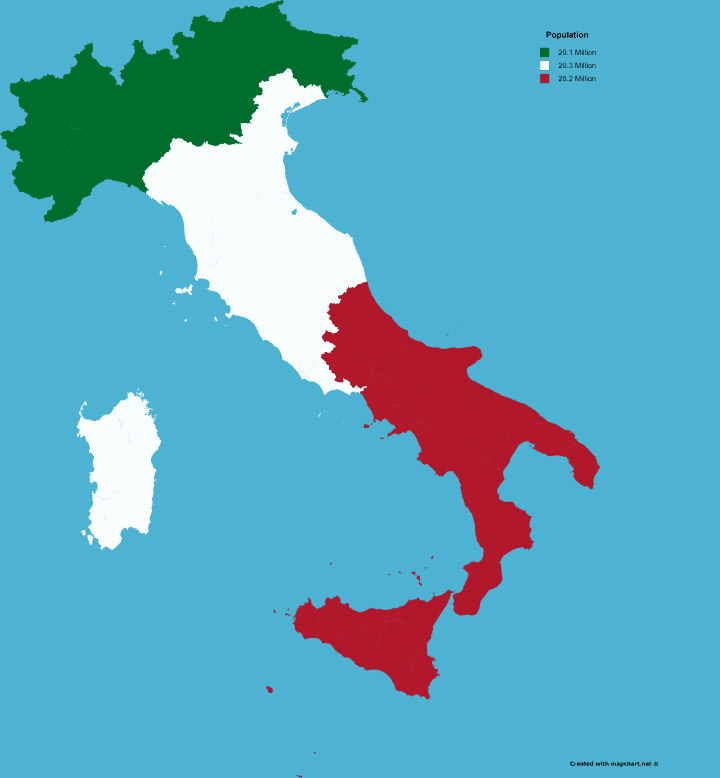 Map created by reddit user Ramesses_Deux
The map above shows Italy divided into regions each with a roughly equal population of 20 million people.
And in case your're wondering, here's a bit more info about each of the regions:
Green region: Population 20.1 million people and Italy's wealthiest region. Its biggest city is Milan (also Italy's biggest city) which has a metro population of 6.6 million people.
White Region: Population 20.3 million people and contains the capital city of Rome, which in is only the 3rd biggest metro area by population with 4.4 million people. This region includes many of Italy's most famous cities inducing Venice, Pisa, Florence and the island of Sardinia.
Red Region: Population 20.3 million and Italy's poorest region. Its biggest city is Naples with a population of 5.3 million people and the 2nd largest in Italy. Also contains the Islands of Sicily.
Enjoy this map? Please help us by sharing it: