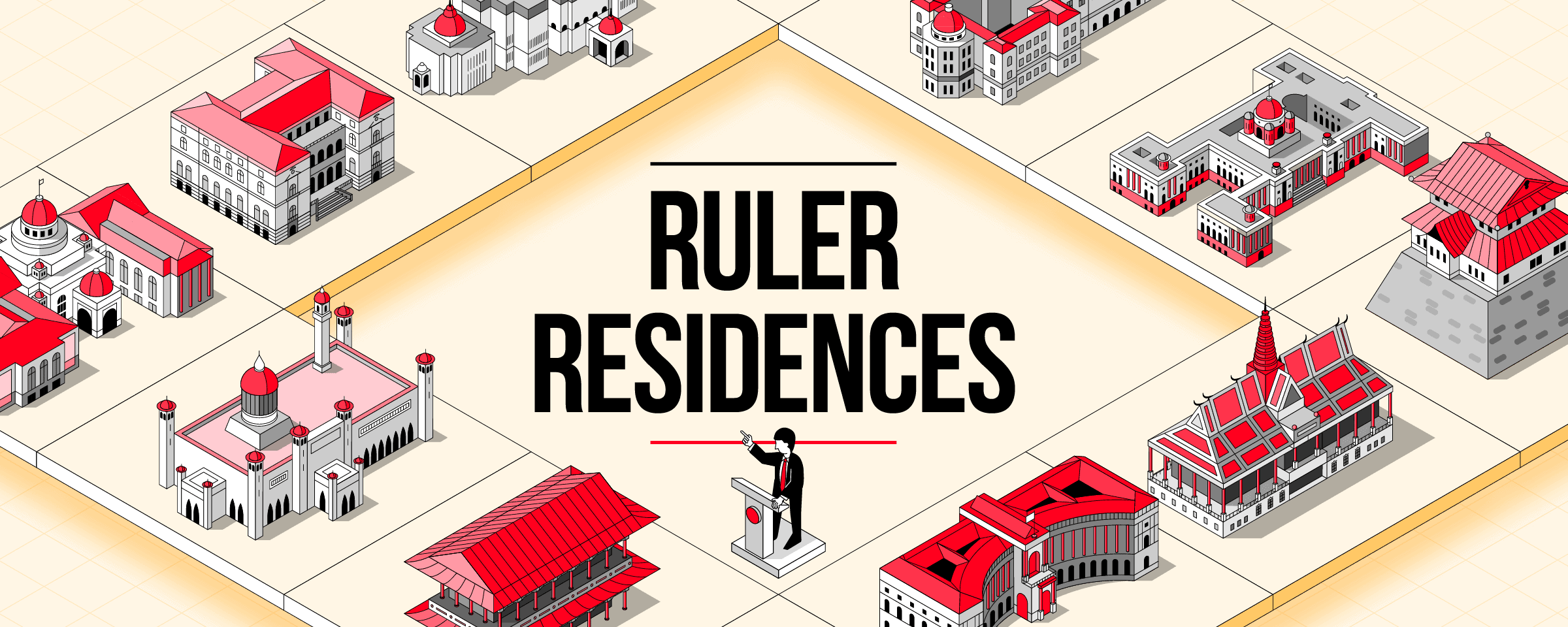 Heads of state play a symbolic role as the figurehead of the country that they lead. Their homes should be fit for a king, president or supreme leader, and it is in the national interest that this residence should embody their country's identity, values and ambitions.
So, these homes are often big and showy.
Still, a certain grandness of scale notwithstanding, there are huge differences in size around the world. Some countries are restricted by space or money from positioning their palaces amidst sprawling estates, while others keep to the tens of thousands of m2 from a sense of decorum and modesty.
For instance, just as King Charles III has opted for a "very human" un-embellished and crown-free portrait for his new postage stamps, he has adopted the townhouse of Clarence House rather than Buckingham Palace as his abode. This brings his 'modern royal' image closer to that of everyday people and makes him look as economically "woke" as he can for a chap whose hat features "rubies, sapphires, pearls, tourmalines, topazes, rubies, amethysts, garnet and aquamarines" and who likely quadrupled his £100m fortune on inheriting Queen Elizabeth's throne and wealth.
Meanwhile, Sheikh Mohamed bin Zayed Al Nahyan relaxes in UAE's 1.5 million m2 Qasr Al Watan palace amidst "149,000 unique pieces of silver, crystal and china" and a 12-tonne chandelier featuring 350,000 crystals. It is "a unique testament to the spirit of the United Arab Emirates' people and its leaders," according to official publicity, which the people should probably take as a compliment.
MoverDB.com wanted to track this wide disparity in values and floor space around the world. So, we charted the size of the official homes of the heads of nearly 60 countries, as well as those of every U.S. state governor.

What We Did
MoverDB.com used public sources or Google Maps estimations to obtain measurements (in square meters) of the official residences of the heads of state in the 58 different countries and 31 U.S. states with available data. We based our findings on the entire complex or estate's area size. For heads of state with more than one official residence, we chose the property that they are known to live in the majority of the time.

Key Findings
China's

President Xi Jinping lives in the

Zhongnanhai

complex in Beijing, which, at

3,439,830 m2

, is the

biggest home

of any

head of state

.

Seven

of the

ten world leaders

with the

biggest homes

are in countries in

Asia

and the

Middle East

.

King Charles III's

main home of

Clarence House

is 'just'

2,646 m2

, the

second smallest

of any head of state in our study.

Kansas's State Governor

Laura Kelly lives in the

846,966 m2

Cedar Crest mansion, which is

11.6 times larger

than any other state governor's home.
China President's Crib Equals 500 Soccer Pitches
The following table shows the top 25 largest state head homes in the world (you can see our full data table further down), yet this alone hints at the disparity in size around the world. Not only is China's historic Zhongnanhai complex more than twice the size of second-place Drottningholm Palace in Denmark, but Drottningholm is nearly 20 times the size of Élysée Palace, where the French President Emmanuel Macron resides. At 1,624,290 m2, the Swedish King Carl XVI Gustaf's pad has a footprint of roughly 230 football (soccer) pitches.


Click here to see the image in full size
So how about Zhongnanhai? This former imperial garden is the home of the President of The People's Republic of China, Xi Jinping, although he doesn't get the buildings all to himself: it also serves as central headquarters for the Chinese Communist Party (CCP) and government. There was a palace there as early as the Jin dynasty (1115–1235), and the site has also featured two artificial lakes since that period. As a whole, the complex is valued at around £31,379,573,988, but few clues exist about Xi Jinping's interior design choices.
King Charles III Lays £3.7m Hat in Modest Home
The UK is a constitutional monarchy, which means that our king or queen is head of state and gets a massive crib but no political power (while elected MPs do all the hard work legislating and have to make a home based on a salary of £84,144 plus housing expenses.) Still, King Charles III opts to live in the relatively modest Clarence House, which was home to The Queen Mother for nearly 50 years, and which is not big enough to put the UK in the top 20. However, it maintains a significant presence in our data since Charles is the nominal boss of 15 commonwealth realms. You can search and sort the home sizes of heads of state and U.S. state governors in the table below.
Even if Charles had a Clarence House-sized abode for every country that he heads, he would still be out-cribbed by more than half the leaders in our study and only narrowly beat Kazakhstan's President Qasym-Zhomart Toqaev, whose Ak Orda Presidential Palace is a little under the size of 15 Clarence Houses. However, Charles always has nearby Buckingham Palace or Birkhall in Scotland among his options if things start to feel cramped around the 2,646 m2 of his grandmother's former home.

Kansas State Governor Enjoys Biggest Estate with Smallest House

The U.S. President may have the most famous home of any national head, but at 72,843 m2, the White House is far from the largest (still, "the White House kitchen is able to serve dinner to as many as 140 guests and hors d'oeuvres to more than 1,000."). At least he gets to lord it over most of the 45 U.S. state governors with official homes. Arizona, Idaho, Massachusetts, Rhode Island and Vermont don't have active state governor homes for various historical reasons; Rhode Island just never had the impetus to designate one, and Arizona's former governor Bruce Babbitt donated his to charity after deciding to live elsewhere.

Click here to see the image in full size
But the president is out-cribbed by two of his own state governors. Georgia's Brian Kemp enjoys a 73,000 m2 Greek Revival-style mansion, and Kansas's Laura Kelly stretches out across the phenomenal 846,966 m2 footprint of the Cedar Crest estate. However, in a cruel twist of fate, while Cedar Crest is the largest U.S. state governor's grounds, the actual building is the smallest, at just 557 m2.
Doing Laundry with the Attorney General
There are competing tensions at play in the housing choices of world leaders. Royals and politicians of a certain persuasion may prefer to give an air of tradition, wealth and power, while others are at pains to reassure citizens that they're humble and understand the pressures of everyday life. Joe Biden recently reminisced in front of an audience, emphasizing that in his youth, he "lived in a three-bedroom home, a split-level home with four kids and a grandpop. And we were fine. It was when we were developing suburban areas and they're building 60 homes alike."
Biden may not live in a cookie-cutter suburban house anymore, but the familiar image of the president at his desk illustrates a further tension at the heart of the official residence: working from home carries a whole new meaning when you share the building with the government. You get an elaborate home, and even the smallest homes of heads of state are bigger than most of us will ever live in — but is it worth the trade-off?
METHODOLOGY & SOURCES
Our research considered the official residences for the heads of state or co-heads of state in 58 different countries and for the U.S. state governors in 31 U.S. states.
We carried out desk research to find out where the heads of state in 190 countries and U.S. state governors in every U.S. state live as of January 2023. In some cases, a head of state and their family may have more than one official residence, so we selected the property that they are known to live in either full-time or for the longest duration throughout the year.
For each home, we collected measurements that were published in news articles, real estate websites, architecture websites or estimated via Google Maps measurements. Any homes where data was either not published, ambiguous in what it was measuring or which only referred to a building's size were removed from our final dataset.
Measurements represent the entire estate or complex sizes in square meters (m2) of the grounds that the residence is built within, which also may include gardens, woodland, courtyards and other palaces and buildings within the same enclosed area.
The data was collected in January 2023.
Also have a look at our guide to International Container Shipping Rates Chart.