There is carpet-treading. And then there is historic carpet-treading.
Looking around other people's houses is a fascinating and completely legitimate pastime, regardless of whether you are planning to move home. But when you get tired of following up your fantasy searches on Rightmove with IRL appointments, you can always take the hobby deeper by visiting a bona fide historic house.
Defined as a home that is old enough, nationally or architecturally significant enough and well-preserved enough to be of public interest, a historic house tends to offer a little more to its visitors than the average home on the market. The furnishings and artifacts may fascinate; the architecture and grounds may wow, and additional tours and presentations may give you the feeling of accomplishment that comes with ticking another museum off the list.
But perhaps most powerful of all is the aura of walking in the footsteps and laying in the bed (disclaimer: don't do this) of the great and the good (and the awful). Europe has been home to plenty of these, and MoverDB.com wondered which of their houses are visited the most — and which ones, though rarely visited, are highly rated enough to be called hidden gems.
What We Did
MoverDB.com first compiled a list of historic castles, palaces, manors and birthplaces of notable people in European countries and used each house's number of reviews on TripAdvisor as its visitor count. Then, we filtered for those with a review count that sat within the bottom third percentile but also had at least 25 reviews. We ranked these less-visited attractions based on what percentage of their reviews had five stars.
Key Findings
Homes of Ann Frank, Edvard Grieg and the Duke of Buckingham Among Europe's Most Popular
Europe's most-visited historic homes tend to have housed the high and mighty. But Norway's representative is a little more modest. The composer Edvard Grieg was the son of a merchant and a teacher. His cousin designed a modest but charming home in Bergen for Grieg and his wife; it was finished in 1885, and Grieg would compose masterpieces in a hut outside the house and overlooking Nordås Lake for the next 22 years. Today, Troldhaugen — the 'troll hill' — is a museum in Grieg's honor.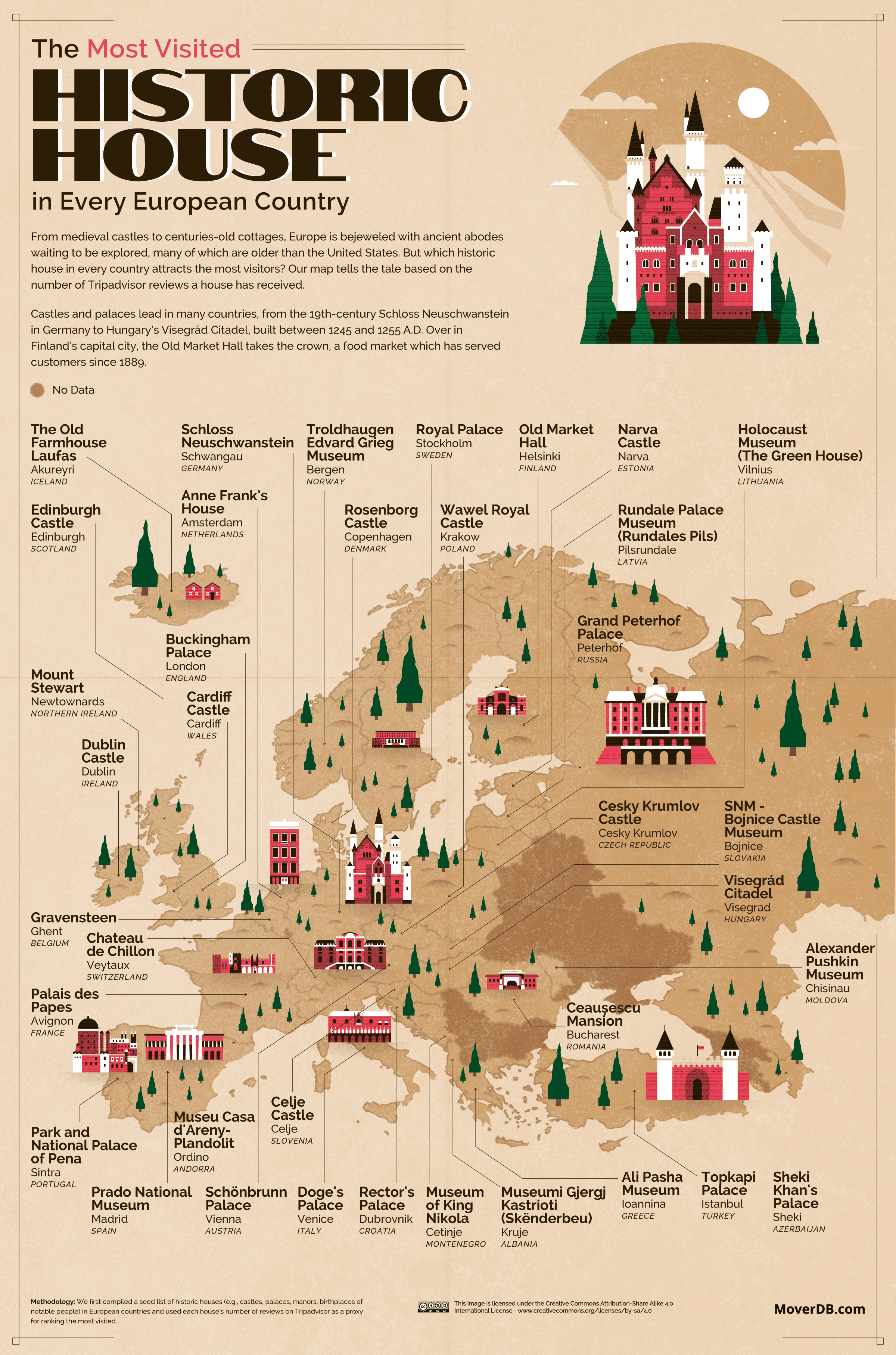 Click here to see the image in full size
With a roster of castles and palaces among Europe's most-visited houses, it's reassuring that the most popular of all is a little more sober.
The Ann Frank House may have been built in 1635, but the building would likely have been demolished in the 1950s if it weren't for the significance it acquired during World War II. Instead, the home and its annex — where Frank hid from the Nazis for two years with her family, among others — was restored and kept as a museum from 1960. Today, it is a place of pilgrimage and learning, with 63,362 visitors leaving a review on TripAdvisor.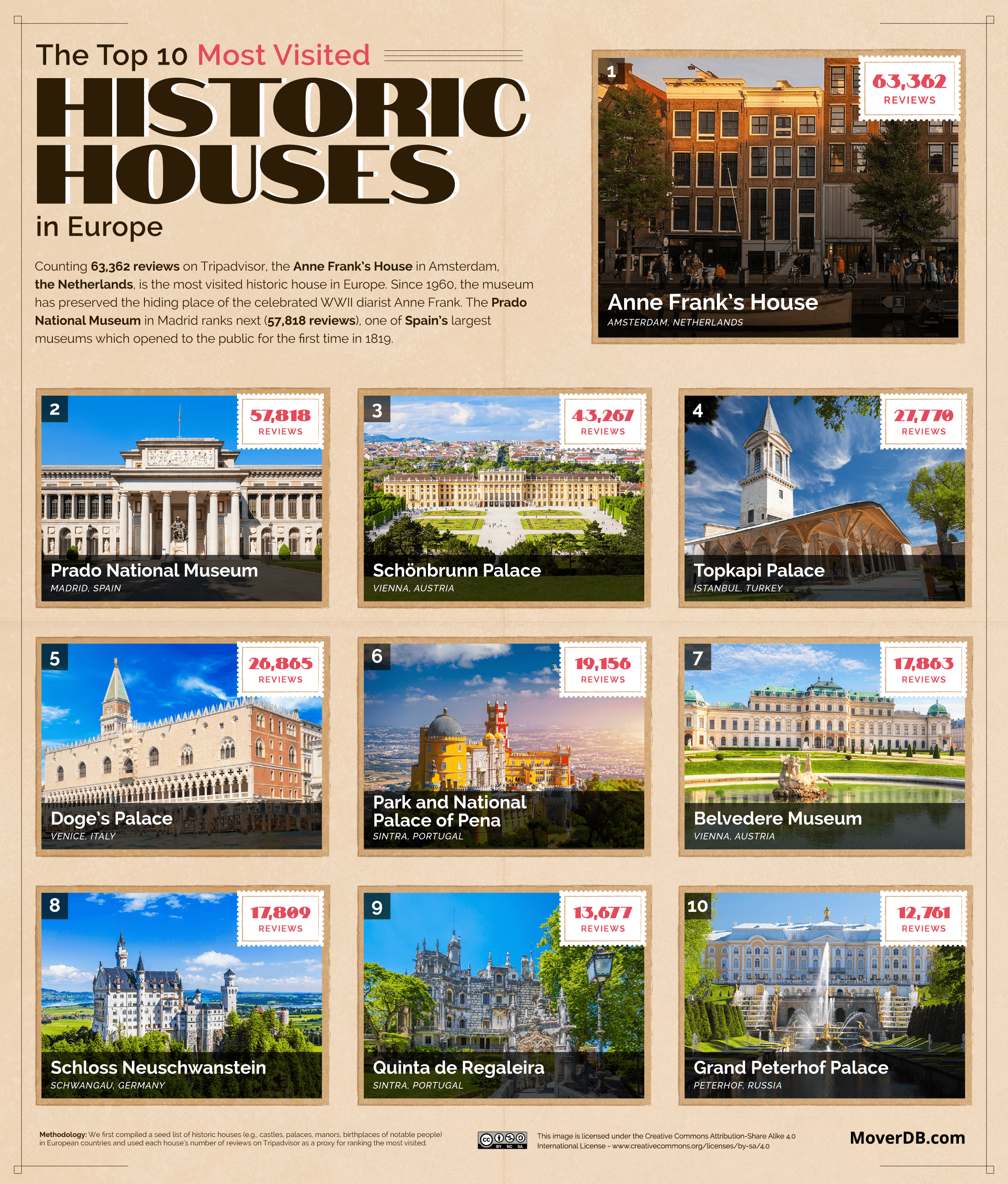 Click here to see the image in full size
The most-visited in England — although not the whole UK (see below) — is perhaps the most famous on our list. There has been a large home on the site since at least as early as 1628, with John Sheffield, later the Duke of Buckingham, ordering it completely rebuilt in 1703. The family of King George III unofficially occupied it 70 years later, and this building was to become the (much-changed) basis of the palace that his son, George IV, decided would suit him better.
It became the official London residence of the monarchy in 1837 and is now also the administrative HQ. With its proximity to Big Ben, the Houses of Parliament and newer attractions, such as the London Eye, it is a must-visit for tourists.
A Humble Greek Island Home is Europe's Best-Kept Secret
It's not always wise to join a long queue — they could be waiting for the dentist. So, MoverDB.com identified the historic house in each European country where you're least likely to find a throng of fellow visitors. These attractions have very few but very good reviews on TripAdvisor.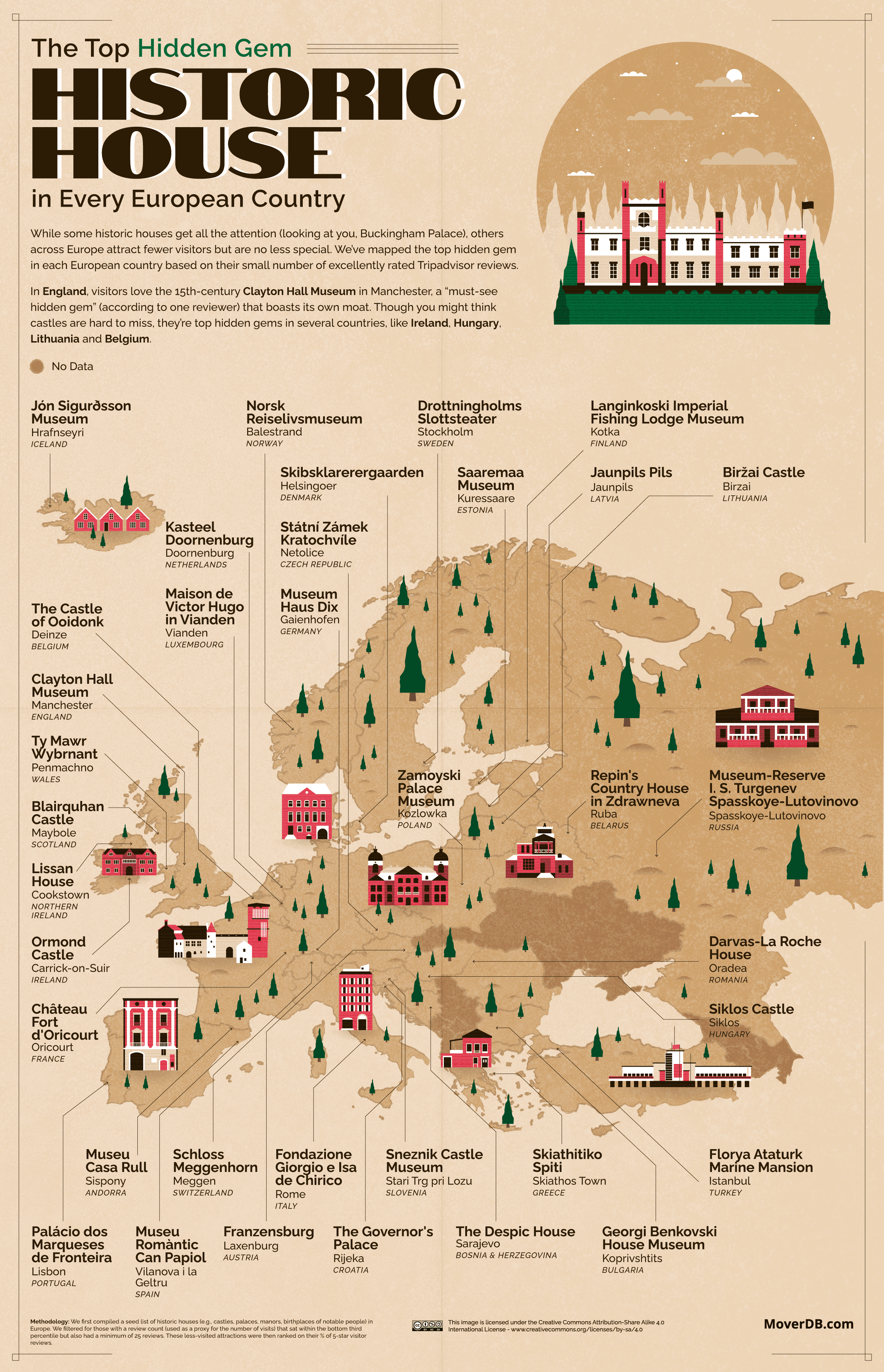 Click here to see the image in full size
Curiosities abound away from the beaten track – and sometimes, the clue is in the name. While the Castle of Ooidonk's name is not as cute as it sounds (it comes from a Dutch word meaning "a higher piece of land in a swamp"), the house itself is very cute: a fairy-tale castle currently occupied by the 6th Count and Countess t'Kint de Roodenbeke and their children.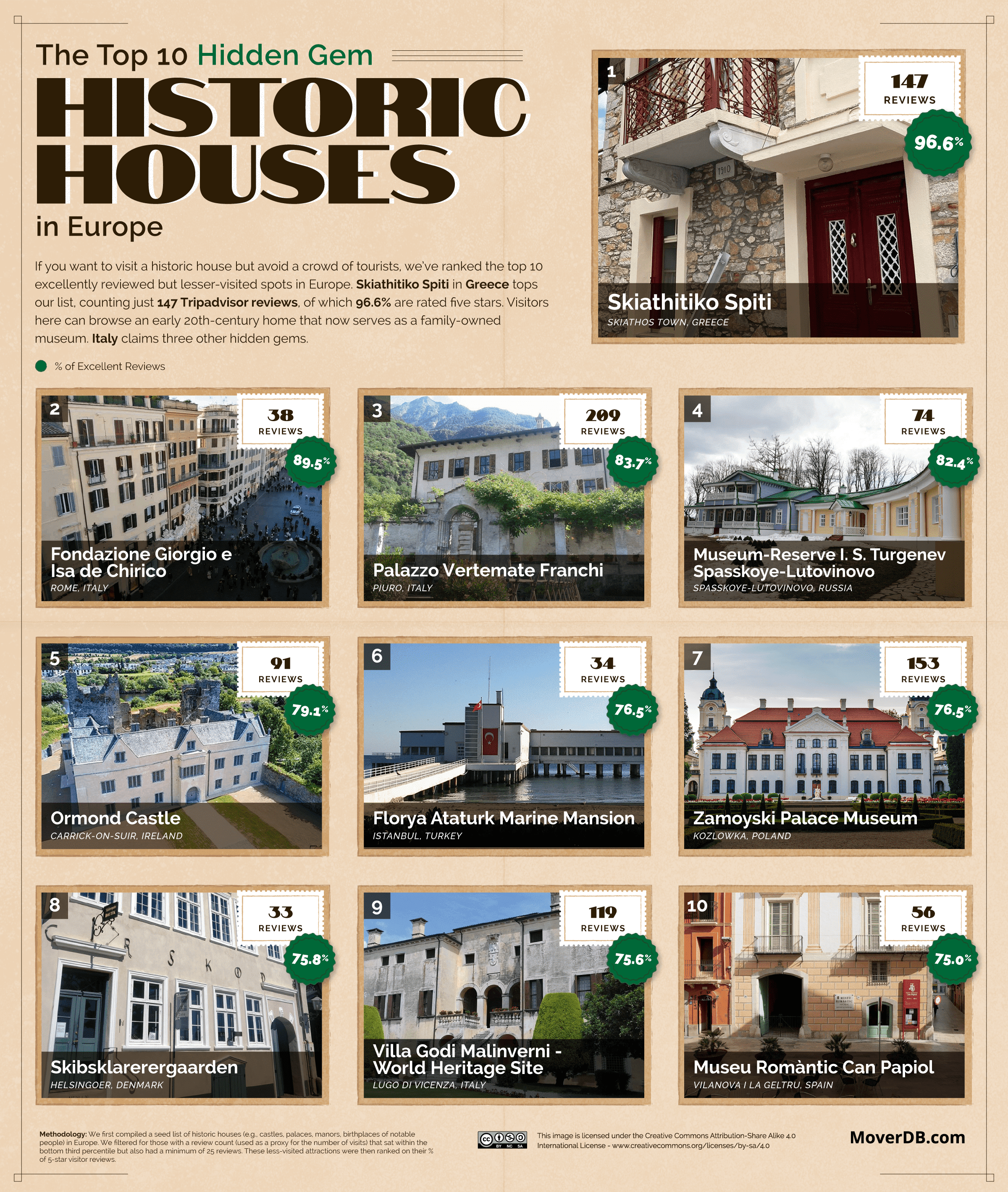 Click here to see the image in full size
"What a little gem! Stumbled on this by chance and was completely amazed by the history of the family that have kept both relics from there [sic] past and the story of their ancestors alive," writes one reviewer of Europe's top hidden gem of a historic house. The two-floor stone Skiathitiko Spiti house was built on the island of Skiathos in 1910 and is today preserved by the same family as a museum of traditional Skiathian life and crafts, as well as boasting unique family heirlooms.
Edinburgh Castle is Most Besieged Castle in the UK — Today and In History
There's a lot of history on these little islands, and the oldest continuously occupied UK home boasts over 1,000 consecutive years of posh inhabitants. It gets bonus points for its very British-sounding name, but Great Tangley Manor makes neither our list of most-visited or historic UK houses nor hidden gems.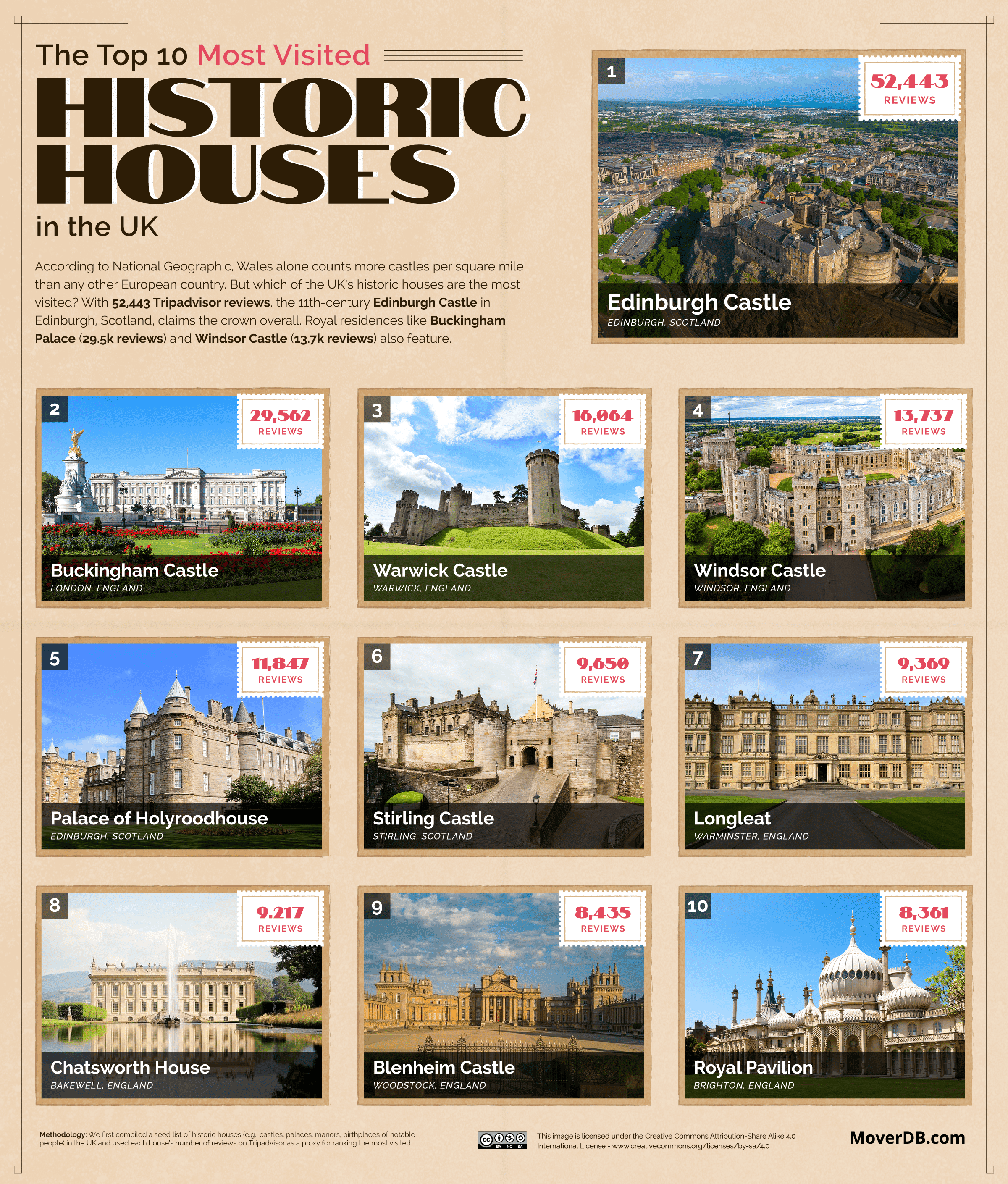 Click here to see the image in full size
The most visited historic house in the UK by quite a stretch is Edinburgh Castle in the Scottish capital. Whether approached by tourists or by the English army, Edinburgh truly earns its epithet as "the most besieged place in Britain," with 77% more reviews on TripAdvisor than second-placed Buckingham Palace. There have been royals in residence on and off since the 12th century, although it has mostly been used as a military base and tourist attraction since the 17th century.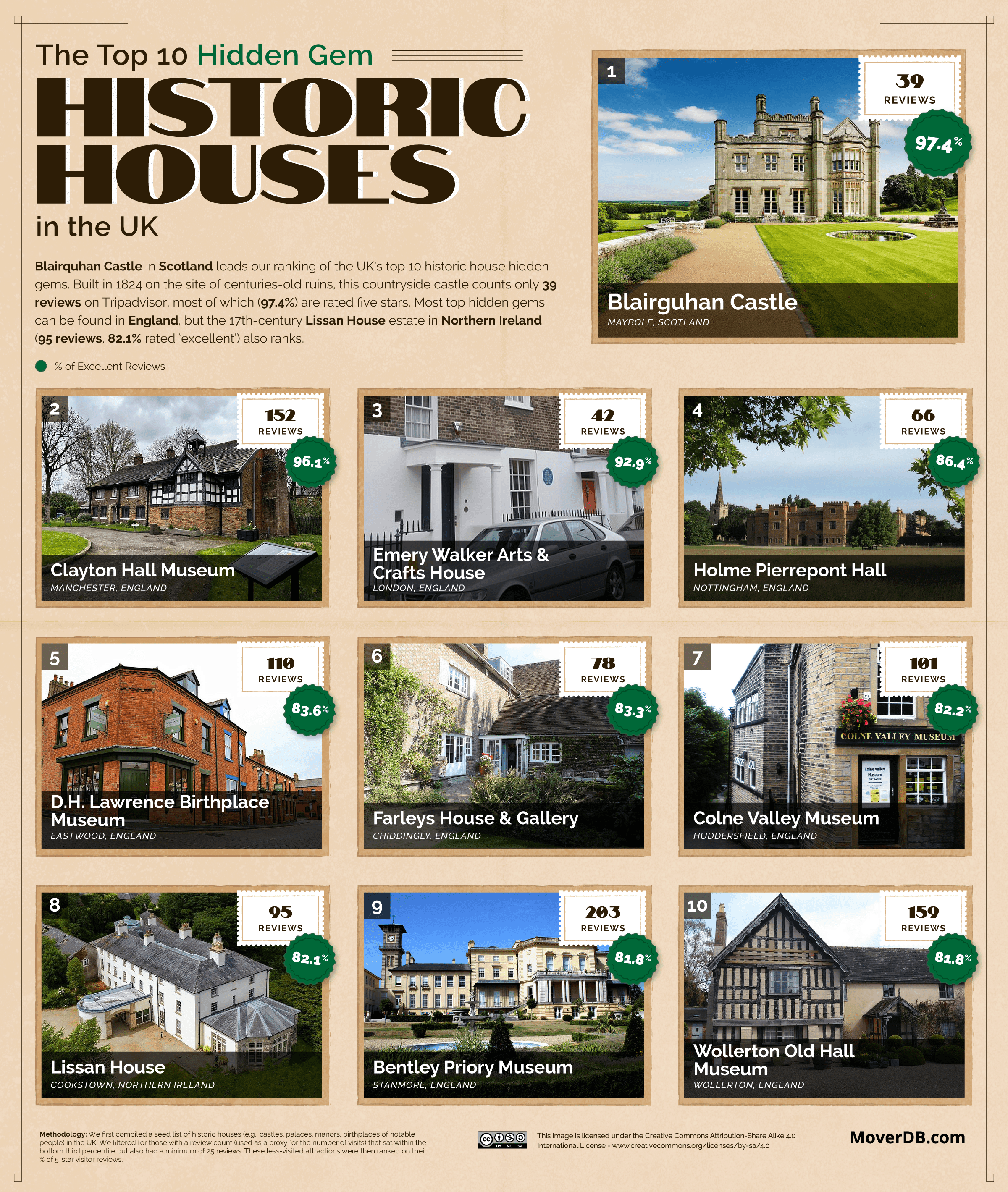 Click here to see the image in full size
While the UK's most visited historic houses are mostly palaces and castles, the hidden gems reveal a richer side to the islands' history. The top hidden gem is a Tudor revival castle completed in 1824 and later used to film part of The Queen (2006). But you will also note the writer D. H. Lawrence's birthplace, a manor house featuring witch repellents, and the authentically-preserved Georgian townhouse of Emery Walker, mentor to William Morris, which is a treasure trove of Morris's Arts & Crafts-style furniture and artifacts.
Every House is Historic for Someone
Of course, the real dream for historic house enthusiasts is that they might one day live in one. Perhaps a European chateau of note that comes up on the market or a UK dwelling that was once home to a historic figure. Or, perhaps, you already live in an old home, and all that will take to transform it into a historic house is for one of your family members to marry a duke.
You might not be keen to invite too many tourists into your home — but you can check your competition among the most popular historic houses and the hidden gems in our full data below.
METHODOLOGY & SOURCES
To discover the most visited historic houses in Europe and the hidden gems among them, we began by curating a seed list of 1,563 historic houses from every European country. Historic houses include castles, palaces, manors, birthplaces of notable people, converted specialty museums and historic buildings that have been converted into home museums for display purposes.
With this seed list, we analyzed each of their existing Tripadvisor review pages, focusing on the number of reviews and the percentage of 5-star reviews.
We counted the number of reviews as a proxy for ranking the most visited historic houses.
To uncover the hidden gems, we filtered historic houses with a review count that sat within the bottom third percentile of historic houses in our seed list but which also had a minimum of 25 reviews in order to negate attractions without a reasonable representation of visitors. These less-visited attractions were then ranked on their % of 5-star visitor reviews.
Due to uncertainties surrounding the current accessibility of attractions in Ukraine, historic houses from there were omitted from our final analysis.
The data for this analysis is correct as of May 2023.